New iPhone SE 2020 Plans from Telstra, Optus & Vodafone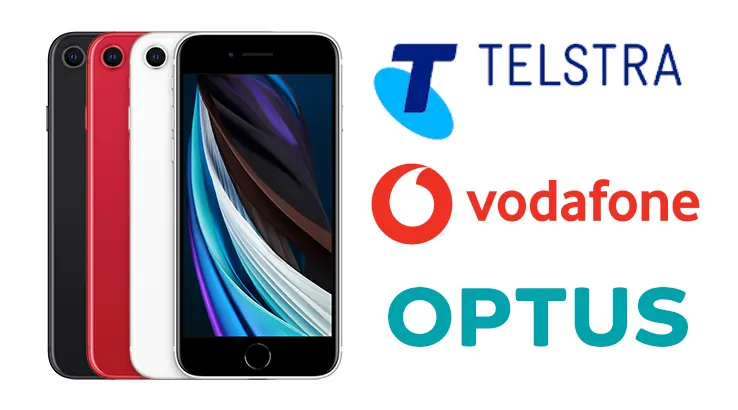 Looking for a new phone that won't break the bank? Get the new iPhone SE 2020 on a contract plan.
It may feel like the flagship iPhone 11 only came out a few months ago, but Apple is already launching a new model: the iPhone SE 2020, available from 24 April. The iPhone SE 2020 is designed to be a cheaper and more compact version for people who don't need an absolute top-of-the-line model like the iPhone 11 or even the iPhone 12 coming out later this year.
Because the iPhone SE 2020 is actually designed to be a more compact phone than the iPhone 11, it's cheaper despite being newer. Between 64GB models, an iPhone 11 will set you back $1,109, while the SE 2020 is about $400 cheaper at $713. In other words, you can stand to save a lot.
All three major telcos have released mobile plans for the iPhone SE, so we've broken down the pricing and plan features below.
Telstra's pricing and features
Vodafone's pricing and features
Optus' pricing and features
Telstra's iPhone SE plans
Telstra lets you grab the new iPhone SE on 24- or 36-month contracts, with the option of adding one of their SIM only plans. Your monthly charge will be the cost of the plan plus the monthly handset repayment, which depends on your contract term. The total cost of the 64GB handset is $713, which makes your monthly repayments as follows:
$31 per month on a 24-month contract
$20.66 per month on a 36-month contract
Telstra's SIM only plans come with a range of data limits, starting from 30GB to a 150GB option. If you decide to end your contract earlier than the specified time period, you'll just need to pay back the remaining cost of your iPhone.
Telstra's plan features
Telstra's mobile plans are known for being packed full of extra features. With Telstra, you'll get the following bonuses included with your SIM only plan:
Free access to the Telstra 5G network until 30 June 2020
Data-free Apple Music streaming
Data-free sports streaming
Free access to Telstra Air
On top of these features, you'll also get a one year subscription to Apple TV+, where you can watch original shows and movies from the Apple TV app. You can take a look at Telstra's iPhone SE plans below.
Vodafone's iPhone SE plans
You can get the new handset from Vodafone on a 12-, 24- or 36-month contract, along with one of its regular Red Plus SIM only plans. The total cost of the 64GB handset is $713, split up as such:
12-month contract: $59.41 per month
24-month contract: $29.70 per month
36-month contract: $19.80 per month
Vodafone's Red Plus plans themselves offer tons of data, going from 10GB all the way up to 150GB, to suit the most data-hungry customers. Similarly to Telstra, if you end up wanting to leave the contract early, you just have to pay the remaining cost of the handset.
Vodafone's plan features
Vodafone's plans come with a number of neat extras, with one of the best being "endless" data. Even though it's postpaid, you won't be charged for excess data use past your cap and will instead get to surf at a reduced speed of 1.5Mbps.
On top of this, you can get up to $120 worth of loyalty credit on more expensive plans over 12 months, some international call minutes to various countries, plus potential discounts if you bundle this service with other Vodafone products.
Think you're ready to grab a plan with Vodafone? We've included all their iPhone SE plans in the table below.
Optus' iPhone SE plans
Optus offers three versions of the iPhone SE - the 64GB, 128GB and 256GB handsets. To compare prices evenly across the board, we looked at the monthly repayments for the iPhone SE 64GB with Optus:
$64.40 on the 12-month contract
31.20 on the 24-month contract
$20.80 on the 36-month contract
You also get a wide range of Optus' Choice SIM only plans if you'd like a plan with your new phone. The data allowances range from 10GB to 120GB, so you're bound to find one that suits your needs.
Optus' plan features
With Optus, you'll get some international inclusions, depending on which plan you decide to go with - most have unlimited international calls and text, with the more expensive plans offering international roaming as well. If you've got multiple people in your household with Optus SIM only plans, you can even pool your data together and share it around.
You can check out Optus' iPhone SE offerings down below.