Guide to Centrelink coronavirus payments: Eligibility and supplement
If you've lost your job or need financial help, you may be eligible for Centrelink's JobSeeker Payments and the Coronavirus Supplement. Here's everything you need to know.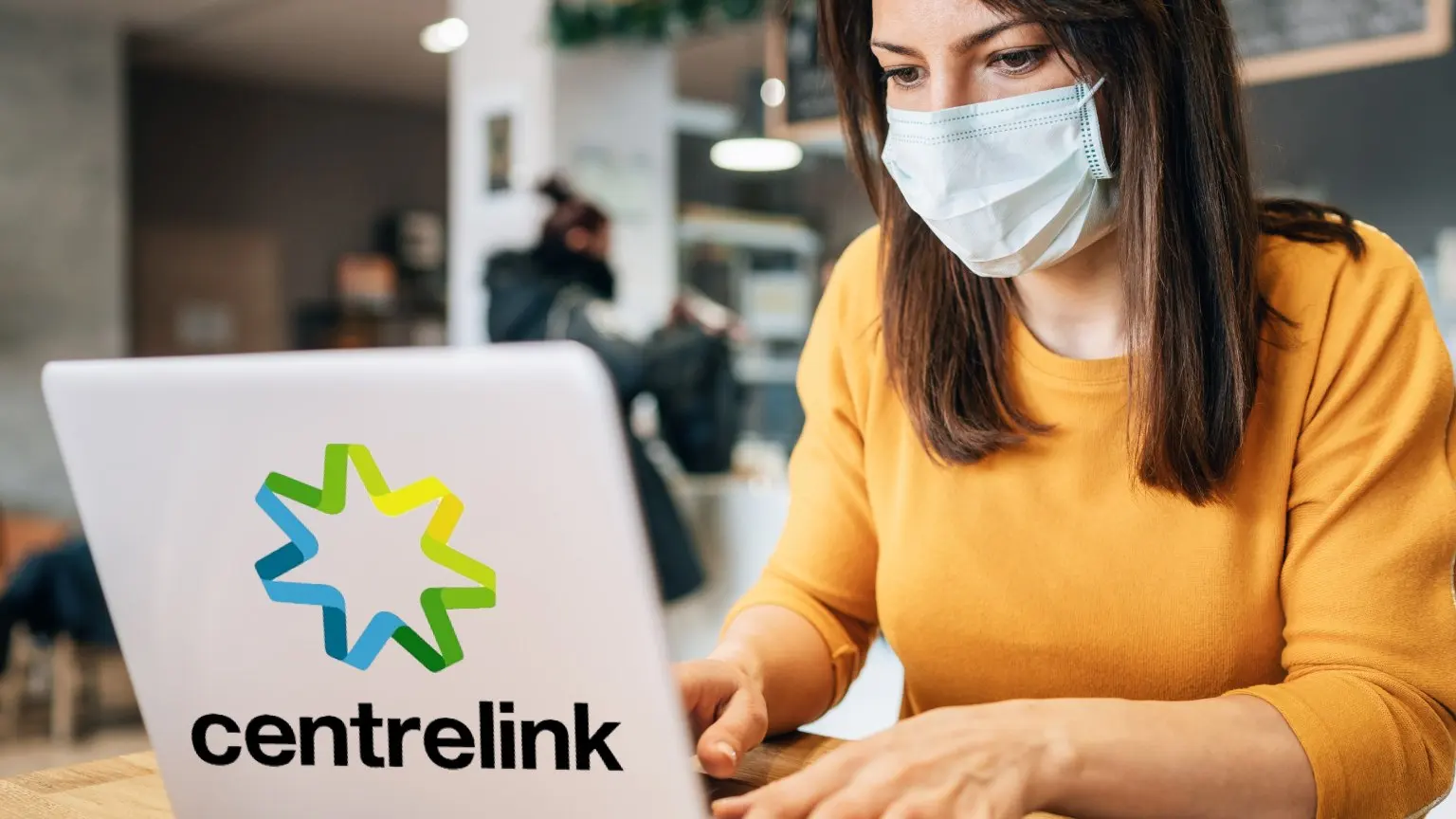 If you've lost your job or found yourself with less work due to the coronavirus pandemic, know that there is support for you.
But there is support available to your right now from the Australian government, with indications more help is incoming. So, let's start getting your feet pointing in the right direction and walking towards that light at the end of the tunnel.
In this guide, we're going to focus on those looking for support from Centrelink because of COVID-19. You could be using Centrelink for the first time or be returning after a long hiatus from the program.
JobKeeper vs JobSeeker Payments explained
On 30 March 2020, Scott Morrison announced a new wage subsidies program called JobKeeper. It's not to be confused with JobSeeker, however, its existence may change what you want to try and claim.
If you lost your job or suffered a significant reduction in hours since 1 March 2020 and tick any of the following boxes, then keep reading. Otherwise, jump ahead to learn about what Centrelink can offer you.
Full time - Australian Citizen or New Zealand temporary VISA holder
Part time - Australian Citizen or New Zealand temporary VISA holder
Casual worker who has been with employer for over 12 months - Australian Citizen or New Zealand temporary VISA holder
In the wake of coronavirus and the resulting lockdowns and isolation requirements, numerous businesses were left in a place where they had to either greatly reduce their staff's hours or let them go entirely. This won't come as news to you. However, if you were one of these affected employees after the date of 1 March 2020, then JobKeeper is there to encourage your employer (or ex-employer) to bring you back on the books.
If your employer's business is eligible, then they can claim a $1,500 JobKeeper Payment on your behalf for the next six months. This will be passed onto you in full, but before tax. It can be backdated to right now – if you're still employed on reduced hours – or till as soon as you're put back on the books.
The JobKeeper Payment is more than you will receive from Centrelink for the JobSeeker Payment, so if you think you might be in the running, reach out to your (ex)boss as soon as possible. To find out more information on you and your employer's eligibility, visit our JobKeeper guide.
What is Centrelink?
The Centrelink Master Program was set up in 1997 by the Department of Human Services. Centrelink is responsible for managing and delivering Australian government. Traditionally, this has included the unemployed, carers, parents, students and apprentices, as well as help for First Nation peoples, people with disabilities, injuries or sickness and those with cultural/language barriers to overcome.
The scope of who is eligible for Centrelink and what is being provided has been expanded in the wake of coronavirus.
How can Centrelink help during the coronavirus pandemic?
There are numerous payment plans available for people who are unable to get an income. This includes tens of thousands of additional Australians as a result of COVID-19 forcing the closure of many businesses. Much of the mud that made the process laborious has thus been rapidly cleaned up to help speed up payments to meet the sudden demand.
The pipeline is there to get money into the hands of Australians without an income source during these terrible times.
Centrelink coronavirus payments eligibility
JobSeeker Payments are available to Australian citizens and residents aged between 22 and 66. The Youth Allowance Payments are also there for people 21 and under. Before the pandemic, it was also available to residents (non-citizens) after a waiting period. However, in light of the COVID-19 catastrophe, that waiting period has been waived.
New eligibility rules have also been introduced. If you meet any of the following criteria you can now apply for Centrelink:
A permanent employee who has been stood down or lost their job
A sole trader, self-employed, a casual or contract worker whose income has reduced
You are caring for someone who's affected by coronavirus
Note: Your partner must earn less than $3,068 a fortnight ($79,762/year) for you to be eligible.
Understanding the $79,762 annual salary Partner Income test
We've received a lot of questions in the comments below looking for further clarification on how the partner income eligibility is evaluated. It's vague to say the least. Does Centrelink look at your income over the entire tax year, which started 1 July, 2019? Or do they just look at your partner's most recent fortnightly period to determine whether the income earned is more than the $3,068 threshold that would nullify your eligibility?
It's an important differentiation, as many people who may have already eclipsed the $79,762 threshold for the year between 1 July, 2019 and the March 2020 COVID-19 lockdowns, are suddenly jobless or on reduced hours. They're suddenly earning less than the $3,068/fortnight threshold. If this is your partner, are you eligible for the JobSeeker Payments or not?
We spoke to the Department of Social Services to get clarification on this situation; here is an overview of the response.
In short, it does not matter if your partner earned $200,000 this tax year already. If they're earning less than $3068/fortnight right now, you're met that requirement when assessing your eligibility for Centrelink. The Partner Income test looks at your current fortnightly wage only and the financial assistance you are eligible for is based on that alone.
This approach ensures that people can get income support when they are most in need of it.
Coronavirus Supplement guide
What may confuse you, especially if you're new to the Centrelink experience, is where the Coronavirus Supplement falls into the overall financial help program. No doubt you've heard prime minister Scott Morrison (or others) talk of the Coronavirus Supplement. On paper it would appear to be a $550 fortnightly payment handed out to anyone who has:
Lost their job
Is suffering reduced hours and income
Caring for an individual sick or in isolation
Unfortunately, this is not the case. The Coronavirus Supplement does exist, but it will only go to people who are already receiving welfare payments. So, you already need to have either registered your intent to claim a welfare payment, such as the JobSeeker Payment, or have already been approved. Only then can you also get the Coronavirus Supplement.
In both these cases, from 27 April, an additional $550 fortnightly payment will appear in the bank account on top of the existing welfare payment. If you have registered your intent to claim (see how to apply guide), payments will be backdated once you are approved to that date.
Is the Coronavirus Supplement taxable? Yes it is.
Can you get the Coronavirus Supplement without JobSeeker Payments?
The answer is no, sadly. You need to be eligible for one of the welfare payments, be it JobSeeker, Youth Allowance, Parenting Payment, Farm Household Allowance or Special Benefit, in order to get the Coronavirus Supplement.
We've had many readers in a situation where they have lost their job or income, but their partner still earns over $79,762/year (or $1,534/week). Currently, you are not able to apply for JobSeeker Payments and therefore you are not able to get the Coronavirus Supplement.
The Australian government has indicated it is going to look at increasing the partner income threshold. If this occurs, we will update this page immediately.
Who is not eligible for welfare payments and the Coronavirus Supplement?
While the criteria for acceptance has been expanded, not everyone is automatically eligible for JobSeeker Payments or, indeed, the other available welfare payments. This includes:
Anyone with a partner earning more than $79,762/year
Workers receiving employer entitlements such as sick leave, annual leave or redundancy packages
People claiming income protection insurance
Anyone whose income still exceeds the threshold for their circumstance (see payments table)
What to do if you're not eligible for Centrelink coronavirus help?
If you don't meet the above requirements or even if you do but the payments aren't enough, then you're going to need to find ways of lowering your cost of living. We've got plenty of guides that can help in this regard. You will find a master list in our coronavirus hub page. Here are some that might be particularly pertinent:
Not eligible for payments? A high-interest savings account could help you
High-interest savers could be a good option if you're relying on your emergency savings now or anticipate you might soon be. You'll earn interest on the money in the account, and it's not locked away meaning you'll also have the flexibility of accessing it when you need to.
Read our guide on high-interest savings accounts
When should you apply for a Centrelink coronavirus JobSeeker Payment?
Straight away. As soon as you fall into the eligibility criteria listed above, you are encouraged to apply so that your application can start to be processed. Even if there is hope your situation may change in the foreseeable future, you should still apply. Especially as payments will be backdated to the day you intend to claim.
The application can take up to 21 days although is usually around 1 week. However, given the unprecedented demand for Centrelink during the coronavirus outbreak, you'd have to think that time period could be under stress. That said, the Australian government is waiving many of the roadblocks, such as the Employment Separation Certificate and the liquid asset waiting period, to speed up applications.
What can cause an undue delay? If you quit your job voluntarily, lost it because it was seasonal or were fired for misconduct, received a payout, have significant savings, just became a resident or just moved home.
How to apply for Centrelink JobSeeker and Youth Allowance payments
Ok, so here is the big one. The actual application. Be patient. Stay calm. Breathe! You're going to come across frustrations, but the government is actively working to trim the fat that has made Centrelink such an infamous bureaucratic nightmare to navigate.
The key is to do as much as possible online. Avoid the hotline where possible and absolutely avoid going into a centre if possible. It used to be a requirement, but it's not now. Here are the steps you need to follow to make it nice and easy:
Step 1: Log in to or set up an account with MyGov. You will need an email address and mobile number if you have not signed up previously. You may have already signed up in the past to monitor your tax or Medicare. If you haven't linked one or both of these services before to your MyGov account you will have to in order to proceed to Step 2.
Step 2: When you log in to your MyGov account (after you've linked it to Medicare or the ATO), you should see a button that asks, "Register intention to claim?". If you click on that, you will register your intent to receive Centrelink payments with Centrelink.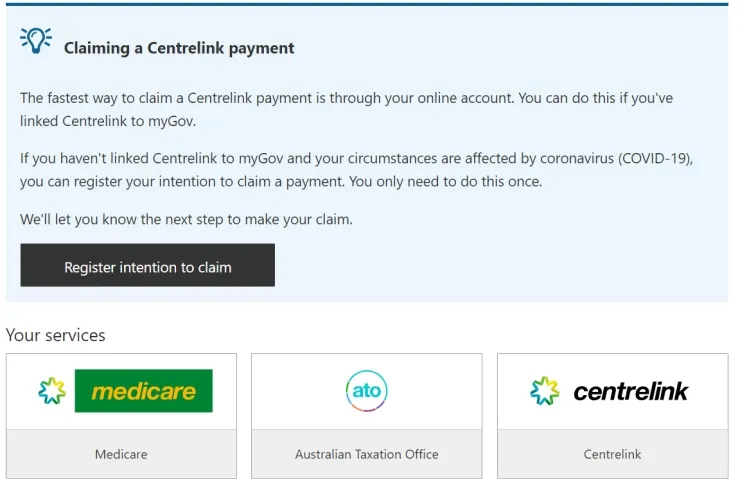 Step 3: At this point, you've set a date at which your future payments, if approved, will be backdated. This takes some of the pressure off the stress of waiting for a call. Eventually, a Centrelink employee will contact you and take you through the process of setting up your account with them, assessing your eligibility and beginning your claim.
Step 4: While you wait, prepare any documentation you might need. Most of the major hurdles have been waived in response to COVID-19. However, you will want three proof of identity documents on you when the phone call comes.
Step 5: The call will come from a private number; so, answer it.
Step 6: After you've been walked through the process of getting your CRN (Customer Reference Number), you'll need to make a claim through the Centrelink button on the MyGov website. This will involve booking a phone appointment and talking to an officer to get your claim approved. This is the step where the website has been struggling, so stay patient and if you have problems, try again at unpopular hours (like late at night or early in the morning).
How much money can you get from Centrelink?
There are multiple factors that impact your Centrelink payment amount, so please take the below table as guidance only pending your approval. There are three key things to note when estimating your payment amount from Centrelink:
As you earn income, your JobSeeker Payment amount tapers downwards to balance this out. The more you earn yourself, the smaller your benefit until you hit a threshold at which point your payment becomes $0.
The Coronavirus Supplement is an additional payment that is immune to tapering and sits above the JobSeeker Payment. It will begin appearing as a $550 booster payment every fortnight after 27 April.
There is usually an asset limit you need to stay under to be eligible for JobSeeker Payments, but for those applying for financial assistance between 25 March and 24 September 2020, that has been waived.
| Applicant | Base fortnightly payment | Fortnightly income threshold at which payment = $0 | Tapering guide | Additonal Coronavirus Supplement from 27 April |
| --- | --- | --- | --- | --- |
| Single, no children | $565.70 | $1,086.50 | Wage up to $104 no reduction; $104 to $254 a 50c/dollar reduction; $254+ a $75 reduction plus 60c/dollar reduction | $550 |
| Single, with a dependent child or children | $612.00 | $1,673.25 | Wage up to $104 no reduction; $104+ a 40c/dollar reduction | $550 |
| Single, with dependent child or children, but not principal carer | $612.00 | $1,164.84 | Wage up to $104 no reduction; $104 to $254 a 50c/dollar reduction; $254+ a $75 reduction plus 60c/dollar reduction | $550 |
| Single, aged 60 or over, after 9 continuous months on payment | $612.00 | $1,175.17 | N/A | $550 |
| Single, aged 60 or over, after 9 continuous months on payment, with a dependent child | $612.00 | $1,673.25 | N/A | $550 |
| Partnered | $510.80 each | $993.50 each | Wage up to $104 no reduction; $104 to $254 a 50c/dollar reduction; $254+ a $75 reduction plus 60c/dollar reduction (only applicable if you have a partner that doesn't get a payment from Centrelink) | $550 |
| Single principal carer granted an exemption from mutual obligation requirements for any of the following: foster caring, non-parent relative caring under a court order, homeschooling, distance education, large family | $790.10 | $2,124.75 | N/A | $550 |
Do I need to reapply for the Centrelink Coronavirus Supplement if I'm already on Centrelink?
No, you do not need to reapply. The Coronavirus Supplement will be added automatically to your existing financial support payment from 27 April 2020 for a period up to six months. So, if you are receiving any of the following payments, you are already approved to receive the Coronavirus Supplement:
JobSeeker Payment
Partner Allowance
Widow Allowance
Sickness Allowance
Wife Pension
Youth Allowance for job seekers
Youth Allowance for students and apprentices
Austudy for students and apprentices
ABSTUDY for students getting Living Allowance
Parenting Payment partnered and single
Farm Household Allowance
Special Benefit
The $750 Economic Support Payment explained
You may have also heard of an additional $750 Economic Support Payment implemented by the Australian government. This is a bonus payment made to any Australians receiving welfare payments before 13 April 2020. This includes new JobSeeker Payment recipients. These Australians will receive a one-off payment of $750 between 31 March and 13 April 2020.
A second Economic Support Payment will be paid on 10 July 2020. However, unlike the first payment, this will not include the welfare recipients below. This is because these recipients will be receiving the Coronavirus Supplement instead by that time:
JobSeeker Payment
Partner Allowance
Widow Allowance
Sickness Allowance
Wife Pension
Youth Allowance
ABSTUDY (Living Allowance)
Austudy
Parenting Payment
Farm Household Allowance
Special Benefit
It's worth noting that if you receive more than one of the eligible welfare payments, you don't get multiple payments of the $750 Economic Support Payment. You only qualify once for the April round and once for the July round.
Do you need to apply for jobs to receive your Centrelink payments during the COVID-19 outbreak?
It depends on your situation. From 27 April 2020 for a period of six months, you're not expected to meet mutual obligation requirements if you're a sole trader or self-employed. This means you don't have to prove you're looking for work in order to receive your payments. People who are caring for someone with coronavirus are also exempt.
In addition, those people who must now homeschool due to childcare or school closures and people self-isolating due to COVID-19 symptoms, are exempt from mutual obligation requirements
For everyone else who has lost their jobs or had a severe reduction in hours, you are still required to look for work. However, that has been reduced to four job searches a month. And that's only if you're not forced to self-isolate due to symptoms – you'll need to apply for exemption in this case.
When do coronavirus Centrelink payments begin?
Financial help will be backdated to the time at which you first registered your intention to claim. Just note that the additional $550 Coronavirus Supplement will not come into effect until 27 April 2020.
How do your savings impact Centrelink eligibility?
When Centrelink looks at your savings, it's assessing your liquid assets. Traditionally, if you had savings in excess of $5,500 then you'd have to serve a Liquid Assets Test Waiting Period, which could be up to 13 weeks. During the coronavirus pandemic the Liquid Asset Test has been waived. As such, your savings should not impact your eligibility for immediate financial support.
Does the JobKeeper Payment impact the Partner Income test?
If your partner is receiving the newly announced JobKeeper Payment, it's unlikely to impact your ability to apply for a JobSeeker Payment or other welfare assistance. This is because the $1,500/fortnight JobKeeper Payment is far below the $3,068/fortnight threshold of the Partner Income test.
Are New Zealanders eligible for Centrelink?
If you successfully applied for a resident VISA before arriving in Australia, then you are eligible for all Centrelink's welfare payments. Unfortunately, unless you have been in Australia for over 10 years, those of you on a temporary VISA are not eligible for JobSeeker Payments or Youth Allowance from Centrelink. However, you are eligible for JobKeeper Payments.
Newstart Allowance vs JobSeeker Payment: What's the difference?
In what can only be called "unfortunate timing," Centrelink just underwent a re-branding exercise. Up until March 2020, the Newstart Allowance was the nomenclature given to what is now known as the JobSeeker Payment.
They are effectively the same thing. The main difference is that the JobSeeker Payment program includes more people under its umbrella. Notably those who can't work due to sickness or injury.
Related Posts
Get more from Finder