Caltex fuel cards
Enjoy fuel discounts and make expense tracking simple with Caltex fuel cards.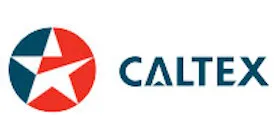 We're reader-supported and may be paid when you visit links to partner sites. We don't compare all products in the market, but we're working on it!
Do you travel on the road a lot for work? If you answered yes, a Caltex fuel card could help you get more value every time you fill up your car. Caltex offers three different fuel cards including a corporate charge card, a personal debit card and a prepaid card. While all of these cards offer savings and perks, each caters for specific needs and offers different benefits.
Find out how the individual products work and weigh up which one is right for you with this guide to Caltex fuel cards.
Comparison of Caltex Fuel Cards
Compare different types of Caltex cards
These are the major features, fees and benefits of each Caltex fuel card type:
StarCard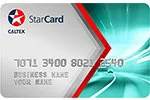 The Caltex StarCard is a corporate fuel card available to Australian businesses. It offers a simple way to get extra value from your work road trips. For a monthly fee of $2.95 per card, you can receive discounts of 4 cents per litre on Vortex Premium fuels, 2 cents per litre on regular petrol or diesel, 10% on packaged lubricants and 5% on convenience items at selected sites.
This card could also help with managing business card costs as it comes with a single, ATO-approved monthly statement that tracks all of your company's vehicle expenses. It also offers easy online management via myCaltex, as well as optional extras such as roadside assistance or vehicle repairs at an additional monthly cost.
StarCard Debit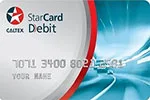 The StarCard Debit card is available to individuals and is linked to your bank account. It offers discounts of 4 cents per litre on Vortex Premium fuels, 2 cents per litre on regular petrol or diesel and 5% on selected in-store convenience items.
You can also take advantage of the security of a personal PIN-protected card and the convenience of direct debit. Your bank account will initially be debited for a minimum amount of $200 when linked and this amount will be transferred to your StarCard Debit account for use. Whenever your StarCard Debit balance reaches the minimum balance (typically 25% of its initial balance), your linked bank account will be automatically debited again to top up your fuel card.
StarCash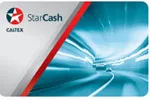 The StarCash card is a prepaid fuel card much like a gift card. It can be purchased in multiple denominations of $25, $50, $100, $250 and $500 and also comes in digital format. StarCash is available for purchase from participating Caltex and Ampol service stations. You can also order StarCash online as either the Classic (physical) card or as a StarCash Digital card that can be instantly downloaded to your smartphone for cardless payments.
Features and benefits of a Caltex fuel card
These are the major benefits of a Caltex fuel card:
Save on fuel costs. Both the StarCard corporate and debit cards offer fuel savings and in-store discounts that can amount to substantial cost reductions over time.
Track business fuel costs easily. Stay on top of your corporate car expenses by having them all consolidated in a single ATO-approved monthly statement. This simplifies bookkeeping and reduces accounting costs.
Enjoy enhanced card security. With the StarCard Debit, your personal PIN ensures that your account stays protected. StarCash Digital offers the further convenience and security of cardless payments.
How to apply for a Caltex fuel card
While the requirements for all three cards differ, you may apply for all of them online at the Caltex website simply by following the appropriate prompts.
What you need to apply for the StarCard fuel card
You must be at least 18 years old
You must be a director/partner/owner/trustee to complete the application
Your 11-digit ABN
Your driver's licence details
Details of your company's directors, partners or trustees
Details of your bank account
What you need to apply for the StarCard Debit fuel card
Driver's licence details
Details of your fuel consumption
Details of your bank account
What you need to apply for the StarCash card fuel card
Consumer. Consumer cards can be purchased online with a credit card. You'll need to choose your denomination and number of cards, provide your name, billing address, and credit card details.
Corporate. Corporate cards must be ordered via the online form, after which an invoice will be generated and your payment made via direct deposit or cheque. You will need to provide details of your company including ABN and contact details, billing and delivery addresses. You will also need to indicate the card denomination and quantity required, as well as a delivery method which can cost up to $55 if you select courier service.
Each of Caltex's fuel cards offers specific benefits and savings to its cardholders. But before choosing a fuel card, you should research other available options to decide which one will deliver the best value and reward given your specific needs.
Back to top