Travel Money Guide: India
Discover how you can turn your Aussie dollars into rupee to pay your way through India.
We're reader-supported and may be paid when you visit links to partner sites. We don't compare all products in the market, but we're working on it!
From the beaches and backwaters in India's south to the chaotic cities of Delhi and Mumbai, find out how to pay for your roadside thalis or a sleeper seat on the train with our comparison of travel money options for your upcoming trip to India below.
There aren't any travel cards that allow you to load the local currency, so you might like to look at debit cards and credit cards that don't charge for currency conversion.
Compare your travel money options for India
When in India, you'll likely be overwhelmed, at least for a little while, so you'll want to have your travel money sorted from day one. Luckily, you have a few options to choose from including paying with credit cards, accessing funds with a debit card or pre-paid travel card and having some cash on hand for smaller purchases.
How much rupee do I need to bring?
If you're wondering how much money to take to cater for your holiday, India caters for all tastes and budgets. It depends on the length of your stay and whether you have champagne taste. You can get by on as little as $10 a day, or spend thousands just sleeping. Its up to you.
India like a Maharaja
In between
India like an ascetic
In one of Delhi or Mumbai's famed culinary establishments.
Cost = AU$250.00 for a meal and a glass of wine
A meal in a mid-range restaurant.
Cost = AU$10.00 - AU$20.00
From the street stalls (always make sure it's hot and has just been cooked) or munch a thali in a roadside dhaba.
Cost = 10-50 rupee
(AU$0.20 - AU$2.00)
Travel in luxury with an Indian based tours company marketed towards the high rollers.All inclusive tours include a driver, luxury hotel, meals, and day trips to major tourist destinations.
Cost for a week = AU$2,500.00 and up
Ticket to an exhibition or a show.
Cost = Anywhere from AU$5.00
Even in big cities, museums, parks, temples and attractions are mostly for free. Sit on a ghat or on temple stairs and watch the strange and beautiful world go by.
Cost = AU$0.00 free!
India has a selection of the most luxurious and expensive hotels in the world. Staying in one of these establishments for a night is a luxury reserved for the ultra rich.
Cost = easily AU$10,000.00 for one night
A night in a mid-range hotel.
Cost = AU$20.00 - AU$50.00
In a basic guesthouse away from the hustle and bustle in the mountains, forest, in a small village or an ashram.
Cost = 100-200 rupee (AU$2.00 - AU$4.00 per night)
Exchange rate history
The Indian currency has grown in value relative to the Australian dollar over the past couple of years. In 2006, AUD$1 got you about 30 INR. Today, you'll get approximately 50 rupee for every dollar. This change represents an appreciation of about half a cent. Future movements of the currency pair are difficult to predict, but even wild fluctuations in the value of INR to AUD shouldn't affect travellers at all.
| Year | Average annual exchange Australian Dollar (AUD) to Indian rupee (INR) |
| --- | --- |
| 2012 | 55.363706 |
| 2013 | 56.454569 |
| 2014 | 55.046588 |
| 2015 | 48.183646 |
| 2016 | 49.948385 |
| 2017 | 49.811403 |
*Exchange rates are accurate as of 3 September 2017

Today's exchange rate AUD to INR
Back to top
Travel card, debit card or credit card?
There are no travel cards which allow you to load INR, meaning you'll be charged a currency conversion fee if you use one in India. Instead, you might like to look at debit cards and credit cards which don't charge for currency conversion. Card payments are accepted in more places than you'd think in India, but India is still largely a cash economy. Reduced fees for ATM withdrawals should be a factor in your comparison.
Travel money for India at a glance
Travel Money Option
Pros
Considerations
Debit cards for travel

Direct access to your own money
Widely accepted
Comes with PIN security and can be cancelled if your card is lost or stolen

No back-up option for lost or stolen cards
May charge ATM transaction fee and currency conversion fees

Prepaid travel money cards

Comes with a back-up to use, if the card is missing or stolen
Not linked to your bank account
Reloading money is easy via a secure online portal
You can use your travel card to pay directly, or to draw out money from an ATM

Indian Rupees cannot be preloaded
Some cards charge a fee every time you reload your card
Waiting time for your transferred funds to be available to you can sometimes be up to six days.

Credit cards for travel

Accepted everywhere
Comes with built-in security measures and anti-fraud measures
Features such as insurance or reward points earning

ATM cash withdrawals may attract cash advances and higher fees

Traveller's cheques

Can be costly with initial purchase charges
Not all merchants accept traveller's cheques

Cash

Greater payment flexibility
Convenience

More difficult to manage expenses
Higher risk of theft
This table is a general summary of the travel money products in the market. Features and benefits can vary between cards.
How each travel money product works in India
Have a look at the different travel money products suited to use in India and how each product works on the subcontinent.
Using a prepaid travel card
At the time of writing there are no travel cards which allow you to preload Indian Rupees (INR). So you'll need to find a travel card with no foreign currency conversion fee if you want to use a prepaid card without racking up costs. Travel cards can be a convenient way to take control of your travel budget, withdraw funds and spend over the counter. However, when you factor in the extra fees for loading, reloading and inactivity, there are better travel money options to take to India.
Using a debit card
If you plan to take a debit card to India, you should look for a debit card from a bank with a presence in the country. No Australian bank has partnerships with Indian banks where you can get cheap withdrawals. However, Citibank is an international institution with a presence in both India and Australia. The Citibank Plus Transaction Account is the way to go. Pay no currency conversion fees, no international ATM fees and, if you withdraw from a Citibank ATM in India, you'll pay no local ATM operator fee either.
Tip: Citibank has a large presence in India. You can make cheap ATM withdrawal using a Citibank debit or credit card to withdraw from a Citibank ATM.
Using a credit card
Credit cards are a good option for travel because they are accepted almost everywhere, have excellent security measures and some come with travel insurance (a must when travelling through India) as an included benefit when certain conditions - like paying for flights on the card - are met. A credit card is a good option in addition to one of the other forms of travel money listed in this article.
Tip: Bankwest don't charge their customers for international ATM withdrawals (as well as waive the currency conversion fee on their platinum cards), but don't withdraw cash on credit. You can avoid paying interest if you have a positive balance on your Bankwest credit card but you can't avoid the cash advance fee. Read more in the FAQs section of our travel money page.
Travel with peace of mind and compare international travel insurance for India
Using a traveller's cheques
Credit and debit card security measures and wide acceptance have made traveller's cheques redundant.
Paying with cash in India
You should always have some cash on you, ideally some spending money in lower denominations in an easily accessible place, and a larger amount kept separately in a hidden place. This goes without saying if you are trekking, staying in very small villages or are just off the tourist trail. Even in big cities, you will find that many services, attractions and just getting around will require you to use cash.
In big cities, towns and in many villages, banks and exchange offices will happily exchange foreign currency at a reasonable rate, and with a small commission, if any commission at all. Australian dollars are widely accepted, but American dollars tend to be more accepted in small towns and villages.
Be aware of the exchange rate before you change foreign currency to avoid being ripped off. It helps if you can access online rates before you exchange your cash so you can give yourself a rough idea of how much you should get.
Tip: Check your bank notes when you receive them as change. Indian rupee notes can get pretty scruffy and ripped, and overly creased or otherwise damaged notes will not be accepted. People love to give them to tourists.
Back to top
Jane's Indian sabbatical
Jane spent just under two months travelling throughout India. She started in the north making her way from New Delhi to Uttar Pradesh so she could visit the Taj Mahal and the city of Varanasi, the spiritual capital of India. She finished her trip relaxing on the beaches of Goa. Her trip took her off the beaten track, through well trod tourist spots and India's bustling cities.
What cards did you take with you?
Why did you take these cards?
Commonwealth Bank. Jane says she wanted a dedicated travel account to use in India, and the Commonwealth Bank Travel Money Card was an obvious option. The card is issued by her existing banking institution and it comes with a backup, so she felt secure she wasn't going to run out money if her main card was lost or stolen.
GE Money. The 28 Degrees Platinum Mastercard charges no fee for currency conversion and has no annual fee. She used this card to pay for larger expenses on her trip such as bookings or flights.
What about using ATMs?
Jane used ATMs inside banks whenever possible. She didn't have any problems finding and using an ATM with her Australian debit card. She says some machines took up to 1 minute to process the transaction. She says the standard charge was about 200 rupees ($4AUD).
Where could and couldn't you use these cards?
Visa and Mastercard cards will be accepted if the business is setup to handle electronic payments. American Express cards can be used in high end retailers and businesses only.
As far as using her card for day to day payments goes, she says there weren't any surprises here, if a place doesn't look like it's going to accept card payments, it probably isn't.
What's your travel money recommendation for India?
While Jane says Citibank ATMs can be found in large cities, Citibank don't have the same number of branches or ATMs as in Australia. Having said this, next time she visits India (and she says she's already planning to), she will use the Citibank Plus Transaction account as her dedicated travel account. While the Commbank was handy, the fuss of getting to an internet cafe to reload every so often and the hefty conversion fees were things she could have done without.
What travel money tips do you have for India?
Jane gives the following advice about using money in India.
Tricks and scams. Be prepared to pay more because you're Australian. There are whole industries dedicated to tricking tourists in India, starting and finishing at the airport when you arrive and leave. Whether it's a detour to a 'cousin's' shop to have a look at his goods when you hop in a taxi, thieves trying to pick pockets or fake tourist bureaus at New Delhi train station and around Connaught Place, jump on blogs and official websites to read up on the latest tourist scams.
Bargaining. Compared to locals, tourists are frequently charged higher prices for goods in India. Get used to it. That being said, don't be afraid to bargain. Sellers will never expect you to take the first offer they give. Bargaining is a part of the culture in India so don't be shy, but don't take it too seriously, either. If you can't get the price down to around something you are willing to pay, be courteous, say, "No, thank you" and walk away. Chances are the offer will go even lower. If you agree to a price make sure you are happy with it because once you agree on a price, you're obliged to pay it.
Back to top
The Indian currency
The money used in India is called the Indian Rupee (INR). It comes in denominations of 5, 10, 20, 50, 100, 500 and 1,000 notes and 1, 2, 5 and 10 coins. Officially, the Rupee is divided into 100 paise, but usage is rare and since 2011, only the 50 paise coin is used as legal tender.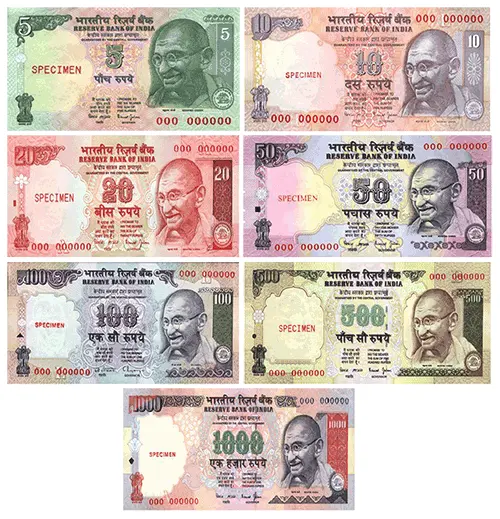 Buying currency in Australia
If you're a foreigner, you can't bring rupee into India with you. There are exceptions if you're a returning resident, you can carry 7,500 INR (about AUD$150) into the country. There is no restriction to the amount of foreign currency you can bring with you. However, if you're carrying more than the foreign currency equivalent of US$5,000, you'll need to declare the cash at customs when you arrive.
Why you need a combination of travel money options
Things can go missing, wallets picked from your pocket and cards can get swallowed up by ATMs, it's the height of foolishness to only take one way to access your money to India. A debit card and credit card combination will give you the best results, you may also want to bring some Aussie dollars as backup cash — you can get this changed easily enough for a competitive price.
ATMs in India
ATMs are widely available in India, and you should have no trouble finding one under reasonable circumstances. Limits vary depending on the machine. You should be able to withdraw up to your local bank's ATM withdrawal limit. If not, 10,000 Rupee is a standard amount to withdraw ($200 AUD).
Some banks in India issue 6-digit PIN numbers. However, you should still be able to use your ATM card even if it has a 4-digit PIN number. As always, you'll need to ensure that the ATM provider is part of a global network, such as the Visa or Mastercard worldwide ATM network.
Tip: There are reports of ATMs snatching back cash if it's removed from the machine after 30 seconds. If the ATM is slow to respond, don't worry, sometimes it takes a good half minute for an ATM to process the transaction.
Find cash and ATMs in India
Back to top
Travel insurance for India
India has enchanted travellers for centuries. From the Taj Mahal to the foot of the Greater Himalayas, there's so much to experience and see in India.
India presents a unique set of risks to travellers, which is why you must consider is travel insurance. Travel insurance is invaluable travelling companion on your next Indian holiday and protects holiday makes against situations such as:
flight delays
stolen cash
rental vehicle excess
overseas medical emergencies
lost luggage
trip resumption
Type or Select your destination(s)
Popular Destinations
Americas
Asia
Europe
Pacific
Africa
Can't find your destination? Just type it in the box above.
India is a country that on one hand nourishes its traditions, and on the other struggles against them. No mistaking it, during the last 20 years India has changed at an alarming rate. It is a country so dense, so stimulating to the senses and impulses that the first visit to India can be shock to even the most road-hardened traveller. Find the right travel money to take to India so you can access your money cheaply and conveniently so you can fully experience the country's rich tapestry of culture.
Back to top
More guides on Finder