The great Maccas ripoff | Savings with Sarah #6
Maccas burgers are up 50% in a couple of years. Is there a way to beat the price bite?
There's a McDonald's receipt doing the rounds from 2019, and the people are not happy about it. Why? Because people have put 2 and 2 together and realised the burger barons are brazenly taking advantage of our need for a burger fix by gouging us on prices.
But I'm going to help you beat them at their own game.
Here's the deal: inflation is surging – the latest figures out just before the weekend show a slight increase for September to 5.4%. A range of 2-3% is manageable, so inflation is running high.
But even with inflation factored in, Maccas are having a lend. We discovered this on Reddit. Someone found an old photo of a Maccas receipt, which showed:
| Item | Price in 2019 | Price in 2023 | Increase |
| --- | --- | --- | --- |
| Classic Angus burger | $7.95 | $10.60 | +33% |
| Large fries | $3.20 | $4.70 | +47% |
| Both items | $11.15 | $15.30 | +37% |
We crunched the numbers at Finder and it turns out, according to ABS stats, Maccas are increasing some of their prices well above the rate of inflation.
ABS figures show that:
Restaurant meals have increased by 15.23% from June 2019 to June 2023
Prices for the "take away and fast foods" category have risen by 17.84% over the same time period
Apparently, potatoes specifically have had a tear and have inflated disproportionately to other fruits and veggies, with inflation of around 27% since early 2020.
So: McDonalds have copped some genuine supply cost hikes. But they're increasing their prices at a rate that absolutely boosts their profits well beyond the rate of inflation.
In one highly scientific study (ahem), one of my colleagues dug into the depths of her UberEats account, and found that she paid $2.30 for 1 hashbrown on UberEats in January 2019. The same Maccas store is now charging $3.50 for 1 hashbrown on UberEats – an increase of more than 50%.
We're all about saving money here, so if you're not willing to get gouged on your next Maccas run but you don't want to miss out, there's a couple of things you can do:
Bundle your meals – with a twist. Old mate above could have ordered a Large Angus Burger Meal, but adjusted his coke to a small size. McDonalds will lower the cost based on the smaller beverage. In my local Maccas, that Large meal is $15.15, or $13.55 with a small coke. So you pay less AND get a free drink!
Get the Maccas app. It always has cheap, regularly updated deals – last week I ordered my kids a 10-pack of nuggets on sale in the app for $4. I just checked and right now, I can get large chips for $1. It means you have to skip delivery platforms and order direct, but buying through the platforms adds a massive premium, so that's a no brainer.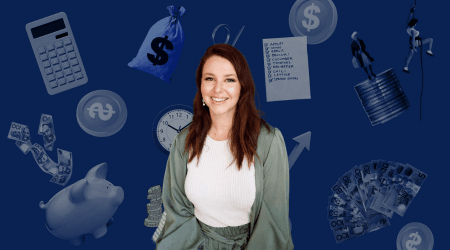 Savings with Sarah
Each Monday, our money expert Sarah Megginson shares another tip to help you save more than you spend.