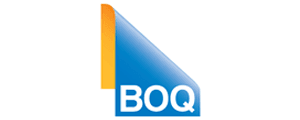 Upfront Fee

0.75% application fee

Max. Loan Amount

$3,000,000

Loan Term

1 to 30 years
Summary
Borrow from $10,000 up to $3,000,000 with terms up to 30 years. Interest charges and fees apply.
This business loan from BOQ is secured and has borrowing amounts up to $3,000,000. The minimum term is 12 months, with the maximum terms depending on the type of security offered. This loan has principal and interest payments or interest-only repayments up to 10 years. You can choose between fixed or variable rates. The rate offered may vary depending on the size of your loan, security offered and a full credit assessment of your application for finance.
| | |
| --- | --- |
| Product Name | BOQ Business Term Loan |
| Min. Loan Amount | $10,000 |
| Max. Loan Amount | $3,000,000 |
| Loan Security | Secured |
| Upfront Fee | 0.75% application fee |
| Loan Term | 1 to 30 years |
How does the BOQ Business Term Loan work?
This loan can be used for any business-related purpose, from purchasing equipment to investing in property. Loan terms are up to 30 years for loans 100% secured by residential property. For non-residential property or mixed security, the loan term is up to 30 years. Interest rates will depend on the type of interest chosen and security offered.
What features does the BOQ Business Term Loan offer?
Fixed or variable rate. You can choose either a variable or fixed rate, depending on what suits your business.
Flexible repayment options. You can make principal and interest, or interest-only repayments for up to a maximum of 10 years. You can also make weekly, fortnightly or monthly repayments based on your business cash flow.
Unlimited additional repayments for variable rate. You can make as many additional repayments as you want with a variable rate loan. With fixed rate loans, you can make additional repayments of $10,000 every 12 months.
Redraw facility. You can redraw your additional repayments with the variable rate loan.
How much does the BOQ Business Loan cost?
The following costs apply for this loan:
Interest charges based on type of interest. The standard variable rate is 8.15% p.a. for residential property, or 8.25% p.a. for other types of security. Fixed rates vary based on the number of years the loan is fixed. A discounted variable rate may apply on new loans with a minimum lending amount of $200,000.
An application fee of 0.75% of the loan amount with a minimum of $750.
Monthly service fee of $25 per month.
How to apply for the BOQ Business Term Loan
BOQ will request personal and company information as part of the application, as well as information about your assets, liabilities and existing loans.
You will be asked to supply the following information about the loan:
Whether or not the loan will be held by a trust
Details of all signatories and partners
Personal and company financial information
Other required documents include:
A current Australian driver's licence
A valid Australian passport
A tax file number (optional)
Applying for a business loan is a good way to progress your business without digging into working capital. However, it's important that the loan product you choose is suited to what your business can afford, especially if you're using commercial or residential property as collateral.
Elizabeth Finder
Lead Editor
You are about to post a question on finder.com.au:
Do not enter personal information (eg. surname, phone number, bank details) as your question will be made public

finder.com.au

is a financial comparison and information service, not a bank or product provider
We cannot provide you with personal advice or recommendations
Your answer might already be waiting – check previous questions below to see if yours has already been asked
Accept and continue