What are credit enquiries?
Discover how applying for multiple lines of credit can impact your credit score.
Your credit report is a comprehensive record of your history as a borrower, both negative and positive. This includes all lines of credit you've applied for, including those you've been declined or approved for. Having many credit enquiries in your credit history over a short time period can have a negative impact on your credit score. However, it also depends on the frequency of the enquiries and how recently they were made. You can use this guide to understand how a credit enquiry can impact your credit report and how lenders assess them to determine your borrowing patterns and level of risk as a borrower.
Free credit score & report
Lenders know your credit score, so why shouldn't you?
Get your credit score and comprehensive report now!
What are credit enquiries?
Every time you make an application for credit, it's listed on your credit report as a "credit enquiry". It will be listed regardless of whether the application is approved or not. This includes applications for credit cards, personal loans and even utilities such as phones, gas and electricity.
The credit enquiry listing will include the name of the credit provider, the date the application was made and the type of credit you requested. While there is no "approved" or "denied" listed next to a credit enquiry listing, any credit provider looking at your account can match up the number of credit enquiries made to the amount of accounts that have been opened to get an idea of how many accounts you may have been rejected for.
How long do credit enquiries remain on my credit report?
Information regarding credit enquiries you've made is held on your credit report for five years.
How long is information kept on my credit report?
What do credit enquiries look like on my credit report?
When you order your free credit report from Finder, which is provided by Experian, credit enquiries will be displayed as follows: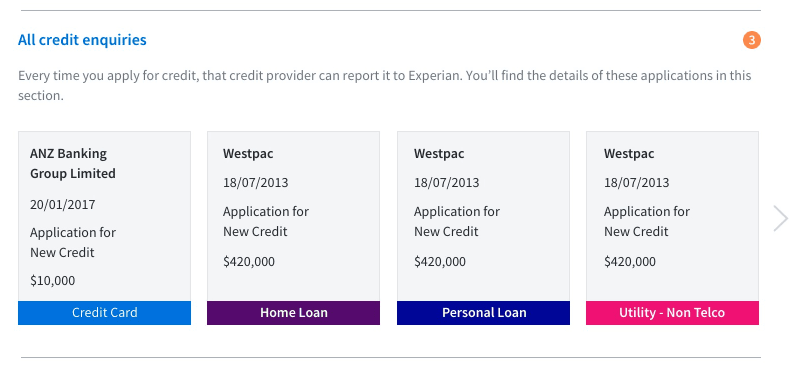 Are credit enquiries "good" or "bad" listings?
Credit enquiries are usually neutral listings and can give a credit provider a more comprehensive understanding of your activities as a borrower. However, making too many credit enquiries in a short space of time can have a negative impact on your credit score and make it difficult for you to be approved for credit.
Similarly, if you've recently been rejected for a credit application it may be a red flag to lenders. This is why it's good to space out your credit enquiries rather than make multiple applications in a short period. Check your credit report for free today
Related Posts