Travel Money Oz Currency Pass Card Review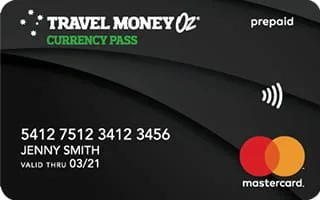 Initial Load Fee

$0

Reload fee

1.1%
Summary
Load up to 10 currencies, lock in exchange rates and travel smarter with this prepaid travel card.
Whether you're travelling overseas or are an avid online shopper, you can use the Travel Money Oz Currency Pass card to spend in up to 10 currencies and save on conversion fees. When you move funds into supported foreign currencies, they'll be locked into the current exchange rate. This can be useful if you want to secure your budget and avoid fluctuating exchange rates while you're travelling.
You can top up your card and manage your account at anytime and from anywhere in the world via the online portal or Travel Money Oz app. Your card is also PIN and chip protected, which will help keep your travel money secure as you're spending overseas.