The real estate insider's guide to selling your own home
Sell your property at the price you want.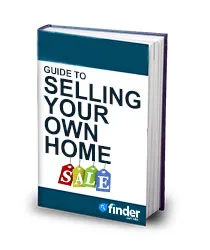 Is now the right time to sell your property? There are many aspects to consider when you're preparing to sell your home, from deciding whether or not the timing is right and choosing a sale method, to picking out a real estate agent and getting the property valued. Let's take a look at what's involved.
Most people decide to sell their property due to changes in their lifestyle. This could mean moving to a different area, purchasing a smaller home or requiring a larger property due to a growing family. Regardless of your reason for selling, it can be difficult to figure out when the right time to sell is, especially if it's the first time you're selling a property.
There is little guarantee that the market conditions will be perfect the moment you decide to sell your home, which is why it's important to be aware of what's going on in the property market and keep an eye on the performance of the economy in general.
Need a real estate agent? Start comparing your options
Provider
Details
Get in touch
OpenAgent

Compare 30,000+ real estate agents
Find the right agent and maximise your results
Get a free property valuation

Go to siteMore info
Commingle

Compare proposals from qualified professionals
Access over 45,000 real estate agents
Free property valuation profile

Enquire nowMore info
Receive a free property valuation, compare agent commissions and fees and choose the best real estate agent for you with Commingle.
Save time and money finding the right agent to sell your property.

Commingle is a free service that can negotiate on your behalf to get the best deal.

All your details will remain confidential.
Damien Cooley - Winning Auctioneer from The Block 2015 talks about the biggest misconceptions when auctioning
Checklist to sell a house
Checklists are important to get things right at first attempt. Even if you boast of having a super memory, there is still the possibility of forgetting something if you don't put it into writing. In short, checklists reduce the risk of committing more mistakes. That is why a checklist is imperative if you are thinking of selling your house.
There are many things that you need to bring into consideration before you put your house into the market. Some of these things include repairs, taxes and fees and legal representation. These are just some of the few things that will help you jumpstart what needs to be done before you sell your house.
Also take into account:
Your personal goals
The state of your personal finances
The fact that you're going to have to cover repayments every month
Capital gains tax on the sale of any investment properties
Even if property prices are low it might not necessarily be a bad time to sell because even if you'll get less for your current property, because there's also a good chance you will pay less for the new property. The same applies when property prices are high. Of course, the best option would be to purchase a property when prices are low and to sell a property when prices are high, but not many people can afford to do that.
Essential questions when selling a house
Selling your house can be as complicated as buying a house. There are many things to take care of such as hiring a conveyancer, repairs, fees and more. Then there is also the dilemma that you might short-sell your house.
You might have a hundred and one reasons why you want to sell your house. However, the most important question is, how can you make your house saleable? Your house might be in perfect condition, but buyers can be a bit fickle-minded giving a lot of reasons they don't want your house, so they can get a much lower price. So how do you prepare your house for the market?
Taking the big step
When you decide to do something of importance, you normally weigh down options by posing various questions. These questions can help you evaluate your decision and the steps you have to make. The key, however, is to ask the right questions.
How do I make my house marketable? If you have made up your mind to sell your house, this is the most important question. Buyers' tastes and preferences vary, so the biggest obstacle is to attract a wider audience to find the best deal. Before you decide to put your house in the market, be sure that you have made all the necessary repairs if any. You should also give your house a thorough general cleaning to make it more attractive. You might consider hiring a professional to stage your house and make it look bigger and more attractive. Another consideration that you have to remember is protecting your privacy when your house is up for sale. Remember that there will be buyers to check your house inside and out; thus, you have to make provisions for that.
Present your property well by getting it professionally cleaned
It looks like we don't have any coupons at the moment. Take a look at our most recent deals
How do I price my house? One of the biggest mistakes people make when selling their house is by overpricing it. Remember to sell it according to its real market value. Do not to let your emotions get in the way and quote a price base on what you feel the value of your house is. You can also ask other home sellers with the same type of house as you how much they have put the house in the market and how long. Be ready to make price adjustments if your house has more or less features. The best way to find the real value of your house is to have it evaluated by an expert or a company that does property appraisals.
Do I hire a conveyancer? Good question! Even if you have or have no experience in selling a house, it is better to hire a conveyancer – a solicitor or a conveyancing company – to help you with the whole process. It will save you the stress in having to deal with everything, especially all the legal documents you have to sort through. Find a solicitor who will operate on a fixed rate basis rather than an hourly basis. More so, you should also ask how long the whole process will take. This will help you clarify what you should or should not expect.
What happens in a conveyancing process? If you are a first-time seller, you might be wondering about this. Truth is, the conveyancing process differs from state to state. There might be quite a few differences, but the basics are the same which usually begins with the preparation of the contract and followed by a few other steps.

Exchange of contracts
Deposit payment
Find out if there are any caveats and other legal encumbrances on the property.

Perform search and requisition on titles
Prepare and check mortgage agreement
Arrange the transfer of the property
Settlement

Should I take the first offer? The answer is why not. More often than not, the first offers are the best offers. You might think that there might be bigger and better offers coming. Talk to your agent about this and if there are no reasons to hold out, go with the sale.
What about buyers who want to settle in before the settlement? If the buyer wants an early settlement and pays out the cash, then consider yourself lucky. However, if they suggest moving in before the settlement it should sound the alarm. Never let buyers move in before the settlement.
Is my property subject to capital gains tax? Capital gains tax is the tax you pay when you sell a property. However, if you acquired the property prior to September 20, 1985, you are not subject to a capital gains tax.
Is it possible to add other clauses or conditions in the contract? Most commonly, it is the buyer who request for certain contingencies in the contract. As a seller, you can also put some contingencies that are reasonable that will not raise the red flags. Some of these conditions can be the extension of the closing date or the early release of the deposit. Whatever contingency you might want to add, ask your solicitor for advice.
Selling a house requires more work than buying a house. If you are in doubt, never hesitate to ask your solicitor or real estate agent about them. Make your own research to know your rights and limitations as a seller.
---
How will you sell your house?
There are two methods how you can sell your house – through a private treaty or through an auction. In a private treaty you set the price of your house in accordance with its real market value before you put it in the market. On the contrary, when you sell a house through an auction, you set a reserve price and accept whatever minimum sale the property made. Whether you decide to sell through a private treaty or an auction, both methods have their advantages and disadvantages. Auctions have different laws depending on the state the auction is taking place in.
Advantages of selling through an auction
There is a reserve price. The reserve price is the limit you set when you decide to sell your house through an auction. The bidding will not start or your house will not be sold lower than the reserve price you have set.
Your property gets maximum exposure. By putting your house through an auction, you add more appeal to the property and attract a large number of potential buyers.
It has a specific date. The deadline adds an aura of marketability for your house because of the sense of urgency. More so, you don't have to wait long for it to sell.
It is quick and final. When you sell your house through an auction and someone decided to buy it, you get the deposit and have an exchange of contracts right away. There is also no cooling off period in an auction giving it a sense of finality. Thus, if you decide to put your house through an auction, be sure that you can move out of the house immediately once the buyer decides to move in.
You get the best price. Remember that your property cannot be sold lower than your reserve price. This means that there is a possibility that you can get an even higher price for your house.
Advantages of selling through private treaty
There is no specific date. This is to your advantage if you are not in a hurry to sell your house. The only downside to this is the longer your house is in the market the more it will be affected by market changes.
There is a sense of secrecy. Through a private treaty, offers made by each buyer are never disclosed to others which keep the other buyer's guessing. This can encourage the sense of urgency in prospective buyers.
It has a calmer atmosphere. If the fast-paced process of an auction is not for you, then selling your house through a private treaty is better. It also gives you a sense of control as you assess the market over time.
It is more appealing to most buyers. Buyers favour private treaties more than auctions because they think they can get a much better deal through this method. The cooling off period also appeals to most buyers as it gives them some sort of a safety net.
Back to top
Preparing your house
Whether you decide to sell your house through a private treaty or an auction, you need to make it more appealing and marketable to buyers. Remember that first impressions last and the last thing you need is to repulse your potential buyers just because of a peeling paint near your kitchen counter.
Just like what Donald Trump said about a dirty car costing $200, but a clean car will cost $220, so does your house. Your house can command a higher price if you have made the necessary repair. Besides, a house that has undergone repairs, repainting and cleaning is more attractive, bigger and brighter.
Floor – What type of floor does your property have? If it is hardwood, it is much better if you remove the carpeting and have the floors refinished. On one hand, if your floor has carpeting, you might consider replacing it if needed. You should also look for chipped or broken tiles in the bathroom floor and have them replaced.
Walls and Ceilings – Repaint your walls and ceilings to make the house look sunnier and roomy. Also check out for cracks on the ceilings and walls. Remember that buyers usually spend a lot of time inspecting them.
Bathroom and Kitchen – If your kitchen cabinets are in perfect condition, you don't have to change them; however, it is a different story if they look worn away and dated. Make a thorough check on the light fixtures and replace them if necessary.
Exterior – If your house needs a new roof, you can have a contractor fix it in just a couple of days – just in time for your open house. You should also check the fences and see to it that the lawn is well- kept.
Contracts and titles
After everything has been settled, your work is not complete until you take care of the legal aspects of selling the house. Instead of doing the checking of titles and other inspections yourself, it is better to hire an experienced and qualified solicitor to do the legal part for you. It can save you from stress and help you focus more on the repairs.
Make sure that you have the contracts and titles all cleared up and ready. If there are any caveats to the property, you should ask your lawyer what provisions can be made to remove or clear them.
There are other things that you need to consider before you sell your house. Start with the basics first and gradually progress to the more complicated matters. This way you will not find yourself overwhelmed with all the work you need to do before selling your house.
Back to top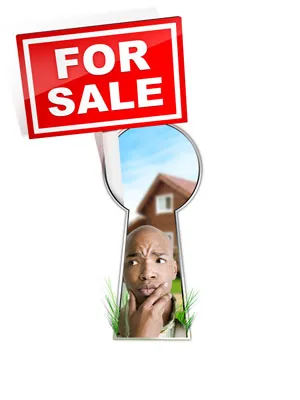 The main steps involved in selling a home
There's a lot more involved in selling a property than putting up a 'for sale' sign and hoping buyers will show up to purchase your property. Below is a quick look at the different steps you have to go through to sell your home.
Back to top
Valuing your home
Naturally, being a seller means that you want to get the most money for your home but at the same time avoid a price which is too high. How much your property is worth is determined by a number of factors, including:
The current property marketing conditions
Interest rates and the availability of finance for buyers
The property type
The price at which similar properties in the area have sold for.
In the end, the market will determine how much your property will sell for but at the same time you need to get a realistic idea of what to expect. A good way to get a realistic price is by talking to an experienced local real estate agent, as they're constantly aware of the state of the property and what's selling at what price. It's also a good idea to get opinions from two or three agents.
If you get completely different prices from each different agent and you aren't sure which one is more accurate, you always have the option of commissioning a licensed real estate valuer who can objectively and independently evaluate how much your home is worth.
What does a property valuation look like?
David Viarella, Chairman of the Australian Valuers Institute, walks us through a property valuation.
Should I use a real estate agent or sell my home on my own?
Some people feel that they can sell their home on their own and think that it's a wise decision because they'll save money on the commission they would have to pay a real estate agent. Unfortunately, this is not always a good idea because of the size of the financial transaction involved, which is why you should consider using the services of an expert. While you might have the resources and experience to do things on your own, it can be quite costly and will certainly take up a lot of your time.
Remember that a real estate agent's job is to sell properties and that's what they do year round, meaning they have a lot of experience. This experience can prove to be an incredible asset for you and you should certainly take advantage of it.
Furthermore, you can gain some legal protection as well when you use an agent.
A real estate agent can help you with a wide range of issues, including:
Offering you a realistic evaluation of how much your property is worth
Helping you decide what sale option will work for your situation, whether it's by auction, private sale or set date sale
Organising, attending and recording potential buyers at open homes during inspection days
Managing any questions about the home
Offering you a larger pool of prospective buyers thanks to their database
Handling the negotiations for you while doing their best to make sure you get the maximum possible amount for your home.
A real estate agent can do a lot more for you, including helping you coordinate the marketing of your property including the creation of flyers, floor plans and taking photos of your property. They can also prepare a professional advertising plan that will ensure your property receives the highest level of exposure to make sure as many buyers as possible see it.
They can also help you with the paperwork by preparing a Contract of Sale as well as offering advice regarding legal, financial and conveyancing services. They will also help you close the sale via a solicitor or conveyancer.
Find out how to compare real estate agents to find the best
Back to top
How to pick a real estate agent
It's important that you take the time to pick a good agent because they will be in charge of selling one of your most important assets. A good agent will be highly professional and very dedicated in what they do. You need someone with a good reputation that still strives to make the best possible impression and is willing to put in the hard work.
Many people run to the most popular and successful agents they can find, which can be a good strategy since they may be making good sales. However, keep in mind that they might have a lot of listings and you might not get the degree of attention you need since they have to cover so many properties.
So when you research potential agents, try and determine how you'll be treated if you sign on the dotted line. Will you be given their full focus and attention or will you just end up fading into the background?
Choosing your real estate agent
Some things you should look for in an agent include:
Their willingness and desire to meet your needs;
Their ability to stick to your requirements rather than imposing their own;
Membership in the local, state or national real estate institute;
Good references and good word-of-mouth advertising from clients they've served in the past;
Knowledge of the area where your property is located;
Knowledge of the price range you'll probably be able to sell the property in;
Commitment to honesty and transparency in discussions regarding the market and your personal circumstances.
Finding and researching an agent is a matter of using the internet and your social networks. There are many sites that will allow you to see what agents are working in your area. Once you have the list, you need to research them by checking out their sites, blogs, discussion forums and any comments made by clients. Also, don't forget to search for reviews. You could also consider contacting the people who have left comments to ask for further information regarding their experience working with said agent.
Once you have narrowed it down to a few agents, take the time to meet with them in person. Make sure to prepare a list of questions you want to ask in advance as it will make your life easier. And don't worry if the agent requests to meet at your home.
This allows them to see and evaluate the property and get a good idea of how they can help you. This is something the agent should do for free and is in no way a commitment on your part to engage their services.
After your meetings, you can decide which agent was the best fit and then it's time to draw up the agreement, which will cover an estimation of how much you will pay in fees, charges as well as other expenses you might have to cover once the property is sold.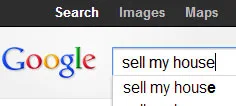 Back to top
Marketing your property
Marketing your property is essential because it's the only way to get it in front of buyers. A good marketing plan doesn't have to cost a fortune but a little investment is required to ensure you get the best possible results. Let's take a look at some of the ways a property can be marketed.
Advertising online: statistics and facts
There are many channels you can use to advertise your property and getting the right combination is critical. However, it's also worth keeping in mind that 86% of people use the internet when looking for a property to purchase, which makes online advertising extremely important.
The largest online site for selling real estate within Australia is considered to be www.realestate.com.au. Most real estate agents will list homes for sale on this site. Others may also choose to list the property on other sites such as www.domain.com.au or www.homehound.com.au, as well as on their own internal company website. This is done in an effort to increase exposure and maximise the number of people who will potentially see the property.
Getting buyers on the move
When you put your property up for sale online you want to make sure people can access your listing via a wide range of devices. After all, nowadays people are using a lot more than their computers or laptops to access the internet. So, you need to make sure the sites you are advertising on have mobile versions, apps and more to make it as easy as possible for prospective buyers to search for properties.
The fact is that more and more people are using apps and mobile sites to search for properties. Furthermore, most people use various devices and switch between them during the same day, so it's clearly essential that you advertise your property in such a way that people can see the ad no matter what device they are using.
How much should I spend on advertising my property?
To get the best price for your property, you need to make sure as many people as possible see it. The more people you have who are interested in purchasing your property, the better the price you will get because they will compete with each other, which will only raise the price.
The main purpose of advertising your home is to make sure you get in front of as many eyes as possible and you will find that if you invest just that little bit extra, the results could be more than worth it. If you don't put enough money towards your advertising schedule you could end up with a property that doesn't sell. You could also find yourself wasting money on advertising that doesn't work as well as continuing to make mortgage and interest payments.
Some agents might include advertising costs in their commission, but it still pays to enquire as to where your property will be advertised so you know where your money's being spent.
Your property's advertising schedule
To make sure that your property gets the maximum amount of exposure possible without you going over budget, you need to create an advertising schedule that's in line with your needs. You should also consider other factors such as the average number of days your property has been on the market, what other properties are up for sale in your area and how much your property is worth.
Even though there are so many advantages to advertising on well-known real estate sites, there are still many agents who create marketing plans that do little to take advantage of the internet. This is why it is essential that you get as much information as possible from your agent regarding how and where your property will be marketed.
Don't forget that putting up a listing online is an excellent way to reach the largest possible target market, namely people looking to purchase properties. After a few weeks of your listing being online, you can check where it ranks in the search results. This is because you can take certain steps to increase its rank and make it stand out as the large real estate sites give you options to upgrade your ad.
Should I use video to sell my property?
Using video to sell your property is a great way to attract even more prospects and is a great way for you to stand out. Some large real estate sites allow you to post the video right on the site. However, for those that don't offer this feature, you can always post a video on YouTube and link to it.
A video will allow buyers to get a better view of your property and usually sticks in people's minds better than just some photos. It's a great way to engage your target market, which can really help with selling your property.
Back to top
Presenting your property
Presenting your property properly is essential to ensuring you attract potential buyers. People's first impression of your home is critical so the better the presentation, the faster you will find a buyer and the higher the price the property will fetch.
When you're presenting your property, the first impression is the most important because that's what people remember. So, you need to make sure your home is clean, neat and both the interior and exterior are presentable. It's important to get the maximum degree of curb appeal by making sure the exterior looks great because many will drive by to look at the property before they decide whether they want to have a look at it on an open day.
Remember that your property will be one of many homes a prospective buyer will see, which makes it imperative that you put your best foot forward. The more attractive a home seems, the higher the likelihood of it fetching a good price is.
There are three main factors that will ensure the presentation goes off without a hitch and you put your property in the tidiest, well-maintained light it can be. This will require you to clean your home well, both inside and out, so that it looks as livable as possible. Get rid of as much clutter as possible to free up space and make the rooms appear larger. The better the property has been cared for, the more valuable it will be, so make sure to get small annoyances fixed before you put it on the market.
When it comes to décor, everyone has different tastes, so it's a good idea to go with something neutral. This means you might want to put the disco ball away and try to stick to neutral, soothing tones. You can use paintings and mirrors to fill a blank wall and give the room a more homely appearance. Add vases and plants to achieve the same thing. Use single beds in smaller bedrooms to make them appear larger and put some outdoor furniture in the yard to show buyers how the area can be used.
The key to setting up a property for presentation is to make it look homely so that buyers can envision themselves living there.
Take a step back and take an objective look at your home. Does it look like a hurricane just passed through or does it look homely and inviting?
Your presentation checklist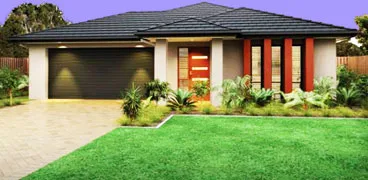 Your property has to be presented in the best light from the second you put it on the market. So, keep the following tips in mind for a successful presentation:
Curb appeal: Pull the weeds out and add some nice pot plants to improve the look of your property. It's essential for the front of the home to look enticing as that's the first thing potential buyers see.
Let the light in: Make sure the windows are sparkling before every viewing. The cleaner the windows are, the more light there is and the better the property will look.
Reduce clutter: The idea is for a prospective buyer to be able to imagine their possessions in the property, so get rid of clutter and make sure everything is nice and tidy. Getting rid of clutter also makes the rooms seem bigger.
Setting the scene: You want to give your home as much appeal as possible and if that means hiring furniture to get just the right look to get buyers in the door, then that's exactly what you should do. It's one way to give your home a new, fresh look that can turn an interested party into a buyer.
Repairs: If there are broken light bulbs or leaky faucets, make sure to fix them. In fact, make sure all those small repairs you've been putting off for a while are taken care of. With a little paint you can freshen up the woodwork and hide scuffs and scrapes. If you get the basic maintenance covered, it'll reduce the likelihood of a buyer finding any problems.
Fresh air: Do your best to get rid of those nasty smells, such as smoke or pet odours. Open up the windows, put on a fresh pot of coffee and put out some fresh flowers to make the place as inviting as possible. In fact, consider baking a batch of cookies, as the smell of baking will speak to people on an instinctive level, making them think of home, which is exactly how you want a prospect to see your property.
Keep it light: You can make rooms appear larger by using lights, leaving doors open and adding mirrors.
Pets: If you have pets, it's best to take them off the property when you are having open days and always clean up after them.
Make it inviting: Make your home even more inviting by making sure the interior temperature suits the outside weather. If it's hot, turn on the air conditioning or the fans. If it's cold, turn on the heaters. You want people to feel comfortable and you want them to want to stay and never leave.
First impressions count when selling your home
You can't change your home's location or age when trying to sell it, but you can do things to increase the positive impressions buyers get when they first see it.
First impressions really do count with buyers and you have the opportunity to make a great first impression right from the moment they drive up to the front of the property. The below guide is jam-packed with tips to get all aspects of your home looking right for the sale. You will learn how to present the different areas of your house including
Front yard
Entry area
Lounge/living room
Family room
Kitchen
Dining room
Bedrooms
Bathroom
Laundry
Outdoor courtyards
Front yard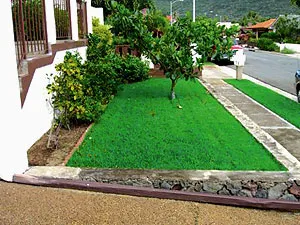 Your home's street appeal will play a big part in a buyer's mind as to whether the house is suitable for their needs or not. Take the time to touch up any cracked or peeling paint around windows or fascias and be sure the windows are sparkling clean.
Be sure the garden is neat and tidy. Pull out any weeds and refresh any mulch you have in garden beds. If you have grass in the front yard, mow it at a higher setting so it looks neat. Using a lower setting on your mower can expose sections of dirt in the lawn which give a dirty appearance.
Trim back any overhanging trees or bushes, especially if they block any view of the home from the street. Plant some cheap flowering seedlings in garden beds a few weeks before the open inspection and fertilise them early to encourage more flowers. Those bright flowering patches may not make any difference to your sale price, but they create an inviting picture in the mind of a buyer.
Entry
It's estimated that around 90% of buyers make their decision to buy a home the moment they walk inside and your real estate agent is likely to linger in the entry area to talk to prospective buyers as they arrive and before they leave.
Take a moment to stand right inside your front door and look around objectively. You want the entry to flow into any adjoining rooms, so remove any clutter from the entry area.
If your entry area is small, remove any plants, tables or furniture you have to help it seem larger. The same goes for low-hanging light fittings or even dark coloured rugs.
If you have a large entry area, find subtle furnishings and artworks that enhance it without closing it in.
Lounge room and living room
With many homes, the first room people will enter will be the lounge room or main living area. Try to work out what types of people are in your target market and see if you can dress the room accordingly.
If there's only one door into and out of the living area, be sure that foot traffic flows from the entry to the sitting area. Don't place lounges or chairs in such a way that will block traffic or force people to walk around things. This only makes the room look smaller anyway.
Position your furniture to make the room appear larger. Your furniture will be unique to you, so work out where to position it to enhance the space available. Remove any clutter or unnecessary items from around the room to increase the sense of space.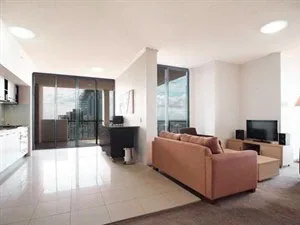 The same is true with photos on shelves or walls. While photos of the family might create a lovely sense of home for you, the buyer wants to picture their own personal touches or picture frames around the room.
If you have a coffee table in the room, remove any remote control devices and other personal touches, like coasters and replace these things with simple, elegant accessories that suit your target market.
For example, if your market is likely to be young professional couples without kids, you might place a couple of travel magazines strategically on the table. If you're aiming at a family, keep it simple with a table runner or a simple vase.
Move freestanding floor lamps to the corners of the room, if possible. This draws the eyes to the corners and helps to create a sense of depth to the room.
Family room
Some homes have a more informal family room in addition to the lounge room. This is the room you want to display as being a great area for a family to gather or for friends to socialise, depending on your market.
Move furniture around to ensure people can walk through the area easily. If you currently have a lot of furniture in the room to seat the whole family, you may consider removing some of it.
Be sure the lounge suite and chairs are clean. If they're starting to look a little tattered, cover them with stylish throw rugs or place cushions strategically around them. If this doesn't hide the wear marks in the fabric, buy some cheap lounge covers to get you through.
Kitchen
It's said that the kitchen is the heart of any home. Regardless of how awesome the rest of the house might be, the kitchen can really make or break a sale.
Because you're living in your home it's normal to have appliances, canisters, spice racks and other functional items on bench tops and around cooking areas. During an open inspection, you want buyers to get a good feel for the amount of usable, functional space in your kitchen, so remove the junk from your bench tops. You also want to remove any hanging pot racks, as these can be distracting and they close off the view into and out of the kitchen.
It's fine to leave a kettle with some canisters for coffee, tea and sugar, or even decorative coffee mugs if you prefer. You may even want to leave a few neatly arranged spices around. A bowl of fresh fruit also looks great.
If you have a breakfast bar, place two bar stools around it to show that it can provide another eating area. More than two stools may give a cluttered appearance and you're only trying to show an intended use – not an actual use.
If your kitchen has a pantry, spend some time arranging the items you have in there neatly. People will check to see how much storage space is available, so stack any canned items together on one shelf and any packets on another. It sounds over the top, but be sure the labels are all facing outwards. It creates the appearance of being neat and organised and it also makes your pantry look less cluttered when everything is in order.
Look out of the kitchen window and see if it's possible to dress anything outside. The view should be appealing, so consider planting a few small herbs in pots for the window sill or place a few hanging baskets of flowers where they can be seen from the kitchen window.
Some kitchens feature enough space for a dining table. This is usually an informal eating area, so dress the table with neutrally coloured placemats and matching napkins.
Dining room
If you have a formal dining room, you want to dress this to compliment the kitchen and still fit in with the style of the rest of the house. Move the table right into the centre of the room and remove any table extensions.
Dress the table with a table runner and matching placemats. If you have a nice dinner set, you might even want to set the table fully with crockery, cutlery and glassware. Use a simple vase filled with fresh flowers in the middle of the table for a centrepiece.
If you have a buffet hutch or china cabinet in the room, remember to dress this as well. Remove any clutter from inside the cabinet and place items strategically so they're easy to see through the glass doors.
Bedrooms
Dressing the bedrooms should be relatively easy. For a main bedroom, your bed will be the focal point of the room. Find a quilt cover or bedspread that compliments the colour scheme in the room.
Bedside tables should be completely free of clutter, but leaving a simple reading lamp on it is fine.
If you store things under the bed, remove them. You might think no one will notice these things, but they do. It's best to allow people to see the flooring beneath the bed and makes the room appear slightly larger.
Take the time to arrange your wardrobes or cupboards. People really do look in storage cupboards so be sure everything is hung neatly. Arrange shoes in a neat line on the floor or in shoe racks if you have them.

Dressing kid's rooms can be frustrating, especially if they keep moving the things you're trying to keep clear. Remove any toys or personal effects from rooms and keep it as simple as possible. Buyers who don't have kids won't think it's cute to have toys everywhere and parents with kids will just think about more housework to be done. Avoid the distractions.
If you have bedrooms that are used for other purposes, such as guest rooms, home offices or home gyms, dress these appropriately for their purpose. A home office can be a great drawcard for many buyers, so be sure it's neat and tidy and remove any personal items from the room. You want a buyer to picture themselves working at your desk, not checking out your awards or your bank statements or photos of you at your last Christmas party.
Bathrooms and laundry
It's normal to have personal toiletries and accessories around the bathroom or ensuite while you're living there. But you really don't want them showing during an open inspection. Remove everything from bench tops or sink areas. Put away any shampoo or body wash bottles you might keep on the shower floor.
Choose towels in a colour that compliments the colour scheme in the room and be sure the mirrors are sparkling clean.
In the laundry, remove any clothes baskets, ironing boards, or anything else you might have stored there for convenience. Ideally, you just want to leave the washer and dryer in the room. If you have a linen cupboard, fold and stack everything away as neatly as you can. As mentioned, storage space is important to buyers, so they will open it up and check out how much room is available.
Outdoor entertaining
Many homes feature an outdoor entertaining area, an al fresco area, a pergola or patio. Outdoor entertaining areas are increasingly popular, so really showcase it if you have one.
Be sure your outdoor furniture is clean. You may need to move it around a bit to be sure the flow of traffic from the house out to the area isn't blocked in anyway, but you also want to enhance the outdoor space you have available at the same time. If you use the area to smoke outside instead of in the house, get rid of ashtrays and find ways to remove any residual smoke odours.
If you have a barbecue, be sure it's clean and any accessories are packed away properly. If you have potted plants in the area, place them strategically around the space to help make the area seem larger.
You may be able to see the rest of the backyard from the outdoor entertaining area. Be sure the yard is tidy and in order, with the lawns mowed and gardens spruced up. If you have garden tools or lawn mowers that usually live in the yard, put them away in a garden shed or in the garage.
Dressing your home to make a strong first impression can make all the difference to a prospective buyer. The whole point is to showcase the home, not your personal items. When the buyer starts to picture their own things around your rooms, you know you're one step closer to a sale.
Back to top
Tips on shooting great photos
Great photos are just as essential as making sure the presentation of your property is done well. A photograph is generally the first thing a buyer will see and will often determine whether or not they want to view the property, so the better the photo, the more people will want to view your home.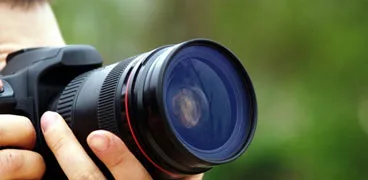 If you decide to take your own photographs, or even if you want some input in how your real estate agent has your property photographed then keep the following suggestions in mind.
Good lighting and quality: It is essential that the photos are great quality and if you take the photos yourself, make sure there is plenty of light, whether it's natural or artificial. A great photo would be of your property in the evening with the lights on inside.
Nice and clean: You don't want rubbish, laundry, dirty dishes or clutter in your photos, so make sure to clean the property before taking photos. Try and remove as much clutter as possible to give the property a roomy feel.
Inside and out: Most people want to see shots of the interior of the property as well as the exterior. If you don't have interior shots, some people might find it strange and will avoid the property, thinking you are hiding something. So, make sure to get a range of interior and exterior photos.
Drop the effects: You can take photos that make the space appear bigger than it is and it might get more people to view your home but this strategy will backfire once people see the reality. You want to use photos to enhance the property, not to lie to potential buyers.
Seek a professional: Considering that you're selling one of your most important assets, it may be a good idea to hire a professional photographer. He or she will know how to take photos that show off your property in the best light and will be well-worth the cost in the long-run.
Back to top
The day of the auction
While you might be anxious come auction day, if you understand the process, you'll be able to relax. So, this is how things will go on the day.
Before the day: Auctions can be over quickly, which is why it's essential that you have ironed out all the details with your agent, including how things will proceed on the day. Thus, you need to make sure the reserve price is set and you also need to decide whether you will be making vendor bids via your agent. These decisions have legal consequences and must be clarified. Of course, you should also ask questions if you're unsure about something.
On the day: The law states that the agent must display documents pertaining to the property at least half an hour before the proceedings begin. The first thing the auctioneer will do is to announce details such as the state laws applicable to auctions in general as well as the rules of the current auction, which includes whether or not vendor bids and co-owner bids will be utilised. You should discuss the legal aspect of the auction with your agent because laws are different from one state to the next.
Opening bids: The auctioneer will request an opening bid and will set the level by which all the bids must increase, such as increments of $5,000. People can try to place other bids of smaller or greater increments, but it's up to the auctioneer whether he or she will accept the bid or not.
Sold: When the bid reaches the reserve price, the property is officially considered "on the market" and will go to the person who places the highest bid. If the highest bid is below the reserve price and no one is bidding anymore, the auctioneer will talk to you in private and ask if you want to drop the price. Once the last person has bid and you're happy with the price, the auctioneer will give those attending another opportunity to bid by announcing "going once, twice, three times". If no one places another bid, he will announce that the property is sold.
Payment: The highest bidder is required to make an immediate deposit after the auction, which is generally around 10% of the price they purchased the property at. The difference is paid upon settlement, which is usually established by the person selling and is generally 30, 60 or 90 days later. Keep in mind that the more flexible you are with the settlement date to help out the buyer, the easier it will be for you to sell the property. The sale is considered completed once the contract has been signed by both parties and any cheques and transfers have been done. The property is considered sold once the balance of the price of purchase has been covered.
Back to top
Having an intimate knowledge of the selling process is invaluable information. Just as buying a property is an important step in anyone's life, so too is selling a property. That's why even if you have a competent real estate agent carrying out a lot of this work on your behalf it's important to know how it works.
---