The simplest way to save on interest | Savings with Sarah #4
A simple solution to paying off expensive credit card interest.
Did you know credit card spending has skyrocketed by over $2 billion since last year?
RBA stats show that we're reaching for plastic more than ever: the total value of purchases made using a credit card surged to an all-time high of $34.3 billion in August 2023.
This is a massive 6.8% increase compared to the same time the previous year. A reminder that inflation has been sitting at around 5-7% for the better part of the last year – so this surge in credit card spending is hardly a surprise.
But it is expensive. That average credit card interest rate is around 20% per year. This means if you don't pay your balance off in full each month and you pay interest, you'll pay a massive premium on every single purchase you make on your card.
That $5 coffee might become $6. Those $150 concert tickets wind up costing you $180. And don't even think about how much extra you're paying for your energy and internet and transport with the credit card premium on top…
There is good news, though! If you have credit card debt weighing you down, you can apply for a 0% interest credit card. It's designed exactly for people like you, allowing you to pay down your debt without paying any interest as you go.
You could get a new card that offers no interest for between 12 months and 2.5 years.
For that period, you won't pay any interest on the debt you have transferred. New purchases will attract interest, and let's be honest: that's what the bank is hoping you'll do. Rack up new spending, and pay them interest anyway.
But if you can be disciplined, and move the debt to the new card, and stick to a plan to pay it off – you could stand to save a small fortune in dollars you would have wasted on interest.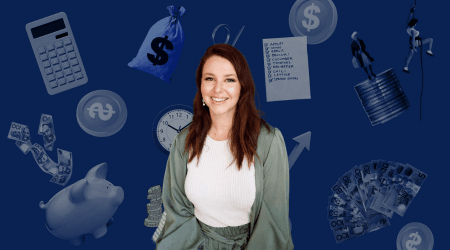 Savings with Sarah
Each Monday, our money expert Sarah Megginson shares another tip to help you save more than you spend.