Guide to Comprehensive Credit Reporting
Your credit report now includes more data - find out what this means for your finances.
We're reader-supported and may be paid when you visit links to partner sites. We don't compare all products in the market, but we're working on it!
A change has come to credit reporting in Australia as of 1 July 2018. This change, called "Comprehensive Credit Reporting" (CCR), will see more positive credit data included on your credit report so lenders can have a clearer picture of your finances. The availability of more data means it's likely that your credit score will change.
This guide will take you through exactly what CCR is, the new data you will see on your report and how it will affect you.
Credit score in the Finder app
Want a better way to check your credit score?
Banks know your credit score, so why shouldn't you? The Finder app updates your score automatically each month and lets you know if it changes. Pop in your phone number below to get your download link.
By submitting your phone number, you agree to the Finder privacy policy and terms of use
What is Comprehensive Credit Reporting (CCR)?
CCR is a system whereby lenders share more of your data with credit bureaus such as Equifax and Experian, which in turn will list it on your credit report. Prior to CCR, Australians mainly had negative information such as defaults and bankruptcies listed on their credit report, but with CCR additional information such as the type of credit we hold and whether we make payments on time are included.
These additional points of data allow lenders to make better lending decisions.
When is CCR coming into effect?
The majority of the mandated CCR deadlines have now past. By 30 June 2021, all currently legislated institutions will be required to provide comprehensive credit data.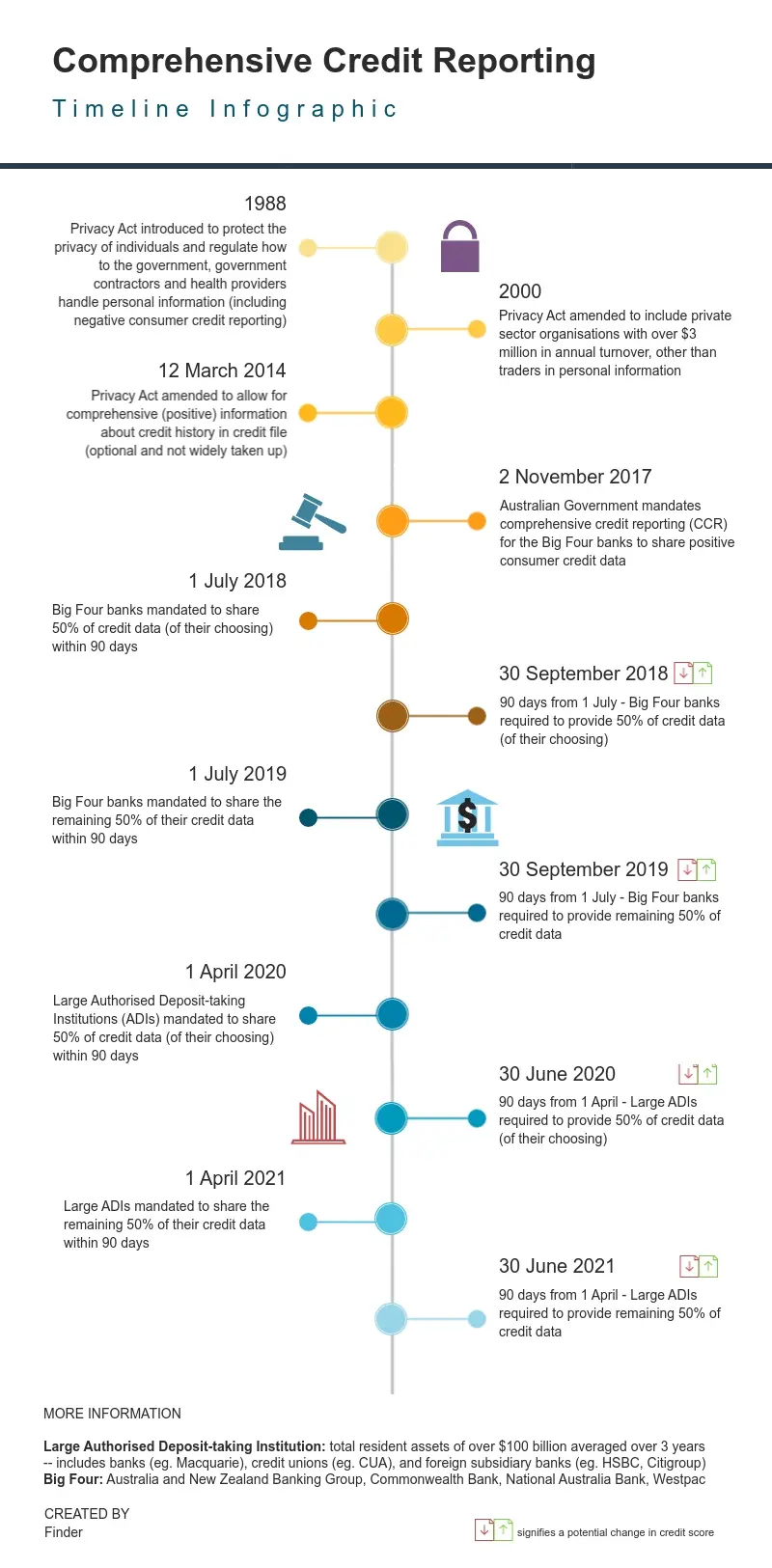 Technically, CCR has been in place since March 2014. However, when it was first introduced the scheme was not mandatory and the banks were extremely sluggish on getting involved with the program. On 2 November 2017, Federal Treasurer Scott Morrison announced that participation in Comprehensive Credit Reporting will be mandated for the Big Four banks.
This means that as of 1 July 2018, the major banks were required to share 50% of your credit data with credit bureaus. This was increased to 100% by 1 July 2019. While only the four major banks (NAB, CommBank, Westpac and ANZ) are required to share this data, other credit providers will likely also share data within the same time frame to remain competitive.
Why did banks and lenders not voluntarily contribute positive credit data before?
Some lenders voluntarily contributed positive credit data; as of April 2017, Equifax reported that 24% of lenders were sharing data. However, this didn't include any of the major banks.
There were a few reasons for this. One was that the banks took a long time to prepare their systems to report data to credit reporting bureaus in public mode (some banks, such as NAB, had been sharing data privately).
Another reason was that the data the banks held was regarded as an asset and it allowed them to make lending decisions and curate product offerings to their own customers. If they shared this data their competitors would be able to do the same to their customers as well.
What new information will be in my credit file with CCR?
It's important to note that you may not see all of this information included in your credit report after 30 September 2019. Firstly, only the Big Four banks had to share their comprehensive data. The below list of comprehensive data can be expected to appear on your credit file as reported by the Big Four.
| Credit information | Before CCR | After CCR |
| --- | --- | --- |
| Credit inquiry information | | |
| Credit type you applied for | | |
| Credit amount applied for | | |
| Date you opened your credit accounts | | |
| Credit accounts types you opened | | |
| Date you closed your credit account | | |
| Maximum credit amount available for each account | | |
| New and previous credit amounts | | |
| Conditions related to your repayment | | |
| Credit providers names and if they have a credit licence | | |
| Overdue consumer credit accounts details | | |
| Monthly repayments for the last two years | | |
| Default agreements details | | |
| Commercial credit applications | | |
| Overdue commercial credit account details | | |
Will my credit score change?
Yes, it is likely your credit score will change. Data from Equifax has shown that generally, consumers with CCR data on their credit file will see improvements in their credit scores. Want to know what yours is? Just click the button below.
Get your free credit score and credit report
---
Free credit score & report
Lenders know your credit score, so why shouldn't you?
Get your credit score and comprehensive report now!
Picture: Shutterstock
More guides on Finder