What goes on your personal credit report?
From your current credit accounts to defaults and enquiries, discover what you'll find on your credit report.
Your credit report is a detailed document of your credit history that includes your personal information, current and past credit accounts, payment history, defaults and more. Credit issuers use your report to determine what kind of borrower you are. Knowing what's on your credit report can help you understand the positive and negative financial behaviours that are listed on your report as well as how they'll impact your credit score and chances of approval the next time you apply for credit.
You can use this guide to understand what's on your file and to order a copy of your credit report and score for free through Finder.
This section of your credit report contains details that are used to identify you. This includes your name, date of birth, your address history, your driver's licence number and also your employment history.
Consumer credit information
Credit enquiries, credit providers and current accounts
Any applications you've made for credit in the last five years will be included in your credit report, whether they've been approved or not. These enquiries could include applications for personal loans, mortgages, credit cards, car loans or even utility accounts. Interest-free store finance and store cards will also be included as well as any accounts you've gone guarantor on.
This section will also list your current credit providers and accounts, the type of account they are, the repayment status and your credit limit.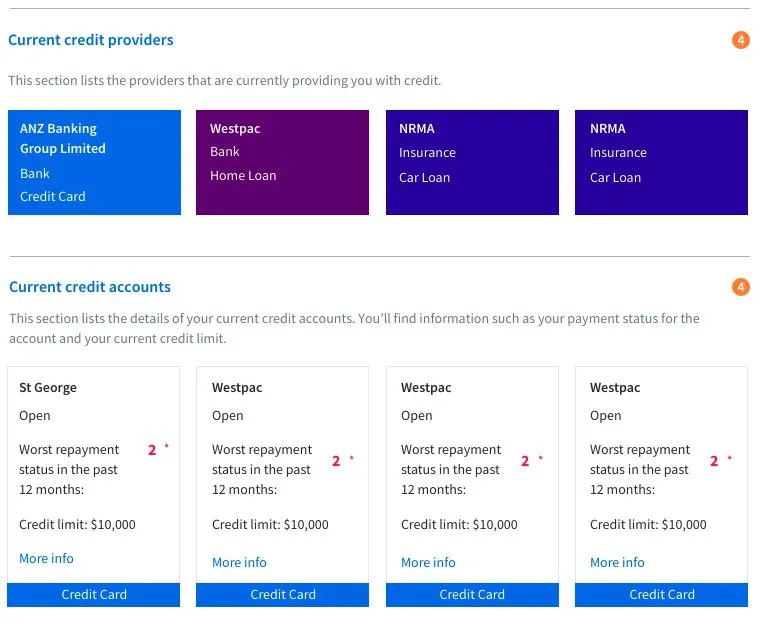 Did you know that utility accounts can affect your credit?
Utility accounts such as your electricity, gas and Internet are listed on your credit report. Each time you enquire with a utility provider, it will be listed with your credit provider and any unpaid bills over $150 that are more than 60 days overdue can be listed on your credit file as a default.
Consumer credit liability accounts
This section applies to consumer accounts that you currently have open or have held in the past. The credit limits will be noted on your report as well as the type of account and the date the account was open and closed. Details of overdue accounts will also be included.
If you have a debt of $150 or more overdue for at least 60 days, your creditor can list it as a default on your account. Defaults remain on your report for five years, even after you've paid the overdue amount. If your credit issuer attempts to contact you several times and do not receive a response, the default will change to a serious credit infringement which will remain on your account for seven years. Both defaults and serious credit infringements have a negative impact on your credit score. You can learn more about the difference between defaults and credit infringements on Finder.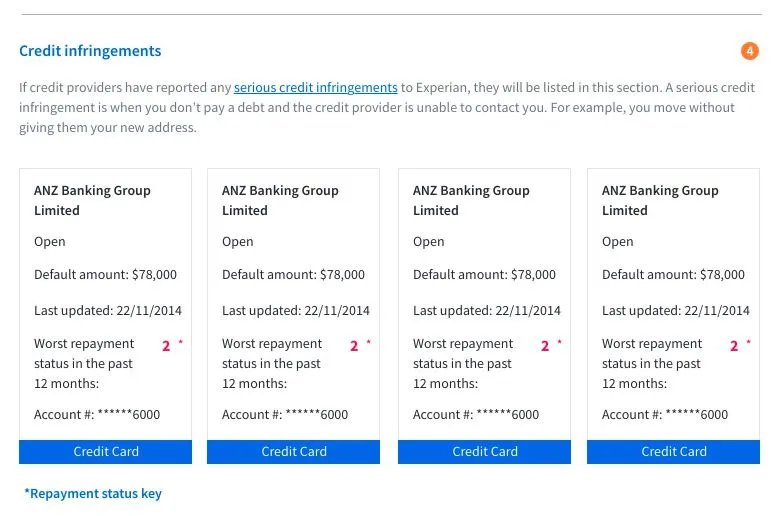 Public record information
Any relevant credit information that is held on the public record will be included on your report. This includes court judgements, directorship details, proprietorship details, bankruptcies, debt agreements and personal insolvencies.
Commercial credit information
Any credit enquiries you make for commercial credit accounts, such as a credit card for a small business or a business loan, will also be listed on your personal credit file. If you are overdue on any of these accounts, it will be included in your file.
Any time you credit file is accessed by you or a credit provider it will be noted on your file. Under the Privacy Act 1998, only credit providers, mortgage insurers, trade insurers and authorised agents acting on your behalf can access your credit file in certain circumstances. Commercial credit and public record information can also be disclosed to organisations that deal with commercial credit-related activities and collect debts.
Curious about your credit score and what's on your credit report? Find out now for free.
Free credit score & report
Lenders know your credit score, so why shouldn't you?
Get your credit score and comprehensive report now!
Picture: Shutterstock
Related Posts