Do monthly repayments matter to your credit file?
Making repayments on time to your credit accounts is important, but what impact can it have on your credit reputation?
Before the introduction of Comprehensive Credit Reporting (CCR) in 2014, only negative events were recorded on your credit file. This included defaults, bankruptcies, court judgments and similar events that could make you look like a risk to prospective lenders. Since 2014, CCR has included other records to help lenders better understand a borrower's behaviour. One new listing is your repayment history.
Free credit score & report
Lenders know your credit score, so why shouldn't you?
Get your credit score and comprehensive report now!
How can I find out my repayment history?
You can check your full credit report for free with finder. On your report, you will see a record of your current and past credit accounts and any repayments history the credit provider has reported to Experian.
If you are making your repayments on time, you will see a green tick like this:
You may also see other symbols depending on how you've been making repayments to that account: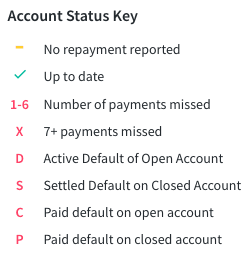 How long does repayment history information stay on my file?
Repayment history information will remain on your credit file for two years. One or two late payments will not necessarily place you in the "bad credit" basket, but consistently making late payments will be a red flag to lenders and may affect your ability to access credit.
How long information stays on your credit file
How do my repayments affect my credit report?
When lenders access your credit file they want to ensure the information you supplied in your application is accurate and that you will be able to manage the debt you are applying for. If you consistently make late repayments it can indicate that you can't manage the debt you have, while making repayments on time can indicate to a lender that you're a responsible borrower.
If you have a default listed on your file you can also keep making your repayments on time to help build up a positive credit record. Ultimately, repayment history is just another part of the risk assessment that lenders undertake when assessing your ability to manage your debts.
Why can't I see my repayment history information?
While CCR was introduced in 2014, not all credit providers have begun supplying data to credit reporting bodies, such as Experian. However, it has been mandated that the big banks supply comprehensive data (such as repayment history information) starting from July 2018. Find out what you need to know about comprehensive credit reporting here.
Now you have a better understanding of how repayments affect your credit file (and credit score), you can check both for free.
Image: Shutterstock
Related Posts