Where's the line drawn between good and bad credit and how can you improve your score?
Credit scores can range between 0 and 549 for a poor score and up to 800 and 1,200 for an excellent score. Lenders use this number and your credit report to assess your application when you apply for a credit card or loan.
So, do you have a good or bad credit score? You can use this guide to order a free copy of your report and score, pick up tips to fix your credit score and understand what behaviours can have a negative impact on your financial history.
Free credit score & report
Lenders know your credit score, so why shouldn't you?
Get your credit score and comprehensive report now!
What is a good credit score?
A good credit score usually sits between 800 and 1,200. The exact bracket may vary depending on the credit reporting body you get your credit score from. For example, if you get your free credit score from finder it will be delivered from Experian and it will be a number between 0 and 1,000. However, Equifax's credit score system rates credit scores between 0 and 1,200.
See how the credit score systems break down below:
| Credit band | Experian | Equifax |
| --- | --- | --- |
| Excellent | 800-1,000 | 833-1,200 |
| Very good | 700-799 | 726-832 |
| Good | 625-699 | 622-725 |
| Fair / Average | 550-624 | 510-621 |
| Weak / Below average | 0-549 | 0-509 |
What is a bad credit score?
As you can see in the table above, credit scores between 0 and 624 are considered bad. If you're applying for a credit card in Australia, you'll usually need a good or better credit score to receive approval. If you do have a low credit score, there are steps you can take to increase it and improve your financial history.
How can I improve my credit score?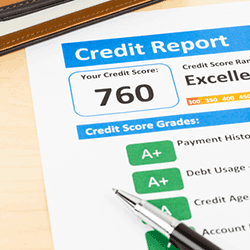 If you have a credit score below the "good" threshold, here are some ways you can improve your score:
Consolidate your debts. If you're struggling to pay off multiple debts, you can consolidate them into one account. For example, you could consolidate several credit card debts onto one card with 0% on balance transfers and pay it off with no interest for a promotional interest. You can also compare personal loans that are designed for debt consolidation. Not only are your debts easier to manage because they're under one account, you should save on interest costs by choosing a card or option with a low interest rate.
Make payments on time. The last two years of your repayment history is now listed on your credit report, so it's important to make your repayments on time. If you are late with one or two repayments just make sure you keep up with all of your following repayments.
Establish healthy accounts. If you don't have a credit card or loan, you can also demonstrate positive repayment behaviours by paying accounts such as your mobile plan, internet plan, electricity account on time.
Lower your credit limits. The credit limits of your open credit accounts are listed on your report, but not how much debt you have. So if you have three credit cards with high limits but only a bit of debt, it still may have a negative effect on your score. Reduce your unused limit for an easy credit score win. However, keep in mind that lowering your credit score can will impact your credit utilisation ratio and could hurt your credit score if you have a high debt to credit limit ratio. You can weigh up the pros and cons of reducing your credit limits in this guide.
Demonstrating job stability. A steady income (such as staying in the same job for a few years) demonstrates responsibility and your ability to repay to lenders.
Rental and home ownership. Long-term rental or homeownership can also shows lenders that you are capable of making regular repayments and can manage other loans.
Don't make too many credit card applications. Each credit application you make shows up on your credit report regardless of whether it is approved. Having numerous credit applications on your report in a short space of time will have a negative effect on your credit score. If your credit card application is rejected, you should avoid applying for another one until you've had time to improve your credit score and ensure you're eligible for the card.
Learn more ways to improve your credit score
What can cause a bad credit score?
From late payments and numerous credit card applications to defaults and bankruptcy, here are some of the factors that can lead to a low credit score:
Numerous credit accounts and applications. Having too many loans to your name isn't a good look because it puts in question your ability to manage and repay all of them at once. All loan applications stay on record for five years.
Credit enquiries. Every time you apply for credit, the lender makes an enquiry on your credit history. This enquiry itself is then recorded on the report going forward, leaving a trail of credit enquiries that other future lenders will not look favourably upon. These stay on record for five years.
Late or skipped payments. Poor payment habits can be a warning sign to potential lenders, so it is always better to make a repayment on time, even if it's a small or partial amount. It's also important to remember that loan repayment history stays on your record for two years.
Credit defaults. This happens when a lender takes action to retrieve an outstanding payment and stays on your record for five years.
Court writs and summons. These legal blemishes stay on your record for four years.
Serious credit infringement or clearouts. If you fail to make payment and the creditor is unable to contact you for more than six months, a serious credit infringement will be marked on your record for seven years.
Bankruptcy and insolvency. These will stay on your report for five years after the start of insolvency, or two years after the insolvency ends, whichever is longer.
How to repair bad credit in Australia
How can I check my credit score?
You can order a copy of your credit report through a credit reporting bureau or for free through Finder. Follow the link below to sign up and get yours today.
Get your free credit score and credit report
Lenders that offer personal loans to bad credit borrowers
Back to top