Nimble Small and Medium Short Term Loans
Compare various loan options from $300 up to $25,000 with Nimble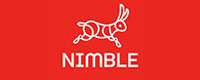 Please note: Nimble Visa prepaid card is no longer available.
Operating since 2005, Nimble offers small and medium short term loans with different amounts and repayment term options. The fees you'll pay will also depend on how much money you borrow. Like most short term loans, Nimble loans are designed to be short-term financial option and should not be used to fix long term financial problems. You can learn more about this form of credit and compare your options in this guide to Nimble short term loans.
What loans are available?
Nimble offers three different short term loans:
Small loan. This is a loan between $300 and $2,000 that can be repaid over a period of between 62 days to 3 months.
Medium loan. Nimble also offers a larger loan between $2,050 and $5,000 which can be repaid over 22 months.
$5,000 - $25,000 loan. Nimble also offer a loan upwards of $5,000 and up to $25,000 for customers looking for that little bit more finance. These loans are available on terms from 6 months up to 4 years.
What features does Nimble offer?
Fees. The fees you'll pay will depend on the type of loan you apply for. Small short term loans will attract an establishment fee as well as monthly fees. The medium loan will be charged an application fee plus an interest rate. You can compare the current fees that apply in the table above. Arrears fees will also apply if you don't pay your repayments on time.
Repayments. Nimble sets out the repayments in the contract but you can choose your loan term and repayment structure. Your payments will be direct debited out of your account on the set repayment days, which you can check in the Nimble Members Area, and Nimble will also send you a reminder the day before payments are due. If you think you can't make a repayment on time, contact Nimble immediately to discuss your options.
Turnaround. If the loan is approved before 4.30pm on a business day, you can expect to see your money in your nominated bank account within one hour. This may vary between banks.
Visibility. Nimble offers detailed information about the company and its services on the website.
What to know about Nimble
Nimble launched in November of 2005 after the company's founders saw a gap in the short term and payday loan market. They aimed to develop a business which stood out from the other loan providers that were available at the time. Since the company's inception that have approved over 1,000,000 loans.
How do you apply?
To apply with Nimble simply follow the secure link on this page to their online application form. The application will take a few minutes and you need to meet the following criteria to be eligible:
Be over 18
Be employed
Not depend on Centrelink benefits
If you have bad credit history Nimble may still consider you for a loan. Although if you are currently bankrupt, in a part nine debt agreement or have especially bad credit history your application will not be approved.
While the system verifies your details automatically, on some occasions Nimble will need to do additional checks in order to approve your loan. To apply you will need to provide personal details, employment details and details of your finances including your pay cycle, rent or mortgage repayments and your next pay date.