DollarsDirect Short Term Personal Loans
DollarsDirect offer short term personal loans with same day turnarounds.
We're reader-supported and may be paid when you visit links to partner sites. We don't compare all products in the market, but we're working on it!
DollarsDirect is a short term online lending service. They are affiliated with other brands like CashNetUSA and Pounds to Pocket, creating a network that has served over two million customers worldwide. They provide lending services across Australia, and only provide loans to those who are current residents of Australia.
DollarsDirect
is no longer been operating since December 31st, 2016. If you want to go through other products you can visit to
this page
.
Are you struggling financially?
If you're struggling financially and would like to speak to someone for free financial advice, information and assistance you can call the Financial Counsellors hotline on 1800 007 007 (open from 9:30am to 4pm, Monday to Friday). If you are suffering financial problems related to the coronavirus pandemic you may be eligible for additional support. Find out more here: https://www.finder.com.au/coronavirus-financial-help

⚠️ Warning about Borrowing

Do you really need a loan today?*
It can be expensive to borrow small amounts of money and borrowing may not solve your money problems.
Check your options before you borrow:
For information about other options for managing bills and debts, ring 1800 007 007 from anywhere in Australia to talk to a free and independent financial counsellor
Talk to your electricity, gas, phone or water provider to see if you can work out a payment plan
If you are on government benefits, ask if you can receive an advance from Centrelink: Phone: 13 17 94
The Government's MoneySmart website shows you how small amount loans work and suggests other options that may help you.
* This statement is an Australian Government requirement under the National Consumer Credit Protection Act 2009.
DollarsDirect Short Term Loans
DollarsDirect offer short term loans up to $2,025 for when you need money the most. Perfect credit is not required and you can have the money in your account within the same day - conditions apply.
Loan Amount: $2,025
Loan Term: 65-100 Days
Turnaround Time: Same day - conditions apply
Interest Rate: 48%
Application Fee: $300
Bad credit borrowers OK
Quick and easy approval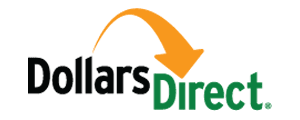 Types of personal loans from DollarsDirect
DollarsDirect provides quick loans for when you most need it. They can help you with a loan for up to $2,025, sent via direct deposit. Smaller loans are also available. Each loan is personalised and you can conveniently pay your loan back via authorised direct debiting.
They also offer loans to people with a less than perfect credit rating, meaning past pay-back transgressions won't necessarily prevent you from being approved for a loan. Loans are only given to applicants who can prove they have been employed for at least 30 days, have an active bank account with direct deposit feature, are over the age of 18 and are a current Australian resident.
Features and benefits of a DollarsDirect personal loan
Quick and easy application. The application process is streamlined so you can enter your personal information easily and expect a quick response.
Borrow up to $2,025. All approved customers can receive up to $2,025 and if you apply before 2:30pm Sydney time, you can get your funds in the same day. Keep in mind that you don't have to borrow the full amount offered to you — you're able to request additional funds for no extra cost within the open draw period.
Choose from multiple repayment plans. DollarsDirect loans are designed to provide you with a range of repayment options, so do not have a stiff set of loan repayment requirements. All the offered repayment plans are suited to help people pay back their loan on time, and find a plan that fits your financial needs
Perfect credit history is not required. If you don't have a great credit rating, DollarsDirect can still work with you. Everyone is welcome to apply for one of their loans, as they are meant to help people when they are in financial need and not just those with good credit.
Repayment terms. With other payday lenders you may only be able to have 30 days to pay off your loan, but with DollarsDirect you may have up to 100 days to pay it back.
No hidden fees. When you apply for a DollarsDirect Short Term Loan you'll be given a full schedule of fees set out in your credit contract. You will not be charged any collection, late or dishonour fees.
What are the risks of payday loans?
Unaffordable repayments. Payday loans are an expensive way to borrow money and should only be used as a last resort. Check the size of each repayment and ensure you will be able to pay it on time. Unaffordable repayments can lead to late fees that will only make things worse.
High rates and fees. Rates and fees on payday loans are high but there are rules in place so be sure to check your lender is not charging you more than ASIC allows. Also, look at what you would be charged if you are late on a payment or if you default on the loan altogether.
Unreputable lenders. All Australian lenders should be accredited by ASIC. Check for a credit licence on the ASIC Register and ensure that the lender is easily contactable.
Impact on credit score. Every loan application shows up on credit reports. While lenders might not consider credit history, applying for lots of loans within a short period can have a negative impact on your credit score in the future.
How to apply for a personal loan from DollarsDirect
If you think you might need help with some financial shortfalls, consider a short term personal loan to help you get through the month. The application is completed online, helping to move the process along quickly. The eligibility requirements are listed below. Click 'Go to site' if you think DollarsDirect can help you.
Eligibility requirements
You need to have been employed for at least 30 days
You must have a bank account with direct deposit options
You must be 18 years old or older
You must be a current resident of Australia
More guides on Finder