What is a default on my credit file?
If you have an overdue bill for 60 days or more, it'll leave a default on your credit report. Learn more in this guide.
We're reader-supported and may be paid when you visit links to partner sites. We don't compare all products in the market, but we're working on it!
A default is an example of a negative credit listing that can hurt your credit score. Defaults can remain on your file for five years and could impact your chances of approval when applying for credit cards or loans.
You can use this guide to learn what is considered a default and understand the details that will be listed on your credit report.
Credit score in the Finder app
Want a better way to check your credit score?
Banks know your credit score, so why shouldn't you? The Finder app updates your score automatically each month and lets you know if it changes. Pop in your phone number below to get your download link.
By submitting your phone number, you agree to the Finder privacy policy and terms of use
What is a default?
A default is any consumer credit account that is overdue by more than 60 days where you owe more than $150. This is also known as an overdue debt. This could include a credit card, personal loan, phone or utility bill. If the default is less than $150 or if it has been overdue less than 60 days, it cannot be listed on your credit file. This doesn't apply to commercial credit reports, where the minimum default amount is $100.
Can credit providers automatically list a default at the end of the 60-day period?
No, credit providers must follow a process to have the default listed on your credit file. The credit provider must send you two separate notices to your last known address (physical or email address) before it can give a credit reporting body details regarding a default. The address the provider will use should be how it usually contacts you. Here's what you can expect from the notices:
The first notice. You'll be informed your payment is overdue and you'll be requested to pay the overdue amount. You'll receive this notice as soon as the default becomes overdue.
The second notice. You'll be informed that if you don't pay the outstanding amount the credit provider will inform a credit reporting body and have the default listed. The credit provider needs to wait 30 days after sending the first notice to send this notice.
After issuing you the second notice you'll have 14 days before the default is listed on your report.
What will be listed on your credit report?
The credit provider will list the following information on your credit file in relation to your default:
The credit provider and the type of account it was
The amount listed as a default
The date the listing is due to come off your report
You can see an example of how defaults are listed below: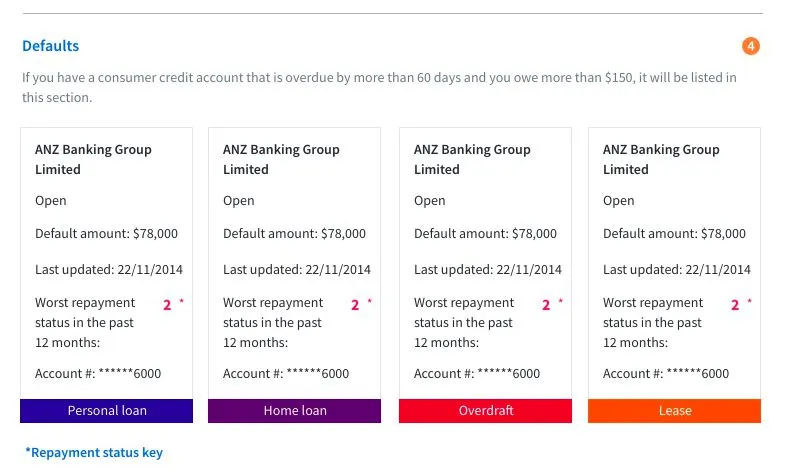 Can a default listing on your credit report change?
Once a default is listed, the amount can't be changed to reflect recent payments or missed payments. If you miss a payment, it will be listed as a separate default.
However, the listing can be updated to show accruing interest and fees. If you pay the full defaulted amount the credit provider needs to inform the credit reporting body who will update the listing to "paid".
What if a lender can't get in contact with me about a default?
If the credit provider cannot get in contact with you at your last known address in order to get the default paid this is no longer referred to as a default. It will be listed on your file as a serious credit infringement and it will remain there for seven years. Once you pay the outstanding amount you can have the listing reverted to a default listing where it will remain on your credit file for five years.
This is why it's important to ensure that you contact your lender to update your contact information and residential address if it changes.
Can a credit provider list an old default on my report?
Credit providers need to abide by certain time regulations to have defaults and other listings legally reported on credit reports. In terms of defaults, a credit provider cannot wait more than 90 days after issuing you with the second notice to have the default listed on your credit file. If it doesn't list it within this time, it's required to send you another notice telling you it will list your default on your credit report, and then wait another 14 days to list it.
Statute barred debts are also not allowed to be listed on your credit file. These are debts that credit providers can no longer legally demand that you pay.
---
If you do have a default on your credit report, you can still demonstrate other positive payments behaviours (paying your future bills on time and consolidating debts) to improve your credit score. To get started, you can order a free copy of your credit report and credit score through Finder. Then you can see our guide to credit repair to get your finances under control.
Free credit score & report
Lenders know your credit score, so why shouldn't you?
Get your credit score and comprehensive report now!
Picture: Shutterstock
More guides on Finder