Media Release
RBA Survey: Stricter lending by banks will hurt the economy
94% of panellists say tightening lending practices could negatively affect economy
Today represents the 26th consecutive time the RBA has held the cash rate at 1.5%
48% of experts predict next rate rise won't come until 2020 or later
4 December, 2018, Sydney, Australia – As forecasts for declines in average property values across the country continue, economists are concerned about Australians' access to capital.
Nearly all (94%) of the experts and economists polled in the finder.com.au RBA survey (15/16) say that a move to stricter lending by the banks could have a negative effect on the economy.
Graham Cooke, Insights Manager at finder.com.au, said with house prices now in decline, the move to stricter lending could add further deflationary pressure on prices.
"The housing market has been bounding from strength to strength in recent years, fuelled by easy credit; however, in a declining market, it's even more important for lenders to make sure borrowers can pay off their debts and avoid issuing interest-only loans.
"While tighter lending rules will hasten the decline of prices in the short term, they should be beneficial to overall stability in the long term. You could call it short term pain for long term gain," Cooke said.
Economist Saul Eslake of Corinna Economic Advisory said tighter lending practices would cause more harm than good.
"In the longer term, a reduction in the extent of risky lending – particularly for property speculation – would be a positive development.
"Stricter criteria for business lending would on balance be a negative development in both the short and long terms," Eslake said.
Chief Economist of ABC Bullion, Jordan Eliseo said stricter lending would mean sharper drops in house prices and spending.
"It all depends on how you define 'negative'. If you think it's a negative that stricter lending will mean less money flowing into real estate, a sharper fall in house prices and a knock on effect from that across discretionary retail and household spending, then yes, this will be a negative.
"If you're more focused on the long-term, and worry that households are over indebted, and that the banks might have much riskier mortgage books than is commonly thought (mortgage arrears are rising, though are still exceptionally low), then tighter credit will be a positive for the economy over the long run," Eliseo said.
The consensus on stricter lending levying an overall negative effect on the economy comes as the Reserve Bank of Australia (RBA) today announced a hold on the cash rate at 1.5% for the 26th consecutive time, an outcome accurately predicted by all 32 members from the finder.com.au RBA survey.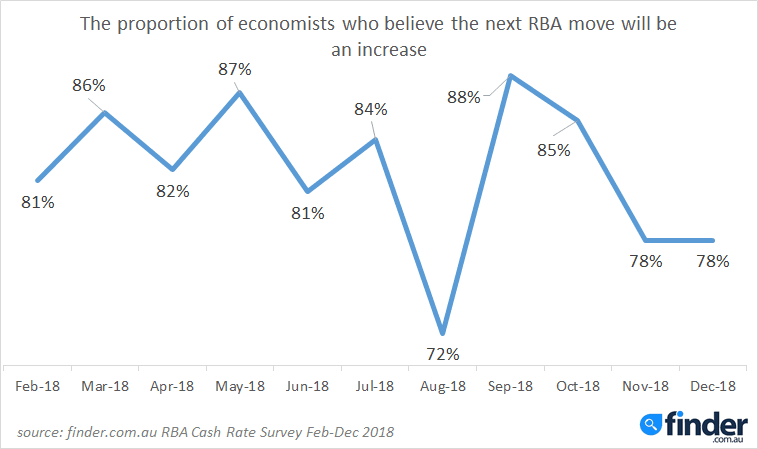 While expectations of the next cash rate move to be an increase remain strong, the certainty for an upward change has waned in recent months and remains at 78% (21/32).
As to when that rise will happen, only 10% economists (2/21) expect it in the first half of 2019. Nine (43%) expected a first increase in the second half of the year, with ten (48%) not expecting an increase until 2020 and beyond.
"Through the last few months, we say the forecast for when the next rate increase will come push further and further into next year.
"Now it looks like we could see another 11 RBA hold decisions, as economists foresee the possibility of no movement in 2019," Cooke said.
Economic sentiment on housing affordability and employment are both on the up, with over 50% of experts reporting a positive outlook, up from under 50% last month. However, positive sentiment has dropped slightly on wage growth and cost of living.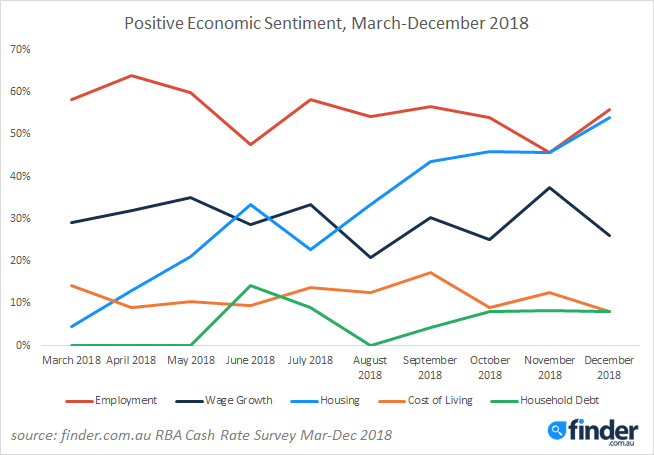 Here's what our experts had to say:
Alan Oster, NAB: "Wages still sluggish and consumer [is] nervous."
Alex Joiner, IFM Investors: "The RBA have become marginally more confident in its assessment of the economy recently however these expectations are still some way off in being observed in the economy - this again supports the assertion that interest rate hikes are some way off yet."
Alison Booth, ANU: "The fundamental still don't want any change."
Clement Tisdell, UQ-School of Economics: "No good reason to alter. Any rise in interest rates is problematic given the high level of indebtedness of Australian households."
Dr Andrew Wilson, My Housing Market: "On hold. November was last chance for effective rate cut to stimulate stagnant incomes and consumption ahead of what is likely to be another underwhelming Xmas retail period. Also last month was last chance to stem increasing downward momentum in house prices - likely also to ironically be of growing concern now to RBA given its impact on consumer sentiment and sharply reduced economic activity from the property and finance sectors. So set to be on hold for the foreseeable future with the Bank unlikely to cut ahead of the growing likelihood of a downturn in the global economy."
Geordan Murray, HIA: "There is still insufficient evidence of inflationary pressures to justify a rate hike. Declining home prices in Sydney and Melbourne, particularly given the magnitude of the falls, would ordinarily trigger calls to cut rates. This time around the RBA is not likely to be compelled to change policy settings based on home prices. The recalibration of home prices is due to homeowners being forced to deleverage due to both APRA's interventions in the mortgage market and the credit squeeze initiated by the banks."
Jacqueline Dearle, Mortgage Choice: "With little change in inflation and wage growth, plus a positive outlook for the labour market, the economic backdrop suggests the Reserve Bank of Australia will hold the official cash rate at 1.5% in December. Looking ahead, Governor Lowe has said that interest rates in Australia will rise, 'at some point', highlighting the need for borrowers to take a closer look at their financial situation and talk to an expert to ensure they are getting the best deal on their home loan."
Janu Chan, St. George Bank: "RBA rhetoric continues to suggest rates remaining on hold. Although unemployment is continuing to fall, ongoing slow wage growth and low inflation suggests little need to move rates anytime soon."
John Hewson, ANU: "Economy now slowing and household debt constraint."
Jonathan Chancellor, Property Observer: "The bank will now see how the new year unfolds. There is no immediate reason to do anything just yet."
Jordan Eliseo, ABC Bullion: "Despite the heightened concern regarding falling house prices and the knock on effect it will have across the economy, the RBA will hold into the first half of 2019 at the latest. Actual economic data is still relatively strong, though we expect the economy will hit a rougher patch next year, with the RBA eventually trimming rates toward 1%."
Leanne Pilkington, Laing+Simmons: "We see the official cash rate remaining at its current level through the first half of 2019. Subdued housing transaction activity and price declines in some markets make an interest rate increase in the near term an unnecessary risk. A strong labour market will be a key factor supporting the economy as we look to the new year."
Malcolm Wood, Baillieu: "Inflation below target, housing downturn and market volatility."
Mark Brimble, Griffith Uni: "No reason to provide any tightening. With actual rates in the market moving up and a not so positive estimate of the summer retail season, if anything there is more of a case for stimulus."
Mark Crosby, Monash University: "Despite pressure to raise, the RBA will wait until the new year before yielding. International uncertainty may slow down the pace of rate increases in the US, but the Fed and other central banks are still likely to be raising in the new year, making it easier for the RBA to follow suit."
Matthew Peter, QIC: "The RBA managed to raise substantially their growth outlook, while leaving their inflation outlook largely unchanged. Meanwhile, employment growth powers on and wage growth grinds higher. Unless the housing market crashes, the RBA will be raising rates before the end of 2019; long before the market currently expects."
Michael Blythe, CBA: "Low inflation and weak wages growth."
Michael Witts, ING Bank: "It is a matter of the RBA being comfortable with the current state and outlook for the Australian economy."
Michael Yardney, Metropole Property Strategists: "While the economic data suggests an improving economy, wages growth is slow and our property markets are slumping. The many mixed signals means the RBA will maintain the official interest rate on hold at 1.5%."
Nerida Conisbee, REA Group: "There are some really positive economic indicators out there at the moment. In particular, the unemployment rate is very low and this should lead to wages growth. Nevertheless, at this stage, I believe they will hold and review when they meet up again next year."
Nicholas Gruen, Lateral Economics: "They won't cut, though there's a case they should. They'd rather raise, but they've not telegraphed it."
Noel Whittaker, QUT: "There is no desperate urgency to increase rates and they certainly will not drop."
Peter Gilmore, Gateway Bank: "Whilst employment is strengthening, inflation remains moderate. Global market volatility will weigh on the RBA's decision."
Peter Haller, Heritage Bank Limited: "The RBA will not increase the cash rate while inflation and inflation expectations remain low."
Richard Holden, UNSW: "Still missing inflation target. Wages growth weak."
Saul Eslake, Corinna Economic Advisory: "Although the RBA remains optimistic on the outlook for economic growth and unemployment, it still sees inflation returning only 'gradually' to the bottom of its 2-3% inflation target. And some of its recent commentary appears to indicate slightly greater near-term concerns with regard to the possible consequences of declining property prices and greater risk aversion on the part of lenders. All of this suggests that an increase in rates is still some way off."
Shane Oliver, AMP Capital: "The RBA remains between a rock and a hard place. Strong infrastructure spending, improving non-mining investment, a lessening drag from falling mining investment and a fall in unemployment to 5% are all good news. But against this the housing cycle has turned down, this will act as a drag on housing construction and consumer spending via a negative wealth effect, wages growth remains weak, inflation is below target and share market volatility is highlighting risks to the global outlook. So yet again the RBA will remain on hold."
Tim Moore, CUA: "The RBA appears to be comfortable with current monetary policy setting, with the next move more likely to be up than down. The RBA is likely to wait for more evidence that wages growth is rising before increasing interest rates."
Tim Nelson, Griffith University: "No material change since last meeting."
Trent Wiltshire, Domain: "The RBA is comfortable with where the cash rate is and the trajectory of the economy. The unemployment rate has fallen faster than expected and growth is robust. The main concerns are whether wages growth will pick-up and how falling house prices will affect consumer spending and the construction sector."
Other participants: Bill Evans, Westpac; Marcel Thieliant, Capital Economics; Stephen Koukoulas, Market Economics
###
For further information
Disclaimer
The information in this release is accurate as of the date published, but rates, fees and other product features may have changed. Please see updated product information on finder.com.au's review pages for the current correct values.
About us
Every month 2.2 million unique visitors turn to Finder to save money and time, and to make important life choices. We compare virtually everything from credit cards, phone plans, health insurance, travel deals and much more.
Our free service is 100% independently-owned by two Australians: Fred Schebesta and Frank Restuccia. Since launching in 2006, Finder has helped Aussies find what they need from 1,800+ brands across 100+ categories.
We continue to expand and launch around the globe, and now operate in the United States and the United Kingdom. For further information visit www.finder.com.au.