Netflix vs Stan vs Foxtel Now vs everyone else
Before you sign up to anything, see how Netflix compares to Stan compares to Foxtel Now compares to.... well, you get the idea.
We're reader-supported and may be paid when you visit links to partner sites. We don't compare all products in the market, but we're working on it!
The days of waiting months for American TV shows to reach Aussie shores are long over. Thanks to streaming services like Stan, Foxtel Now and of course, Netflix, Australians can now keep up with the latest episodes of their favourite shows often day-and-date with the US.
There's only one downside to having so much entertainment available on-demand: how do you decide which service to sign up for? They all have their own pros and cons so we've broken down what each one brings to the table to help you make the right choice.
It looks like we don't have any coupons at the moment. Take a look at our most recent deals
Streaming services at a glance
---
Shows and movies
Netflix has the clear lead when it comes to breadth of content, boasting an impressive 1156 TV shows and 2724 movies currently available to watch. This beats out Netflix's closest competitor Stan by a factor of 4:1 on TV shows and over 2:1 on movies. Of course, quantity doesn't equal quality, and the Australian Netflix library lacks many of the popular titles its American counterpart enjoys.
That's why Netflix has shifted its business model in recent years, focusing more on producing original content than acquiring the rights to existing shows and movies. This has worked out well for the service, with series like Daredevil, 13 Reasons Why and The Crown providing plenty of reason to subscribe.
The top series and movies on Netflix
13 Reasons Why
The IT Crowd
Stranger Things
House of Cards
---
Stan might trail Netflix in terms of raw numbers, but it's snapped up the rights to plenty of big-name series that make up for its slimmer library. Shows like Preacher, Better Call Saul and iZombie are only available to stream on Stan in Australia, making it an attractive proposition if you're looking to keep up with the latest in American TV.
Original programming is an area Stan is trying to break into, too, though it remains far behind Netflix's vast library of homegrown content. Unless you're particularly keen on The Other Guy or No Activity, you'll probably want to look elsewhere for new, original content.
The top series and movies on Stan
Better Call Saul
The Other Guy
Wolf Creek
No Activity
Transparent
Dexter
Mozart in the Jungle
Arrival
---
Foxtel Now's catalogue is considerably smaller than Netflix or Stan's, though it benefits from far timelier access to the latest American TV shows than either of its two main competitors. New episodes of shows like Game of Thrones and Wentworth typically air on Foxtel Now's channels mere hours after they premiere in America, which is perfect if you want to avoid getting spoiled on your favourite show as you wait the months it takes to hit other streaming services.
Sports is Foxtel Now's ace up its sleeve, since it's the only Aussie streaming service with the rights to live coverage of AFL, NRL, NBA, NFL, Super Rugby, European football and much more. It doesn't come cheap, but it gives Foxtel a distinct advantage over the competition.
It looks like we don't have any coupons at the moment. Take a look at our most recent deals
The top series and movies on Foxtel Now
Jason Bourne
Deepwater Horizon
---
hayu's line-up is focused solely on reality TV, and its monopoly on this market is unquestionable. With new episodes from shows like Jersey Shore, Keeping Up With the Kardashians and The Real Housewives of New York City airing the same day as they do in the US, hayu is heaven for those who love watching people get nasty on live TV. Of course, if you have no interest in reality TV, hayu's library won't have much to offer you.
The top shows on hayu
Born in Chelsea
Famously Single
The Hills
---
Amazon Prime Video is the newest contender in the Australian streaming space, and its library is still in its infancy. That said, it's already making headway with original shows like The Grand Tour, American Gods and The Man in the High Castle, all of which have proved popular with critics and viewers alike.
The top series on Amazon Prime Video
The Man in the High Castle
Price
Pricing for Netflix's subscription tiers went up recently, eliminating the cost advantage it previously had over its competitors. A single-stream subscription will set you back $9.99 a month, though you'll only be able to watch content on a single device at a time and only in Standard Definition (SD). Upgrade to the double-stream subscription for $13.99 a month and you'll be able to stream on two devices simultaneously in High Definition (HD). Or you can go all out with a four-stream subscription and watch on four devices at a time in resolutions up to 4K Ultra HD for $17.99 a month.
Stan has a slight edge on Netflix in the pricing game. While its Basic subscription costs the same $10 a month for SD streaming on a single device at a time, its Standard subscription is only $12 a month and gets you HD streaming on up to three devices simultaneously. The Premium subscription is cheaper, too, running you $15 a month for up to four simultaneous streams with support for 4K Ultra HD.
Foxtel Now is the priciest of the Australian streaming services by a significant margin. While you can subscribe to either the Docos, Lifestyle or Kids packages for $1 a month each, the limited number of channels that gets you pales in comparison to the likes of Stan and Netflix's libraries. The Drama and Pop packages will cost you even more at $15 a month each, while the Movies package will set you back $20 a month and the Sports package $29 a month.
hayu has a distinct advantage on the cost front. Its limited scope allows it to charge just $5.99 a month for complete access to its catalogue of reality TV, which is impressive value for those who simply have to keep up with the Kardashians.
Amazon Prime Video benefits from slightly lower pricing than Stan and Netflix, sitting at US$5.99 (AU$7.58) a month for 3 concurrent streams at resolutions up to 4K Ultra HD. It's also the only service to support HDR lighting, provided you've got the TV to handle it.
Simplicity
Early on in the age of streaming, device support was wildly inconsistent between competing services. Now, however, Netflix, Stan, Foxtel Now, hayu, Amazon Prime Video and virtually every other streaming service available has rolled out easy-to-use apps on phones, tablets, gaming consoles and even smart TVs.
| Device | Netflix | Stan | Foxtel Now | hayu | Amazon Prime Video |
| --- | --- | --- | --- | --- | --- |
| PC | | | | | |
| Mac | | | | | |
| PS4 | | | | | |
| Xbox One | | | ** | | |
| PS3 | | | ** | | |
| Xbox 360 | | | | | |
| iOS | | | | | |
| Android | | | | | |
| Windows Phone | | | | | |
| Google Chromecast | | | | | |
| Apple TV | | | | | |
| Telstra TV | | | | | |
| Fetch TV | | | | | |
| Samsung Smart TVs* | | | ** | | |
| LG Smart TVs* | | | ** | | |
| Panasonic Smart TVs* | | | | | |
| Sony Smart TVs* | | | ** | | |
| LG Blu-ray players* | | | | | |
* only available on select models
** currently available through the old Foxtel Play app
With most apps offering a similar home page of popular shows and recommendations along with search and browse functionality, finding the desired show or movie is as simple on one as it is on any of the others.
Internet usage and speed requirements
| Service | Video quality | Speed required | Data used per hour |
| --- | --- | --- | --- |
| Netflix | Minimum | 0.5Mbps | 0.3GB |
| Netflix | Recommended | 1.5Mbps | 0.7GB |
| Netflix | SD | 3.0Mbps | 1.5GB |
| Netflix | HD | 5.0Mbps | 3GB |
| Netflix | Ultra HD | 25Mbps | 7GB |
| Stan | Minimum | 2.0Mbps | 0.57GB |
| Stan | SD | 3.0Mbps | 1.13GB |
| Stan | 720p | 4.5Mbps | 2.025GB |
| Stan | HD | 7.5Mbps | 2.89GB |
| Stan | Ultra HD | 15Mbps | 7GB |
| Foxtel Now | SD | 3.0Mbps | 1.4GB |
| Foxtel Now | HD | 7.0Mbps | 3.2GB |
| Amazon Prime Video | SD | 900Kbps | 400MB |
| Amazon Prime Video | HD | 3.5Mbps | 1.6GB |
Note: hayu doesn't provide information on its Internet usage or speed requirements.
Netflix has a significant advantage over other streaming services in how low its Internet speed requirements are. With a connection of just 0.5Mbps, you can still stream Netflix, albeit with pretty poor picture quality. Amazon Prime Video also enjoys an edge here, as it only requires a 900Kbps connection to stream in Standard Definition (SD) compared to the 3.0Mbps every other service needs.
Comparing estimated data usage for each service, Stan has the upper hand thanks to its optimised streaming algorithms. These are designed to reduce data usage without affecting video quality, and are a big plus if you're straining under a small monthly data limit.
Features
If you spend a lot of time on-the-go without an Internet connection, being able to download your favourite shows and movies for viewing offline is mighty handy. Fortunately, Netflix, Stan, Amazon Prime Video and hayu all support offline downloads for many of their titles, making it easy to keep up-to-date with the latest episodes even when you're out and about. Foxtel Now, sadly, lacks any sort of download feature.
With Foxtel Now, however, you have more control over only paying for the content you actually want by picking and choosing between different channel packs. If all you're interested in is live sports coverage, you won't need to purchase the Drama pack to get it; if you're getting Foxtel Now for your kids, you won't need to fork out for all those documentaries you're never going to watch.
Foxtel Subscription Packages
Customer support
Stan makes one heck of a promise with its customer service: if you contact the support team any time between 8AM and midnight any day of the week, you'll get a response within 30 minutes. In contrast, Foxtel Now and hayu rely on their social media channels to handle support queries, which rarely provides the same level of assistance that a one-on-one email or phone conversation does. Netflix and Amazon Prime Video, meanwhile, both offer phone numbers and live chat interfaces for swift customer support.
Thankfully, Stan, Foxtel Now, Netflix and Amazon Prime Video all provide comprehensive FAQ sections on their websites you can search through without having to contact customer support. Foxtel Now even has a community forum where users often answer each other's questions, providing another source of assistance if the FAQ section doesn't resolve your problem. hayu's help centre, on the other hand, answers only the most basic questions, making it tricky to troubleshoot any problems you might have.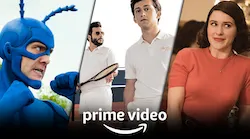 FREE TRIAL: 30 days of Prime Video's premium TV shows and movies for free
from Prime Video
Prime Video's free 30-day trial will give you instant access to thousands of premium TV shows and movies.
View details
---
More guides on Finder
Stream the best and save