The best Netflix Australia TV shows
Overwhelmed by the sheer number of TV shows available on Netflix? Here are our top picks to get you started.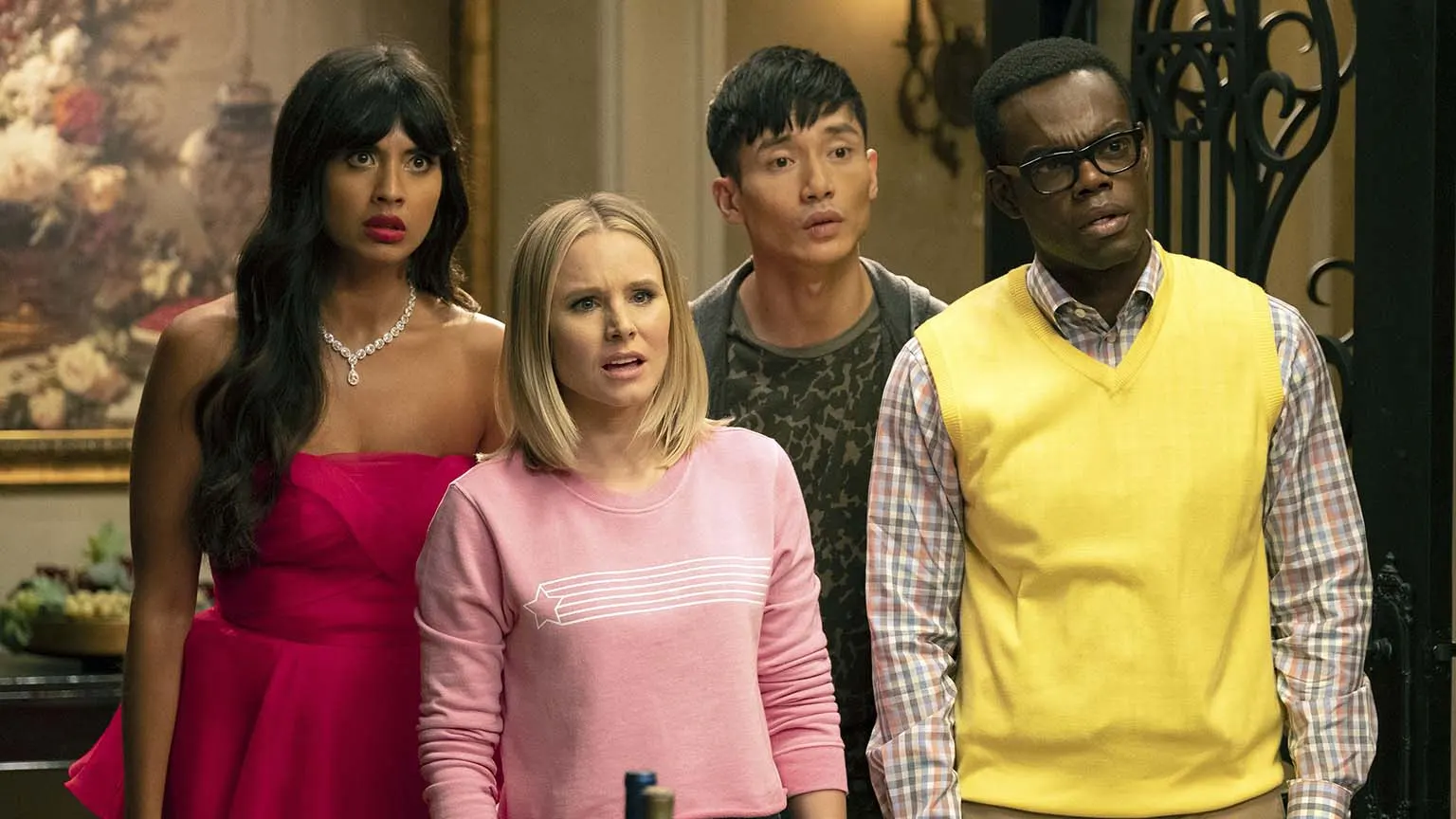 We're reader-supported and may be paid when you visit links to partner sites. We don't compare all products in the market, but we're working on it!
If you still haven't check out what Netflix has to offer in Australia, you've already waited too long. While early criticisms of Netflix's content line-up were fair, the state of Netflix's library of television shows in 2020 is a much different story.
From political drama to '80s inspired sci-fi to the best superhero TV shows around, Netflix has been consistently knocking it out of the park since launching globally.
Here are our 50+ top Netflix TV shows in Australia.
1. The Crown
Year of release: 2016
Cast: Claire Foy, Olivia Colman, Imelda Staunton, Emma Corrin, Gillian Anderson
Now with four seasons under its belt, The Crown remains one of Netflix's most acclaimed original shows. A dramatization about the reign of Queen Elizabeth II, the series chronicles the intrigues, love lives and machinations behind the great events that shaped the second half of the 20th century.
The Crown has a tremendous cast and excellent production values. While it may take some historical liberties, it also delivers an engaging narrative. Plus, seeing Emma Corrin flawlessly portray Princess Diana in season four is a real treat.
2. Dash & Lily
Year of release: 2020
Cast: Austin Abrams, Midori Francis, Dante Brown
A charming YA rom-com, Dash & Lily revolves around two teens who trade dares, dreams and desires in a notebook they pass back and forth at various locations around New York.
Perfect to binge around Christmas, the series delivers eight short episodes filled with holiday cheer. The cast is top-notch, the plot is intriguing, New York is beautiful. What more could you wish for?
3. The Queen's Gambit
Year of release: 2020
Cast: Anya Taylor-Joy, Chloe Pirrie, Bill Camp, Marielle Heller
A polished and magnetic miniseries, The Queen's Gambit centres on prodigious introvert Beth Harmon. Orphaned at 9, she discovers and masters the game of chess in 1960s USA. Too bad child stardom comes at a steep price.
If you like period dramas, this one is a must. The Queen's Gambit is not only beautifully shot and rich in detail, but it boasts a nuanced performance from Anya Taylor-Joy and tells a complex, spell-binding story. Believe the hype – it really is that good.
4. Emily in Paris
Year of release: 2020
Cast: Lily Collins, Philippine Leroy-Beaulieu, Ashley Park, Lucas Bravo
Created by Darren Star, also responsible for Sex and the City, Emily in Paris follows a young woman from Chicago who is sent by her company to a marketing firm in Paris to provide them with an American perspective. As soon as she arrives, however, she discovers that fitting in won't be as seamless as she anticipated.
A mix or wanderlust and romance, the show may be cliché, but it provides a welcome escape from reality. Paris sure looks pretty.
5. The Haunting of Bly Manor
Year of release: 2020
Cast: Victoria Pedretti, Oliver Jackson-Cohen, Amelia Eve, Rahul Kohli, T'Nia Miller
Set in 1980s England, The Haunting of Bly Manor revolves around a young American nanny who starts working at the Bly Manor estate and realises that all is not as it seems. Dead doesn't mean gone - and centuries of dark secrets of love and loss are waiting to be unearthed.
A follow-up to The Haunting of Hill House, the series isn't as scary as its predecessor, but it has plenty to offer horror fans. The performances are terrific, the story is powerful, the ghosts are spooky. There's a lot here to love.
6. Ratched
Year of release: 2020
Cast: Sarah Paulson, Finn Wittrock, Cynthia Nixon
A tense and visually stunning psychological thriller, Ratched follows the character of the same name from Ken Kesey's 1962 novel One Flew Over the Cuckoo's Nest. In 1947, Mildred Ratched begins working as a nurse at a leading psychiatric hospital. But beneath her stylish exterior lurks a growing darkness – one viewers will get to unravel as episodes go by.
With a powerhouse performance from Sarah Paulson, Ratched is captivating and fun to watch, especially if you're a fan of Ryan Murphy's previous work, most notably American Horror Story. Sit back and let the lavish darkness pull you in.
7. Away
Year of release: 2020
Cast: Hilary Swank, Josh Charles, Vivian Wu, Mark Ivanir
In Away, Hilary Swank portrays Emma, an astronaut who embarks on a treacherous mission to Mars in command of an international crew. However, she leaves behind her husband and teenage daughter, causing her to have mixed feelings about the whole ordeal.
As the crew's journey into space intensifies, their personal dynamics and the effects of being away from their loved ones back on Earth become increasingly complex. The result? A nuanced space drama you don't want to miss.
8. Lucifer
Year of release: 2016
Cast: Tom Ellis, Lauren German, Kevin Alejandro, D.B. Woodside
Lucifer Morningstar has decided he's had enough of being the dutiful servant in Hell and proceeds to spend time on Earth to better understand humanity. He runs a club in Los Angeles and soon gets involved with the local police, assisting them in solving tricky criminal cases.
Lucifer initially aired on Fox in the US before being cancelled after three seasons. Shortly after, Netflix picked it up, to fans' delight. The series is now an original Netflix production, with the first part of Season 5 currently available to stream.
9. Teenage Bounty Hunters
Year of release: 2020
Cast: Maddie Phillips, Anjelica Bette Fellini, Kadeem Hardison, Virginia Williams
This quirky comedy follows twin sisters Blair and Sterling, who balance teen life at an elite Southern high school with an unlikely new career as bounty hunters. A bunch of over-the-top adventures follow as they dive into the world of bail skipping baddies and suburban secrets.
Witty and stylish, the show will win you over in no time thanks to the chemistry between the two leads. If you're on the lookout for a funny and unpredictable series, add this to your watchlist ASAP.
10. Cobra Kai
Year of release: 2018
Cast: Ralph Macchio, William Zabka, Xolo Maridueña, Courtney Henggeler
Decades after their 1984 All Valley Karate Tournament bout, now middle-aged Daniel LaRusso and Johnny Lawrence find themselves martial-arts rivals once again! When Johnny seeks redemption by reopening the infamous Cobra Kai dojo, he comes head-to-head with Daniel, now successful but struggling after the loss of mentor Mr. Miyagi.
Cobra Kai is set 34 years after the original Karate Kid film and used to stream on YouTube Premium before it was acquired by Netflix. Funny, compelling and thoughtful, the show doesn't disappoint, even in a world saturated with revivals. Whether or not you're a fan of the original film, you'll be hooked in no time.
11. The Baby-Sitters Club
Year of release: 2020
Cast: Sophie Grace, Momona Tamada, Shay Rudolph
Based on the book series of the same name, this charming Netflix reboot follows a group of young girls who start their own babysitting service.
The show offers a modern take on the story, which makes it appealing to nostalgic viewers and younger audiences alike. It's sweet and hopeful, making for a delightful binge.
12. Cursed
Year of release: 2020
Cast: Katherine Langford, Devon Terrell, Gustaf Skarsgård
Cursed is a captivating retelling of the Arthurian legend. The plot follows teenage sorceress Nimue, who joins forces with a young and charming mercenary named Arthur on a mission to save her people.
Katherine Langford offers a strong performance in the lead role, while the whole series is a treat for fantasy lovers, complete with untamed forests and shiny castles. All in all, it's a lot of fun.
Try before you buy with these
free trials
13. The Sinner
Year of release: 2017
Cast: Bill Pullman, Matt Bomer, Chris Messina, Jessica Hecht
An anthology crime drama, The Sinner follows a detective who investigates crimes and attempts to uncover the culprits' motivations. Each season focuses on a different case and features a fresh cast, so you can pick up anywhere and start streaming.
Season 3 of the series, currently available, revolves around a tragic car accident on the outskirts of Dorchester, in upstate New York. With an excellent cast and gripping story, it will keep you glued to the screen.
14. The Woods
Year of release: 2020
Cast: Grzegorz Damięcki, Agnieszka Grochowska, Hubert Miłkowski, Wiktoria Filus
Based on the novel of the same name by Harlan Coben, The Woods is a Polish mystery thriller about a prosecutor whose sister went missing under unexplained circumstances. However, the discovery of a body might lead to new clues and a much needed breakthrough in the investigation.
Well-crafted and tense, the show benefits from some tremendous performances and manages to capture the viewers' attention thanks to the intriguing mystery. You'll be dying to find out what happens next.
15. Space Force
Year of release: 2020
Cast: Steve Carell, John Malkovich, Ben Schwartz, Diana Silvers
Space Force revolves around the people tasked with creating a sixth branch of the US armed services: The Space Force. At the centre of the action is dedicated four-star general Mark R. Naird, who uproots his family and moves to a remote base in Colorado to put together a team able of achieving total space dominance.
The series received mixed reviews upon release, but it's still worth a stream given the stellar cast and great special effects. Seeing Carell and Malkovich together is always a treat.
16. Sweet Magnolias
Year of release: 2020
Cast: JoAnna Garcia Swisher, Brooke Elliott, Heather Headley, Logan Allen
This charming series, based on the novels by Sherryl Woods, follows lifelong friends Maddie, Helen and Dana Sue. They lift each other up as they juggle relationships, family and careers in a small US town.
Sweet Magnolias is an excellent comfort watch, brimming with warmth and soapy storylines. Perfect for when you're looking to escape real life, at least for a few hours.
17. Snowpiercer
Year of release: 2020
Cast: Jennifer Connelly, Daveed Diggs, Mickey Sumner, Sheila Vand
Set years after the world has become a frozen wasteland, Snowpiercer centres on what's left of humanity – a group of people who inhabit a gigantic, perpetually-moving train that circles the globe. The series is based on Bong Joon-ho's gripping film of the same name.
A thrilling dystopian, Snowpiercer was a long time in the making. Now that it's finally here, we're happy to report that the series is stylish and perfectly cast. If you're in the mood for an immersive and well-crafted sci-fi story, the show is a great ride, no pun intended.
18. Hollywood
Year of release: 2020
Cast: David Corenswet, Darren Criss, Laura Harrier, Joe Mantello
Ryan Murphy's latest miniseries follows aspiring actors and filmmakers in post-World War II Hollywood, who are ready to do almost anything to see their dreams come true. Each character offers a glimpse behind the gilded curtain of Hollywood's Golden Age, spotlighting the unfair systems and biases that still hold up today.
The miniseries has a solid cast and style to spare, offering a fictionalised version of Hollywood that will appeal to movie buffs. It's a classic tale with a twist, greatly benefiting from gorgeous production values. The glamour alone will take your breath away.
19. Never Have I Ever
Year of release: 2020
Cast: Maitreyi Ramakrishnan, Jaren Lewison, Darren Barnet, Poorna Jagannathan
This charming comedy co-created by Mindy Kaling follows the complicated life of a first-generation Indian-American teenager. That's putting things simply, as the series has so much heart you'll likely fall in love with it from the very first scene.
Never Have I Ever is inspired by Kaling's own early life and starts newcomer Maitreyi Ramakrishnan as an overachieving high school sophomore. She's perfect in the lead role, supported by a tremendous ensemble cast. Tune in immediately.
20. After Life
Year of release: 2019
Cast: Ricky Gervais, Tom Basden, Tony Way, Diane Morgan
Created, produced and directed by Ricky Gervais, who also stars, After Life follows a man who decides to do and say whatever he wants following his wife's death. As you might expect, this ends up being trickier than he envisioned.
The series seamlessly switches from dark comedy to moving drama at a moment's notice, offering a thoughtful exploration of grief, depression and resilience. It also boasts some wonderful performances, especially from Gervais himself.
21. Tiger King: Murder, Mayhem and Madness
Year of release: 2020
Cast: Joe Exotic, Carole Baskin, Bhagavan Antle, Howard Baskin, John Finlay
This true crime documentary, which took the Internet by storm, is an exploration of big cat breeding and its bizarre underworld. The series centres on Joe Exotic, gun-toting polygamist and country western singer who presides over an Oklahoma roadside zoo. Things take a dark turn when Joe gets arrested for an unbelievable murder-for-hire plot following a rivalry with an animal activist, Carole Baskin.
The story is bonkers and bizarre – so if you're looking for an entertaining binge, you can't go wrong with Tiger King. Then, you might be able to answer the question that's been on everyone's mind. Did Carole feed her husband to the tigers? We need answers ASAP.
22. Ozark
Year of release: 2018
Cast: Jason Bateman, Laura Linney, Sofia Hublitz, Skylar Gaertner
Ozark is a compelling Netflix drama with a fairly straightforward premise: it follows a married couple forced to relocate their family to the Ozarks to launder money for a Mexican drug cartel. But while the plot is intriguing on its own, what really makes the series stand out is the two excellent performances from Bateman and Linney, who only get better with each episode.
Moreover, the show goes from dark to darker, making it an addictive watch. If you can stand the tension, following these two as they struggle to get away with crime-related endeavours is highly satisfying.
23. Dare Me
Year of release: 2020
Cast: Willa Fitzgerald, Herizen F. Guardiola, Marlo Kelly, Rob Heaps
Based on the popular book of the same name, Dare Me revolves around two BFF cheerleaders whose relationship is tested when a new coach arrives to bring the team to prominence. Add a mysterious death into the mix and you've got yourself a thrilling small-down drama about jealousy, loyalty and the complexities of female friendship.
Dare Me is a bit of a slow-burn, but it's worth the time investment. Atmospheric and fueled by psychological mind games, the series does a great job at pulling in viewers as episodes go by. Come for the mean girl drama, stay for the insane twists.
24. Locke & Key
Year of release: 2020
Cast: Darby Stanchfield, Connor Jessup, Emilia Jones, Jackson Robert Scott, Laysla De Oliveira
Based on the graphic novels from Joe Hill and Gabriel Rodriguez, this inventive show revolves around three siblings who move into a house filled with reality-bending keys following their father's murder. However, it's not all fun and games, especially when it turns out that a demonic entity is on the lookout for the keys as well.
Spooky and entertaining, Locke & Key will prove a worthy binge for fantasy lovers. Regardless of whether you've read the source material or not, the series is dark, twisty and intriguing. Here's hoping that more seasons will be coming our way.
25. I Am Not Okay with This
Year of release: 2020
Cast: Sophia Lillis, Wyatt Oleff, Sofia Bryant, Kathleen Rose Perkins
I Am Not Okay with This follows a teenage girl who is navigating the usual trials and tribulations of high school. The twist? She has to deal with newly-discovered superpowers at the same time. Talk about stressful!
Sophia Lillis, whom you might know from blockbuster It or from HBO's Sharp Objects, gives a powerful lead performance here. More than that, the series is charming and quirky, delivering a memorable coming-of-age story and exceeding genre expectations. Even better? You can binge it all in one afternoon.
26. Medical Police
Year of release: 2020
Cast: Erinn Hayes, Rob Huebel
A Childrens Hospital spin-off, Medical Police follows two American doctors who discover a deadly virus in Brazil and are recruited in a race to find a cure and uncover a dark conspiracy. Sounds ridiculous? It sure is.
Medical Police is a clever and hilarious parody of spy thrillers, benefiting from a tight script and some excellent performances. It's not for everyone - but if you're a fan of satire, this outlandish show will do just fine.
27. Ragnarok
Year of release: 2020
Cast: David Stakston, Jonas Strand Gravli, Herman Tømmeraas, Theresa Frostad Eggesbø
Seen the infamous Thor movie? Then you probably know what Ragnarok is - a series of events foretold to lead to the end of the world as we know it. This Scandinavian show plays around with the concept, this time centering the action on teenagers.
The series takes place in a small Norwegian town experiencing warm winters and violent downpours. Unless someone intervenes in time, disaster is coming. Luckily, a teen boy seems to have the tools to fight off the inevitable. If you're craving an angsty teen drama with supernatural elements, Ragnarok is a fun watch.
28. The Witcher
Year of release: 2019
Cast: Henry Cavill, Anya Chalotra, Freya Allan
Based on the book series of the same name by Polish writer Andrzej Sapkowski, this ambitious Netflix original stars Henry Cavill as Geralt of Rivia, a lonely Witcher or monster hunter who roams the Continent slaying beasts. But when his path intertwines with a powerful sorceress and a mysterious princess, he'll have to finally embrace his fate.
Epic in scale and boasting some truly excellent fight scenes, The Witcher is a treat for fantasy lovers. Cavill offers a memorable performance, there's a catchy song you won't be able to get out of your head after Episode 2, and the visuals are mesmerising. If you're looking for a show full of magic and gore, you just stumbled upon the perfect binge.
29. Dolly Parton's Heartstrings
Year of release: 2019
Cast: Dolly Parton, Julianne Hough, Melissa Leo, Kathleen Turner, Ginnifer Goodwin
This anthology series, which focuses on the stories behind Parton's most beloved songs, is a marvel for fans of the legendary country singer. Each episode features a different cast and plot, so even those unfamiliar with the universally beloved Parton can tune in and enjoy this heartwarming show.
Heartstrings may not be particularly revolutionary, but it benefits from great acting and uplifting storylines. If you're looking for a series that will help you relax after a long day, this one fits the bill perfectly.
30. Living with Yourself
Year of release: 2019
Cast: Paul Rudd, Aisling Bea
Netflix now has a cloning dramedy which serves fans a double dose of Paul Rudd. Living with Yourself centers on a man who doesn't feel content with his life anymore, so he decides to undergo a mysterious treatment that promises to change things. To his surprise, he soon finds that he's been replaced by another version of himself. And the new guy seems better.
More sad than funny, Living with Yourself ends up being a thought-provoking ride, making viewers ask themselves a lot of pertinent questions about identity. The show takes a while to get going, but it's a must-watch for Paul Rudd fans. As expected, both his performances are absolutely delightful.
31. Raising Dion
Year of release: 2019
Cast: Alisha Wainwright, Michael B. Jordan, Jason Ritter, Ja'Siah Young
If you've been tired of formulaic superhero shows, Raising Dion might prove to be the breath of fresh air you've been hoping for. The series revolves around a single mother who discovers that her young son has superpowers and struggles to protect him. Meanwhile, she's also investigating her husband's death and trying to figure out how exactly her son's powers came to be.
The show benefits from some touching performances so it's a very good chance it will resonate with a wide audience. Add in the fact that the titular superhero is only 7 years old and the story is intriguing enough to give it a stream. A little bit of caution - Raising Dion leans more toward family drama than superhero blockbuster. However, it's a family drama with enough personality to stand out from the crowd.
32. Unbelievable
Year of release: 2019
Cast: Toni Collette, Merritt Wever, and Kaitlyn Dever
Based on true events, this powerful and unflinching show revolves around a series of sexual assaults which took place in Washington and Colorado in the US. After a teen reports a rape and then recants her story, her life changes forever. Three years later, two detectives join forces to follow the evidence that might finally lead to some answers.
This critically acclaimed miniseries is based on the 2015 news article An Unbelievable Story of Rape. Sometimes heartbreaking, other times infuriating, but ultimately just a tiny bit hopeful, Unbelievable tells the stories of survivors with the care and gravity. In the era of peak TV, it's easy to overlook this initially bleak offering. We strongly advise you give it a stream.
33. The Politician
Year of release: 2019
Cast: Ben Platt, Gwyneth Paltrow, Jessica Lange, Zoey Deutch, Lucy Boynton
Ryan Murphy's first Netflix series is just as outrageous and soapy as fans likely expect. The story of The Politician follows Payton Hobart, a wealthy student from Santa Barbara, who has known since age 7 that he's going to be president of the United States. First, however, he needs to jump through some hoops - including navigating the most treacherous political landscape of all, Saint Sebastian High School.
The series is uneven at times, but one thing's for sure: Murphy knows how to please his loyal band of followers. The Politician is quirky, funny, and dark - sometimes all at the same time. If you're after an entertaining binge, you can't go wrong with this one.
34. Mindhunter
Year of release: 2017
Cast: Jonathan Groff, Holt McCallany, Anna Torv
This thrilling Netflix series, based on true events, follows FBI agents Holden Ford and Bill Tench, who start interviewing dangerous killers in order to better understand what goes on in their heads. Based on the true-crime book Mindhunter: Inside the FBI's Elite Serial Crime Unit, the show basically shows us the early days of the FBI's Behavioral Science Unit, which was just coming together in the '70s.
Slick and chilling, Mindhunter is one of Netflix's most addictive original shows, featuring a tremendous cast and showing us how now common terms like serial killer first came to life. If you're into crime shows, you don't want to miss this one. Season 2 is now streaming.
35. La Casa de Papel/Money Heist
Year of release: 2017
Cast: Úrsula Corberó, Itziar Ituño, Álvaro Morte, Miguel Herrán, Paco Tous, Pedro Alonso
Known in English as Money Heist, this Spanish Netflix original revolves around an elaborate heist that takes place over several days at the Royal Mint of Spain. A group of thieves take hostages and lock themselves into the facility, all part of an elaborate plan to escape with millions of euros.
Melodramatic and highly addictive, this drama is the kind of show best enjoyed binged, so there's no wonder it made its way onto Netflix's generous library of foreign content. Soon after, it even became the most-watched foreign series on the service. If you don't mind subtitles, you'll be in for a delicious and twisty tale of manipulation and revolt.
36. Dark
Year of release: 2018
Cast: Louis Hofmann, Daan Lennard Liebrenz, Ella Lee, Angela Winkler
An intricate mystery-drama, this German series is sure to appeal to Stranger Things fans. The disappearance of two children from a small town leads to the exploration of the sinful past of the establishment, alongside with the reveal of the fractured relationship between four families as they struggle to figure out what happened to the kids.
Tense and beautifully crafted, this tale reveals itself slowly, keeping the viewer engaged every step of the way. You'll be glued to the screen, eager to discover all the secrets this deeply troubled town worked so hard to bury. In the end, your patience will be rewarded. And then some.
37. When They See Us
Year of release: 2019
Cast: Asante Blackk, Caleel Harris, Ethan Herisse, Jharrel Jerome, Marquis Rodriguez
Created, co-written, and directed by Ava DuVernay, this powerful miniseries exposes the breakdown of the US criminal justice system during the infamous Central Park Five case. It follows five teens from Harlem who become trapped in a nightmare when they're falsely accused of a brutal attack.
Stirring and immersive, When They See Us puts a lot on emphasis on what the boys and their families endured over their decades-long ordeal, shining light on all the ways in which the system failed them. Turns out, justice truly can be blind.
38. Dead to Me
Year of release: 2019
Cast: Christina Applegate, Linda Cardellini
A darkly funny exploration of grief, Dead to Me follows Jen, a sardonic widow who recently lost her husband and is determined to solve the crime. She meets Judy, an optimistic free spirit, at a support group, and the two become unlikely friends. As they bond, Judy tries to shield Jen from a shocking secret that could destroy her life.
Dead to Me is a terrific character study of two complex women with a complicated relationship, with both Applegate and Cardellini delivering nuanced performances. It's an unpredictable and absorbing show, with occasional humor and tons of suspense meant to keep you on the edge of your seat. In short - it's a story best enjoyed binged.
39. Special
Year of release: 2019
Cast: Ryan O'Connell, Jessica Hecht, Punam Patel, Marie Mindelle, Patrick Fabian, Augustus Prew
Special centres on Ryan, a gay man with cerebral palsy who is taking his first steps towards adulthood by finally going after the life he wants. The series is based on the memoir I'm Special: And Other Lies We Tell Ourselves by Ryan O'Connell, who also writes the series and stars in the lead role.
The show lives up to its name - it's honest, funny, and insightful. Special is also quite uplifting, with a great cast and engaging storytelling. As an added bonus, episodes are only 15-minutes long, so you can watch the whole thing during one lazy afternoon.
40. Our Planet
Year of release: 2019
Cast: David Attenborough
Filmed over the course of four years, this eight-part series explores the unique wonders of nature in all its glory. Narrated by David Attenborough, Our Planet focuses on showcasing the remaining wilderness areas and their animal inhabitants, in a stunning and captivating manner that will likely keep you glued to the screen.
To put together the series, more than 600 crew members filmed in 50 countries across the world, from the remote Arctic wilderness to the jungles of South America. But besides thrilling viewers with the wonders of Earth, Our Planet also delves into how climate change and men affect the natural world, which often leads to heartbreaking visuals. Proceed with caution.
41. Turn Up Charlie
Year of release: 2019
Cast: Idris Elba, Piper Perabo, JJ Feild, Frankie Hervey
This fun show centers on a struggling DJ who plots to revamp his career, while simultaneously taking a job as a manny to his famous mate's daughter, and energetic problem child. The little girl is determined to get the attention of her parents in any way possible, so she's no stranger to driving nannies away with her wild behaviour.
The story is pretty cliche, but the cast is charming enough to ensure a smooth ride, with Elba confidently delivering a great performance. Turn Up Charlie also offers some catchy music and a lot of silliness, making it the perfect weekend binge.
42. Queer Eye
Year of release: 2018
Cast: Antoni Porowski, Tan France, Karamo Brown, Bobby Berk, Jonathan Van Ness
A breakout reality hit for Netflix, Queer Eye centers on five queer guys who use their skills to give men and women in need glamorous makeovers. It's not all about the looks, though - the series makes it a point to emphasise just how important confidence and self-love are.
Equal parts zany and emotional, Queer Eye is uplifting comfort television, mainly thanks to its tremendous cast. The Fab Five have great chemistry and never shy away from opening up about their own struggles if the situation calls for it. Three seasons in, we can't get enough.
43. On My Block
Year of release: 2018
Cast: Sierra Capri, Jason Genao, Brett Gray, Diego Tinoco, Jessica Marie Garcia
A heartwarming coming of age series, On My Block follows four friends - Monse, Ruby, Jamal and Cesar - as they face the challenges of adolescence. They live in a rough inner-city Los Angeles neighbourhood and have to deal with serious issues like racism and poverty on top of everything else. Moreover, their lifelong friendship is tested when they begin high school.
Honest, awkward, and often hilarious, the show was praised by critics thanks to its diversity and masterful storytelling. Add some superb youth acting into the mix and you've got yourself a hit.
44. The Umbrella Academy
Year of release: 2019
Cast: Ellen Page, Tom Hopper, David Castañeda, Emmy Raver-Lampman, Robert Sheehan, Aidan Gallagher, Mary J. Blige
Funny and compulsively watchable, The Umbrella Academy was one of the most anticipated Netflix shows of 2019. Thankfully, it delivers. On one day in 1989, 43 infants are inexplicably born to random, unconnected women. Seven of them are adopted by a billionaire who creates the Umbrella Academy and prepares his kids to save the world, but the team disbands in their teen years.
Fast-forward to the present and the band reunites to solve a mystery surrounding their adoptive father's death, with a global apocalypse also looming. Talk about responsibilities! The Umbrella Academy is the perfect blend of comedy and drama, offering a memorable soundtrack and a compelling ensemble cast. You won't regret spending a weekend in the show's delightful company.
45. One Day at a Time
Year of release: 2017
Cast: Justina Machado, Todd Grinnell, Isabella Gomez, Marcel Ruiz, Stephen Tobolowsky, Rita Moreno
This charming Netflix comedy is inspired by Norman Lear's 1975 series of the same name. One Day at a Time follows Penelope, head of her Cuban-American family and a newly single Army veteran. Together with her mother and kids, she navigates life through good times and bad, knowing that her family will always have her back, even when they're not particularly gracious about it.
Thanks to clever writing and amazing performances, One Day at a Time breathes new life into the family sitcom genre. You'll laugh, you'll cry, you'll empathise with these people more than you'd expect. The series is a triumph for Netflix - add it to your watch list ASAP.
46. Dirty John
Year of release: 2018
Cast: Connie Britton, Eric Bana, Juno Temple, Julia Garner
Based on the popular podcast of the same name, Dirty John follows Debra Newell, a woman who is living the dream, or at least that is how it appears from the outside. She's beautiful and successful, but doesn't have a fulfilling love life. Things seem to change when she meets the charismatic Dr. John Meehan, who sweeps her off her feel. Debra's daughters, however, aren't won over by the charming John, so they set out to prove that he's a conman.
A pulpy true crime series, Dirty John has a tremendous cast and manages to showcase how past traumas or beliefs always end up affecting their present behaviour. If you were looking for an addictive new show, you can't go wrong with this one.
47. Russian Doll
Year of release: 2019
Cast: Natasha Lyonne, Charlie Barnett, Greta Lee, Yul Vazquez, Elizabeth Ashley
Russian Doll follows a woman who gets caught in a strange time loop, forced to relive the same day. She dies at the end of every night only to wake up unharmed and go through the process all over again.
This series may seem repetitive at first glance, but rest assured - Russian Doll is so inventive that it's impossible to get bored, whether you choose to binge it in one session or pace yourself. Moreover, it only gets more ambitious and complex as it goes on, so we can pretty much bet you'll be on the edge of your seat. As a nice bonus, Natasha Lyonne is extremely compelling in the main role.
48. Sex Education
Year of release: 2019
Cast: Gillian Anderson, Asa Butterfield, Emma Mackey, Ncuti Gatwa, Connor Swindells
Sex Education centers on Otis, a socially awkward and inexperienced high school student who has a sex therapist for a mom. After growing up surrounded by manuals and videos about sex, as well as having to endure multiple tedious conversations with his mom, Otis became a reluctant expert on the subject. To gain status at school, he decides to team up with a whip-smart girl and set up an underground sex therapy clinic for fellow students.
One of the most informative and sweetest teen comedies about sex, Sex Education is an often hilarious, always exciting series that feels fresh and honest. You can enjoy it regardless of age.
49. You
Year of release: 2018
Cast: Penn Badgley, Elizabeth Lail, Shay Mitchell
You follows Joe, a brilliant bookstore clerk who one day crosses paths with Beck, an aspiring young writer. He develops an unhealthy crush and proceeds to use his Internet and real-life stalking skills to make Beck fall for him. Not only that, but he's willing to go to great lengths to make sure that the girl he fancies only has eyes for him.
The best kind of unsettling, You is a highly addictive TV show, so make sure you set aside enough time to devour this delicious offering. Both thrilling and trashy, the series will definitely make you think about how you can better protect your privacy, especially online.
50. Tidelands
Year of release: 2018
Cast: Charlotte Best, Marco Pigossi, Aaron Jakubenko, Mattias Inwood
Tidelands is Netflix's first original Australian series, a moody and sexy tale involving mystery and mermaids. The series follows a former criminal who returns home to the small fishing village of Orphelin Bay. When the body of a local fisherman washes ashore, she has to investigate further, which includes coming in contact with the Tidelanders, a group of beautiful and dangerous half-siren / half-humans.
Unpredictable and compelling, Tidelands is highly entertaining, a fun mix of crime drama and paranormal series. If you like mermaids or mystery, you need to give this one a try. Plus, it's very nice to look at, with stunning visuals and an appealing cast.
51. The Kominsky Method
Year of release: 2018
Cast: Michael Douglas, Alan Arkin, Nancy Travis, Sarah Baker
Created by Chuck Lorre, The Kominsky Method follows two aging best friends as they navigate the later years of their lives in Los Angeles. One was once a famous actor, currently an acting teacher, while the other is his agent. The two find themselves tackling life's inevitable curve balls in a city that values youth and beauty above all else.
The Kominsky Method is full of heart and humour, but it's not a laugh-out-loud sitcom. Instead, it approaches issues like ageing and showbiz with grace and emotion. The jokes will make you chuckle every now and then, but the best part about this Netflix show is seeing Michael Douglas and Alan Arkin play off each other on screen. They friendship, although not without drama, rings true, so you'll be rooting for them both in no time.
52. Chilling Adventures of Sabrina
Year of release: 2018
Cast: Kiernan Shipka, Miranda Otto, Lucy Davis, Ross Lynch
Magic and mischief collide in this irresistible Netflix original series. A (much) darker adaptation of Sabrina the Teenage Witch, the show is based on the classic Archie comics and centres on Sabrina, who is half-human, half-witch. Faced with choosing between the two worlds, she struggles to reconcile her dual nature while also facing up to the dark forces that seem to come after her every chance they get.
Deliciously macabre, Chilling Adventures of Sabrina has a morbid sense of humour and looks stunning, pulling viewers in from episode one. It's a manic show that will take you by surprise, sometimes frightening, always entertaining as hell. Enjoy the ride.
53. Riverdale
Year of release: 2017
Cast: KJ Apa, Camila Mendes, Lili Reinhart, Cole Sprouse
Based on the classic Archie comics, Riverdale follows a group of teens who have a tendency to get into all sorts of trouble. Archie, Veronica, Betty, and Jughead navigate teen life while also dealing with larger than life murders and scandals. Turns out, the small town they live in isn't quite as peaceful as one might assume at first glance.
Atmospheric and fun, Riverdale is highly addictive, proving once again that well-crafted teen dramas will never lose their charm. Rest assured – adults will be mesmerised as well. If the relationship drama doesn't get to you, the odd mysteries certainly will.
54. The Haunting of Hill House
Year of release: 2018
Cast: Michiel Huisman, Timothy Hutton, Carla Gugino, Henry Thomas
Craving some horror? The Haunting of Hill House will be right up your alley. A reimagining of the classic Shirley Jackson novel, this spooky Netflix original show centres on five siblings who grew up in what became the most famous haunted house in the country. They left it long ago, but the memories of what went down there continue to haunt them. Facing a tragedy, they need to reunite and finally confront their past.
Dark and terrifying, The Haunting of Hill House is a smooth blend of family drama and horror thrills, all delivered to you in an incredibly stylish package. Caution – you might end up sleeping with the lights on.
55. Stranger Things
Year of release: 2016
Cast: Millie Bobby Brown, Gaten Matarazzo, Finn Wolfhard, Caleb McLaughlin
It's rare to see a show so lovingly dedicated to the 80s. Often TV shows, movies and books lean on nostalgia without weaving them into the narrative in any meaningful way. That's far from the case in Stranger Things. The Duffer Brothers' sci-fi/thriller/horror isn't just a love letter, it stands alone as one of the greatest television shows today, thanks to its talented and diverse cast and its gripping season arc.
When a young D&D nerd Will Byers vanishes from a quiet, rural town, his family, friends and community band together to bring him back from a mysterious and terrifying world. Each character has a hand to play in finding Will, but they're individual journeys are just as important and entertaining to watch.
56. House of Cards
Year of release: 2013
Cast: Kevin Spacey, Robin Wright, Michael Kelly, Kate Mara
All the hype you've heard about House of Cards is true. The Primetime Emmy Award-winning Netflix-produced show about the devious machinations of US politics is television at its best. It's conniving, it's clever and it will change the way you watch the news. Oh, and Frank Underwood (Kevin Spacey) is the anti-hero you've been waiting for since Walter White left our screens. With six seasons under its belt, House of Cards is no doubt one of the most bingeable shows on Netflix.
57. Master of None
Year of release: 2015
Cast: Aziz Ansari, Eric Wareheim, Lena Waithe, Noël Wells
Master of None is the kind of show that might turn people off in its first few episodes. In place of a traditional, run-of-the-mill season arc, Aziz Ansari's comedy/drama often runs off in tangents focused on minor characters (and sometimes characters that aren't even part of the recurring cast). While this might seem a little off-track to begin with, some of these episodes are Master of None's best. Ansari's Dev runs the gamut of work and relationship troubles many have experienced firsthand with hilarious and sometimes devastating accuracy. But where Master of None truly shines is during the episodes that are less about the characters and more about an issue, place or celebration.
If you haven't checked it out yet (or tried and put it down) we wholeheartedly recommend sticking it out. Ansari's musings on love, work and life in the city are hilarious, poetic and brimming with heart.
58. Black Mirror
Year of release: 2011
Cast: Hannah John-Kamen, Jon Hamm, Hayley Atwell, Daniel Kaluuya
The fact that a third season of Charlie Brooker's Black Mirror series wasn't picked up sooner is criminal. Thankfully, Netflix is in the business of righting the entertainment industry's wrongs and worked with Brooker to create season three of Black Mirror. Brooker's clever writing and biting satire are complemented by Netflix's fat stacks of cash, which has helped bring on some huge talent, like Bryce Dallas Howard and Jerome Flynn in leading roles as well as big-name directors like Joe Wright and Dan Trachtenberg.
Season three isn't just a revival. It brought us some of the best episodes the show has ever seen (San Juniperois some of the best television out there, hands down). What followed was just as good.
59. Rick and Morty
Year of release: 2013
Cast: Justin Roiland, Spencer Grammer, Chris Parnell, Sarah Chalke
While it's not a Netflix Original, Rick and Morty more or less calls Netflix home in Australia. It is without a doubt the most popular animation on television at the moment (and for good reason). Dan Harmon and Justin Roiland's Rick and Morty is an absurd, offbeat comedy that follows the misadventures of the shy youngster Morty and his diabolical and perpetually drunk grandfather, Rick Sanchez.
Rick and Morty rockets between risky and gut-busting hilarity to some surprisingly meaningful and touching life lessons (though Rick has a habit of shooting down anything hopeful).
60. Orange Is the New Black
Year of release: 2013
Cast: Taylor Schilling, Uzo Aduba, Laura Prepon, Danielle Brooks
OITNB, as it's affectionately called, is loosely based on the real-life prison experiences of Piper Kerman. Basically, the show can be summarised as follows: WASP goes to prison, thinks it will be fine because she's white and middle class, turns out she was very much mistaken. The exceptional ensemble cast is what really drives this show, and it's attracted praise for telling the stories of African-American and Hispanic women, while at the same time criticism for needing a white woman leading the show to do it.
You'll laugh, you'll cry, you'll vaguely wonder about committing a minor crime so you too can go to prison and write about it.
61. BoJack Horseman
Year of release: 2014
Cast: Will Arnett, Aaron Paul, Alison Brie, Amy Sedaris
Imagine every live-action character Will Arnett has ever played blended together in one anthropomorphic horse and you have BoJack Horseman. This story of a washed up equine actor seemed at first to be Netflix's Family Guy or American Dad. However, it's so much more than that. BoJack is eternally chauvinistic and narcissistic, but unlike most sitcoms or cartoons, Bojack's character actually goes through a lot of growth and characterisation over its three seasons, thanks to a strong cast of supporting characters like Alison Brie's Diane, Lisa Kudrow's Wanda and Paul F. Tompkins's Mr. Peanutbutter.
It's not exactly what you would expect from a bizarre comedy about talking animals, but that's what you get with BoJack.
62. The Unbreakable Kimmy Schmidt
Year of release: 2015
Cast: Ellie Kemper, Tituss Burgess, Jane Krakowski and Carol Kane
Tina Fey's show follows the tale of titular character Kimmy (Ellie Kemper), who spent 15 years in an underground bunker thanks to a doomsday cult and is now living in New York City. Her mission? To pursue a normal life.
Unbreakable Kimmy Schmidt might have its hits and misses in the name of making controversial jokes for the sake of it, but its two leads, Ellie Kemper and Tituss Burgess make the watch worth it.
63. Marvel's Daredevil
Year of release: 2015
Cast: Charlie Cox, Deborah Ann Woll, Elden Henson, Rosario Dawson
While Marvel's Jessica Jones and Luke Cage come in at a close second, Marvel's Daredevil is still the strongest of all Netflix's superhero shows. That's thanks firstly to an incredibly strong origin story in its first season and an explosive second season that introduces two of the most interesting characters in the small-screen universe, Punisher and Elektra.
Sure, Jessica Jones is the stronger character here and deserves a good mention on this list, but Daredevil's perfectly choreographed fight scenes and high-stakes story arcs make it the most engaging out of The Defenders' respective shows.
64. Sense8
Year of release: 2015
Cast: Jamie Clayton, Max Riemelt, Miguel Ángel Silvestre, Brian J. Smith
Vale Sense8. One of Netflix's first victims (we're not really counting Marco Polo here), Sense8's compelling story of eight mentally connected individuals from across the globe was cancelled after its second season, despite growing a large cult following.
It seems as popular as it was, Netflix just couldn't keep up with globetrotting sensates and cancelled the series in 2017. Still, if you're looking for an immersive and compelling show to binge, you can't go wrong with this one.
65. Making a Murderer
Year of release: 2015
Cast: Steven Avery, Dolores Avery, Ken Kratz, Brendan Dassey
This groundbreaking Netflix documentary series was filmed over the course of 10 years. It examines the complicated life of Steven Avery, who spent 18 years in prison despite being wrongfully convicted of sexual assault. He was fully exonerated in 2003 by DNA evidence. However, a few years after his release, he was accused of murder and found guilty, being sent back to prison.
The series was a huge success among true-crime enthusiasts, encouraging numerous debates about the US criminal justice system. It also left viewers keen to find out more about Steven Avery. Is he a psychopath or the victim of corrupt authority figures? If you're a fan of complex legal issues, this one is a must. Who knew documentaries can be so gripping?
66. Narcos
Year of release: 2015
Cast: Wagner Moura, Pedro Pascal, Boyd Holbrook, Alberto Ammann, Paulina Gaitan
Raw and gritty, this acclaimed series chronicles the real-life stories of the drug kingpins of the late 1980s. At the same time, it focuses on the efforts of law enforcement to meet them head on in brutal, bloody conflict. The first two seasons follow the infamous Pablo Escobar, who made billions from the production and sale of cocaine. Season 3, meanwhile, picks up after the fall of the kingpin and sees the DEA take on the Cali Cartel.
Narcos doesn't give you too many characters to root for, but it's definitely addictive and illuminating, even if you're already familiar with much of Escobar's life. The series is stylish and action-packed, with top-notch performances and intense storytelling. Not recommended for the faint of heart.
67. Jessica Jones
Year of release: 2015
Cast: Krysten Ritter, Mike Colter, Rachael Taylor, David Tennant, Eka Darville, Carrie-Anne Moss
In a television landscape overfilled with superhero shows, Jessica Jones stands out from the crowd due to its focus on the more human aspects of being a super-human. The show follows the titular heroine as she struggles to make it as a private investigator and deals with severe repercussions after being controlled by a villain. It's more aftermath than origin story, which is a nice change for the Marvel universe.
Jessica Jones is dark and captivating, boasting brilliant performances from both Krysten Ritter and David Tennant. You won't be blown back by the special effects – instead, you'll be pulled in thanks to rich character drama and clever storytelling. At its core, the show is a tale of woman confronting the abuser who almost ruined her life, which always makes for compelling television.
68. Wet Hot American Summer: First Day of Camp
Year of release: 2015
Cast: Marguerite Moreau, Elizabeth Banks, Paul Rudd, Zak Orth, Michael Showalter, Bradley Cooper, Amy Poehler, Lake Bell
This glorious series is actually a prequel to the 2001 satirical film with the same name, following the counselors and campers at a summer camp in Maine in 1981. With a tremendous ensemble cast and slightly ridiculous premise, the show is absurd and funny. Thankfully, the spot-on jokes appeal to both fans of the original film and newbies looking for an enjoyable weekend binge.
What's great about the series is that it doesn't rely solely on nostalgia to draw in viewers. It stands on its own and embraces the silliness that made the original became a cult classic. At the same time, it infuses new life into the premise, by offering answers to questions the film raised and seamlessly juggling all members of the huge cast. All in all, it's a must-watch for any serious comedy fan.
69. Easy
Year of release: 2016
Cast: Orlando Bloom, Malin Akerman, Jake Johnson, Marc Maron, Dave Franco, Hannibal Buress, Emily Ratajkowski, Michael Chernus, Gugu Mbatha-Raw, Aya Cash
An anthology series, Easy explores several Chicago characters as they fumble through the modern maze of sex, technology and culture. It's a refreshing take on love in the modern age, featuring a diverse cast and strong performances from everyone involved.
Utterly charming overall, the show paints a comprehensive picture of city life, as it focuses on characters of various ages, ethnicities, backgrounds, and professions. Moreover, they all have different problems, so it's likely you'll find yourself in someone over the course of the series. If you don't, at least you'll gain some much-needed insight into the human psyche.
70. The Get Down
Year of release: 2016
Cast: Justice Smith, Shameik Moore, Herizen F. Guardiola, Skylan Brooks, Tremaine Brown Jr., Yahya Abdul-Mateen II, Jimmy Smits
One of the most ambitious projects to land at Netflix in recent years, The Get Down is a musical drama set in the South Bronx region of New York in the late '70s. The show follows a bunch of kids who find themselves at the nexus of the hip-hop, punk and disco scenes. It was very expensive to make, which is probably why Netflix decided not to go forward with Season 2. However, the first season of the series is available to stream in all its glory.
The story is universal, and the series as a whole very cinematic. The Get Down is energetic and vibrant. It also benefits from a strong cast and powerful depiction of the political and social environment of the 70s. The tone can be uneven at time, but it makes for a very enjoyable ride. If you're into musical numbers, you shouldn't miss this one.
71. American Vandal
Year of release: 2017
Cast: Tyler Alvarez, Griffin Gluck, Jimmy Tatro
American Vandal is an odd little show, but one's that's totally worthy of your attention. A satirical true crime mystery, the series centres on a high school rocked by an act of vandalism. But when the main suspect pleads innocence, an aspiring sophomore documentarian decides to help him out. It's ridiculous, thought-provoking, and ultimately brilliant.
You'll go into the series expecting to laugh and end up moved by the short, 8-episode first season. The premise may be absurd, but you'll soon find yourself immersed in the narrative. Moreover, the fact that American Vandal offers a realistic and nuanced portrayal of high school life doesn't hurt either. It's both funny and heartbreaking, and that's a true feat.
72. She's Gotta Have It
Year of release: 2017
Cast: DeWanda Wise, Anthony Ramos, Lyriq Bent, Cleo Anthony, Chyna Layne
This quirky dramedy created by Spike Lee is based on the 1986 film with the same name. She's Gotta Have It follows Nola, a passionate and outspoken woman in her late twenties who divides her time between three lovers. The show's fierce female lead is like a breath of fresh air, with Wise delivering a memorable performance. Nola might be juggling a lot, but she's confident and complex, gifting viewers everywhere with a well-crafted portrayal of a woman who follows her own rules.
Not only that, but She's Gotta Have It is also sexy and fun. Plus, the series addresses some important issues women face on a day-to-day basis. It doesn't matter if you've seen the original movie or not. Its TV adaptation raises the bar and works well in the new era.
73. The End of the F***ing World
Year of release: 2017
Cast: Alex Lawther, Jessica Barden, Gemma Whelan, Wunmi Mosaku, Steve Oram, Christine Bottomley
Based on a graphic novel with the same name, The End of the F***ing World follows two teenagers, James and Alyssa. James is pretty sure he's a psychopath, while Alyssa is simply looking to escape her home life. She proposes they run away together and he accepts, hoping this will give him a chance to kill her. Not your typical coming-of-age story.
The End of the F***ing World is bleak and addictive, ultimately delivering a very human and sweet story. You might not like the two leads at first, but you'd be surprised with how fast you'll start caring about them. A highly recommended show for black humor enthusiasts.
74. Altered Carbon
Year of release: 2018
Cast: Joel Kinnaman, James Purefoy, Martha Higareda, Chris Conner, Dichen Lachman, Ato Essandoh
Set in the future, this sci-fi series received mixed reviews upon its release, despite being well-received by the public. Which proves once again that critical acclaim and mass appeal don't always go hand in hand. That being said, Altered Carbon is a whole lot of fun as long as you don't ask too many questions. Simply bask in all that cyberpunk goodness and enjoy the powerful visuals.
In a society where death is no longer permanent, Takeshi Kovacs is offered a chance to live again, as long as he's willing to solve an intricate murder. The plot is complex and there are a lot of big ideas floating around, so there's little chance you'll be bored during your binge. All in all, Altered Carbon may not be a masterpiece, but it's a delight for any hardcore sci-fi fan.
75. Star Trek Discovery
Year of release: 2017
Cast: Sonequa Martin-Green, Doug Jones, Shazad Latif, Anthony Rapp, Mary Wiseman, Jason Isaacs
A prequel to Star Trek: The Original Series, this new instalment in the popular franchise follows the voyages of Starfleet on their quest to explore new planets and new life forms. With the Klingons waging war against the United Federation of Planets, Science Specialist Michael Burnham finally realises that in order to understand all things alien she has to first figure out how to understand herself.
The series is ambitious and comforting at the same time, with limitless potential and some fresh ideas. Not only will it appeal to veteran fans, but it might also catch the eye of those completely new to the Stark Trek universe. The characters are strong, there are a few twists along the way, and the show great overall. We can't help but look forward to future episodes.
76. The Good Place
Year of release: 2016
Cast: Kristen Bell, Ted Danson, William Jackson Harper, Jameela Jamil, Manny Jacinto
Once in a blue moon, a show so whimsical comes along that you have to drop everything and tune in immediately. The Good Place is just that kind of show. Hilarious, original, and forking fun. The premise? Eleanor wakes up and finds out that she has died and ended up in an afterlife called the Good Place. Problem is she wasn't what you'd call a good person, so she was probably sent there by mistake. As a result, she has to hide her naturally bad habits from those around in order to avoid being kicked out.
The Good Place is a charming comedy about the afterlife. It's hilarious and lively, it's weird and subversive, it's well-written and brilliantly casted. You'll be hooked from episode one.
---
More guides on Finder
Stream the best and save