Victoria travel restrictions | Where you can go in October 2020
We shed some light on where you can go, what's open and how to get around now that regional travel is permitted in Victoria.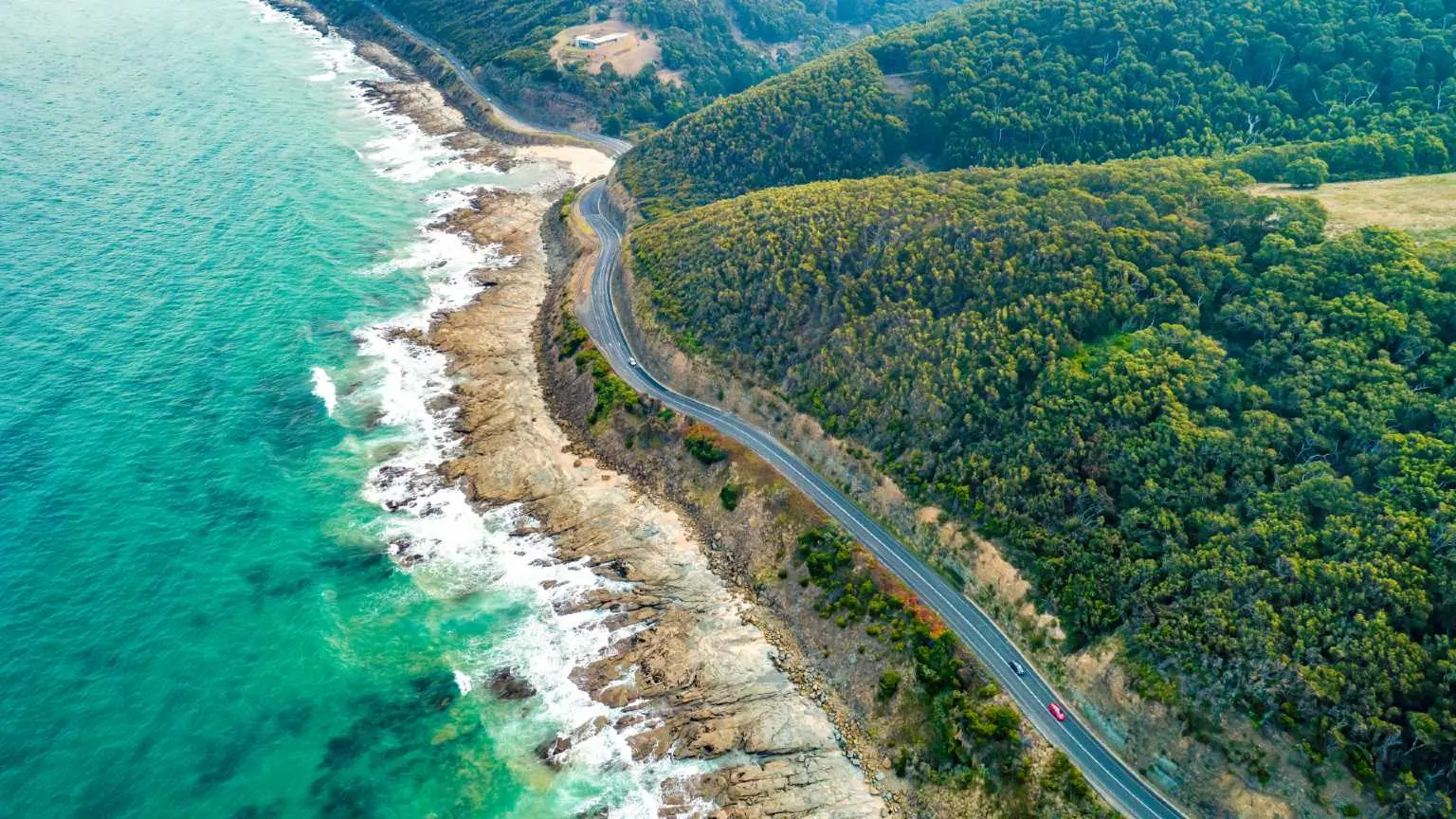 We're committed to our readers and editorial independence. We don't compare all products in the market and may receive compensation when we refer you to our partners, but this does not influence our opinions or reviews. Learn more about Finder .
If you live in regional Victoria you can travel around the state freely for a holiday, except to Melbourne which is still a hotspot.
On the list of places you can visit are the Great Ocean Road, Mount Hotham and the Yarra.
When you do, the government is impressing that you adhere to physical distancing and good hygiene practices. You should also avoid contact with the vulnerable.
This guide has all the ins and outs so you don't get caught on the back foot when you travel around the state.
Restrictions due to Melbourne's coronavirus outbreak
Due to decreasing case numbers, restrictions in Melbourne have eased. Anyone living in metropolitan Melbourne may travel within a 25km radius and there is no time limit on how long you can be out. This includes to shop for essentials, giving or receiving care, excercising and attending education or working if you can't do it from home.
Select retail and hospitality may reopen. This includes hairdressers, real estate auctions, car washes and outdoor photography.
When you do leave your home you must wear a face mask. You may not travel further than 5km from your home.
You may meet up with an ten other people outside of your household in metro Melbourne. These must be across two households only.
The borders between Victoria and the rest of Australia have closed. Anyone travelling out of Victoria may need a formal exemption, be a returning resident or be an essential traveller to cross the borders. A 14-day self-quarantine may also be required.
Accommodation in Victoria
Staying in accommodation, including in hotels, motels, campgrounds and at a friend or family member's home, is not permitted in metropolitan Melbourne unless it's for work, study, caregiving, medical care or to visit your partner.
Regional Victorians can stay in accommodation in the region.
Can I stay with family or friends?
You can't stay with friends or family who live in the hotspots of metropolitan Melbourne or if you are coming from a hotspot unless it is for an essential reason such as caregiving.
Regional Victorians may stay overnight at a friend or family member's house in regional Victoria. This must be an exclusive social bubble as you may only visit one other household throughout the current third step.
While you can stay overnight at a friend or family member's house, no more than two people can visit a home per day. These can be from different households.
It's also recommended that the vulnerable and elderly should limit the number of guests in their homes.
Can I stay at hotels?
Anyone in metropolitan Melbourne is not permitted to travel or stay in a hotel for leisure.
In regional Victoria, hotels with private facilities for their guests, including bathrooms and kitchens, can re-open for leisure travellers.
When you arrive there may be extra hygiene precautions in place. This might include an a la carte breakfast in lieu of a buffet-style one and limitations on the number of guests at the pool and gym at any one time.
Interstate travellers can book a hotel. However, you may need to self-isolate upon your return based on your state's current restrictions.
Latest deals for hotel stays in Victoria:
Can I stay at private or rented holiday homes?
Melbournians are not permitted to stay in a holiday home, private or rented. This includes visiting it to check up on it.
Regional Victorians may visit their private holiday home or stay in a rented holiday home so long as they're outside current hotspots.
Staying at hostels
Hostels across the state are reopening with enhanced hygiene measures in place. Private and family rooms are available for members of the same household only, while multi-share rooms have reduced occupancy in line with the physical distancing rules.
Hostels such as the YHA have increased the cleaning of high-touch surfaces and hand sanitiser is available.
Communal facilities may be closed or restricted to allow for only a certain number of guests at any one time.
Anyone living outside a COVID-19 hotspot may stay in hostels.
Am I able to go camping and caravanning?
Regional Victorians may stay in campgrounds and caravan parks that are outside metropolitan Melbourne.
Communal facilities have reopened and are being cleaned regularly. Despite this increased cleaning, you should still maintain good hygiene when using these facilities. This includes washing your hands for 20 seconds and coughing into your elbow or a tissue which is appropriately disposed of.
There are no restrictions on the number of people who can stay at a campsite. However, you may only stay with members of your household, intimate partners or two other people outside your household.
Physical distancing rules with other campers apply and pre-booking is highly recommended.
You may not camp on a private property unless you have formed a bubble with that household.
Can I go boating or yachting?
Yes. Boating and yachting is seen as exercise and therefore is permitted either alone or with members of your household in metropolitan Melbourne. You are restricted to stay within 5km of your home and may only be out for two hours.
In regional Victoria you may go boating alone, with members of your household or with up to 10 other people and can travel wherever you like so long as you don't enter metropolitan Melbourne.
Overnight stays on boats, including houseboats, are permitted outside of hotspots so long as the boat is self-contained. That is, it must provide its own kitchen and bathroom facilities and is only for use by those staying on the vessel.
Gathering limits apply based on social distancing rules.
Tourist attractions in Victoria
Only outdoor tourist attractions in regional Victoria have been given the green light to reopen. This includes zoos, amusement parks and drive-in cinemas where you must remain in your vehicle.
The four square metre rule applies for all attractions. Due to this, timed ticketing may be in place.
All attractions in Melbourne are closed.
To help weed out what's open and what's not, RedBalloon and Adrenaline has marked specific products with a "Now Open" stamp.
Some popular Victorian attractions that have reopened are below. We will update this list as attractions reopen.
Latest deals for activities and attractions in Victoria:
Can I visit national parks?
If you're permitted to get out and about, national parks across the state are open for exercise and overnight camping. Campsites may require pre-booking. Check the Parks Victoria website before heading out to avoid disappointment.
Once you're at the park, be vigilant about social distancing by staying 1.5 metres away from other hikers and campers.
Dandenong Ranges
Grampians National Park
St Kilda Pier and Breakwater (Penguin viewing platform is closed)
Wilsons Promontory National Park
Major sites along the Great Ocean Road (including Port Campbell and Great Otway)
Yarra Ranges National Park
Mornington Peninsula National Park
Are beaches and local parks open?
In Melbourne alone, there are over 480 hectares of parks and gardens open for exploring and picnicking. Here are some popular parks open in Melbourne:
Catani Gardens
Flagstaff Gardens
Carlton Gardens
Docklands Park
Fitzroy Gardens
Kings Domain
Queen Victoria Gardens
Treasury Gardens
Birrarung Marr
JJ Holland Park
Royal Park
Shrine of Remembrance Reserve
While these are open you may only enter them under strict guidelines. This includes living within 5km of these green spaces and only using them for exercise purposes.
Are ski areas open?
All ski areas in Victoria are closed for the season. When they were open only those living outside hotspots were permitted to visit and all resorts required you to pre-purchase your lift passes to maintain limited capacity numbers.
Mount Buller: Closed for the season
Mount Stirling: Closed for the season
Mount Hotham: Closed for the season
Falls Creek: Closed for the season
Mount Buffalo: No ski lifts, only back country style alpine skiing and boarding
Lake Mountain: Closed for the season
Getting to and from your holiday
Can I drive anywhere within Victoria?
As long as you don't reside in a locked-down suburb, or are driving into one, there are no limitations when driving your own vehicle.
If you're hiring a car there may be additional protocols in place – including when you pick it up and drop it off. For example, Europcar has a zero-contact policy where the keys are disinfected and put in a sealed envelope for you to pick up.
Am I able to fly within Victoria?
There are limited intrastate routes within Victoria, but you are still permitted to fly on them as long as you're not living within metropolitan Melbourne where distance-from-home restrictions are in place.
As of 11:59pm on Tuesday 7 July, the border to New South Wales is closed. You won't be able to fly between the states unless it's essential.
Added safety measures are in place when you fly to ensure a healthy environment. You'll notice enhanced cleaning and masks and sanitising wipes for all customers.
Due to the mask mandate in Victoria which came into effect on 22 July, all passengers on flights to or from Melbourne must wear a mask. These will be provided to you by the airline. If you refuse to wear it you will not be permitted onto the flight.
Are coach services operating within Victoria?
You can travel by coach between Victorian cities with certain restrictions.
PTV: Public coach services are running, with select service changes. Buses from Geelong to Lorne and Apollo Bay now stop at Waurn Ponds Shopping Centre and there is an increase in services to Stawell and Halls Gap and from Daylesford to Woodend.
Many chartered coach services, including those with Victoria Coaches, Melbourne Bus Company and Dysons, are still running. You'll need to contact them for a quote.
Greyhound and Murrays have suspended all interstate services departing Melbourne until further notice.
Are train services operating within Victoria?
PTV services: All services are running as normal. There are no passenger limits; however, Victorians are advised to travel on its services less, if possible, avoid peak hours and to keep your distance on escalators, platforms and in trains.
Public Transport Victoria is cleaning high-touch surfaces daily.
V/line: You can still travel by train to regional destinations such as Ballarat, Bendigo, Geelong, Gippsland and Seymour.
Services to South Australia have stopped temporarily as the borders are closed to Victorians.
As part of its hygiene and safety protocol, staff and coach drivers won't accept cash as payment. Instead, please use your myki or a paper ticket purchased from the station.
If you've purchased your ticket online, V/Line is temporarily accepting your ticket confirmation as a printout or on your smartphone.
All trains are being cleaned frequently.
Regional services: The Overland, which journeys between Adelaide and Melbourne, is recommencing on a limited schedule from 2 November 2020. The Great Southern which travels from Brisbane to Adelaide via NSW and Victoria is anticipated to resume in December, pending border restrictions.
Which states and territories can I travel to?
Due to the ongoing pandemic, all states and territories are closed to Victorians. Only essential workers may travel.
To NSW: Only essential travellers and those living or working in a border community can cross into NSW. A border permit is required. Anyone crossing without a permit will be taken into quarantine at their own expense.
To Queensland: Borders are closed and only essential workers may travel to Queensland. All other travellers will be denied entry.
To Western Australia: Borders are closed and only essential workers may travel to Western Australia. Upon entering they will be taken into mandatory quarantine and need to take two COVID-19 tests.
To South Australia: Borders are closed to non-essential travellers. Returning returning residents and those moving to South Australia may enter but must self-isolate for 14 days. All arrivals must take two COVID-19 tests. Border communities may travel amongst each other.
To Tasmania: Only essential travellers may enter. All other Victorians will be turned away at the border.
To the ACT: Borders are closed and only essential travellers or those with an exemption may enter. Entry from the ACT to Victoria is only permitted by air. Returning residents must notify ACT Health of their intention to enter and quarantine for 14 days upon arrival.
To the Northern Territory: Borders are closed to all non-essential travellers. From 2 November, this is set to change to allow regional Victorians to enter the Northern Territory as long as coronavirus cases remain low.
Ready to explore Victoria? See our latest deals
Frequently asked questions about travelling in Victoria during COVID-19
How far can I travel from home?
There are no limitations on regional Victorians for travel. However, you cannot enter metropolitan Melbourne unless for essential reasons. If you do enter, you will need to self-isolate for 14 days.
Those living in metropolitan Melbourne are seen to be in a hotspot and cannot travel further than 5km from their home.
Whenever out in public it is mandatory for you to wear a mask. Failure to do so can result in a fine.
Are there any regional travel restrictions?
No. As long as you're not in a lockdown area you may travel throughout Victoria except to metropolitan Melbourne. Borders into the capital are being heavily patrolled.
Can I travel to Victoria if I live in another state or territory?
Yes. Victoria's borders are open. However, you may need to self-isolate upon return to your own state, depending on your current state rules.
You should avoid COVID-19 hotspots while in Victoria, if possible.
Queensland, New South Wales, South Australia, Northern Territory and the ACT have banned Victorians from entering their borders.
Tasmanian and Western Australian borders are closed to all other states and territories, including Victoria.
What if I live outside a hotspot but commute into it for work or schooling?
You can still travel into Victorian hotspots if it's absolutely necessary without having to follow the lockdown rules. Reasons to enter a hotspot include essential shopping, essential work, caregiving and schooling. When in a hotspot you should maintain social distancing and good hygiene.
Conversely if you live in a hotspot but must leave, say for work, you can. However, if it's possible to work from home, you should do so.
Do I need to limit the number of people I travel with?
In hotspots, there is an outdoor gathering limit of 10 people across two exclusive households.
Outside hotspots, up to 10 people may gather in an outdoor setting with no limit on the number of households present.
Physical distancing is required when gathering with people outside of your household.
Do I need to pre-book to visit dining venues and attractions?
Restaurants are closed for dining in metropolitan Melbourne. You may only order takeaway or delivery.
Outside of these locations, restaurants, cafes and attractions may reopen. There is a limit of 10 people per group. Venues are capped at 10 people per indoor space, with up to two spaces per venue open subject to the four metre rule.
Outdoor areas may seat up to 50 based on a two square metres per person rule.
You might have to pre-book. Check with the venue before arriving to avoid disappointment.
Will I need to self-isolate or go into quarantine when I return from my trip?
No. There is no need to self-isolate or quarantine when travelling around regional Victoria, although you may need to quarantine if you've been to metropolitan Melbourne or another state or territory.
If you are feeling unwell when you return and are showing flu-like symptoms, you should call the COVID-19 hotline on 1800 675 398 immediately for advice.
Related Posts