Apple TV+ vs Netflix comparison April 2021
Netflix has ruled the streaming TV space for years, but on 2 November 2019, it faces a genuine competitor in Apple TV Plus. How do they compare?
We're reader-supported and may be paid when you visit links to partner sites. We don't compare all products in the market, but we're working on it!
Apple's long-rumoured TV streaming service arrives in over 100 countries on 2 November (AEDT). The service is Apple's foray into the Internet TV streaming space dominated by Netflix and Stan in Australia. A scene also that will continue to swell on the back of Disney+ and HBO Max.
Also Read: Disney+ vs Netflix comparison.
Apple TV+ was first announced at a special keynote announcement in March. It was Apple CEO Tim Cook who announced Apple TV+ and first detailed the new cable/Internet TV streaming platform. And there has been a steady stream of content announcements and details revealed in the months since.
You can dive deeper into everything you need to know about Apple TV+ to learn more, but we know your first likely question: is Apple TV+ better than Netflix? Let's dive in and find out.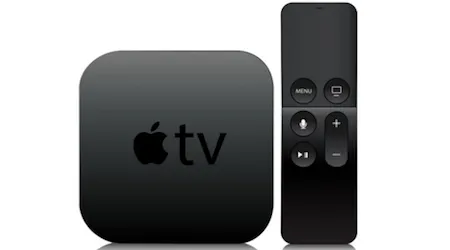 Buy Apple TV
from Apple Store
It might not look much different on the outside, but 2016's Apple TV is packed with awesome new features, like voice control, a touch-sensitive remote and gaming.
View details
Apple TV+ vs Netflix Australia
You'll find a more detailed analysis below, but for those of you in a hurry, here's a quick summary:
| Features | Apple TV+ | Netflix Basic | Netflix Standard | Netflix Premium |
| --- | --- | --- | --- | --- |
| Price per month | $7.99 | $10.99 | $15.99 | $19.99 |
| Free trial | 7 days | No | No | No |
| Release date | 2 November 19 | 24 March 15 | 24 March 15 | 24 March 15 |
| Simultaneous streams | 6 | 1 | 2 | 4 |
| Family sharing | 6 | 5 | 5 | 5 |
| Contract | No | No | No | No |
| Launch movies and TV shows | 9 | 4,200+ | 4,200+ | 4,200+ |
| HD | Yes | No | Yes | Yes |
| 4K | Yes | No | No | Yes |
| Can watch offline? | Yes | Yes | Yes | Yes |
| Devices | Mac, iPhone, iPad, iPod Touch, Apple TV, Roku, Amazon Fire TV, Samsung TVs, Airplay | PC, Mac, iOS, Android, Windows Phone, PS4, Xbox One, Apple TV, Fetch TV, ChromeCast, Android TV, Amazon Fire TV, Vodafone TV, Telstra TV, Smart TVs (LG, Hisense, Panasonic, Philips, Samsung, Sony) | PC, Mac, iOS, Android, Windows Phone, PS4, Xbox One, Apple TV, Fetch TV, ChromeCast, Android TV, Amazon Fire TV, Vodafone TV, Telstra TV, Smart TVs (LG, Hisense, Panasonic, Philips, Samsung, Sony) | PC, Mac, iOS, Android, Windows Phone, PS4, Xbox One, Apple TV, Fetch TV, ChromeCast, Android TV, Amazon Fire TV, Vodafone TV, Telstra TV, Smart TVs (LG, Hisense, Panasonic, Philips, Samsung, Sony) |
| More info | More info | More info | More info | More info |
---
Price: How does Apple TV+ compare with Netflix?
Apple has come in below original expectations with its monthly cost. At $7.99 and with only the one pricing tier, it undercuts the current cost of Netflix in Australia substantially.
Netflix recently increased the cost of its 4K premium plan to $19.99 per month, then proceeded to up prices for Basic and Standard plans as well in September 2020. Basic now costs $10.99/month, while Standard is priced at $15.99/month.
Apple also announced that the service would automatically support Family Sharing with up to six accounts. Plus it will allow for six simultaneous streams. This is more than what is on offer through Netflix, but only marginally. Still, it's an opportunity to get even more value out of the Apple TV+ subscription cost.
Features: Does Apple TV+ or Netflix have better streaming features?
Netflix has set the standard on what users expect from Internet TV streaming services, with the expectation of the stellar sports streaming experience offered by Kayo, and Apple TV+ looks to meet those, rather than raise the bar.
Content will be on demand and ad-free, which is on par with what Netflix offers. Unlike Netflix all, not some, of the content will support offline play with Apple TV+. Apple TV+ also goes native on 4K and claims that "most titles" will also support Dolby Atmos. The latter is somewhat a surprise considering the Apple TV 4K device itself does not.
Apple TV+ is a part of the Apple TV ecosystem, which has received a huge overhaul itself in the form of a new OS. That update, in the form of iOS, iPadOS, tvOS or macOS, adds Apple TV as a standard app on all Apple devices.
It's not hard to figure out which book Apple has taken a page out of here with its interface. The general user interface and dedicated Kids section is clearly inspired by Netflix's benchmark design.
Content: Will Apple TV+ or Netflix have better content?
Obviously, the answer to that question is awfully subjective. What we can confirm is that Apple TV+ is only launching with nine shows. They are all exclusive, original content though, which is a big tick. Plus, there are over 40 additional shows (see the full list here) in active production.
Some of the launch content, such as Morning Wars, has already been renewed for second seasons as well. While other deals are being struck nearly every day. Brilliant director Alfonzo Cuaron (Gravity, Children of Men, Roma), for example, just signed a three-picture deal with Apple.
Oprah Winfrey has also signed up for at least three separate original productions: Toxic Labour, a documentary series that tackles damaging workplace culture, a multi-part documentary series about mental health issues and a book club series where Oprah interviews her favourite authors.
So while the launch line-up is lean, the library growth on a monthly basis ensuring there is always new, exclusive content to watch.
Unfortunately for Apple, Netflix has also been doubling down spending hundreds of millions on new original content in recent years. Apple will never close the gap in terms of available content as a result. So if sheer quantity is what you're after, Netflix remains king.
Devices: Which service has more compatible device options?
This is where it gets interesting. Netflix takes the crown for device compatibility, there are no two ways about it. The streaming giant has worked for years to get the world's most popular streaming platform onto set-top boxes, video game consoles and more. Most notably, it's managed to weasel its way onto region-specific devices, like Fetch TV and more recently, Foxtel iQ here in Australia.
However, in a first for Apple (which typically gates its services behind iOS), its TV app and by extension Apple TV+, will become available on a selection of Smart TVs. Samsung is on board for launch, with Sony and LG set to follow shortly after. The Apple TV app is also coming to Mac for the first time ever (better late than never?).
So while Apple is putting one foot forward in terms of device compatibility, it's still a far cry from Netflix's comprehensive hardware offering. Most notably, there has been no mention of compatibility for game consoles like PlayStation 4 and Xbox One, and not a single mention of PC or Android compatibility.
Why wait when you can compare Australian streaming services today?
So is Apple TV+ worth the wait? It's a slow start to be sure. But the focus on original content and the relatively small price of investment makes it well worth a look from Apple device owners. Whether it will ultimately supersede your time with Netflix and demand to be the king of your home will depend on how much you love those originals. In the meantime, you can compare streaming services that are already available in Australia.
More guides on Finder
Stream the best and save