Answering Kayo Sports' 5 biggest questions
Is Kayo a Foxtel product? Can you watch replays? What's the difference in packages? How can I watch? Does it have Main Event? Answered.
In late 2018, the Kayo live sports streaming service launched. Dubbed the "Netflix for sport", it's nothing short of an evolution in the way sport is broadcast in Australia. A disrupter that is a genuine step forward into the future of how we will consume our beloved sports content.
In a nutshell, Kayo allows users to browse live broadcasts from approximately 50 different sports and instantly watch whatever they want on almost any device. There's on-demand content and general programming, too, including discussion panels and entertainment shows.
Best of all are the sport-centric features that bring game day to life. Picture-in-picture mode; the ability to split the screen four ways and stream four events at once with SplitView; jump to start, No Spoilers to hide scores; a Key Moments Timeline; choose your own camera view and more are either already available or coming soon. All for $25 a month.
Following on from our live hands-on review of the Kayo Sports streaming experience, we got a lot of feedback from sports fans about the service. While for the most part there seems to be genuine positivity around what Kayo is attempting to deliver, there are still a few questions, or perhaps misconceptions, that continue arising. Let's jump in to the Finder Kayo FAQ.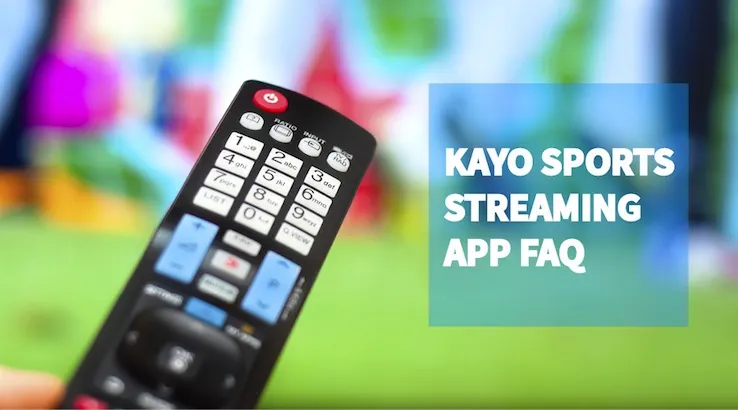 Is Kayo owned by Foxtel?
Kayo offers an almost identical suite of live sport and programming to Foxtel Now and Foxtel iQ. On Kayo you will find all the FOX SPORTS channels, the two ESPN channels, Arsenal TV, Racing.com and three beIN SPORTS channels. All that is missing is Eurosport and Sky Racing.
However, Kayo is not a Foxtel product. It's confusing, no doubt. Kayo is a service built by a separate company within the broader organisation that includes Foxtel and Telstra. Think of it like Kmart and Target, which sell much of the same products and are effectively competing against each other, but both are owned by the same organisation in Wesfarmers.
Moving back to streaming TV, despite operating in the same space and targeting an overlapping audience to Foxtel, Kayo Sports is not the same company. However, the new streaming sports app has, effectively by default, access to the broadcasting rights acquired by its sister company.
Get to know
Kayo

with our guides
Can you watch replays on Kayo?
Yes you can watch replays on almost all events on Kayo. Not only can you watch on demand, but if you miss the start of the game you have the option to jump in live or watch from the start and skip through ads till you've caught up.
Kayo's library contains archives dating way back to 2018 when the platform launched. This includes all AFL, NRL and A-League matches since then. The same goes with the cricket, where you'll find Australian Test, ODI and T20 matches, including BBL and WBBL.
Store
Discount

Kayo Sports

Stream Kayo Sports for 14 days FREE and no lock-in contract

Take Kayo Sports' Basic or Premium plan for a spin and stream new sports content daily plus 15,000+ hours of on-demand archives.

Last verified
There's also a lot of football leagues from around the globe on Kayo. Most of these come via beIN SPORTS channels.
It's the American sports where things aren't available on replay for as long. The big ESPN grouping of NBA, NFL, MLB and NHL matches typically remain on replay for three to four days at best.
Other ESPN events such as UFC Fight Nights, FA Cup, US Open and AMA Supercross are typically available until the end of season or calendar year.
The tricky part of this is that it's all to ESPN's discretion as it owns the content. If for whatever reason it tells Kayo to remove on-demand content then Kayo has to oblige.
What's the difference in packages?
Obviously if there's more than one package, then there are multiple price tiers. Kayo's offers 2 options, the Basic subscription costing $25 a month and the Premium option which is $35 monthly.
Unlike other streaming services whose different packages differ by video quality among others, Kayo's only have one attribute difference. That's the amount of devices you can watch from. The cheaper Basic subscription lets you watch on two devices at once and the more expensive choice gives you three simultaneous streaming options.
What can you watch Kayo on?
Speaking of devices Kayo has almost every device, with some more in the works. Here's the full list and if you need help setting them up see our step-by-step guide.
An app so you can watch on Playstation is expected to come soon, though Kayo has been saying this since the launch and it still hasn't arrived. Given there's a new console coming in 2020, we think this will be the year it finally arrives.
Can I watch Main Event on Kayo?
As we said earlier, while Kayo is aligned with Foxtel it isn't the same company. So unfortunately there's no way to order Main Event or get access to pay-per-views. It does get some boxing fights and has the prelims for the big UFC events, but you won't get a Conor McGregor fight for example.
It's the same case for WWE, which is now on Kayo. You'll get weekly programming from Raw, Smackdown and NXT, but no WrestleMania.
Related Posts