Nintendo Switch: Australian pricing, specs and news
Nintendo's entry into the ninth console generation is the talk of the town, but how does it actually work and what games does it offer?
We're reader-supported and may be paid when you visit links to partner sites. We don't compare all products in the market, but we're working on it!
The console codenamed NX was officially announced as the Nintendo Switch on 21 October 2016. It was unveiled via a lively trailer that demonstrated the home/handheld hybrid in action, including its detachable Joy-con controllers, six games and traditional gamepad support.
On 13 January, Nintendo revealed finer details on the Nintendo Switch through a live stream from Tokyo, including different SKUs, Joy-Con functionality, online play and over 30 titles (including a new Super Mario title).
Now that the Nintendo Switch is out in the wild, let's take a deep look at the console's hardware and games.
I want to know about
Latest Nintendo Switch headlines
Nintendo Switch games
The Nintendo Switch saw over 100 titles released for it in its first year. The list included stalwart franchises like The Legend of Zelda, Super Mario and Bomberman but also a huge selection of quality indies like Shovel Knight.
KEY NINTENDO SWITCH TITLES
---
The Legend of Zelda: Breath of the Wild
---
Mario Kart 8 Deluxe
---
Super Mario Odyssey
---
Nintendo Switch hardware
The Nintendo Switch comes with the Switch tablet, a dock with HDMI output and two Joy-Con controllers. Here's everything you need to know about Nintendo's hardware.
Nintendo Switch
With all these detachable parts, what is the Switch exactly? Technically the tablet at the console's core is the Nintendo Switch. The console itself is exclusively sold in a package that includes the Switch Dock, two Joy-Con controllers and all the required cables.
---
Nintendo Switch Price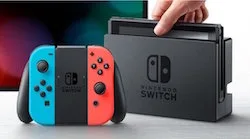 Purchase Nintendo Switch
from eBay
Purchase the Nintendo Switch with grey Joy-Cons or Neon Blue and Red Joy-Cons from eBay today.
View details
For a more detailed breakdown on how much the Nintendo Switch costs around the world, check our Switch price comparison. Otherwise, the Switch is sold in two different SKUs at the same price.
| Hardware | Price |
| --- | --- |
| Nintendo Switch Console Grey | $469.95 |
| Nintendo Switch Console Blue and Red Neon | $469.95 |
Thanks to our 10% Goods and Services tax, the Nintendo Switch is a little pricier in Australia than it is in other countries (but New Zealand has it worse).
Nintendo Switch Specs
Before the official announcement, the Switch's specs were undoubtedly the hottest topic when it came to wild rumours. While we know a lot more about the console itself, there's still a lot we don't know, like exactly how powerful the Switch's custom Nvidia Tegra chipset is. Here's what we do know about the Switch's specs.
| Nintendo Switch | Specs |
| --- | --- |
| Display | 6.2-inch |
| Resolution | 1280x720 |
| Processor | Custom Nvidia Tegra-based system-on-a-chip (SOC) |
| Internal memory | 32GB |
| Expandable memory | Up to 2TB (Micro SDXC) |
| Audio | 2 speakers, 3.5mm headphone hack |
| Battery life | 3 - 6 hours |
| Charging | USB-C |
| Sensors | Brightness sensor |

Joy-Con controllers
Whether it's placed in the dock, tabletop mode or handheld, the Joy-Con controllers are an essential part of the Switch's hardware.
The Joy-Cons come in grey and red/blue neon variations. They are also compatible with various accessories, like a charging grip and wheel frames. Here's how much they will cost you in Australia.
Joy-Con price
| Hardware | Price |
| --- | --- |
| Joy-Con set (2) | $119.95 |
| Joy-Con individual (1) | $69.95 |
| Switch Charging Grip | $39.95 |
| Switch Wheel Accessory | $24.95 |
| Switch Strap | $14.95 |
The Nintendo Switch's Joy-Con controllers share a similar button layout to the Wii U gamepad, with the exception of a share button and altered joystick placement.
The Joy-Cons boast new features like HD Rumble and an IR Sensor. The former simulates real-world sensations, like rattling ice in a glass, and the latter can identify movement, shape and distance. For example, you could play scissors, paper, rock and the Switch would be able to identify the action of moving your hand, how far it is from the sensor and which action you chose.
Joy-Con specs
The Joy-Con controllers are quite small when separated. Here are the specifications for the Nintendo Switch Joy-Cons.
| Joy-Con | Specs |
| --- | --- |
| Height | 102mm |
| Width | 35.99mm |
| Depth | 28.4mm |
| Weight | 101.5g |
| Battery | Lithium Ion |
| Battery life | Approx. 20 hours |
The full list of games for Nintendo Switch
Nintendo subtly revealed more than 30 games at its January 2017 Switch event. We combined those titles with rumoured and leaked titles in one comprehensive list.
If you are feeling overwhelmed by the amount of games to choose from, finder has you covered. Check out our list of the best Nintendo Switch games of 2017.
More guides on Finder