Fetch Mighty Review: A mighty fine PVR and streaming box
Quick Verdict
The Fetch Mighty isn't quite your dream PVR, but it's the closest thing we've ever seen in Australia, and easily the best PVR money can buy right now.
Strengths
More TV than you can watch
Simple remote and UI
Includes Netflix and Stan
Catch-up TV support
Integrated movie and TV store
Smart app control
Plenty of subscription TV options
Multi-room and DLNA streaming
Could be better
HDCP 2.2 audio issues
Requires decent bandwidth
No volume control in Netflix app
Poorly sorted streaming data via Media Hub
Intermittent crash bugs
---
The Fetch Mighty PVR offers up an enticing mix of streaming box, PVR and subscription TV.
Fetch's Fetch Mighty PVR looks on the surface like a gentle evolution of its existing PVR box business, but under its shrunken hood lurks a variety of entertainment experiences that makes it the premium PVR in the Australian marketplace. That's not a huge category to speak of, but if you're after a single box that (nearly) does it all, the Fetch Mighty is a great option.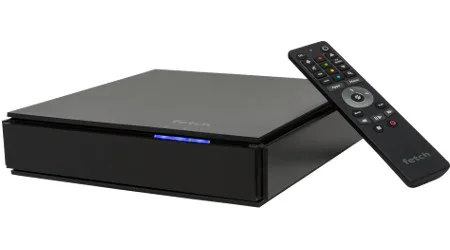 Buy the Fetch Mighty
from The Good Guys
With support for 4K video, a 1TB hard drive and the ability to record four shows at once, the Fetch Mighty is an impressive device. Try it out for yourself by picking one up from The Good Guys.
View details
Fetch Mighty: Design
Previous generations of Fetch PVR have tended towards the same kinds of design that PVRs have had since their inception, which is the polite way of saying that they all tend to look rather like old school VCRs without the little flap to pop tapes in.
Instead, the Fetch Mighty presents itself as a small, almost square PVR, and that's a great design step, simply because it means that it's suitable for more than just a standard TV cabinet. You can hide it away in a corner, or place it under a large flat screen without too much visual impact. Really, you just want to stare at the TV rather than the PVR that's powering it, and the Fetch Mighty does a great job of getting out of the way and letting you do just that.
Fetch Mighty: Why you'd want one
More TV than you can watch: The Fetch Mighty integrates a total of 4 tuners, with three for recording TV and the final fourth for watching live TV. Each of the tuners can record up to two channels from each channel "family", for a total of six. Families are essentially the brands of each free to air provider, so you could record programs on, say, 7, 7TWO, 9, Go, Ten and 11 simultaneously while watching content on ABC2 at the same time. Fetch is not responsible for how much of a couch potato you'd become catching up on all the TV you're going to record, but with an integrated 1TB hard drive, there's plenty of scope.
Simple remote and UI: When you're kicking back on the couch waiting for the TV to entertain you, the last thing you want is a confusing interface. The Fetch Mighty UI is amongst the simplest you'll find, with a single central paw print (because they like visual puns) button that launches the UI and allows you to easily view the current program guide, schedule recordings and launch applications. The learning curve is very slight indeed, and before long it'll be second nature.
Includes Netflix and Stan: Fetch recognises that Australians are increasingly enamoured with streaming video services, and with that in mind the Fetch Mighty supports access for Netflix and Stan's streaming services. If you've got a compatible TV, it's also the only set-top box that currently supports 4K streaming through Netflix. Stan has only just launched its own 4K service, but for now it's only supported in HD via the Fetch Mighty.
Catch-up TV support: The Fetch Mighty also incorporates apps for catch-up watching of 7Plus, tenplay, ABC iView, 9Now and SBS On Demand, so if by chance you forget to set a series tag to record your favourite shows, the odds are very good you'll be able to stream them later anyway.
Integrated movie and TV store: The Fetch Mighty sits at an unusual position of being part straight PVR and part smart streaming box, and this extends to the inclusion of an onboard movie and TV store, offering up a wide range of movies and TV shows to either rent or buy for permanent usage. You're also provided with a range of "free movies" if you get the Fetch Mighty through your ISP. These are changed regularly via what Fetch calls "Movie Box", although these are typically much older movie titles. If you're keen on the Movie Box on non-Fetch ISPs, you can subscribe for just $1 per month.
Smart app control: It's in the nature of remote controls to go missing behind the sofa, in the other room or simply deep into a dark dimension where remotes gather to complain about their users, although we've probably said too much there now. Come back, remotes! All is forgiven! Still, while we wait and bemoan the missing remote, we're not without the Fetch Mighty, because its included Android/iOS app integrates a full remote control within the app. It's a little slower than the real world remote, but a great solution for those times when the remote is far, far away.
Plenty of subscription TV options: Fetch also positions itself as a competitor to subscription TV juggernaut Foxtel with its own range of premium channel packages. $6 per month can buy you any of the kids (Disney, Nick Jr, Disney XD, Disney Junior, Cartoon Network, Cbeebies, Nickelodeon, Boomerang, Baby TV and ZooMoo), Knowledge (National Geographic, BBC Knowledge, Travel, Nat Geo People, HGTV, BBC World News, Nat Geo Wild, Food Network, CNN, Bloomberg, Euronews, NDTV, CNBC, France24, CGTN, Al Jazeera, Channel NewsAsia), Vibe (ESPN, EDGE, Spike, ESPN2, Garage, Egg, E, Comedy Central, MTV, MTV Music, Style, Fashion, MTV Dance) or Variety (BBC First, 13th Street, 111 Funny, UKTV, SyFy, MTV Classic, Universal, TV Hits, C Music TV) packs, or $20 as a bundle of all of them. If your interests are in specific language channels, there's also the option for 28 Indian channels under the $15 Taj Mahal pack, 10 Cantonese channels for $49.95, 5 Korean Channels for $14.95, 8 Filipino channels for $19.95, 23 Chinese channels for $9.95 or 4 Italian channels for $15 per month. Fetch is also home to selected sports options, including beIN sports for $14.95 per month, Horse and Country for $7.95 and Optus Sports for $15 per month. That's a lot of variety of subscription choices at relatively low prices, and while you could spend quite a lot, given that bundling everything would cost you $182.70 per month, we're going to guess that not too many folks will be quite that diverse in their viewing needs to want absolutely everything. But you could if you wanted to.
Multi-room and DLNA streaming: If you've already got home streaming set up for your own content, the Fetch Mighty can discover it over your home network and stream most formats natively. It goes a step beyond this if you've also got the smaller Fetch Mini, because you can stream recorded programs from your Fetch Mighty to the Mini across the same network. You can't quite broadcast and flip live TV channels if you don't have your Fetch Mini connected to an antenna, although you can stream recorded programs while they're still going if you're happy to not skip through ads as you go.

Fetch Mighty: Why you might not want one
HDCP 2.2 audio issues: Fetch isn't alone in this space, but we did hit one notable snag when connecting up the Fetch Mighty to a Sony receiver via HDMI. It resolutely failed to work, informing us that something in the HDMI loop between the Mighty, Amp and TV was failing HDCP certification. That's a security feature intended to ensure that you're not pirating material at up to the 4K resolution the Mighty supports, but it's a major pain if you're connecting through a sound system. At least the option to connect up at a lower resolution only to bypass would be appreciated for honest customers. We eventually opted for an optical audio connection to the amp and straight HDMI direct to the TV, but this is less than optimal.
Requires decent bandwidth: It's no surprise that 4K requires a fair amount of bandwidth because that's to be expected. But if the Fetch Mighty appeals to you on the grounds of its subscription channels, you've got to be aware that they're not broadcast, but instead streamed over your internet connection. If that goes down or slows down, so does your channel access. This also affects your broadband usage, not only with the subscription channels you opt to watch but also the "bonus" MovieBox movies. They're downloaded as they become available, but if our experience is any guide, this means a pretty significant quota hit when you're first setting up the Fetch Mighty.
No volume control in Netflix app: It's a small quirk, but while the Fetch remote can control the volume of Fetch-provided programming directly, that same functionality doesn't extend to Netflix streamed content. Depending on the configuration of your home entertainment setup, this could involve multiple remotes if you're using the Fetch Mighty as your Netflix platform.
Poorly sorted streaming data via Media Hub: It's great that the Fetch Mighty supports multiroom so that you can use the cheaper Fetch Mini as a relay for previously recorded content, or even live content if you're already recording it. the interface for this simply dumps you into a program list with little contextual information regarding different series or the like. It's not as detailed as browsing the same content directly on the Fetch Mighty, making it harder to discern between shows you've already watched and those you're yet to see. Update: Fetch informs us that Multiroom (where you match serial numbers to units with Fetch itself) should mirror the full Mighty interface in proper sequence; it's only the direct DLNA Media hub that presents programs in an unsorted manner.
Intermittent crash bugs: Anyone who's ever used any PVR will have hit bugs, and the Fetch Mighty isn't immune here. On a few occasions, the Mighty locked up on us or stuttered playback on previously recorded shows for no apparent reason. A power cycle did fix issues, and software updates do seem to appear on a regular basis but don't expect an entirely seamless experience, because we've never found a PVR that offered that.

Who is it best suited for? What are my alternatives?
The funny thing about the Fetch Mighty is that while it covers ground that a lot of its competitors do, none of them come close to having its entire scope of features. That's a huge plus for the Fetch Mighty. It sits in the same mix of free to air and subscription TV space as Foxtel's IQ3, and the Mighty's channel selection is largely just a subset of Foxtel's available packages, but the IQ3 doesn't support streaming via Netflix or Stan.
The Apple TV or Telstra TV both support Netflix, Stan and Catchup services, but neither works with free to air channels or supports time-shifted viewing or live TV pausing.
The closest match in terms of ease of use and flexibility might have been TiVo, but that's a platform that never properly took off in Australia, leaving us several TiVo generations behind. Indeed, if you've still got a TiVo, you can score a $100 discount on the Fetch Mighty by way of replacement through a specific time-limited deal.
If you're a hardcore TV junkie with interests across streaming, free to air and catch-up TV, the Fetch Mighty isn't quite your dream PVR, but it's the closest thing we've ever seen in Australia, and easily the best PVR money can buy right now.
Where can I get it?
If you're after the box outright, it's available to purchase for $399 through JB Hi-Fi, Harvey Norman, Domayne and Joyce Mayne. TiVo owners who have used their TiVo boxes in the last six months can trade in their TiVo for a Fetch Mighty with a $100 discount through TiVo's redemption program through Harvey Norman online.
That's not the only way to get a Fetch Mighty, however. Optus, Dodo and iiNet all offer FetchTV packages at a variety of contract prices, with many bundling the Fetch Mighty in as part of a 24-month contract. If you're after a new broadband plan, the Fetch Mighty would be a very nice inclusion to have, especially on an unlimited data plan.
Latest streaming headlines
---
For all the latest in TV and movie streaming, follow and subscribe below
---