30+ best TV shows available on Disney+ Australia
From animated superhero shows to captivating docu-series, Disney+ has something for everyone.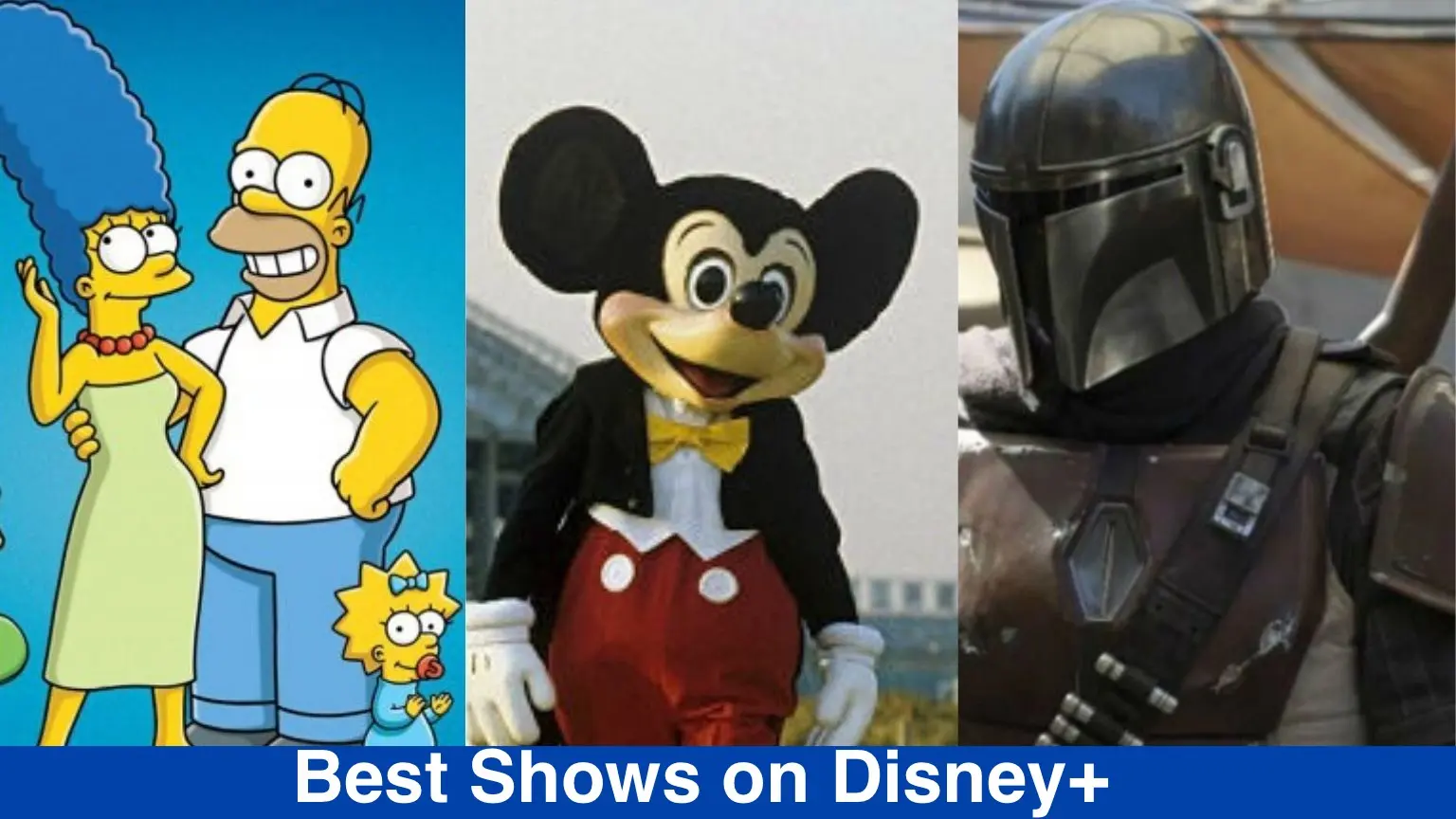 We're reader-supported and may be paid when you visit links to partner sites. We don't compare all products in the market, but we're working on it!
While entertaining blockbusters might be the first thing that comes to mind when you think of Disney, the media giant has plenty of TV shows to spare as well. And thanks to the new streaming service Disney+, fans can now easily watch them all in one place.
With Disney Channel favourites, engaging National Geographic shows and Marvel animated series, the Disney+ library is full of both established hits and hidden gems ready to be discovered.
But what to watch first? Trying to rank all the content available on the platform would be a worthy challenge, but for now, we're going to rely on crowd wisdom to guide us through. We decided to list the best Disney+ TV shows based on a combination of their IMDb score, Rotten Tomatoes score (where available) and a touch of personal preference for good measure.
Below you'll find the best titles on the service. You can't go wrong with any of them.
1. The Falcon and the Winter Soldier
---
Set after Avengers: Endgame, The Falcon and the Winter Soldier follows Sam Wilson and Bucky Barnes as they try to make sense of their new reality. In true Marvel fashion, they also team up for a global adventure that will put their abilities and bond to the test.
Slick, action-packed and often hilarious, this series is a fun ride, with great special effects and excellent performances. It also has the potential to deliver world-shattering moments for the Marvel Cinematic Universe, so we strongly advise you check it out.
2. The Mandalorian
---
The first live-action Star Wars series is here. According to both fans and critics, it's absolutely glorious. The Mandalorian is set after the fall of the Empire and follows a lone gunfighter as he makes his way through the outer reaches of the galaxy. The cast includes Pedro Pascal, Carl Weathers, Werner Herzog and Nick Nolte.
The Mandalorian is splashy and satisfying. It's tied to the Star Wars universe, but it also has its own look and feel since it's basically a western set in space. In other words, it manages to carve out its own identity, regardless of what's come before. Believe the hype. This is an original Disney+ series, with episodes released weekly on the platform. Are you excited for The Mandalorian Season 3?
3. The Imagineering Story
---
Crafted with diehard Disney fans in mind, The Imagineering Story offers an in-depth look at the history and creation of the Walt Disney theme parks around the world. It's a sentimental docu-series that manages to shine a spotlight on the designers and artists behind the creation of some of the world's most visited wonderlands.
Narrated by Angela Bassett, the show is a treat for anyone interested in Disney's rich history. It also looks elegant and polished, courtesy of Academy Award nominee Leslie Iwerks, daughter of Disney legend Don Iwerks. If you want to marvel at Disney's tremendous attention to detail, The Imagineering Story is definitely worth a stream.
4. Gravity Falls
---
Clever and funny, Gravity Falls centres on twins Dipper and Mabel, who travel to the mysterious town of Gravity Falls in Oregon for their summer vacation. Once there though, they are surprised to discover some strange occurrences, as the town seems to be full of supernatural creatures.
While you might be tempted to dismiss Gravity Falls as a show targeted at kids, rest assured. There's plenty for adults to enjoy as well, including an exciting mix of scares, laughs and heartwarming stories.
5. WandaVision
---
Follow Wanda Maximoff / Scarlet Witch and Vision into their new, suburban lives as they struggle to hide their superpowers and blend into a small town… in the '50s? As you might expect, not everything is as it seems – and figuring out what's really going on is only half the fun.
Combining classic American sitcom tropes with the Marvel Cinematic Universe seems like a crazy idea. Yet, WandaVision pulls it off beautifully. An inventive, funny and wild series, it's as close to appointment viewing as we're going to get in the era of peak TV.
That being said, having at least some prior knowledge of the MCU is recommended to fully appreciate the show's plot and themes.
6. The Simpsons
---
The Simpsons is a show that needs no introduction. It's become an integral part of pop culture during its impressive run, with 30 seasons under its belt. However, if you've been living under a rock for the past three decades, the sitcom follows working-class father Homer Simpson and his dysfunctional family as they deal with the typical (and not so typical) ups and downs of life.
It's easy to see why the series is so appealing. Apart from the unique animation style, it also features a frustrated family, along with weird plots, wisecracking kids and sight gags. What's not to love? Caution: while The Simpsons is a cartoon, it's mostly aimed at adults, so you might want to put something else on for younger kids.
7. The Incredible Dr. Pol
---
An educational reality show, this National Geographic production centres on veterinarian Jan Pol, along with his family and employees. Pol runs a clinic in Central Michigan's farm country and takes care of all sorts of animals, regardless of size. The show follows him as he travels out to farms, treating horses and cows, as well as back at his clinic where he sees to smaller pets.
The Incredible Dr. Pol can teach both kids and adults plenty about veterinary medicine, but it's important to note that it doesn't shy away from showing blood or animals in surgery, so we wouldn't recommend watching this with very young kids. Overall though, it's an often uplifting series that will delight animal lovers with the stomach to handle it.
8. So Weird
---
The only bad thing about So Weird is that it only lasted for three seasons. The show, which started airing in the late 90s, follows 14-year-old Fiona, who is on the road with her rock-star mum and uncovers paranormal phenomena during her travels. The cast includes Cara DeLizia, Mackenzie Phillips and Patrick Levis.
Often compared to The X-Files, the first two seasons of So Weird are darker than your average Disney Channel series. DeLizia left after the second season and was replaced with Alexz Johnson, with the entire show having a lighter tone from that point on. Still, So Weird is a worthy binge even to this day, featuring complex mythology, likeable characters and original music.
9. The Muppet Show
---
A delightful series that lasted for five seasons, The Muppet Show sees Kermit the Frog and his fellow Muppets put on a vaudeville show at their theatre. Over the course of each episode, they bring in a famous celebrity to help out. The list includes names like Elton John, Julie Andrews and Bob Hope, to only name a few.
The Muppet Show is highly entertaining, with hilarious skits and memorable celebrity cameos. It's just as fun to watch today as it was when the series first premiered, back in the late '70s.
10. The Mighty Ducks: Game Changers
---
This reboot is set in present day Minnesota, as the Mighty Ducks have evolved to an ultra-competitive youth hockey team. When a young boy fails to make the cut to join them, his mother encourages him to start his own squad of misfits. To succeed, they'll need the help of Gordon Bombay, the Mighty Ducks' original coach.
An entertaining and inspirational sports series, The Mighty Ducks: Game Changers has humour and heart to spare. Whether or not you were a fan of the '90s film series, we recommend you give it a go. It's a solid pick for family movie night.
11. X-Men: The Animated Series
---
The nostalgia is strong with this one. X-Men: The Animated Series debuted in 1992 and was a fun animated introduction to the world of mutants. The show follows Charles Xavier and his band of mutants as they strike back against corrupt government agencies and the extremist Magneto.
From the catchy theme song to the sometimes excessive melodrama and intriguing storylines, X-Men: The Animated Series played a major role in introducing the universe to non-comic book readers. If you're craving a trip down memory lane or are simply curious about the animated series that eventually paved the way for the 2000 X-Men film, this one makes for a satisfying binge.
12. Spider-Man: The Animated Series
---
Spider-Man has graced the silver screen ever since the late 60s, with the hero starring in several animated comic book adaptations. The 90s version is widely considered as being one of the best. It follows a man with spider-like abilities as he fights crime in New York City, while also struggling to lead a somewhat normal personal life.
Spider-Man: The Animated Series had compelling story arcs, excellent voice acting and some interesting cameos from other Marvel players like Daredevil and Punisher. It was also widely successful and was cancelled after five seasons not because of a drop in quality, but due to behind-the-scenes conflicts.
13. The Avengers: Earth's Mightiest Heroes
---
The Avengers: Earth's Mightiest Heroes follows several beloved comic book characters, including the Hulk, Iron Man and Thor, as they join forces to become the Avengers and fight villains. It's a fun take on the classic group, capturing the spirit of the Avengers perfectly. They all share the same goals, but their tactics often differ, which makes for exciting storytelling.
The show is a nice blend of humour and action, with complex plots and plenty of thrills to delight both kids and adults. It also features cameos from other players in the Marvel universe, so it's a must-watch for any true fan of the franchise.
14. Marvel's 616
---
An anthology docu-series, Marvel's 616 explores the historical, cultural and societal impacts of the Marvel Comics Universe and its intersection with the world. Each episode covers topics like Marvel's worldspanning artists, the trailblazing women of Marvel Comics, the "forgotten" characters of Marvel, and much more.
Whether you're a diehard fan or new to this ever-growing universe, the series is fascinating, choosing to present each topic in an engaging and entertaining way. You'll learn a lot – a you'll have plenty of fun in the process.
15. Brain Games
---
A National Geographic show, Brain Games focuses on the science of the brain. Hosted by Jason Silva, the series is full of interactive illusions and experiments meant to showcase the extraordinary ways in which we see and process the world.
Brain Games provides a captivating window into the inner workings of the fascinating organ, encouraging viewers to take on some challenges as well. If you're a fan of educational series that are also fun to watch, this one will be right up your alley.
16. Star Wars: The Clone Wars
---
In this entertaining animated series, fans of the Star Wars franchise can follow Yoda, Anakin and the Jedi Knights as they fight in the Clone Wars. The show spans the time between Star Wars Episode II: Attack of the Clones and Star Wars Episode III: Revenge of the Sith. As a result, it features a mix of new players and familiar faces.
With beautiful animation, great effects and attention to character development, Star Wars: The Clone Wars makes for a thrilling binge. If you're a Star Wars enthusiast, you'll be hooked in no time.
17. Ducktales
---
Scrooge McDuck is back in this reboot of the popular late-80s animated series. But while some reboots tend to disappoint, we're happy to report that this one should definitely go on your watchlist. The series chronicles the high-flying adventures of trillionaire Scrooge and his grandnephews Huey, Dewey and Louie.
Ducktales takes full advantage of viewers' nostalgia, but it also stands on its own as an ambitious series filled with adventure and laughs. Plus, David Tennant voices Scrooge, which is always a plus in our book.
18. Pick of the Litter
---
Pick of the Litter is a heartwarming docu-series about a group of six dogs on their fascinating and surprisingly suspenseful quest to become guide dogs for the blind. Since they're embarking on the ultimate canine career, expect some ups and downs along the way. While some doggos will graduate, others will drop out.
The docu-series features the trainers as well, who supervise them with love and care during the program. Not only is Pick of the Litter adorable, but it's also a reminder that we are not worthy of dogs and that their dedication and loyalty should always be appreciated. A tear-jerker for sure.
19. Boy Meets World
---
An instant classic, Boy Meets World follows young Cory Matthews as he juggles school, friends and romance with a little help from his one true love Topanga, best friend Shawn and teacher Mr Feeny.
Boy Meets World is a timeless coming-of-age show, likely to appeal to those who grew up with it and to new viewers alike. The themes are universal and the cast adorable, which makes it the ultimate comfort watch.
20. Gargoyles
---
This animated gem revolves around a clan of heroic night creatures who pledge to protect modern New York City, just as they did in Scotland hundreds of years earlier. The gargoyles are statues by day but they come to life at night, battling crime and corruption.
A moody, dark fantasy that doesn't disappoint, Gargoyles is well-crafted and filled with lovable characters you'll fall for immediately. If you need an extra dose of magic in your life, the show makes for an excellent stream.
21. Great Migrations
---
National Geographic's Great Migrations takes viewers around the world on the arduous journeys millions of animals undertake to ensure the survival of their species. The team behind the series spent more than 2 years recording across 20 countries and all 7 continents, following the motto "Move as millions. Survive as one".
Besides being gorgeous to look at, the docu-series is also gripping as it highlights the epic migrations these animals embark on, along with the struggles they face along the way. It's safe to say that nature enthusiasts will be glued to the screen.
22. Gordon Ramsay: Uncharted
---
Gordon Ramsay serves up a taste of adventure in this exciting series, where he trades his usual fiery personality for a gleeful sense of discovery. The show centres on the celebrity chef as he journeys to some of the most incredible and remote locations on Earth in search of culinary inspiration.
Part travelogue, part love letter to international cuisines, Uncharted is a fun ride for foodies. Seeing Ramsay excited about making new discoveries is a welcome delight.
23. Star Wars Rebels
---
Set five years before the events of Star Wars: A New Hope, Rebels tells the story of the Rebellion's beginnings, while the Empire spreads tyranny through the galaxy hunting down the last Jedi Knights. That's when a brave starship crew decides to stand up against it.
Rebels is a show for viewers of all ages, boasting galactic adventures and compelling characters. For longtime fans of the franchise, the series explores a period of the Star Wars timeline we don't know a lot about, so buckle up for an epic ride.
24. Meet the Chimps
---
Welcome to Chimp Haven, one of the largest and most unique wildlife sanctuaries in the world. This 200-acre refuge tucked deep in the forested heart of Louisiana is home to more than 300 chimpanzees – and you have the chance to learn more about how these fascinating creatures behave.
Narrated by Jane Lynch, the six-part series tracks the ups and downs of this extraordinary group of chimps that are given a second chance at life by a staff whose compassion and commitment knows no bounds. Heartwarming, to say the least.
25. Agent Carter
---
Agent Carter is the most underrated Marvel live-action show to come out so far, which is a real shame. The series takes place in the 40s and revolves around Peggy Carter, who is relegated to secretarial duties in the Strategic Scientific Reserve. However, when Howard Stark is accused of treason, he recruits Peggy to help him clear his name.
Hayley Atwell offers a great performance in the lead role and the show manages to perfectly capture the magic of the Marvel Cinematic Universe on the small screen. Brimming with a sense of cheeky fun, Agent Carter is stylish, character-driven and very watchable.
26. Phineas and Ferb
---
Follow step-brothers Phineas and Ferb as they invent, scheme and stay one step ahead of their sister in order to take maximum advantage of every day. Meanwhile, their pet platypus is working as a spy to defeat the latest scheme of scientist Dr Heinz Doofenshmirtz.
A doozy for kids and adults alike, the show is witty and action-packed. While the little ones will love the mad adventures, older audiences will likely appreciate the clever comedy.
27. Recess
---
Recess chronicles the adventures of a rag-tag group of fourth-graders who make it their mission to protect the other kids on the playground. As they grow up and have brushes with authority, they learn valuable lessons about how to solve problems in a creative and thoughtful way.
The best thing about Recess is that each of the six friends has their own personality and strengths, which makes them particularly relatable. A show ahead of its time, it makes for an excellent binge even all these years later.
28. High School Musical: The Musical: The Series
---
As the title suggests, this Disney+ original is set at East High School, where the popular High School Musical movies were shot. This time around, we follow the members of the drama club and their faculty advisers as they work their way towards the opening night of their school's first-ever production of a musical based on the film series.
Earnest, well-cast and featuring plenty of catchy tunes, this mockumentary honours the originals while also breathing fresh life into the franchise. It's also deliciously meta and highly addictive.
29. Marvel's Agents of S.H.I.E.L.D.
---
In this action-packed series, agent Phil Coulson, who you may be familiar with from the MCU movies, leads a team of highly skilled agents from a global law enforcement organisation known as S.H.I.E.L.D. The agents work together and deal with all sorts of extraordinary and inexplicable threats.
The series has a solid ensemble cast and prides itself with stunning action scenes. While it will definitely appeal to MCU fans, those new to the franchise will find plenty to love as well.
30. The World According to Jeff Goldblum
---
The World According to Jeff Goldblum is a different kind of docu-series, mainly because whether you'll like it or not largely depends on how you feel about Goldblum himself. Each episode, the iconic actor tackles a topic we're all familiar with, like ice cream or sneakers, only to reveal astonishing connections and fascinating insights related to it.
The series is quirky but uplifting, offering a welcome escape for those looking to relax and learn something new at the same time. Goldblum's magnetic personality is also a big plus.
31. Marvel's Runaways
---
Runaways follows a group of six teenagers who discover that their parents share a dark secret. As a result, they band together and go on the run, looking for a way to stop their elders from executing a terrible plan.
If you're looking for a fresh take on the superhero genre, Runaways is a great pick. It revolves around teens discovering newfound powers, while also dealing with problems typical for their age, which makes it very compelling.
32. Kim Possible
---
She might look like your typical cheerleader. However, in her spare time she fights supervillains and repeatedly saves the world. That's the premise behind Kim Possible, a girl-power cartoon filled with action and humour.
Kim is joined in her crime-fighting adventures by her accident-prone best friend. Together, they also deal with school and family, making things that much more complicated. The series is geared towards younger kids, but older viewers might have fun with this one as well, especially if you're into campy spy storylines.
33. On Pointe
---
Follow dedicated dancers from the School of American Ballet as they give it their all to become better at their craft. While older students are training to embark on fruitful professional careers, the younger ones are rehearsing for a production of The Nutcracker.
An uplifting docu-series, On Pointe makes for a breezy watch and can be quite inspirational, especially for a younger audience.
34. Darkwing Duck
---
In the city of St. Canard, people are plagued by the most bizarre criminals. No need to despair, as Darkwing Duck is ready to come to the rescue. The egotistical superhero battles evil with the help of his pilot sidekick, Launchpad McQuack, and his rambunctious adopted daughter, Gosalyn Waddlemeyer.
Goofy and lighthearted, Darkwing Duck is a superhero show that features an imperfect protagonist, which makes an intriguing watch. It's also a lot of fun, with well-crafted action storylines and a heart-warming relationship between Darkwing and his daughter. If you missed it back in the day, now is the perfect time to catch up.
35. The Right Stuff
---
At the height of the Cold War in 1959, America fears it is a nation in decline as the Soviet Union dominates the space race. As a result, NASA decides to put a man in space and enlists the best pilots in the country to prepare for the job.
Based on true events, The Right Stuff tells the incredible story of the early days of the US space program, focusing on the men who managed to achieve the impossible. With a likeable cast and compelling script, it's an engaging series that will keep you coming back for more.
36. Wizards of Waverly Place
---
Wizards of Waverly Place revolves around the Russo family. They own a restaurant and live in New York, but they have a secret: the father is a wizard, while the children are all in training. As they improve their skills, the child who succeeds in mastering their powers shall be given the family wand.
The show is light and fun, with an appealing cast and intriguing premise. Featuring plenty of magic and mischief, Wizards of Waverly Place stands the test of time as a Disney modern classic.
37. Lizzie McGuire
---
Speaking of modern classics, Lizzie McGuire follows the daily adventures of an adolescent girl whose real thoughts and emotions are expressed by her sarcastic animated alter ego. Lizzie deals with typical teen problems but gets a little help from her best friends, Gordo and Miranda.
The series remains one of the most well-known and well-loved series from the Disney Channel, and for good reason: it's surprisingly easy to relate to Lizzie as she experiences annoying growing pains.
38. Muppets Now
---
As a brand-new Muppet series is ready to break the Internet, Scooter rushes to deliver the episodes. On the way, he must navigate all the obstacles, distractions and complications that the rest of the Muppet gang throws at him.
Entertaining and featuring plenty of music, Muppets Now brings the beloved characters to the streaming age with great success. Both familiar and fresh, the series is fun for the entire family.
39. Diary of a Future President
---
Meet 12-year-old Elena, a Cuban-American girl who navigates the ups and downs of middle school. At the same time, she embarks on an exciting journey to become the future president of the United States.
The series tackles all sorts of subjects, from puberty matters to social drama, which makes it a fun watch for preteens. That being said, Diary of a Future President benefits from a sharp script, so adults may find themselves intrigued as well.
Image Source: IMDb website
Latest Disney+ guides and news
More guides on Finder
Stream the best and save