Complete list of 46 Xbox Series X games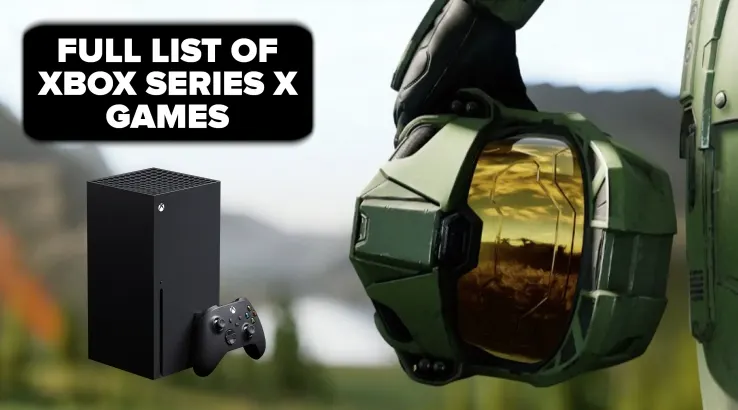 Microsoft's Xbox Series X will be released in November 2020 and with each passing month, the list of games for the console grows.
The Xbox Series X is the next big console from Microsoft. It will be going head-to-head with the PlayStation 5 in November 2020 and on paper, there's little to split the machines. While the Xbox Series X has a unique look and has more opportunity to price itself attractively, under the hood, both machines have similar goals.
This means that the deciding factor for many consumers will be the selection of games. What can you play on the XSX? And is that list of games better or worse than the options available on the PlayStation 5 or even the Nintendo Switch?
Below you will find a list of all the Xbox Series X games that we believe are coming to the console. Please note that the "Expected Release Dates" are expected dates, not officially announced dates. You should also pay attention to the "Status", which can be one of four categories:
Confirmed: Some games have been officially confirmed.
Announced: Some games have been announced but the formats have not been confirmed.
Rumour: Some games are heavily rumoured, but not yet officially announced.
Likely: These are the biggest "ongoing games" that are highly likely to be on the system, as well as those that are quite obvious because they come out every single year and have been in other recent launch windows.
This list of XSX games will be updated as their status changes and as new titles are announced. And it will keep you excited while information emerges on release dates and prices.
Full list of Xbox Series X games
| Game | Developer | Xbox Exclusive | Status | Expected Release Date |
| --- | --- | --- | --- | --- |
| Apex Legends | Respawn Entertainment | No | Likely | Launch |
| Call of Duty: Black Ops IV | Treyarch | No | Rumour | Launch |
| FIFA 21 | EA Sports | No | Likely | Launch |
| Fortnite | Epic Games | No | Likely | Launch |
| Forza Motorsport 8 | Turn 10 Studios | Yes | Confirmed | Launch |
| Grounded | Obsidian Entertainment | Yes | Likely | Launch |
| Halo Infinite | 343 Industries | Yes | Confirmed | Launch |
| Just Dance 2021 | Ubisoft | No | Likely | Launch |
| Lego Star Wars: The Skywalker Saga | Traveller's Tales | No | Likely | Launch |
| Minecraft | Mojang | No | Likely | Launch |
| Minecraft Dungeons | Mojang | No | Likely | Launch |
| NBA 2K21 | 2K Games | No | Likely | Launch |
| PES 2021 | Konami | No | Likely | Launch |
| Psychonauts 2 | Double Fine | Yes | Likely | Launch |
| WWE 2K21 | 2K Games | No | Likely | Launch |
| Assassin's Creed Ragnarok (Working Title) | Ubisoft | No | Rumour | 2020 |
| Dying Light 2 | Techland | No | Likely | 2020 |
| Microsoft Flight Simulator | Asobo Studio | Yes | Announced | 2020 |
| Rainbow Six: Quarantine | Ubisoft | No | Confirmed | 2020 |
| Battlefield VI (Working Title) | DICE | No | Rumour | 2021 |
| Beyond Good & Evil 2 | Ubisoft | No | Rumour | 2021 |
| CrossFire X | Remedy Entertainment | Yes | Likely | 2021 |
| Cyberpunk 2077 | CD Projekt Red | No | Rumour | 2021 |
| Dead Island 2 | Dambuster Studios | No | Announced | 2021 |
| Diablo IV | Blizzard | No | Likely | 2021 |
| Dragon Age IV | BioWare | No | Announced | 2021 |
| Elden Ring | From Software | No | Announced | 2021 |
| Everspace 2 | Rockfish | No | Announced | 2021 |
| Everwild | Rare | Yes | Confirmed | 2021 |
| F1 2021 | Codemasters | No | Announced | 2021 |
| Gods & Monsters | Ubisoft | No | Confirmed | 2021 |
| Overwatch 2 | Blizzard | No | Likely | 2021 |
| Path of Exile 2 | Grinding Gear Games | No | Confirmed | 2021 |
| Project Cars 3 | Slightly Mad Studios | No | Announced | 2021 |
| Ride 4 | Milestone | No | Likely | 2020 |
| Roller Champions | Ubisoft | No | Rumour | 2021 |
| Saints Row V | Volition | No | Announced | 2021 |
| Senua's Saga: Hellblade II | Ninja Theory | Yes | Confirmed | 2021 |
| Skull & Bones | Ubisoft | No | Rumour | 2021 |
| Starfield | Bethesda | No | Announced | 2021 |
| Untitled AAAA Title | The Initiative | Yes | Announced | 2021 |
| Watch Dogs: Legion | Ubisoft | No | Confirmed | 2021 |
| BioShock 4 | Cloud Chamber | No | Announced | 2022 |
| Fable 4 | Playground Games | Yes | Rumour | 2022 |
| Metro IV | 4A Games | No | Announced | 2022 |
| The Elder Scrolls VI | Bethesda | No | Announced | 2022 |
| Timesplitters 4 | THQ Nordic | No | Rumour | 2022 |
---