A-League 2019/20 schedule, results and TV guide
Everything you need to know about the remainder of the 2019/20 A-League fixtures and results.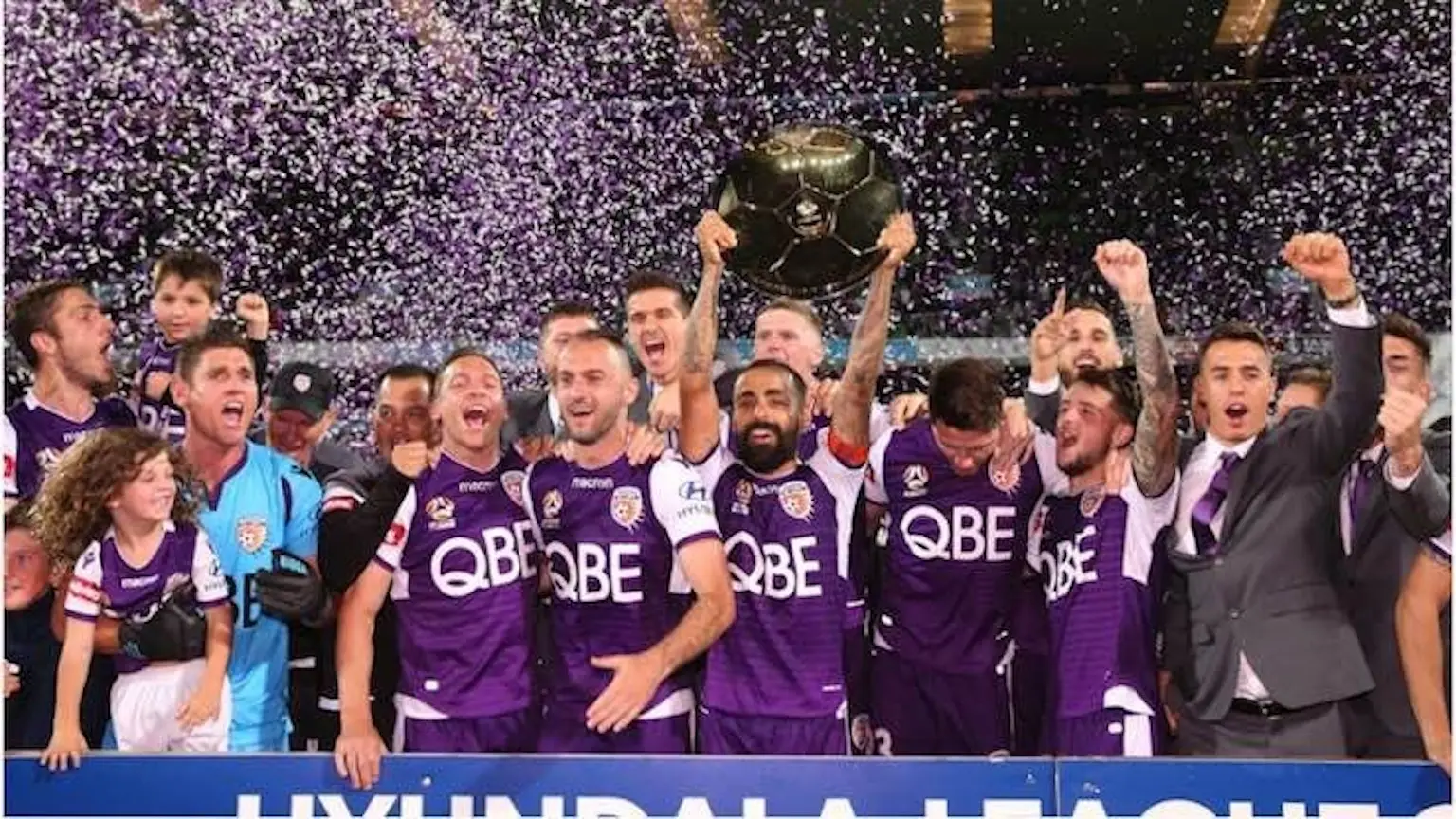 After a huge disruption due to the coronavirus pandemic, the 15th edition of the A-League is ready to restart. The competition's new club, Western United FC, has had a strong debut campaign, while Sydney FC were the clear ladder leaders when the league was forced to shut down.
Live stream all A-League matches live on Kayo: Start your 14-day FREE trial now
Unlike many other football leagues around the world, the A-League employs a finals series. That will again be the case in the remainder of 2019/20. The exact date of the play-offs is still being determined after the three Victorian teams were forced to quarantine in Sydney. But we do know the grand final is set for 30 August, provided there are no further disruptions.
Store
Discount

Kayo Sports

Stream Kayo Sports for 14 days FREE and no lock-in contract

Take Kayo Sports' Basic or Premium plan for a spin and stream new sports content daily plus 15,000+ hours of on-demand archives.

Last verified
Where to watch the A-League
Every single match of the A-League is broadcast live by Kayo Sports, Fox Sports and My Football. Out of those three Kayo offers viewers the most, with over 50 sports and several innovative viewing features.
Free-to-air broadcaster ABC also struck a deal to air A-League matches prior to the start of the season via ABC TV and iview. ABC will broadcast the 5pm AEST Saturday game for the remainder of the season.
For a more detailed comparison see our A-League live streaming options article. A simpler breakdown is available too in the table of the A-League schedule below.
How to watch the
biggest football leagues

in the world
2019/20 A-League fixtures and results
Round
Day
Date
Home team
Away team
Venue
Kickoff (AEST)
Watch
Results
Round 1
Friday
11/10/19
Adelaide United
Sydney FC
Coopers Stadium
7:30 PM
Kayo Sports, Foxtel, My Football
2 : 3
Round 1
Saturday
12/10/19
Western Sydney Wanderers FC
Central Coast Mariners
Bankwest Stadium
5:15 PM
Kayo Sports, Foxtel, My Football, ABC
2 : 1
Round 1
Saturday
12/10/19
Melbourne Victory
Melbourne City FC
Marvel Stadium
7:30 PM
Kayo Sports, Foxtel, My Football
0 : 0
Round 1
Sunday
13/10/19
Wellington Phoenix
Western United FC
Westpac Stadium
4:00 PM
Kayo Sports, Foxtel, My Football
0 : 1
Round 1
Sunday
13/10/19
Perth Glory
Brisbane Roar FC
HBF Park
6:00 PM
Kayo Sports, Foxtel, My Football
1 : 1
Round 2
Friday
18/10/19
Melbourne Victory
Western Sydney Wanderers FC
Marvel Stadium
7:30 PM
Kayo Sports, Foxtel, My Football
1 : 2
Round 2
Saturday
19/10/19
Western United FC
Perth Glory
GMHBA Stadium
5:15 PM
Kayo Sports, Foxtel, My Football, ABC
1 : 1
Round 2
Saturday
19/10/19
Central Coast Mariners
Newcastle Jets
Central Coast Stadium
7:30 PM
Kayo Sports, Foxtel, My Football
1 : 1
Round 2
Sunday
20/10/19
Melbourne City FC
Adelaide United
AAMI Park
4:00 PM
Kayo Sports, Foxtel, My Football
2 : 1
Round 2
Sunday
20/10/19
Sydney FC
Wellington Phoenix
Leichhardt Oval
6:00 PM
Kayo Sports, Foxtel, My Football
2 : 1
FFA Cup Final
Wednesday
23/10/19
Adelaide United
Melbourne City FC
Coopers Stadium
7:30 PM
Kayo Sports, Foxtel, My Football
4 : 0
Round 3
Friday
25/10/19
Brisbane Roar FC
Melbourne Victory
Suncorp Stadium
7:30 PM
Kayo Sports, Foxtel, My Football
0 : 1
Round 3
Saturday
26/10/19
Newcastle Jets
Adelaide United
McDonald Jones Stadium
5:15 PM
Kayo Sports, Foxtel, My Football, ABC
1 : 2
Round 3
Saturday
26/10/19
Western Sydney Wanderers FC
Sydney FC
Bankwest Stadium
7:30 PM
Kayo Sports, Foxtel, My Football
1 : 0
Round 3
Sunday
27/10/19
Wellington Phoenix
Perth Glory
Westpac Stadium
4:00 PM
Kayo Sports, Foxtel, My Football
1 : 2
Round 3
Sunday
27/10/19
Western United FC
Melbourne City FC
GMHBA Stadium
6:00 PM
Kayo Sports, Foxtel, My Football
1 : 2
Round 4
Friday
1/11/19
Sydney FC
Newcastle Jets
Leichhardt Oval
7:30 PM
Kayo Sports, Foxtel, My Football
4 : 1
Round 4
Saturday
2/11/19
Western Sydney Wanderers FC
Brisbane Roar FC
Bankwest Stadium
5:15 PM
Kayo Sports, Foxtel, My Football, ABC
0 : 0
Round 4
Saturday
2/11/19
Melbourne Victory
Western United FC
Marvel Stadium
7:30 PM
Kayo Sports, Foxtel, My Football
2 : 3
Round 4
Sunday
3/11/19
Melbourne City FC
Wellington Phoenix
AAMI Park
4:00 PM
Kayo Sports, Foxtel, My Football
3 : 2
Round 4
Sunday
3/11/19
Perth Glory
Central Coast Mariners
HBF Park
6:00 PM
Kayo Sports, Foxtel, My Football
1 : 2
Round 5
Friday
8/11/19
Melbourne City FC
Central Coast Mariners
AAMI Park
7:30 PM
Kayo Sports, Foxtel, My Football
3 : 1
Round 5
Saturday
9/11/19
Newcastle Jets
Perth Glory
McDonald Jones Stadium
5:15 PM
Kayo Sports, Foxtel, My Football, ABC
1 : 1
Round 5
Saturday
9/11/19
Western United FC
Western Sydney Wanderers FC
GMHBA Stadium
7:30 PM
Kayo Sports, Foxtel, My Football
2 : 1
Round 5
Sunday
10/11/19
Melbourne Victory
Wellington Phoenix
AAMI Park
4:00 PM
Kayo Sports, Foxtel, My Football
1: 1
Round 5
Sunday
10/11/19
Adelaide United
Brisbane Roar FC
Coopers Stadium
6:00 PM
Kayo Sports, Foxtel, My Football
1 : 0
Round 6
Friday
15/11/19
Central Coast Mariners
Adelaide United
Central Coast Stadium
7:30 PM
Kayo Sports, Foxtel, My Football
1 : 3
Round 6
Saturday
16/11/19
Sydney FC
Melbourne Victory
Netstrata Jubilee Stadium
5:15 PM
Kayo Sports, Foxtel, My Football, ABC
2 : 1
Round 6
Saturday
16/11/19
Western United FC
Newcastle Jets
GMHBA Stadium
7:30 PM
Kayo Sports, Foxtel, My Football
0 : 1
Round 6
Sunday
17/11/19
Brisbane Roar FC
Melbourne City FC
Dolphin Stadium
4:00 PM
Kayo Sports, Foxtel, My Football
4 : 3
Round 7
Friday
22/11/19
Western Sydney Wanderers FC
Melbourne City FC
Bankwest Stadium
7:30 PM
Kayo Sports, Foxtel, My Football
2 : 3
Round 7
Saturday
23/11/19
Wellington Phoenix
Brisbane Roar FC
Westpac Stadium
5:15 PM
Kayo Sports, Foxtel, My Football, ABC
2 : 1
Round 7
Saturday
23/11/19
Adelaide United
Melbourne Victory
Coopers Stadium
7:30 PM
Kayo Sports, Foxtel, My Football
3 : 1
Round 7
Saturday
23/11/19
Perth Glory
Sydney FC
HBF Park
9:45 PM
Kayo Sports, Foxtel, My Football
1 : 3
Round 7
Sunday
24/11/19
Central Coast Mariners
Western United FC
Central Coast Stadium
6:00 PM
Kayo Sports, Foxtel, My Football
1 : 0
Round 8
Friday
29/11/19
Melbourne Victory
Perth Glory
AAMI Park
7:30 PM
Kayo Sports, Foxtel, My Football
1 : 0
Round 8
Saturday
30/11/19
Brisbane Roar FC
Central Coast Mariners
Suncorp Stadium
5:15 PM
Kayo Sports, Foxtel, My Football, ABC
2 : 0
Round 8
Saturday
30/11/19
Newcastle Jets
Western Sydney Wanderers FC
McDonald Jones Stadium
7:30 PM
Kayo Sports, Foxtel, My Football
2 : 0
Round 8
Sunday
1/12/19
Western United FC
Sydney FC
GMHBA Stadium
4:00 PM
Kayo Sports, Foxtel, My Football
0 : 2
Round 8
Sunday
1/12/19
Adelaide United
Wellington Phoenix
Coopers Stadium
6:00 PM
Kayo Sports, Foxtel, My Football
1 : 2
Round 9
Friday
6/12/19
Melbourne City FC
Perth Glory
AAMI Park
7:30 PM
Kayo Sports, Foxtel, My Football
0 : 3
Round 9
Saturday
7/12/19
Wellington Phoenix
Western Sydney Wanderers FC
Eden Park
5:15 PM
Kayo Sports, Foxtel, My Football, ABC
2 : 1
Round 9
Saturday
7/12/19
Sydney FC
Brisbane Roar FC
Netstrata Jubilee Stadium
7:30 PM
Kayo Sports, Foxtel, My Football
5 : 1
Round 9
Sunday
8/12/19
Western United FC
Melbourne Victory
GMHBA Stadium
4:00 PM
Kayo Sports, Foxtel, My Football
3 : 1
Round 9
Sunday
8/12/19
Adelaide United
Newcastle Jets
Coopers Stadium
6:00 PM
Kayo Sports, Foxtel, My Football
2 : 1
Round 10
Friday
13/12/19
Brisbane Roar FC
Western United FC
Suncorp Stadium
7:30 PM
Kayo Sports, Foxtel, My Football
0 : 2
Round 10
Saturday
14/12/19
Melbourne Victory
Wellington Phoenix
AAMI Park
5:15 PM
Kayo Sports, Foxtel, My Football, ABC
0 : 0
Round 10
Saturday
14/12/19
Sydney FC
Central Coast Mariners
Netstrata Jubilee Stadium
7:30 PM
Kayo Sports, Foxtel, My Football
1 : 0
Round 10
Sunday
14/12/19
Perth Glory
Western Sydney Wanderers FC
HBF Park
9:45 PM
Kayo Sports, Foxtel, My Football
2 : 0
Round 10
Sunday
15/12/19
Newcastle Jets
Melbourne City FC
McDonald Jones Stadium
6:30 PM
Kayo Sports, Foxtel, My Football
0 : 4
Round 11
Friday
20/12/19
Western Sydney Wanderers FC
Western United FC
Bankwest Stadium
7:30 PM
Kayo Sports, Foxtel, My Football
1 : 1
Round 11
Saturday
21/12/19
Wellington Phoenix
Sydney FC
Westpac Stadium
2:45 PM
Kayo Sports, Foxtel, My Football
2 : 2
Round 11
Saturday
21/12/19
Melbourne City FC
Melbourne Victory
AAMI Park
5:15 PM
Kayo Sports, Foxtel, My Football, ABC
1 : 2
Round 11
Saturday
21/12/19
Perth Glory
Newcastle Jets
HBF Park
7:30 PM
Kayo Sports, Foxtel, My Football
6 : 2
Round 11
Sunday
22/12/19
Central Coast Mariners
Adelaide United
Central Coast Stadium
6:00 PM
Kayo Sports, Foxtel, My Football
2 : 1
Round 12
Friday
27/12/19
Adelaide United
Western Sydney Wanderers FC
Coopers Stadium
7:30 PM
Kayo Sports, Foxtel, My Football
2 : 3
Round 12
Saturday
28/12/19
Western United FC
Wellington Phoenix
Mars Stadium
5:15 PM
Kayo Sports, Foxtel, My Football, ABC
1 : 3
Round 12
Saturday
28/12/19
Newcastle Jets
Brisbane Roar FC
McDonald Jones Stadium
7:30 PM
Kayo Sports, Foxtel, My Football
1 : 1
Round 12
Sunday
29/12/19
Sydney FC
Melbourne City FC
Netstrata Jubilee Stadium
6:30 PM
Kayo Sports, Foxtel, My Football
2 : 1
Round 12
Tuesday
31/12/19
Central Coast Mariners
Perth Glory
Central Coast Stadium
7:30 PM
Kayo Sports, Foxtel, My Football
0 : 3
Round 13
Wednesday
1/1/20
Western Sydney Wanderers FC
Brisbane Roar FC
Bankwest Stadium
7:30 PM
Kayo Sports, provider_link id="2459" title="provider_link id="2459" title="Foxtel"", My Football
1 : 2
Round 13
Friday
3/1/20
Melbourne City FC
Western United FC
AAMI Park
7:30 PM
Kayo Sports, Foxtel, My Football
3 : 2
Round 13
Saturday
4/1/20
Wellington Phoenix
Central Coast Mariners
Westpac Stadium
5:15 PM
Kayo Sports, Foxtel, My Football, ABC
2 : 1
Round 13
Saturday
4/1/20
Sydney FC
Adelaide United
Netstrata Jubilee Stadium
7:30 PM
Kayo Sports, Foxtel, My Football
2 : 1
Round 13
Sunday
5/1/20
Melbourne Victory
Newcastle Jets
AAMI Park
6:30 PM
Kayo Sports, Foxtel, My Football
4 : 0
Round 14
Friday
10/1/20
Newcastle Jets
Sydney FC
McDonald Jones Stadium
7:30 PM
Kayo Sports, Foxtel, My Football
1 : 2
Round 14
Saturday
11/1/20
Wellington Phoenix
Western Sydney Wanderers FC
Westpac Stadium
5:15 PM
Kayo Sports, Foxtel, My Football, ABC
2 : 0
Round 14
Saturday
11/1/20
Brisbane Roar FC
Melbourne City FC
Suncorp Stadium
7:30 PM
Kayo Sports, Foxtel, My Football
2 : 2
Round 14
Saturday
11/1/20
Perth Glory
Adelaide United
HBF Park
9:45 PM
Kayo Sports, Foxtel, My Football
3 : 0
Round 14
Sunday
12/1/20
Central Coast Mariners
Melbourne Victory
Central Coast Stadium
4:00 PM
Kayo Sports, Foxtel, My Football
3: 2
Round 15
Friday
17/1/20
Adelaide United
Melbourne Victory
Coopers Stadium
7:30 PM
Kayo Sports, Foxtel, My Football
1 : 0
Round 15
Saturday
18/1/20
Brisbane Roar FC
Wellington Phoenix
Suncorp Stadium
5:15 PM
Kayo Sports, Foxtel, My Football, ABC
1 : 0
Round 15
Saturday
18/1/20
Melbourne City FC
Newcastle Jets
AAMI Park
7:30 PM
Kayo Sports, Foxtel, My Football
2 : 0
Round 15
Sunday
19/1/20
Western United FC
Central Coast Mariners
GMHBA Stadium
4:00 PM
Kayo Sports, Foxtel, My Football
3 : 0
Round 15
Sunday
19/1/20
Western Sydney Wanderers FC
Perth Glory
Bankwest Stadium
6:30 PM
Kayo Sports, Foxtel, My Football
0 : 1
Round 16
Friday
24/1/20
Wellington Phoenix
Newcastle Jets
Westpac Stadium
5:15 PM
Kayo Sports, Foxtel, My Football
2 : 1
Round 16
Friday
24/1/20
Melbourne Victory
Sydney FC
AAMI Park
7:30 PM
Kayo Sports, Foxtel, My Football
0 : 3
Round 16
Saturday
25/1/20
Central Coast Mariners
Brisbane Roar FC
Central Coast Stadium
5:15 PM
Kayo Sports, Foxtel, My Football, ABC
0 : 1
Round 16
Saturday
25/1/20
Melbourne City FC
Perth Glory
AAMI Park
7:30 PM
Kayo Sports, Foxtel, My Football
0 : 0
Round 16
Sunday
26/1/20
Western United FC
Adelaide United
GMHBA Stadium
6:00 PM
Kayo Sports, Foxtel, My Football
3 : 4
Round 17
Friday
31/1/20
Sydney FC
Brisbane Roar FC
Netstrata Jubilee Stadium
7:30 PM
Kayo Sports, Foxtel, My Football
1 : 0
Round 17
Saturday
1/2/20
Newcastle Jets
Western United FC
McDonald Jones Stadium
5:15 PM
Kayo Sports, Foxtel, My Football, ABC
0 : 0
Round 17
Saturday
1/2/20
Adelaide United
Melbourne City FC
Coopers Stadium
7:30 PM
Kayo Sports, Foxtel, My Football
3 : 1
Round 17
Saturday
1/2/20
Perth Glory
Melbourne Victory
HBF Park
9:45 PM
Kayo Sports, Foxtel, My Football
2 : 2
Round 17
Sunday
2/2/20
Central Coast Mariners
Western Sydney Wanderers FC
Central Coast Stadium
4:00 PM
Kayo Sports, Foxtel, My Football
1 : 3
Round 18
Friday
7/2/20
Melbourne City FC
Melbourne Victory
AAMI Park
7:30 PM
Kayo Sports, Foxtel, My Football
2 : 1
Round 18
Friday
7/2/20
Perth Glory
Wellington Phoenix
HBF Park
9:45 PM
Kayo Sports, Foxtel, My Football
4 : 2
Round 18
Saturday
8/2/20
Sydney FC
Western Sydney Wanderers FC
Netstrata Jubilee Stadium
5:15 PM
Kayo Sports, Foxtel, My Football, ABC
TBA
Round 18
Saturday
8/2/20
Brisbane Roar FC
Adelaide United
Suncorp Stadium
7:30 PM
Kayo Sports, Foxtel, My Football
2 : 1
Round 18
Sunday
9/2/20
Newcastle Jets
Central Coast Mariners
McDonald Jones Stadium
4:00 PM
Kayo Sports, Foxtel, My Football
4 : 3
Round 19
Friday
14/2/20
Adelaide United
Central Coast Mariners
Coopers Stadium
7:50 PM
Kayo Sports, Foxtel, My Football
2 : 0
Round 19
Saturday
15/2/20
Wellington Phoenix
Melbourne City FC
Eden Park
5:15 PM
Kayo Sports, Foxtel, My Football, ABC
1 : 0
Round 19
Saturday
15/2/20
Western Sydney Wanderers FC
Newcastle Jets
Bankwest Stadium
7:30 PM
Kayo Sports, Foxtel, My Football
1 : 1
Round 19
Sunday
16/2/20
Western United FC
Brisbane Roar FC
Mars Stadium
4:00 PM
Kayo Sports, Foxtel, My Football
0 : 1
Round 20
Friday
21/2/20
Wellington Phoenix
Western United FC
Westpac Stadium
5:15 PM
Kayo Sports, Foxtel, My Football
2 : 0
Round 20
Friday
21/2/20
Western Sydney Wanderers FC
Adelaide United
Bankwest Stadium
7:30 PM
Kayo Sports, Foxtel, My Football
5 : 2
Round 20
Saturday
22/2/20
Newcastle Jets
Melbourne Victory
McDonald Jones Stadium
5:15 PM
Kayo Sports, Foxtel, My Football, ABC
1 :1
Round 20
Saturday
22/2/20
Central Coast Mariners
Sydney FC
Central Coast Stadium
7:30 PM
Kayo Sports, Foxtel, My Football
0 : 3
Round 20
Sunday
23/2/20
Brisbane Roar FC
Perth Glory
Dolphin Stadium
4:00 PM
Kayo Sports, Foxtel, My Football
1 :1
Round 21
Friday
28/2/20
Sydney FC
Wellington Phoenix
Netstrata Jubilee Stadium
7:30 PM
Kayo Sports, Foxtel, My Football
TBA
Round 21
Saturday
29/2/20
Newcastle Jets
Perth Glory
McDonald Jones Stadium
5:15 PM
Kayo Sports, Foxtel, My Football, ABC
2 : 1
Round 21
Saturday
29/2/20
Melbourne Victory
Adelaide United
Marvel Stadium
7:30 PM
Kayo Sports, Foxtel, My Football
2 : 1
Round 21
Sunday
1/3/20
Western United FC
Central Coast Mariners
GMHBA Stadium
4:00 PM
Kayo Sports, Foxtel, My Football
6 : 2
Round 21
Sunday
1/3/20
Melbourne City FC
Brisbane Roar FC
AAMI Park
6:30 PM
Kayo Sports, Foxtel, My Football
1 : 0
Round 22
Friday
6/3/20
Brisbane Roar FC
Western Sydney Wanderers FC
Suncorp Stadium
7:30 PM
Kayo Sports, Foxtel, My Football
3 : 1
Round 22
Saturday
7/3/20
Adelaide United
Western United FC
Coopers Stadium
5:15 PM
Kayo Sports, Foxtel, My Football, ABC
1 : 5
Round 22
Saturday
7/3/20
Melbourne Victory
Sydney FC
Marvel Stadium
7:30 PM
Kayo Sports, Foxtel, My Football
1 : 4
Round 22
Sunday
8/3/20
Central Coast Mariners
Wellington Phoenix
Central Coast Stadium
4:00 PM
Kayo Sports, Foxtel, My Football
1 : 3
Round 22
Sunday
8/3/20
Perth Glory
Melbourne City FC
HBF Park
6:00 PM
Kayo Sports, Foxtel, My Football
2 : 3
Round 23
Friday
13/3/20
Brisbane Roar FC
Central Coast Mariners
Suncorp Stadium
7:30 PM
Kayo Sports, Foxtel, My Football
1 : 0
Round 23
Saturday
14/3/20
Sydney FC
Perth Glory
Netstrata Jubilee Stadium
5:15 PM
Kayo Sports, Foxtel, My Football, ABC
0 : 0
Round 23
Saturday
14/3/20
Melbourne City FC
Western Sydney Wanderers FC
AAMI Park
7:30 PM
Kayo Sports, Foxtel, My Football
1 : 1
Round 23
Sunday
15/3/20
Wellington Phoenix
Melbourne Victory
Westpac Stadium
4:00 PM
Kayo Sports, Foxtel, My Football
3 : 0
Round 23
Sunday
15/3/20
Newcastle Jets
Adelaide United
Coopers Stadium
6:00 PM
Kayo Sports, Foxtel, My Football
0 : 3
Round 24
Friday
20/3/20
Central Coast Mariners
Melbourne City FC
Central Coast Stadium
7:30 PM
Kayo Sports, Foxtel, My Football
2 : 4
Round 24
Saturday
21/3/20
Western Sydney Wanderers FC
Sydney FC
Bankwest Stadium
7:30 PM
Kayo Sports, Foxtel, My Football
1 : 1
Season shut down 24/3
N/A
New schedule:
N/A
N/A
Friday
17/7/20
Sydney FC
Wellington Phoenix
Netstrata Jubilee Stadium
7:30 PM
Kayo Sports, Foxtel, My Football
3 : 1
N/A
Saturday
18/7/20
Perth Glory
Central Coast Mariners
Central Coast Stadium
5:00 PM
Kayo Sports, Foxtel, My Football, ABC
1 : 0
N/A
Sunday
19/7/20
Brisbane Roar
Adelaide United
Cbus Super Stadium
7:30 PM
Kayo Sports, Foxtel, My Football
0 : 1
N/A
Tuesday
21/7/20
Sydney FC
Newcastle Jets
Netstrata Jubilee Stadium
7:30 PM
Kayo Sports, Foxtel, My Football
1 : 2
N/A
Wednesday
22/7/20
Perth Glory
Wellington Phoenix
Bankwest Stadium
7:30 PM
Kayo Sports, Foxtel, My Football
N/A
Friday
24/7/20
Central Coast Mariners
Newcastle Jets
Central Coast Stadium
7:30 PM
Kayo Sports, Foxtel, My Football
N/A
Saturday
25/7/20
Wellington Phoenix
Adelaide United
Bankwest Stadium
3:30 PM
Kayo Sports, Foxtel, My Football
N/A
Saturday
25/7/20
Melbourne Victory
Western United FC
Bankwest Stadium
7:35 PM
Kayo Sports, Foxtel, My Football
N/A
Monday
27/7/20
Central Coast Mariners
Western Sydney Wanderers
Central Coast Stadium
7:30 PM
Kayo Sports, Foxtel, My Football
N/A
Wednesday
29/7/20
Melbourne Victory
Brisbane Roar
Bankwest Stadium
7:30 PM
Kayo Sports, Foxtel, My Football
N/A
Thursday
30/7/20
Adelaide United
Perth Glory
Bankwest Stadium
7:30 PM
Kayo Sports, Foxtel, My Football
N/A
Friday
31/7/20
Western Sydney Wanderers
Wellington Phoenix
Bankwest Stadium
7:30 PM
Kayo Sports, Foxtel, My Football
N/A
Saturday
1/8/20
Melbourne City
Sydney FC
ANZ Stadium
5:00 PM
Kayo Sports, Foxtel, My Football, ABC
N/A
Sunday
2/8/20
Newcastle Jets
Western Sydney Wanderers
McDonald Jones Stadium
7:30 PM
Kayo Sports, Foxtel, My Football
N/A
Monday
3/8/20
Melbourne Victory
Central Coast Mariners
Netstrata Jubilee Stadium
7:30 PM
Kayo Sports, Foxtel, My Football
N/A
Tuesday
4/8/20
Western Sydney Wanderers
Perth Glory
Bankwest Stadium
7:30 PM
Kayo Sports, Foxtel, My Football
N/A
Wednesday
5/8/20
Wellington Phoenix
Brisbane Roar
Bankwest Stadium
6:00 PM
Kayo Sports, Foxtel, My Football
N/A
Thursday
6/8/20
Adelaide United
Sydney FC
ANZ Stadium
7:30 PM
Kayo Sports, Foxtel, My Football
N/A
Friday
7/8/20
Western United FC
Western Sydney Wanderers
Netstrata Jubilee Stadium
7:30 PM
Kayo Sports, Foxtel, My Football
N/A
Saturday
8/8/20
Perth Glory
Melbourne Victory
Netstrata Jubilee Stadium
5:00 PM
Kayo Sports, Foxtel, My Football, ABC
N/A
Monday
10/8/20
Brisbane Roar
Sydney FC
ANZ Stadium
7:30 PM
Kayo Sports, Foxtel, My Football
N/A
Tuesday
11/8/20
Melbourne City
Adelaide United
ANZ Stadium
7:30 PM
Kayo Sports, Foxtel, My Football
N/A
Wednesday
12/8/20
Perth Glory
Western United FC
Bankwest Stadium
5:35 PM
Kayo Sports, Foxtel, My Football
N/A
Wednesday
12/8/20
Western Sydney Wanderers
Melbourne Victory
Bankwest Stadium
8:10 PM
Kayo Sports, Foxtel, My Football
N/A
Thursday
13/8/20
Newcastle Jets
Wellington Phoenix
Netstrata Jubilee Stadium
7:30 PM
Kayo Sports, Foxtel, My Football
N/A
Saturday
15/8/20
Sydney FC
Western United FC
Bankwest Stadium
5:00 PM
Kayo Sports, Foxtel, My Football, ABC
N/A
Wednesday
19/8/20
Western United FC
Melbourne City
Netstrata Jubilee Stadium
7:30 PM
Kayo Sports, Foxtel, My Football
Elimination final
TBC
22/8/20
TBA
TBA
TBA
TBA
Kayo Sports, Foxtel, My Football
Elimination final
TBC
23/8/20
TBA
TBA
TBA
TBA
Kayo Sports, Foxtel, My Football
Semi-finals
TBC
26/8/20
TBA
TBA
TBA
TBA
Kayo Sports, Foxtel, My Football
Semi-finals
TBC
26/8/20
TBA
TBA
TBA
TBA
Kayo Sports, Foxtel, My Football
Grand Final
TBC
30/8/20
TBA
TBA
TBA
TBA
Kayo Sports, Foxtel, My Football
Image Source: A-League website
Related Posts
Get more from Finder