How to watch the English Football League (EFL) Championship live online in Australia
The 2019–20 English Football League (EFL) season has begun. Here's how to watch the big matches on TV or live stream them online from Australia.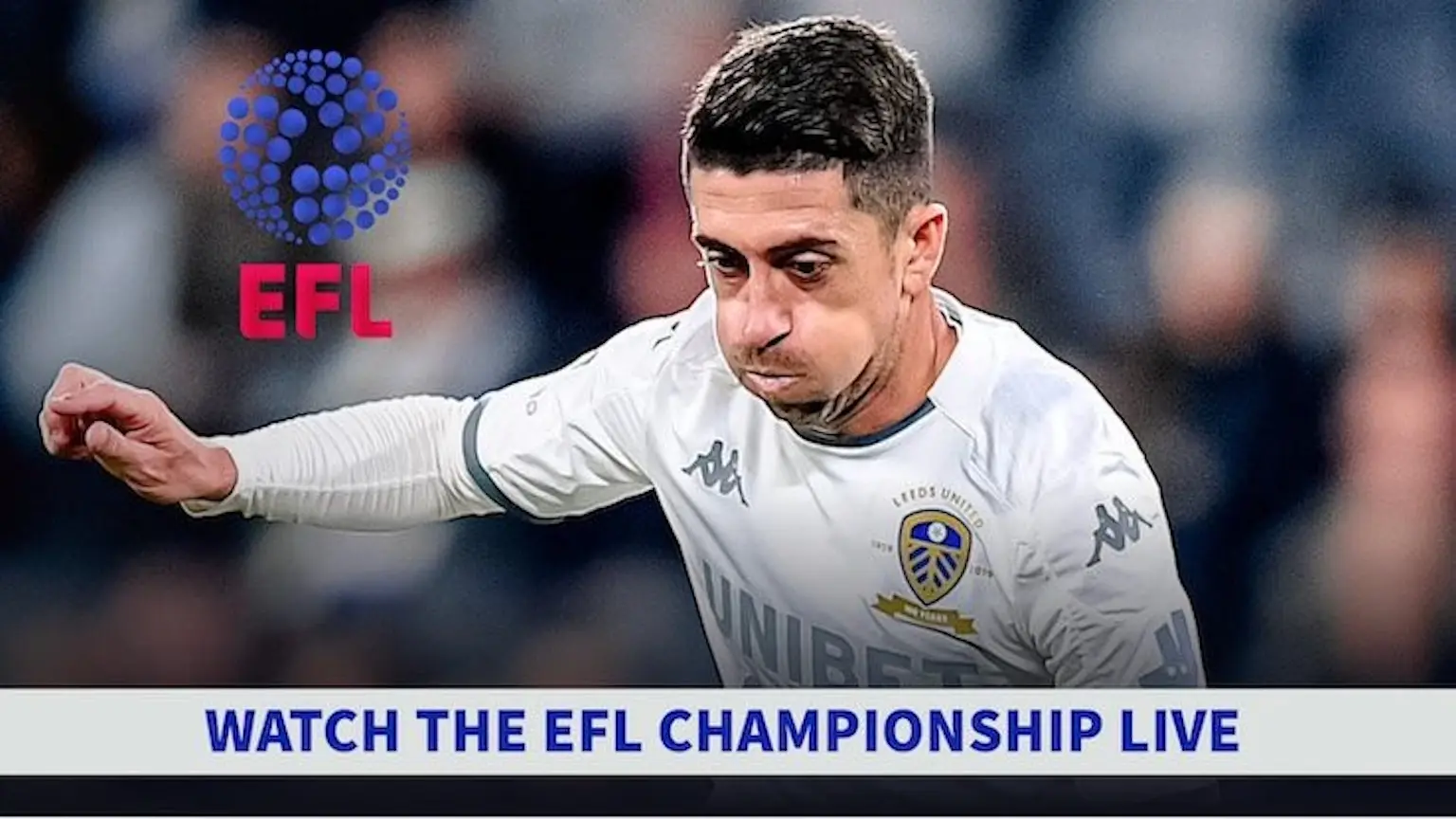 The EFL Championship is the second tier of professional football in England. It may not be as highbrow as the Premier League, but it still showcases brilliant players from all over the world and some of the sport's most beloved teams. There's plenty of excitement for football fans to discover in the EFL.
One of the most-watched secondary leagues in the world, the Championship also happens to be the wealthiest non-top-flight football division worldwide, which isn't a major surprise. After all, football is king in the UK.
EFL Championship 2019–20 play-off TV fixtures
The final day of the EFL is set to be chaotic. Leeds United has secured first place in the Championship and will be back in the EPL for the first time in 16 years. Just a point currently separates West Brom and Brentford who are both fighting for the final automatic promotion spot. Plus if things get chaotic and they both lose, a Fulham win can see them head straight for the Premier League.
Either of those two that don't earn automatic promotion will be set for the EFL playoffs. Joining them in the playoffs will likely be Nott'm Forest and Cardiff City, however Swansea, are also a slim mathematical chance of sneaking in if either of the teams above them lose. But promotion isn't the only reason eyes will be on the Championship's final day.
The dreaded relegation battle is alive and well in the EFL. Surprisingly no team has yet been relegated although it's almost mathematically impossible for Hull City to avoid relegation. Currently occupying the other two relegation spots are Barnsley and Luton Town. Of those two Barnsley are in the most trouble, but a shock upset against Brentford could see them spared the axe. Other teams on the bubble include Charlton, Birmingham and Middlesbrough.
Live stream the EFL season on Kayo: Start your 14-day FREE trial now
How to live stream EFL Championship matches in Australia
Aussie football fans can keep up with the EFL Championship via beIN SPORTS. There are multiple ways to subscribe to this sports broadcaster, either via pay TV or streaming services. Here's how you can live stream the EFL Championship in Australia or watch it on TV.
Store
Discount

Kayo Sports

Stream Kayo Sports for 14 days FREE and no lock-in contract

Take Kayo Sports' Basic or Premium plan for a spin and stream new sports content daily plus 15,000+ hours of on-demand archives.

Last verified
Live stream Championship via Kayo Sports
Content from beIN SPORTS is included on Kayo Sports, the streaming platform that offers coverage of over 50 sports from all over the world. You can tune in live or catch up on demand with the service's generous library of content. A Basic subscription costs $25 a month and lets you watch on two screens at the same time. Or, you can get a Premium subscription priced at $35 a month which supports three simultaneous streams.
Besides a user-friendly interface, Kayo Sports also comes with convenient features. SplitView enables you to watch up to four channels on the same screen, which means you don't have to pick between multiple events that kick off at the same time. Interactive Stats lets you explore a world of statistics, while No Spoilers keeps the score hidden when you're running late. You can jump right to the action that matters in selected matches with Key Moments or enjoy a Kayo Mini, which is a condensed version of a match which delivers all the highlights in less than 20 minutes.
There's also an excellent user-interface, gameday hub pages and more. Check out our detailed Kayo Sports review for more details on how the service works.
New Kayo Sports subscribers get a 14-day free trial, so you can explore the platform no strings attached. Additionally, you can cancel your subscription anytime – there are no contracts involved. Kayo Sports is available on PCs, Macs, smartphones/tablets; or you can watch on TV via Android TV, Apple TV, Telstra TV, ChromeCast and Samsung TV (2018 or later).
Stream EFL with beIN SPORTS CONNECT
EFL Championship fans can keep up with the competition online with beIN SPORTS CONNECT. The streaming platform lets users access all three beIN SPORTS channels for $19.99 a month or $199.99 a year. You can tune in via computers and mobile devices. New customers get a two-week free trial.
Store
Discount

beIN SPORTS CONNECT

Stream beIN SPORTS CONNECT free for 14 days

Watch some of the biggest football leagues in the world, rugby and tennis on beIN SPORTS CONNECT.

Last verified
How to watch the
biggest football leagues

in the world
Watch EFL Championship matches with Foxtel IQ
All three beIN SPORTS channels are included in the Foxtel iQ Sport pack. If you're already a subscriber, you can watch on TV or stream matches to your laptop or mobile device with the Foxtel Go app. The app is free for all Foxtel subscribers.
If you don't have pay TV yet but you're keen on getting Foxtel IQ, the Sport pack costs $25/month and buys you access to 13 sports channels, including beIN SPORTS. This is on top of the base cost for Foxtel Plus, which is $49/month. You'll get to enjoy the iQ4 box, which enables you to watch content in 4K and record live TV. When looking to save some cash, Foxtel IQ deals are always available. You might be able to score a discount or save on installation costs.
Live stream EFL Championship matches with Foxtel Now
Alternatively, beIN SPORTS is available with Foxtel Now. The platform comes with no lock-in contracts and lets you watch Foxtel channels live or catch up with content on demand. Subscriptions start at $25 a month for the Essentials pack, which comes with a mix of Pop and Lifestyle channels. On top of this, you'll need to pay an extra $29 a month to be able to add Sport to your subscription and stream EFL Championship games. There is no additional cost for HD.
Foxtel Now is compatible with PCs/Macs and smartphones/tablets. Fans can also watch on the big screen via ChromeCast/AirPlay, the Foxtel Now Box, Sony Android TVs, PS4 consoles and Telstra TV. If you're a new user, you can test-drive the platform thanks to a 10-day free trial.
Watch EFL Championship matches with Fetch TV
beIN SPORTS is available on Fetch TV as a special interest channel pack, which includes all three channels for $19.99 a month. The total price will depend on whether you get your Fetch box through a broadband provider or buy it outright.
How does EFL work?
The 2019–20 EFL Championship is the 16th season of the competition under its current title and the 28th season under its current league division format. The top two teams in the EFL Championship earn automatic promotion to the Premier League, while the next four qualify for the Championship play-offs. The winner of that play-off comes out on top and earns a spot in the Premier League as well.
Last season's EFL Championship winner was Norwich City, who were promoted to the Premier League alongside Sheffield United and Aston Villa. Meanwhile, Fulham, Cardiff City and Huddersfield Town were relegated to the Championship from the Premier League.
Image source: Kayo Sports website
Latest streaming headlines
Related Posts