The Crew 2 review: Unpolished ride
The Crew 2 for PlayStation 4, Xbox One and PC runs out of fuel quickly thanks to a rigged AI and a lack of key multiplayer functions.
We're reader-supported and may be paid when you visit links to partner sites. We don't compare all products in the market, but we're working on it!
After a week of bombing around in The Crew 2, I'm ready to pop the door open, mid-cruise, tuck the shoulder and roll off into something else. I went in with expectations revved up high, but it didn't take long for a meandering cruise control to set in. That'll happen when you're subjected to deja vu race events, rubber-banded AI and a down-with-the-kids aesthetic that grates harder than an L-plater trying to reverse park.
The Crew 2 isn't a complete write-off, though. It's just all flash and no performance. The main problems stem from a bit of an identity crisis and, ironically, from the way Ivory Tower tries to keep players in the "sweet spot of racing" with design decisions that alienate more than anything. The fact is that no matter if you're on the land, in the sea or soaring through the skies, the racing here isn't particularly fun or fair.
The aforementioned catch-up logic is what stalled it for me. Instead of being rewarded for taking shrewd lines when you're ahead or drafting like a champ and spending NOS sensibly when behind, The Crew 2 treats you like that emotionally volatile friend who loves you one day and hates you the next. It's like you're in a Westworld Gumball 3000 where your "robopponents" take corners with surgical precision and only let you overtake when the parameters say they ought to.
---
---
Weirdly, it's in your interests to drive half-arsed for the first 80% of a race and then game the system by suddenly remembering your accelerator goes all the way to the floor in the last gasp.
And if you don't run afoul of this algorithmic favouritism, you'll instead have to deal with the MMO loot system that will either keep you painfully behind any competitors slightly above your level, or you'll blow the doors off them because you've paid your grinding dues beforehand. The lovely middle-ground between these two extremes is rarely experienced.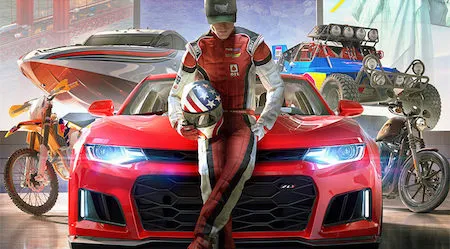 Click to buy The Crew 2
from Amazon
Enjoy unrestrained exploration on ground, sea and sky.
View details
Things improve slightly with forgiving, slightly spongy car handling (but the less said about the stilted feel of motorbikes and the wooden collisions the better). That said, flooring boats seems like there's little skill involved and racing and/or stunting in an airplane controls quite well but lacks a sense of speed.
Generally speaking, I found more hit than miss fun with the four different "Motor Families" available in the game (and each of these slowly blooms into extra specialty subsets). Street is all about Drift, downtown lapping and more Drag races than a RuPaul TV show. Freestyle features Aerobatics (planes), Jetsprint (boats) and some admittedly awesome Monster Truck shenanigans. Offroad features Rally Raid, Rally Cross and underwhelming Motorcross events. Last but not least, Pro Racing offers Power Boats, track circuit racing and Alpha GP.
Basically, I'd put the 120+ events here at 60% decent land-based racing, 20% novelty stuff and the remainder is busywork that you'll numbly complete while you wait for some better DLC to drop – in December.
Speaking of superfluous, the open-world United States here is huge, utilitarian looking and a bit of an eerie ghost town – especially if you're used to the bustling sandboxes of GTA V or Watch Dogs 2. I love that getting from one end to the other is a 40-minute car ride and I think it's a crying shame that Ivory Tower only offers a handful of events that ask you to race this epic distance (while severely under-utilising the triathlon feature that makes you shift vehicles). The fact is there are large chunks of this play-space that are redundant. The lure of fast-travel will kill the exploratory spirit of all but the hardest of cheevo hunters.
But even when you are on task with a destination locked in, The Crew 2 can sap your spirit in other ways. The original game had a nav system with a hideous blue line in the sky. That's been ditched in favour of a mini map that needs to be glanced at while you're doing 200km/h across the country. As a result, the tracks and courses poorly telegraph where to turn and can result in frustrating crashes and losses that require entire event restarts. Once again, your best bet is to keep an AI car just ahead of you as a shining, no-mistakes beacon of where to go.
In the end, it falls to multiplayer to save the day with The Crew 2. Sadly, it's not all there, both literally and figuratively. Co-oping through the world in a party of four is okay fun if everybody wants to pick off the same events together. However, having meaningful interactions with randos isn't on the table as the PvP is being bolted on in December. This is pretty unforgivable for a game that demands you to always be online.
Honestly, I think it'll be too little too late by then. The PC and Xbox crowd will have already migrated to the October release that is Forza Horizon 4. This, of course, is the series that The Crew 2 desperately aspires to keep pace with, but can't.
We reviewed The Crew 2 on PlayStation 4 with a copy provided by the publisher.
The Crew 2
6.0 GOOD
What we liked...
Decent handling vehicles (mostly)
Addictive loot system
Large open sandbox...
What we didn't like...
...but a lonely play-space nonetheless
Rubber-banding AI
Poor track design/nav system
PvP missing for launch, cringe narrative
VERDICT
The Crew 2 doesn't live up to the hyper-excitement of its "earn followerz" veneer. It runs out of fuel quickly thanks to a rigged AI, too high a percentage of unfulfilling events and a lack of key multiplayer functions.
For more information on how finder.com.au scores games, check our review guidelines.
---