Compare virtual reality headsets
We'll help you take your first steps into the mesmerising, otherworldly experiences of VR.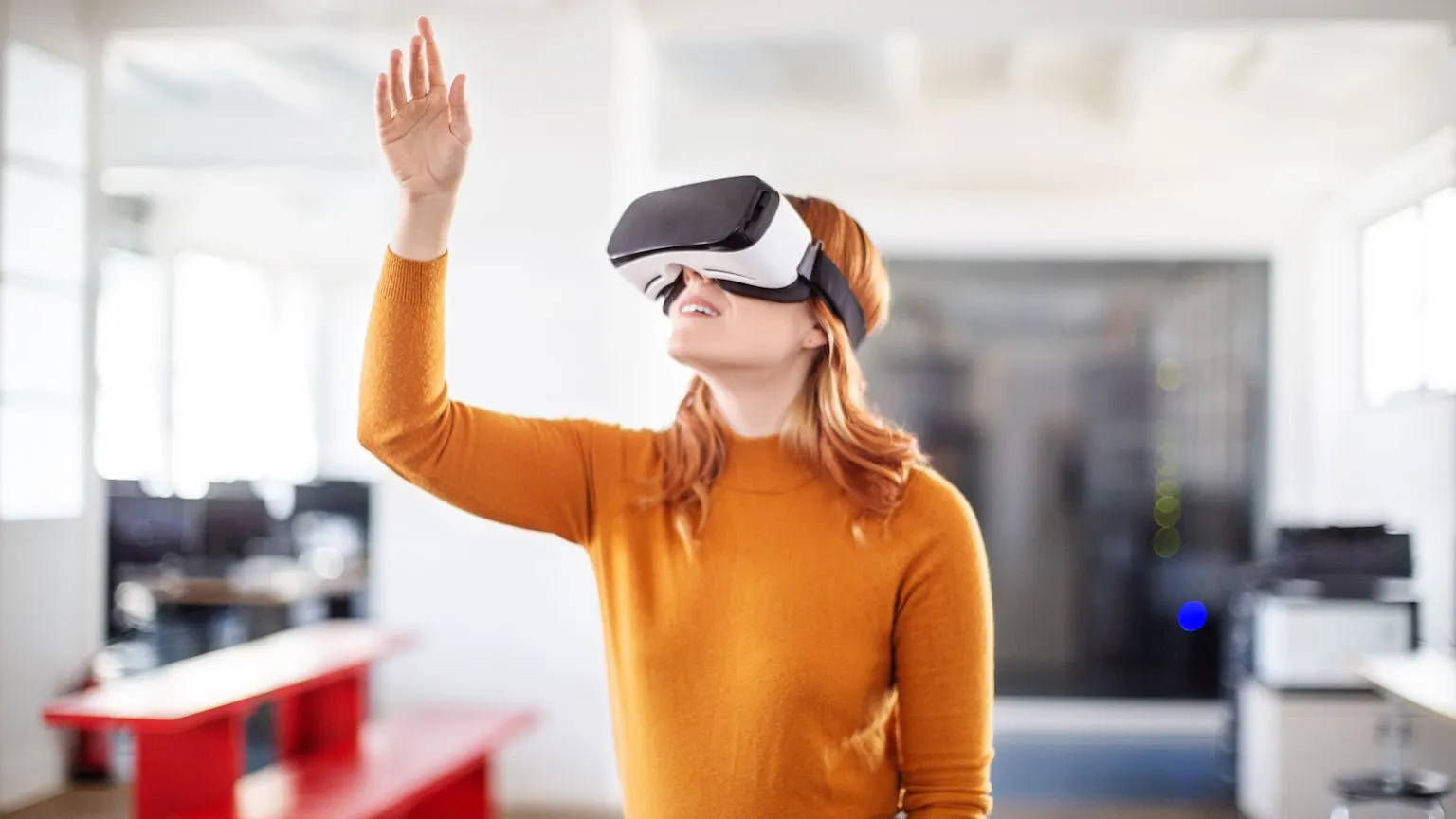 We're reader-supported and may be paid when you visit links to partner sites. We don't compare all products in the market, but we're working on it!
Quick facts about VR headsets
Traditional video games don't work well in VR, so developers make games designed specifically for the format.
The vast majority of VR headsets need powerful PCs to drive them, but standalone headsets are starting to emerge, and there's a decent option for PlayStation 4 owners.
VR headsets range from around $400 up to $2,200 or more.
Compare VR headsets
What is virtual reality?
Consumer-friendly virtual reality has been on humanity's wishlist for decades. Science fiction, from Star Trek's holodeck to Ready Player One, has planted tantalising seeds of being able to slide into a digital world without the illusion-shattering impediment of seeing a screen in front of you. Simply put on a headset and experience games in the most immersive way possible.
In 2012, this vision grew closer to reality when Oculus raised US$2.5 million on Kickstarter for its Oculus Rift prototype. Facebook swooped in, acquired Oculus for US$2 billion, and the VR arms race began in earnest. Mainstream media began paying attention. HTC and Valve partnered to produce a competing headset called the VIVE. Google dipped cautious toes into the water with its budget-priced Cardboard range. And Sony introduced a cost-effective option for PlayStation 4 owners called PlayStation VR. The VR age had begun.
How do virtual reality headsets work?
Inside a virtual reality headset, two slightly different 2D images are presented to the wearer, one for each eye. Your brain then combines these images to create the perception of 3D space. It's the same principle behind how normal eyesight works – you're just "seeing" spaceships and fantasy realms instead of the real world.
But that's not all a VR headset does. Not only do you need to see a 3D digital world, but you also need to be able to manipulate it. To achieve this, gyroscopic sensors, accelerometers and magnetometers track and relay your head's movement and orientation back to the device powering the experience (be it a PC, console or phone). To increase the accuracy of positional data, cameras pointed at the wearer track LEDs on the headset and the controllers in your hands. The goal of all this is a 1:1 re-creation of your movements inside the virtual world.
Oculus vs VIVE vs PSVR vs Google Cardboard
If you're looking at picking up a VR headset, these are the most common options in Australia:
Oculus, the originator, is still the go-to for many. It has a library of exclusive games, and because it's seated VR (more on that later), set-up is relatively quick and easy. The Oculus Rift S is the flagship model, but the Oculus Quest recently launched as the first standalone VR headset. This means the Quest doesn't need a gaming PC to power it. It's less powerful than the Rift S, but significantly more convenient.
HTC and Valve have partnered together to create the VIVE. The various VIVE models take a different approach to VR, allowing users to stand up and move around a small area (3.5 metres by 3.5 metres), rather than confining players to a chair. Valve also recently went out on its own to create the Valve Index headset, but this won't be arriving in Australia anytime soon.
PlayStation VR is Sony's foray into VR. The PSVR has lower resolution than both Oculus's and VIVE's most recent offerings, but it comes with one huge advantage: it's powered by PlayStation 4, meaning it's significantly cheaper. It's also got a number of exclusive games that can't be played on any other platform.
Google Cardboard is a great entry point if you want to see what the fuss is about without spending serious money. It's literally a cardboard frame that you slip your phone into. It's far and away the least impressive headset on the market, but it's also the cheapest.
Headsets for Half-Life: Alyx
A common truism in the video game industry is that for hardware to be successful it needs a "killer app". VR's killer app may have finally arrived.
To the frustration of just about everyone, Valve's revered Half-Life series has lain dormant since 2007's Half-Life 2: Episode Two. Half-Life: Alyx is a brand-new game set within the Half-Life universe. (In the US, following the announcement of Alyx, nearly all VR headset stock sold out.)
Set before the events of Half-Life 2, Half-Life: Alyx follows Alyx Vance as she fights back against the Combine aliens that have conquered Earth. Half-Life's iconic Gravity Gun has been replaced with a Gravity Glove that you manipulate using your real hand. Combat encounters, puzzles and platforming challenges have all been designed specifically for VR, so don't expect a traditional PC port to ever arrive.
In fact, Valve built Half-Life: Alyx to take full advantage of its own virtual reality headset, the Valve Index. The Index differentiates itself from other headsets thanks to its controllers which track the movements of your individual fingers, instead of just your hands. Half-Life: Alyx uses this to enable a wider range of interactions like twisting and crushing objects, as well as deliver increased precision for basic actions like holding, dropping and throwing items.
That said, Half-Life: Alyx is compatible with a wide range of PC-based VR headsets other than the Index, including the Oculus Quest, Oculus Rift and VIVE Cosmos. Some interactions in the game may play out differently depending on the specific headset and its controllers, but Valve has been bullish about the fact that the game supports multiple play styles.
How to compare VR headsets
When choosing a VR headset, consider the following factors.
Room-scale VR vs seated VR
Choosing between seated VR and room-scale VR will have a huge impact on your experience. With seated VR, you're confined to a chair while wearing the headset. Your head movement is tracked and reproduced on-screen, but locomotion (i.e. the movement of your in-game character through the digital world) is handled using a controller. Seated VR is typically cheaper.
With room scale, multiple cameras are set up around the play area. These track your body's position, allowing you to walk, jump or even dance and have that motion reproduced in the game. It's more expensive and can be impractical for a lot of homes because it requires a somewhat empty, dedicated room.
PC, console, mobile, or standalone
Standalone VR has only recently hit the market, so most VR headsets need another device to power them. In the case of Oculus Rift or HTC Vive, you'll need a powerful PC with a beefy graphics card. PSVR runs on the PlayStation 4, while Google's entry-level Cardboard headsets use your mobile phone. It's worth factoring these devices into your cost equations if you need to pick up extra hardware.
Note that Sony has announced a PSVR 2 headset is in the works for the PlayStation 5.
Resolution
The resolution of VR headsets, like televisions, is measured in pixels. Because the screen inside a VR headset is situated so close to your eyes, lower resolutions are particularly noticeable. You'll see the gaps between pixels prominently, a visual phenomenon called the "screen door effect". Higher resolutions are always better.
When comparing VR headsets, consider the relative pixel counts of devices. Just be cautious: some manufacturers list the "per eye" resolution, while others list the combined resolution. If one model seems like it's double the resolution of another, it's almost certainly using the combined measure.
Exclusive games
A lot of VR games are platform exclusives, meaning you'll need to check carefully that the one you're interested in actually works on your platform. As an example, Star Wars: Vader Immortal is only available on Oculus Rift, while Resident Evil VII can only be played in VR on PSVR.
Refresh rate
Refresh rate is measured in Hz and determines how many frames are displayed per second. Faster refresh rates create smoother motion without flickering between frames and can even help reduce VR sickness. It's worth remembering that even though an Oculus Rift or VIVE is capable of hitting 90-100Hzs, you'll still need a PC capable of outputting at that frame rate. This is also the one spec where the PSVR comes out on top, running at a buttery 120Hz.
Comfort
It shouldn't come as a surprise but strapping a heavy block to your face isn't the pinnacle of pleasantness. When it comes to VR comfort, the lighter the better. You'll also want to pay attention to the materials used for padding; VR headsets become sweaty after prolonged use, so make sure it's easy to clean and as breathable as possible
Five things to consider
Powerful PCs. You will need a powerful PC for PC-based VR options. The reason for this is simple: because VR works by showing you two slightly different images, every single frame needs to be rendered twice, meaning the GPU is basically doing twice as much heavy lifting as normal.
Wires are annoying. At this stage, most VR headsets have wires that connect to a PC or console. They're fairly heavy cords, too, and feeling them tugging on the back of your head can pull you out of the moment, not to mention being a trip hazard when you can't see the room around you. If a wireless option is available, consider it.
Audio. Some VR headsets don't come with built-in speakers, so you'll need to place a pair of headphones over the top.
Motion controllers. These are sometimes referred to as wands and enhance the VR experience. Each major manufacturer has a different take on these, so try to get your hands on them to see which you like most.
Virtual reality sickness. This is a real, not uncommon phenomenon that some people are prone to experiencing. It's related to motion sickness and feels a lot like nausea. It's unpleasant to say the least. Some games are worse than others for triggering the symptoms. We recommend trying VR before spending lots of money on a set-up just in case you're one of the severely afflicted.
Where to buy VR headsets in Australia
More guides on Finder