The best 4K UHD gaming monitors money can buy in 2018
Screens that perform well and look so sharp they'll have your eye out.
We've tested out our fair share of gaming monitors here at Finder and while nothing quite compares to 4K when it comes to televisions and gaming consoles, gaming monitors are a slightly different story.
There's more to consider than whether or not a gaming monitor sports 4K resolution.
With that said, we've round up a list of the best 4K gaming monitors on the market. A small selection of 4K gaming monitors that tick all the right boxes when it comes to size, price, refresh rate and resolution.
If it's not 4K you're after, check out our complete guide to buying a gaming monitor in April 2021.
4K gaming is all the rage. And I do mean actual rage with some buyers. You know the type: folks who rush out and buy a cheap screen that has "4K" on it and assume that's all there is to it. Later, all of a sudden terms like "G-Sync", "FreeSync" and HDR will feel like they're pretty important things to said person. The same will be true of milliseconds (ms) and Hz, too. Whoops.
Here we present a list of 10 particularly exceptional 4K prospects squarely aimed at gamers. Better yet, we'll go over the aforementioned terms and explain why they'll be the difference between an unhappy emptor who's routinely beaten in games and a well-informed owner who showers the inside of their UHD screen with the blood of their opponents.
1. Acer Predator XB321HK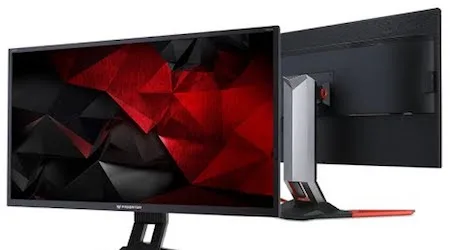 The first time I saw the XB321HK in action at an expo I got rug burn on my chin. And why wouldn't this 32-inch stunner be a jaw-dropper to any graphics whore worth their pupils? It offers a luscious 3840 x 2160 4K UHD resolution, a more than respectable 60Hz refresh rate and 4ms response time. Admittedly, if you're an uber-competitive esport-type, you'll need more Hz and less ms, but almost everybody else will be more than pleased with the results here.
Providing you have the AAA games and sheer (Nvidia-based) GPU horsepower needed to reap the full benefits of this IPS panel, the XB321HK will delight with the screen-tear-stopping tech that is G-Sync. Also, the fact that it's IPS means that it's guaranteed that all of your onlookers will be swooning at the same rich colour experience you're getting, no matter their viewing angle. Great performance. Value for money. And it's a show-off's dream. What's not to love here?
2. BenQ PD3200U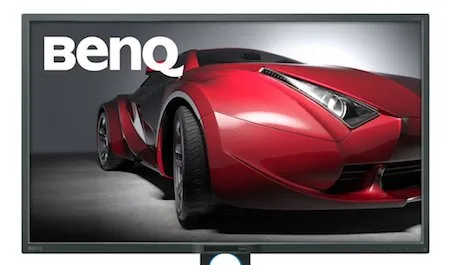 Another big lad, this 32-inch offering from BenQ may look a little bland, shell-wise, but everything going on inside its 16:9, 3840 x 2160 screen will be viewed as anything but ordinary. Technically a "designer monitor" for CAD users rather than a screen built specifically to win its owner a chicken dinner in PUBG, the PD3200U can nonetheless shift into the role of a gaming screen just fine. The response time of 4ms is perfectly manageable and few gamers would be unhappy with a 1000:1 contrast ratio, not to mention a viewing angle that'll allow them 178 degrees worth of show-off opportunity.
Just as impressive is its sheer value for money compared to similarly sized 4K screen, and I also dug the handy Hotkey Puck feature. Once configured, it can let you quickly switch between display contents from two PC systems while using one keyboard and mouse.
3. Samsung UH750
Stepping down a little into the realm of 28", the Samsung UH750 offers a great first impression with its diminutive footprint and fancy-pants metallic looks. This chroma output of this thing has to be seen to be believed, too – blending quantum dots with 1 billion shades of colour, this bad boy delivers incredibly vivid gaming experiences. Also, though it may be smaller than the 4K 32-inchers on this list, it has the edge with AMD FreeSync and a 1ms response time, making this a much more attractive prospect to online FPS gamers.
If you're looking at that low-low price, wondering where the catch is, here it be: the UH750 has a plastic-not-fantastic stand that offers woeful adjustment options. You can tilt her a little, but that's about it. Fact is, the onus will be on you to move yourself to the monitor, not the other way around. It's bad news for anybody of basketballer height; a non-issue for pretty much everybody else.
4. ASUS ROG SWIFT PG27AQ
Though this 4K IPS screen comes in at a more modest 27" size, the G-Sync-rocking PG27AQ is not to be underestimated. For those of you new to gaming monitors, the latter feature is Nvidia's frame-rate-syncing technology that better unifies what's coming out of your GPU to the screen (competitor AMD have a similar feature called FreeSync). As a result, frame-tear and stutters are all but eliminated on the PG27AQ.
Though high-end gamers will not be over the moon with the 60Hz refresh rate, they might find that they fall in love with the unique feature that is GamePlus, a monitor function that paints a frames-per-second counter and/or a crosshair on centre-screen no matter what. Basically, the latter lets you run around and hip-fire a sniper rifle like a shotgun in a manner not intended by the game's designers. Nefarious? Yes. Incredibly useful and satisfying? You betcha.
5. Acer Predator X27
Link: not for sale just yet
$TBA
This 27" Predator may be dwarfed by the bigger, 32-packing beasts out there, but I guarantee you it has the potential to be more lethal than them. It all comes down to the refresh rate, folks – 144Hz versus the comparative sloths out there that stick to the 60Hz standard. Things only get better when you factor in the X27's Nvidia G-SYNC HDR, high contrast ratio and peak brightness of 1,000 nits, and you're looking – nay, drooling – at one heck of a pretty screen.
There are some downsides for the uber-competitive gamer here, though. The insane advantages of the higher hertz refresh aren't complemented with a response time below 4ms (you can thank the IPS tech for this), which is quite a shame. Still, you'd have to be pretty finicky not to be impressed with the results you're getting here for the price paid. And, hey – Tobii eye-tracking is always a nice bonus, too.
6. Acer XR382CQK
What we have here, graphics fans with exceptional peripheral vision, is more or less the best widescreen gaming monitor you can find. The XR382 is a 37.5" unit that delivers a 3840 x 1600 resolution curved into a 21:9 format. Impressive features include a 75Hz refresh rate, AMD FreeSync support, and you can be assured of rich colours, excellent contrast and sharpness that'll have your eye out. Less amazing: a 5ms response that MLG gamers will want to look elsewhere at a 16:9 TN screen.
For gamers of less discriminating tastes, this is a more than acceptable proposition. I found the curve to be perfect (not too bent and not too flat) and, though I'd not officially recommend you try it at home, overclocking this to a higher hertz can take what is a great screen into amazing territory.
7. Dell UltraSharp 4K HDR UP2718Q
Here's a 27-incher for the colour fiends out there. Few screens look as vibrant and impressive as the UP2718Q, thanks to its UHD Alliance Premium certification and support for 100% of the Adobe colour gamut. In layman's terms: this includes Dell's Premium Colour software, and supports 100% sRGB, which means it can pump out approximately 1.07 billion colours. God help you if you ever YouTube search "kaleidoscopes for 10 hours".
In motion though, you're going to get what you're paying for a little: 6ms response time at 60Hz. That's right on the border of what a gamer will accept, but it all depends on the type of games you're into, too. That said, there's just no arguing with a relatively cheap 4K screen that does exceptional HDR. Games that leverage it (like Destiny 2 for a quick example) look the absolute business with the added colours and vibrancy.
8. Asus VP28UQG
Here's a 28" pick for the console gamers out there who are running either the 4K-enabled PS4 Pro or the Xbox One X. First of all, the Asus VP28UQG sports more conservative looks than the aggressive "l33t" gaming monitors on this list, so it can sit in a living room and not look... odd to non-gamers. More importantly, it is in the 1ms band and is a perfectly decent 60Hz, too (console games rarely need anything above this anyway).
The only real downside to this more-than-affordable unit is that it doesn't have bonafide HDR with all the super high brightness and contrast ratio that it entails. But, while the blacks aren't true blacks and the contrast could be better, this is the perfect entry-level screen for anybody who gets their kill on with thumbsticks instead of a mouse and a keyboard.
9. LG 27UD68
TN panels with FreeSync are typically the best (and exorbitantly expensive) 4K options for a gamer, owing to their fast response times. That said, the downside is that they're generally poorer in terms of viewing angle and colour reproduction. The LG 27UG68 is an IPS monitor that's a nice middle ground between the two schools of thought, and won't cost you an arm and a leg.
You're looking at 60Hz, an OK 5ms response, and a super bright screen that is haunted by zero ghosting issues. Better yet, the pixel density makes text look amazing, the bezel is really thin, and being an IPS panel makes it look nice and crisp from any angle. Tinkerers can overclock this up to to 75Hz, too, for improved gaming/editing performance (just be sure you have a decent GPU to capitalise on all of the above).
10. Acer Predator XB272-HDR
Not for sale just yet
$TBA
Though this has been superseded by the XB321HK, it is still a great unit that has come down in price accordingly. Come and shake hands with the XB272-HDF, a 27-inch LED-backlit monitor that was the first 4K, 144Hz monitor ever built. Why does that matter? The high hertz will drastically reduce motion blurring of fast-moving objects on-screen. Objects like that guy trying to kill you and loot your virtual corpse.
In terms of basics, it's a 4ms unit that leverages Nvidia's G-Sync technology to give you an uncompromisingly smooth and sharp gaming experience. You're also getting sweet, sweet HDR display technology which – take the tip from a regular screen hopper – is worth the hype and is something you miss when it's not there. Best of all, the looks of this unit are all business – no flashy Doritos 'n' Mountain Dew "g4mer" accents to it. No pretence here. Just damn good performance.
---
---
For all the latest in TV and movie streaming, follow and subscribe below
---