Sniper Elite 4 Review: It's like Hitman with history and hair
Sniper Elite 4 might not have the most gripping story to tell, but it makes up for it with good Nazi-thumping fun.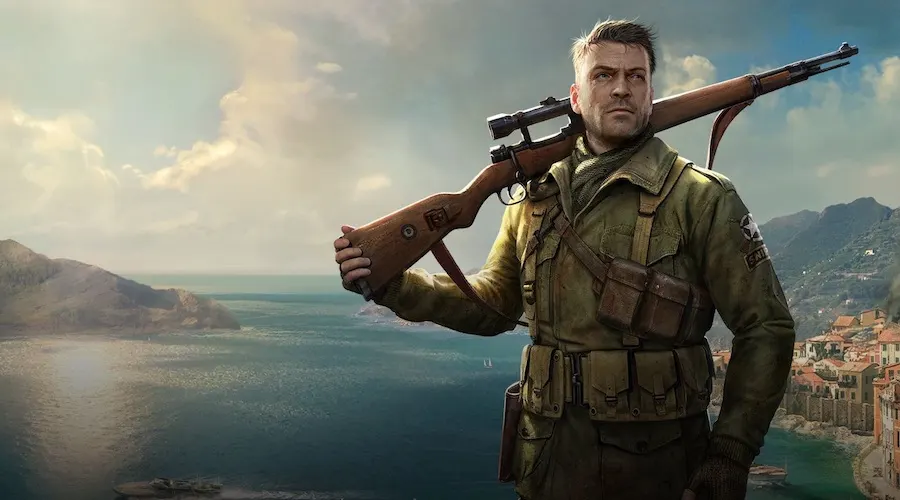 We're reader-supported and may be paid when you visit links to partner sites. We don't compare all products in the market, but we're working on it!
One of the greatest joys we have in life comes from playing Sniper Elite in front of people who aren't desensitised to video game violence. They're generally unfazed until you land a long-shot with a sniper rifle, at which point the X-ray kill-cam goes to work. Bones shatter, innards explode, and wayward shrapnel tears testicles from their moorings. At this point, the observer will suggest that we need to be on some sort of watch list. We cackle.
Sniper Elite 4 is more of what you know, just set in Italy in 1943, in the immediate aftermath of the last game. You'll need to slip into the manly boots of Karl Fairburne, an OSS agent tasked with assisting the local resistance by making all occupying fascists go finito in the most FUBAR ways imaginable.
A holiday is as good as a change it seems. Whereas the last outing was set in the inter-connected arena areas of drab North African deserts, SE4 lets you loose in large open chunks of the picturesque Mediterranean. You can attribute these wide open spaces to Rebellion (finally) ditching the last generation of hardware. The smallest level in this game is three times bigger than anything in the last outing. That means killing from a postcode away is now possible, and, oh, how sweet it feels.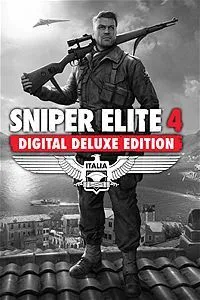 Sniper Elite 4 Deluxe Edition
from Green Man Gaming
This is the the 4th Sniper Elite game in the series, and we can't wait to jump back into the shoes of OSS agent Karl Fairburne as he assists the italian resistance against the Fascists.
View details
We're also happy to say that killing in silence is no longer limited to timing your shots to the cacophony of low-flying aircraft or spluttering engines, nor do you have to rely on your wimpy Welrod pistol. Fairburne is much more spry in the climbing department, and ledge kills are available. Suppressed ammo is out there in limited supply, too, but even if you do go loud, the enemy won't insta-pinpoint you with Jedi surety, like the last game.
Who knows? By the time they respond and flank on your nest (using impressive non-verbal hand signals) you'll probably have relocated to nearby shrubbery. From there, either whistle them directly over to you for a brutal melee kill (also in X-ray), or to a certain booby-trapped spot via a thrown rock. Disabling light sources, like an old-school Sam Fisher, can help you in this regard.

You might avoid being hunted altogether if your first shot is framed to look like an accident. We once caused a small avalanche to send a dude windmilling off a cliff. Another time we shattered a pulley to drop a metric tonne of crap onto an officer. Our personal favourite: exploding some equipment which had a toolbox sitting on top of it. A monkey wrench ricocheted across the room and sank into somebody's head; the responding Nazi "OH&SS" must have been absolutely livid.Aside from the expanded anatomical detail in your victims (plus their machinery), and the aforementioned environmental kills, the shooting itself hasn't changed a great deal. Your accuracy is still at the mercy of your heart rate and lung capacity, which makes sprinting between ambush points a bad idea.
Cadet difficulty gamers can be assured of a great third-person shooter, as they're handed a bunch of assists and are not bound by any significant gravity or wind physics. Three levels above that is Authentic, a beast of a challenge where the Coriolis effect will turn what you think is a headshot into a groin-grazing misfire. Pre-tagging all enemies with your binoculars is a must here, and we dig that the system has been expanded to include useful info about your target's capabilities. 

Enemy AI is improved, but it's not perfect. As mentioned earlier, most of the time enemies will act responsively to a loud threat. We also saw instances of buddies looking for each other when somebody failed to report in.
It's now in your interests to eliminate officer ranks early. Popping them first will ruin company morale and trigger a retreat that causes diminished enemy presence. Give them a window to rally troops, and the battlefield will soon be choked with angry Jerries.
Singling out Colonel Klink can be quite difficult on your lonesome, but it's an incredibly rewarding experience when done in a co-ordinated team of two players. Having one player run interference with machine guns, while your designated Lee Harvey Oswald scours the responders for higher-ups, is a great way to run through the campaign. After that, you can recruit a third member and take on a decent survival mode, or try 'Overwatch' (asymmetrical sniper and spotter missions).
PvP is mostly on target, as well, but some shots go wide. DM, TDM and Control are a thing for some reason, and the run-'n'-gun gameplay isn't tuned well enough to be long-lasting fun. Avoid those in favour of the more sniper-focused modes like Distance King (player with the farthest killshot wins), and No Cross (teams are separated by an impassable No Man's Land). With the right people on board, they're unique and amazing.
Sniper Elite 4 has improved across the board, but it has a way to go. The visual presentation feels a bit vintage, and there's a mild clunkiness to the close-quarters gunplay. Is it there to force you into the long-range options, or just slapdash coding? We couldn't tell you.
What we can say is this: Sniper Elite 4's the most fully formed and fun entry in the series. Lock and load it up.
We reviewed Sniper Elite 4 on Xbox One with a copy provided by the publisher.
Sniper Elite 4
8.0 EXCEPTIONAL
What we liked...
Vastly expanded levels and tactical options
Ditching PS3 enabled a visual upgrade
Some of the best co-op modes on PS4
What we didn't like...
PvP is half great, half generic
Upgrade aside, animations can be clunky
Forgettable plot
VERDICT
We've missed the WWII theatre, and Sniper Elite 4 is a rollicking good reason to get back to Nazi-blasting. Story isn't amazing, but the joy of stealth-sniping –particularly in co-op – is Reich on target.
Available for
For more information on how finder scores games, check our review guidelines.
More guides on Finder