Every bit a sleeper hit: City of Brass review
The left-field indie success with a cool whip.
We're reader-supported and may be paid when you visit links to partner sites. We don't compare all products in the market, but we're working on it!
When a problem comes along you must whip it. Or stab it in the face with a scimitar. Or push it into a nefarious trap that'll impale, immolate or otherwise butcher said problem like a hog. That's the general gist of City of Brass, a first-person-stabber that's a curious mix of the visual aesthetic of Prince of Persia: Sands of Time, the whip sub-weapon from Bulletstorm and the crushing difficulty of a rogue-like.
To casual folks that's the sub-genre that was spawned from Satan's own buttocks to others (including myself), there's a challenge in it worth relishing. Either way, best make peace with the fact that you're about to die many, many times before you'll even catch a whiff of some end credits.
Despite the impressive swashbuckling skills of your mysterious protagonist, the titular city he's unearthed has immense treasure inside that's heavily outweighed by its dangers. A variety of fez-wearing skeletons stand between you and the exit to the next procedurally generated suburb. If these local Brass-holes don't shank, fireball or stick you full of arrows first, the aforementioned pitfalls will. Your piddly health pool allows you to sustain maybe four hits. Marvellous.
---
---
And I don't actually mean that sarcastically. The City of Brass will chafe you in the beginning, but will also become marvellously addictive in a very short amount of time. Killing efficiently is paramount to your success, as is sniffing out secret treasure troves and the loot that's hiding in the many destructible items in this world. Why the kleptomania? It'll give you more choices when you stumble across a randomly positioned merchant genie who'll be peddling the weapons or perk-giving trinket you need to survive.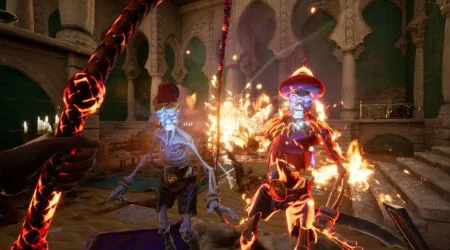 Click to buy City of Brass
from Microsoft Store
View details
The more offensive among you might lean towards a paddle-bat that smacks enemies backwards, or a longer whip that separates the men from the boys (and can slow down, or set foes on fire). Kmart shoppers could also take advantage of the ability to disarm traps in the area, a range of friendly AI bodyguards, some fancy-pants armour fashion-ware, precious heart containers or super-human enhancements to your running and jumping. Sadly, (and this is classic rogue-like behaviour) you'll lose everything when you die, along with your gold. It's get good or go home, wannabe Aladdin.
Fortunately, even with the above stripped-away from your character, City of Brass is a joy to play. Zipping about, pilfering what you need in levels that are constantly reconfiguring is a blast, and there are some cool combat strategies to employ thanks to the whip. L1 will yank enemies a few steps toward you (hopefully into a bottomless chasm) and L2 can sling one-use bombs and exploding lanterns right into your hands. Uppercut Games has perfected a subtle layer of auto-aiming here that lets you swiftly target body parts to blind / trip /disarm foes, too.
If that isn't cool enough, you can clear a room with a quick snap at a lit brazier that can be exploded, or whisk yourself, Indiana-style, out of harm's way by cracking onto an overhead grapple-point. Last but not least, fairly simple sword swipes on R2 can be complemented with an R1 push that shunts enemies into becoming shish-kabobs on spike traps. Satisfaction plus.
The only thing more entertaining than that is whip-catching a ghost chicken, throwing it next to a "red barrel" object and watching its squawky little jive lure in half a dozen enemies who have a flash mob dance party (right before you clean house). City of Brass is incredibly high stakes, but it also has a quirky, tongue in cheek sense of humour running through it that I love.
That makes perfect sense too, because it's the brainchild of six Aussies at Uppercut Games, a dev studio punching well, well above its weight here in terms of presentation. The Arabian nights and Arabian days in this Unreal Engine 4 title are saturated with vivid colouring and attention to detail. And there's a robust templating system going on behind the scenes too -- though you'll repeatedly replay the very first suburb in this magical, shifting sands of a City, every iteration will feel fresh and mysterious.
The only downside I can level at this production: a parity hasn't been maintained across all the platforms. Sorry PS4 owners, but while the XB and PC versions come in glorious 4K, 1080p is all you'll get.
Beyond that disappointment, City of Brass is every bit a sleeper hit. It looks great, the gameplay loop is damn solid and getting handed your own arse will always come with the muttered phrase: "$#&%! Ah, just one more go". And why not? Every new go will inch your level up and improve your base abilities.
One more traipse through the meat grinder will also sharpen your wits and skills with a whip – and those Indy skills will make you faster (thus avoiding the indestructible homing fireballs that'll ghost you when your hourglass runs empty). Do not underestimate the addictive properties of City of Brass. This is whip crack.
We reviewed City of Brass on PlayStation 4 with a copy provided by the publisher.
City of Brass
8.5 EXCEPTIONAL
What we liked...
Surprisingly pretty and well-produced for an indie
Whip combat never gets old
Randomising levels offer a ton of longevity
Quirky humour
What we didn't like...
Iffy collision detection around corners
Difficulty and repetitiveness may grate on some
VERDICT
An indie FPS rogue-like that has been whipped into fine shape. Brutal difficulty meets tactical combat and an infectious looting gameplay.
For more information on how finder scores games, check our review guidelines.
---
More guides on Finder
Handypay Green Loan

A Green Loan from Handypay could help you make your home more energy-efficient. Handypay green loans are available up to $75,000 on terms of up to 10 years.