How Battlefront II's hero Iden Versio makes Stormtroopers look really bad

Motive Studios opens up about how Star Wars' latest leading lady makes shoddy-aiming stormtroopers look even worse.
Iden Versio is more than just the latest strong female lead in the galaxy far, far away. She's been trained from childhood to be the elite of the elite. Such is Iden's prowess, she makes the rest of the Imperial legion look, well, bad enough to have their butts handed to them by a gaggle of forest-dwelling teddy bears.
There's a retrospectively laughable line in Return of the Jedi where Emperor Palpatine brags to captured Luke Skywalker about the trap the young Jedi's friends are about to fall into. According to Palps, "An entire legion of [his] best troops await them." Cue the shrill war cries of three-foot-tall Ewoks making short work of incompetent stormtroopers.
One of the cooler things about Disney's take on the Star Wars universe is that it's dedicating canonised content to fixing what otherwise might be seen as plot holes. For instance, when Revenge of the Sith concluded, it showed the shell of the first Death Star floating in space, about two decades before A New Hope. Four years after the destruction of the original Death Star, during the events of Return of the Jedi, the Empire was close to completing Death Star II.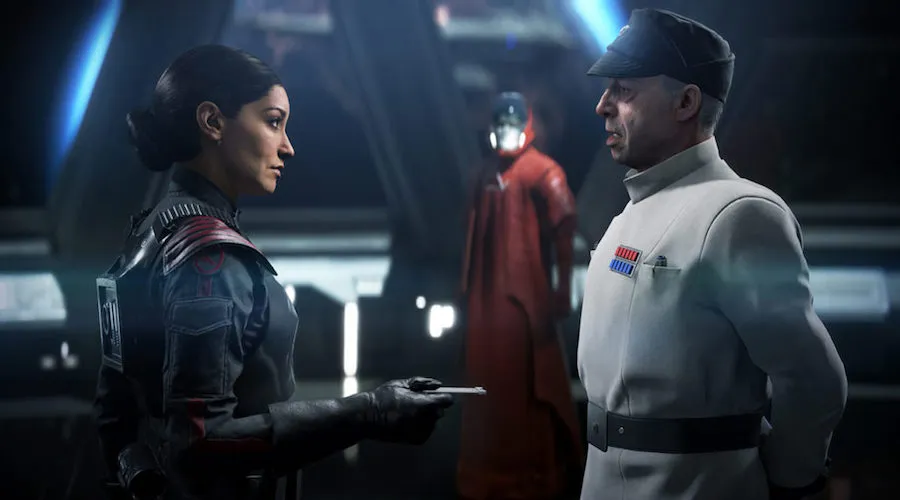 The thing fans were scratching their heads over here was why it took so long to build the first Death Star compared to the second, and why there was a glaring design flaw in the first place. Rogue One is basically an entire movie dedicated to addressing that plot hole, albeit in a very entertaining package.
I've only played just over an hour of Battlefront II, so I can't yet comment on whether the entirety of Battlefront II's campaign is dedicated to addressing the quality of Palpatine's troops (even if a squad of elite troops can't really address the quantity claim), but it seems it's at least somewhat trying to help plug that particular plot hole.
Here's what Motive Studios producer Mike Robillard had to say on the topic of Iden Versio's badassery, as well as addressing the claim about Palpatine's "best troops".
How bad does Iden make stormtroopers look?
"Oh, she makes them look horrible. I mean, she is elite to the bone, with a number of gadgets, the customisable loadouts she has, her companion droid she can send out and shock people with, that can [also] provide information on the battleground by scanning enemies, provide a shield. It's just fun. She's got a whole bunch of gadgets. She's kind of like 007 wrapped into Star Wars."
I'm thinking specifically of that Palpatine line in Return of the Jedi where he brags about a legion of his best troops, and then they get beaten by little teddy bears. Maybe he was thinking more about Inferno Squad?
"Well, yeah, Inferno Squad was set up and they drafted the best stormtroopers out of the Empire to prevent the events that happened on the first Death Star. Obviously, that didn't work out so well, and this is what we wanted to showcase as a story for the campaign."
Looking for the best price on the latest consoles? Finder compares the best deals on PlayStation 4, the biggest bargains on Xbox One and the latest prices on the upcoming Xbox One X.