The Ultimate Guide to Vivid Sydney 2021
We've sourced the best spots (and installations) for you to "do" Vivid right.
We're reader-supported and may be paid when you visit links to partner sites. We don't compare all products in the market, but we're working on it!
Vivid 2021 update
Vivid will be going ahead this year from 6 - 28 August 2021. We'll update this page with more information as it becomes available.
What to do at Vivid Sydney
---
Latest news about Vivid Sydney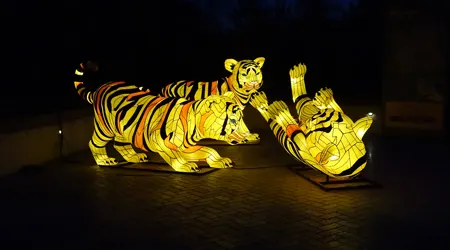 Our top three precincts for a Vivid Sydney date night. Plus, the three most romantic installations in the city.
Read more…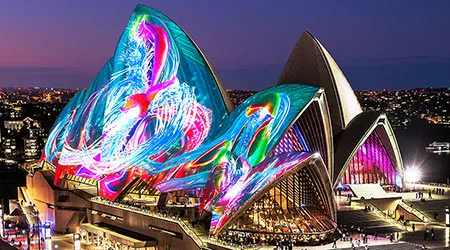 Our picks for the five best Vivid Sydney displays this year, and three worth skipping when the festival starts at 6pm on 24 May, 2019.
Read more…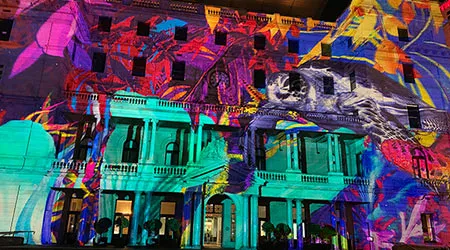 From fan favourites like Customs House and the MCA to the interactive Electric Playgound, here's where to go this year.
Read more…
What to expect from Vivid Sydney
Here's what we saw at Vivid last year.
Vivid displays
This year's displays have yet to be announced. However to give you an idea of what to expect last year Vivid placed a massive focus on quality over quantity delivering larger than life installations including a custom one-off projection of Pixar's flicks at the Argyle Cut.
Of the standard locations, the Sydney Opera House's Lighting of the Sails remains a perennial favourite and is a must-see on any journey through this festival of light. As is the projection on Customs House outside Circular Quay station.
Here are some of the highlights from 2019:
Image: Vivid Sydney 2019
Custom House gets a watery makeover Under the Harbour where neon sea creatures swim through botanical wonderlands in a spectacular feast for the eyes.
The Museum of Contemporary Art pays tribute to its artist's (Claudia Nicholson) home country of Colombia. It's gritty, emotional and romantic all at once.
A real highlight this year can be found in The Rocks at the Argyle Cut. A Pixar debut, it's a childhood dream that details the history of the technical evolution of animation and is projected onto the tunnel rooftop. The road will be closed throughout Vivid so you can lie on the floor to see it all.
The Royal Botanic Gardens will tower over the rest with its slew of larger-than-life displays. This includes an engineering feat of 500 fireflies, a satellite that responds to the lights and sounds of space and dancing blades of grass that reach up to 4.5 metres tall and is bound to be an Instagram success according to Vivid Lights curator Lucy Keeler.
If you're bringing the kids, Keeler suggests heading to Darling Harbour to meet Robot SPACELand. It's a five-storey high eco-bot made of found objects that is destined to mesmerise and delight.
Under the Harbour @ Customs House
Firefly Field @ The Royal Botanic Gardens
Argyle Cut by Pixar Animation Studios @ The Rocks
Image © Disney/Pixar
KA3323 @ The Royal Botanic Gardens
Robot SPACELand @ Barangaroo
Dancing Grass @ The Royal Botanic Gardens
---
Vivid Sydney Maps
While 2020's Vivid Sydney installations are yet to be confirmed, here's where you'll typically find the displays.
Images from Vivid Sydney
Vivid LIVE and Vivid Music
Artists from around the world join the Vivid LIVE line-up each and every year with performances being held at the Sydney Opera House, City Recital Hall, Carriageworks and smaller venues around the city and inner city.
In 2019 the line up at the Sydney Opera House included The Cure, Maggie Rogers, Underworld and Herbie Hancock.
Stay tuned for 2020's line-up.
Image: Vivid Sydney
---
---
Vivid Ideas
Influences from all walks of life, including filmmakers and artists, discuss ideas with other industry leaders. Big names that have come and gone include Spike Lee, Esther Perel, Sebastian Smee and Jocelyn Brewer.
---
Vivid food
All along the Vivid walks, restaurants offered specials to lure in visitors. While heaps of places offered specials and remained open later than usual, only a select few were offering something vividly spectacular for your eyes and your tastebuds.
Here were our top picks from the 2019 event:
Opera Bar
We reckon it's pretty fair to say that Opera Bar had the best seats in the house. It sits right below the lit up sails, and looks out toward the Harbour Bridge and Luna Park. The bar always showcases a trio of colourful cocktails, live music and good vibes overall.
Expert tip: For those looking to maximise the experience, but keep the cost down, there are often food trucks galore hanging in the Opera House forecourt. Grab something cheap and on-the-go, to make the most of your evening out.
---
The American Express Lounge
Now in its fourth year at the festival, American Express holders will again nab a VIP pass to one of the most relaxing spaces in the heart of the action. All you need to do is flash your card at the Cruise Bar rooftop on level 3 of the Overseas Passenger Terminal and you'll be ushered into a world of panoramic harbour views and complimentary nibbles. It is open every night of Vivid from 5.30-10.30pm.
For more info: Visit the American Express Lounge
---
The Royal Botanic Gardens
On a date? Looking to romance it up? The place to be is The Royal Botanic Gardens. Enclosed from the big city by the gardens and surrounded by the lights of Vivid's finest installations, it's a setting that's sure to make your date swoon.
For more info: Vivid Sydney
---
Barangaroo
The Barangaroo precinct was already a magnet for foodies with its array of high-end restaurants and crowd favourites. Add Vivid into the mix and you never know what to expect. Colourful cocktails? Neon desserts? The sky's the limit.
---
Where to stay during Vivid Sydney
Are you visiting Sydney just to see the Vivid lights? (We don't blame you). Or, perhaps you want to avoid the madness that is Sydney transport by making the CBD your home base for the evening? Whatever your reasons, there are some beautiful hotels in the city you can check into to make seeing the Vivid lights that much more enjoyable.
They also have some kickass views of the lights, too. #winning
---
What do I need to know about Vivid Sydney?
Is Vivid Sydney free?
Yes, Vivid Sydney's displays are completely free to access. However, if you'd like to join a cruise or bridge climb, then you'll need to pay for admission to those attractions.
What time does Vivid sydney start?
The Vivid Sydney light displays will be turned on at 6pm each night during the festival.
How does Vivid Sydney work?
Being a free event throughout Circular Quay, The Rocks, Barangaroo and Darling Harbour (with smaller displays in other parts of the city), Vivid is like a giant open-air gallery. It's a free event where you can walk around and check out light-based displays and illuminations created by a range of artists. There are guides available and each attraction is signposted and explains what it is you're looking at and who created it.
Are there many Vivid Sydney road closures?
Many roads leading toward Circular Quay and The Rocks will be closed or restricted during the event. Given those limitations, and the road closures throughout the city, it's recommended to take public transport to Vivid. There will be increased public transport services available during the event, and the ferries will be illuminated each night from 6pm.
How long does Vivid Sydney go for?
The festival runs for 23 days from late-May until mid-June.
When did Vivid Sydney start?
Vivid Sydney has been lighting up the Sydney foreshore since 2008. It began as a light festival promoting energy efficiency with light paintings displayed on the sails of the Sydney Opera House.
Can I do a Vivid Sydney Harbour Bridge Climb?
Yes! The twilight and night-time Bridge Climbs are available during Vivid and offer panoramic views of the harbour displays.
Do you have any tips on how to photograph Vivid Sydney?
If night photography isn't your forte, consider joining a night photography class prior to the festival, or even during the festival to try and capture the best images.
More guides on Finder