Smoke alarm Finder: Choosing the right smoke alarm for your home
Learn how to choose a smoke alarm that meets your needs while complying with state laws.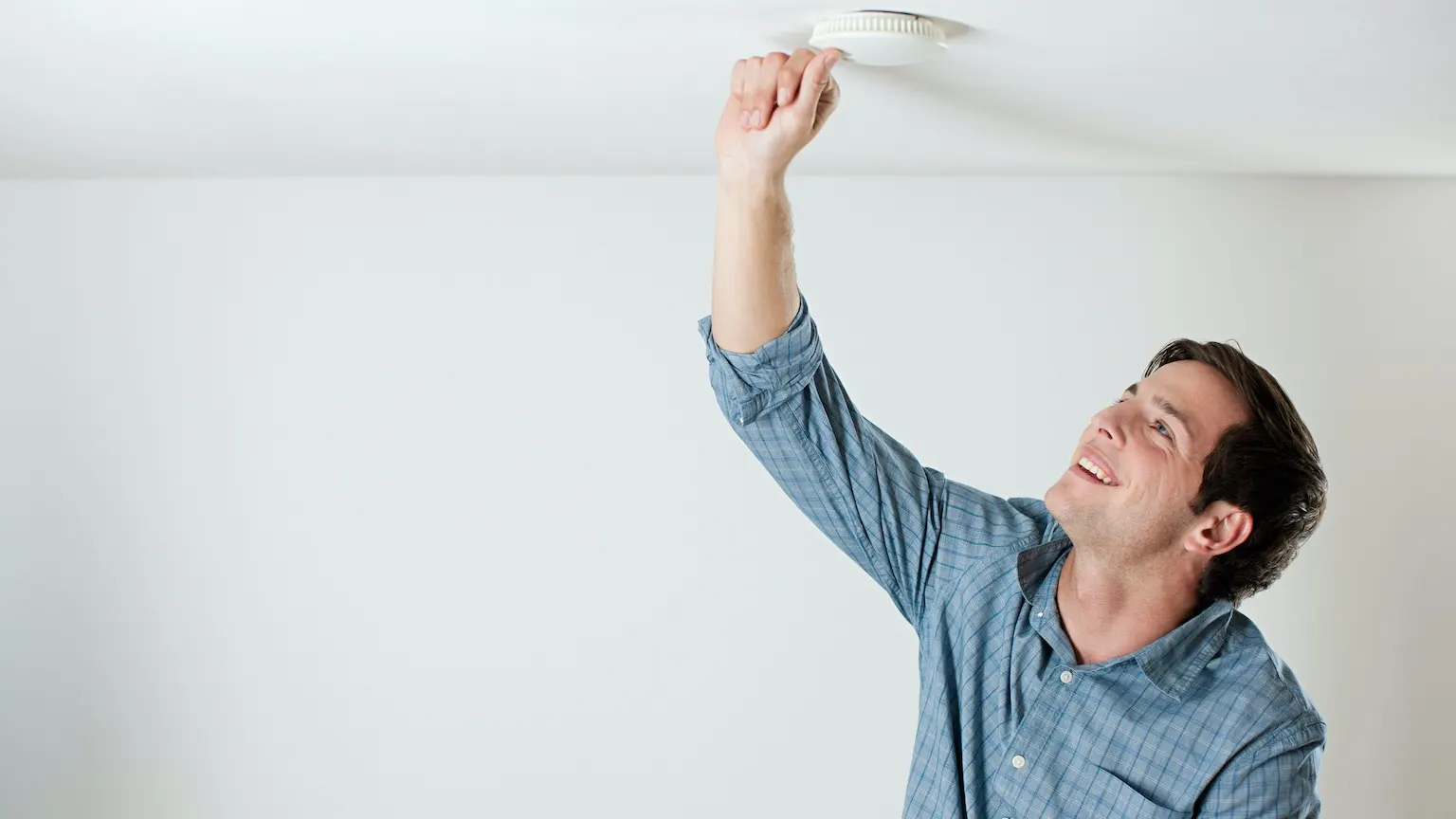 We're reader-supported and may be paid when you visit links to partner sites. We don't compare all products in the market, but we're working on it!
Best Rated Smoke Alarms Brand: First Alert
With the top rating for ease of use, design and value for money, First Alert has taken out this year's smoke alarm category award.
Quick facts about smoke alarms:
A house fire can cause damage to your home and property as well as endanger your life and the lives of your loved ones.
However, your risk of a residential fire resulting in death is cut in half* if there is a working smoke alarm installed in the home.
Australia has strict regulations to make sure every residence has an effective smoke alarm.
Types of smoke alarms
In some parts of Australia, you can choose between two different types of smoke alarms: ionisation models and photoelectric models. However, many states recommend the use of a photoelectric alarm.
Ionisation
Ionisation smoke alarms are able to detect small particles that enter an ionisation chamber. When the number of particles in the chamber reaches a certain threshold, an alarm sounds. Unfortunately, the types of particles detected by ionisation alarms are generally only created when there is a flaming or very hot fire. These fires don't produce much smoke but do burn very quickly. A slow-burning fire that does not produce large flames or visible particles but does produce dangerous smoke may not be detected by an ionisation alarm. Ionisation alarms also frequently pick up flames and heat from cooking, so it is not recommended to install one near a kitchen.
Photoelectric
Photoelectric alarms are recommended by most fire services across Australia. This is because photoelectric alarms can detect a fire much more quickly than ionisation alarms can – especially a fire without large flames. These alarms work by using a beam of light to detect visible smoke that enters a chamber. When the amount of visible smoke reaches a certain threshold, the alarm is triggered. Photoelectric alarms are much more sensitive to smoky, smouldering fires than ionisation alarms. They will often be triggered faster than ionisation alarms.
Battery-powered vs hardwired
Some smoke alarms are powered by a battery, while others are hardwired or mains-powered. Hardwired models are typically installed in a house during construction as they need to be connected directly into the household power line. These units also include a backup battery in case of power loss. Depending on where you live, you may be required to have a hardwired smoke alarm with a backup battery installed in your home.
No matter which type of alarm you have, the batteries will need to be replaced regularly. For those of us who forget when it's time to change the batteries, battery-powered models signal an alert when the batteries are running low.
State requirements
Just about every home in Australia is legally required to have at least one smoke alarm. Australian Standard 3786 dictates the rules each residence must follow. However, some states use different versions of standard 3786. To find out the specific standards for your state, check the official government websites for your state below:
How to compare smoke alarms
The cost of an ionisation alarm ranges from $10 to $50 and the cost of a photoelectric alarm ranges from $20 for a basic model to $100 or more for a model with additional features. Generally, you should replace your smoke alarm at least every ten years.
Keep in mind, you may also have to pay for installation. The cost of installation will depend on the size of your home, how many smoke alarm are required, the height and type of ceilings in your home, the structure of your home and individual circumstances.
When shopping for a smoke alarm, look for the following features:
Meets safety standards
Australian Standard 3786 sets the standard for all smoke alarms in Australia. Different states use slightly different versions of the standard, so make sure to check your state requirements. Typically, smoke alarms sold by reputable vendors will all state clearly on the packaging that they meet Standard 3786 and feature the Australian Standard logo.
Battery
Look for a long-lasting battery. Lithium batteries have a 10-year lifespan, so you won't have to remember to replace your batteries every year. Some models include a battery with the alarm unit, while other alarms require a separate battery.
Low-battery warning
Battery-powered alarms should include a low-battery warning to remind you when you need to replace the battery. Hardwired alarms may or may not include a low-battery warning.
Mute or silence button
Many alarms include a mute or silence button so that you can turn off the alarm when it accidentally goes off. Some alarms have a mute feature that connects to your TV remote or smartphone, so you can mute the alarm easily without having to mess around with the actual alarm unit. Having a smoke alarm directly in your kitchen is not generally recommended, but if you do decide to do so, look for a model with a mute button so that you can shut it off the next time you burn some toast or make a smoky stir-fry.
Safety light
Many alarms include safety lights to provide an additional warning in case of fire. These lights can also help you safely exit your home if the power goes out during a fire. Some models with lights are specifically for people with hearing difficulties, and often feature strobe lights and extra loud alerts.
Connectivity
Some units can connect to security systems, smartphones, smart speakers and other smoke alarm units. Interconnected smoke alarms will all go off each time one of the alarms is triggered. This means that everyone in your home will be alerted, no matter where a fire originates. Depending on where you live, the size of your home and when your home was built, you may be required to have interconnected alarms installed in your home.
Test button
Smoke alarms come with a test button so that you – or your landlord or strata – can ensure the alarm is working. A few models allow you to test them using a remote control or by flashing a light at the alarm unit.
Insect screen
Some high-end models include an insect screen to keep insects out of the alarm and stop them from triggering the alarms sensors.
3 things to consider
How to install a smoke alarm. Smoke alarms need to be installed by licensed electricians in most states and hardwired alarms always need to be installed professionally. Installing a smoke alarm illegally, improperly or not at all may result in fines or even criminal charges. If you are unsure about who can install your new smoke alarm, check out the specific regulations for your state.
Where to put your smoke alarm. Depending on where you live, you may be required to have a smoke alarm in each bedroom, hallway and stairway. Generally, it's not recommended to have a smoke alarm in your kitchen as cooking can set off false alarms. However, cooking is the leading cause of residential fires, so it's a good idea to have a smoke alarm nearby. Ionisation alarms are prone to false alarms from cooking, so look for a photoelectric alarm to install near your kitchen.
How many smoke alarms do you need? Every home needs at least one smoke alarm. The total number of required alarms in your home depends on the size and layout of your home and on the number of stories your home has.
If a fire started in your home, would you know what to do?
---
Best rated smoke alarm brand award breakdown
| | Total Score | Overall rating | Value for Money | Design | Ease of Installation | Ease of use |
| --- | --- | --- | --- | --- | --- | --- |
| Other | 8.29 | 4.55 | 4.18 | 4.36 | 4.36 | 4.55 |
| First Alert | 8.17 | 4.46 | 4.4 | 4.38 | 4.4 | 4.38 |
| Quell | 8.07 | 4.4 | 4.32 | 4.32 | 4.26 | 4.44 |
| Fire Pro | 7.78 | 4.22 | 4.14 | 4.12 | 4.24 | 4.28 |
| Family First | 7.74 | 4.15 | 4.2 | 4.2 | 4.29 | 4.24 |
| Fire Sentry | 7.7 | 4.16 | 4.09 | 4 | 4.28 | 4.34 |
Data: Finder Retail Brand Survey, 2020, Kantar. Metric out of 5 stars unless indicated. Methodology and more info.
*Source: Fire and Rescue NSW 2018
More guides on Finder