Compare meal delivery and meal kit services
Compare Australia's meal delivery and meal kit services to find a service that best suits your needs.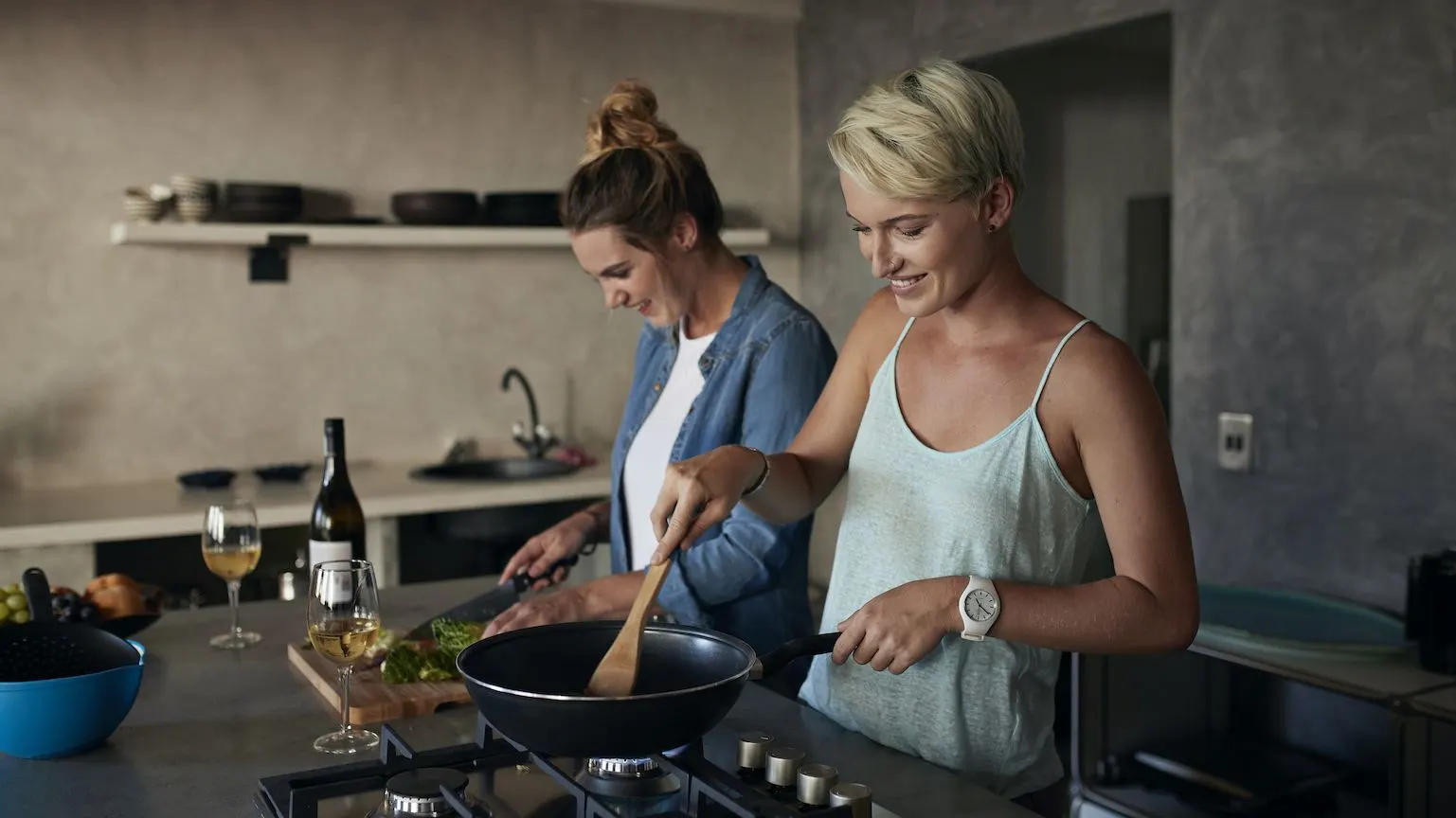 We're reader-supported and may be paid when you visit links to partner sites. We don't compare all products in the market, but we're working on it!
Best Rated Meal Delivery Services Brand: Youfoodz
Youfoodz topped the list for variety, helping it take out the overall best meal delivery service against competitors MarleySpoon, HelloFresh and Dietlicious. It also ranked highly for taste and timely delivery – both important when you've got the munchies.
Compare meal delivery services
What is a meal delivery service?
A meal delivery service offers fresh, wholesome produce prepared, packaged and delivered to your door in ready-made meal form. Some services deliver their meals fresh, some are frozen. It's important to check how the meals are chilled before you decide to subscribe. We have done the hard work for you and will provide these details in the table below.
Customers sign up to the service online, pick their plan and have a specific number of meals delivered to their door on a weekly basis. These pre-proportioned meals come in plastic containers labelled with nutritional information.
Youfoodz, Gourmet Dinner Service and Dinner Ladies offer fully prepared meals. Customers can choose from their dedicated meal lists before ordering. The meals are then delivered in insulated cool boxes on a specified date.
Meal delivery services vs meal kits
Meal kit delivery services, or food boxes, provide all the ingredients for each meal along with menus for the week, meal cards and cooking instructions. These services sometimes offer healthy eating guides and diet plans that are devised for your personally.
The number of meal kit delivery options is steadily increasing to meet the growing demand of busy people who don't want to forgo a healthy, well-balanced diet of home-cooked food.
Companies like HelloFresh, Marley Spoon and The Cook's Grocer offer a variety of subscription and pay-as-you-go food box services, which deliver meal kits with all the ingredients you'll need. Meal cards show how each meal needs to be prepared and the cooking time. Many companies try to keep meal prep and cooking within the 30-minute mark.
What ingredients do you need?
Meal kits will require you to have some staple ingredients at hand to be able to complete the meal. These include olive oil, salt, sugar and milk. Most of the services will tell you what extras you'll need when you order or the week before your box arrives. The meal kit should include any extra ingredients you need to make the meal.
Pros and cons
Convenience. Not everyone wants their daily diet to come pre-packaged. You may want to choose only one meal a day to cut down on your cooking time. Or maybe you enjoy cooking, but don't always get around to it and want to avoid takeaway food. Having healthy meals at the ready provides a flexible solution to a busy life.
Easier decisions. Knowing you have a batch of meals in the fridge or freezer means you don't need to think about what to make. And if you've chosen a meal kit, even the small extras like herbs and spices are provided for you.
Less food waste. Most meal kit companies provide just the right amount of ingredients so that there is little waste. If you order from the same company regularly, you'll soon learn what extras they send so you don't have to buy these at the shops.
Nutritious meals. Every meal prepared has been created to assist in maintaining a well-balanced, healthy diet. If you're prone to snacking on unhealthy food, at least you know one meal of the day is packed with goodness. Some companies use dietitians or nutritionists to help build their menus.
Learn how to cook. Meal kit services provide easy-to-follow cooking instructions with every meal, which gives you the opportunity to cook new dishes or learn how to cook properly for the first time.
Less shopping. Signing up for a meal service means you only need to hit the shops when you're running low on the essentials.
Lack of flexibility. Some meal delivery services focus more on the protein in the meal rather than the veg, therefore you may need to buy extra to ensure you get a good portion of vegetables with every meal. Some services offer vegetables as a side dish, however, this will increase the total cost of the meal.
Portion sizes might not suit your needs. Many companies make the same size meal for all, while others recognise that a 5-foot woman will need less than a 6-foot man. You may want to check out the services that offer varied portion sizes rather than just one.
Not usually designed for large families. Life can be incredibly busy for families in which both parents work. Having meals delivered makes for an easier life, but some of these services don't send enough food for large families, which means you'll need to hit the shops anyway. You'll need to hunt for the companies that offer larger family portions.
Requires storage. Not everyone has a large fridge or chest freezer in which to store a week's worth of meals. Having enough space to store the meals will dictate which service you join and how much you can order.
How to compare meal delivery services and meal kits
When choosing the right option for you, consider the following factors:
Dietary requirements
Many meal delivery services cater to different dietary requirements. Some are vegan-only, some offer paleo options and others are specifically designed for diabetics. Most companies have vegetarian and gluten-free options. If you have specific requirements or allergies, check with the service before you sign up.
Family size
Many of the promotions you'll see are based on a two-person subscription. It's important to check the fine print of each offer to ensure you don't get hit with extra costs when you sign up.
Cost
Meal delivery and meal kits services are more expensive than buying your groceries in the supermarket. Before you sign up for a service, compare the costs with your average shopping bill. Keep all the receipts from your shopping for the month and record what you spend on food items separately.
Terms and conditions
No matter what you buy online, it's important to check terms and conditions. Meal delivery services may have a minimum spend amount or ask that you sign up for at least one month. Some services will allow you to pay as you go. Also remember to check the FAQ of each service for more information, or get in touch with the company directly.
Which meal delivery services have keto meals?
Order keto-friendly meal plans with any of the following companies:
Which meal delivery services have vegan meals?
Keep it plant-based with these meal delivery services:
Soulara
My Muscle Chef
Chefgood
Foober
Flave
Garden of Vegan
Fresh n Lean
Herbidoor
What's the cheapest meal delivery service?
Based on the average price of the meals, Gourmet Meals comes in as the cheapest at $6.38. This doesn't include customised meal plans.
In terms of delivery, Dinner Sorted, Marley Spoon, Core Powerfoods, The Cook's Grocer, Be Fit Food, Food Club Australia, Pepper Leaf and Tender Loving Cuisine offer free delivery across the board.
Are meal delivery services more expensive than buying groceries?
This depends on the meal service and the grocery store. In most cases, buying groceries works out cheaper as you have the option to buy more for less and choose the store's home brands.
Which meal delivery services provide kits, and which ones provide pre-made meals?
Where to buy meal kits:
Dinner Sorted
The Cook's Grocer
The Cook's Grocer
Dinner Twist
Pepper LEaf
Kelly Cube
Home Chef
Where to buy pre-made meals:
Youfoodz
Core Powerfoods
Tr1ve
Dinner Ladies
Eat Fit Food
Muscle Meal Direct
Fit Foods Club
Gym Food Australia
Workout Meals
Hexey
Primal Foods
Soulara
Dineamic
My Muscle Chef
My Goodness Organics
Lite n' Easy
Chef Good
Dietlicious
Be Fit Food
Food Club Australia
Gourmet Dinner Service
Gourmet Meals
Caveman Kitchen
Diabetes Meals Online
Tender Loving Cuisine
Foober
A Life Plus
Herbidoor
Flave
Garden of Vegan
Fresh n Lean
Which meal delivery kits are good for singles?
Dinner for one is made easy when you order with:
Youfoodz
Core Powerfoods
Tr1ve
Eat Fit Food
Muscle Meals Direct
Fit Foods Club
Gym Food Australia
Workout Meals
Hexey
Primal Food
Soulara
Dineamic
Five Point Four
My Goodness Organics
Lite n' Easy
Chef Good
Dietlicious
Be Fit Food
Food Club Australia
Gourmet Dinner Service
Your Private Chef
Gourmet Meals
Kelly Cube
Caveman Kitchen
Home Chef
Diabetes Meals Online
Tender Loving Cuisine
Which meal delivery kits are good for families?
Enjoy family-sized meal kits with:
Dinner Sorted
Dinner Ladies
The Cook's Grocer
Dinner Twist
Gourmet Dinner Service
Your Private Chef
Pepper Leaf
Kelly Cube
Macros
Meal delivery services and the NDIS
If you receive support through the National Disability Insurance Scheme (NDIS), part of the cost of your meal delivery service could be covered. To qualify, delivered meals must be considered reasonable and necessary in your support plan. The NDIS typically only covers the cost of meal prep and delivery, so you'll likely still have to pay for the cost of the ingredients.
Providers offering NDIS services include:
Dineamic
Tender Loving Cuisine
Gourmet Meals
THR1VE
The Good Meal
Fresh Meals 2 U
*Disclaimer: Meal delivery services are designed with your health in mind, however, if you have any ongoing health issues it is important to check with your doctor before embarking on a weight loss plan or new diet regime.
---
Best rated meal delivery service brand award breakdown
| | Total Score | Overall rating | Value for Money | Taste | Variety | Timely Delivery |
| --- | --- | --- | --- | --- | --- | --- |
| Soulara* | 7.85 | 4.38 | 4.25 | 4.25 | 4.13 | 4.50 |
| Other | 7.79 | 4.26 | 3.96 | 4.24 | 4.08 | 4.40 |
| Youfoodz | 7.74 | 4.20 | 3.98 | 4.22 | 4.26 | 4.38 |
| Dietlicious | 7.61 | 4.13 | 4.33 | 4.33 | 4.00 | 3.87 |
| HelloFresh | 7.57 | 4.14 | 3.74 | 4.20 | 4.02 | 4.24 |
| Lite 'n' Easy | 7.51 | 4.15 | 3.75 | 3.90 | 4.02 | 4.21 |
| Marley Spoon | 7.34 | 3.96 | 3.90 | 3.98 | 4.10 | 4.35 |
| Chefgood | 7.30 | 3.78 | 3.89 | 3.94 | 4.11 | 4.22 |
| My Muscle Chef | 6.71 | 3.68 | 3.44 | 3.56 | 3.80 | 4.00 |
*Brand did not meet the sample threshold to qualify for the award
Data: Finder Retail Brand Survey, 2020, Kantar. Metric out of 5 stars unless indicated. Methodology and more info.
More guides on Finder