How to live stream UFC online in Australia
Catch every bone-crunching blow live and on-demand as we compare UFC Fight Pass, Foxtel Main Event, Kayo Sports and more.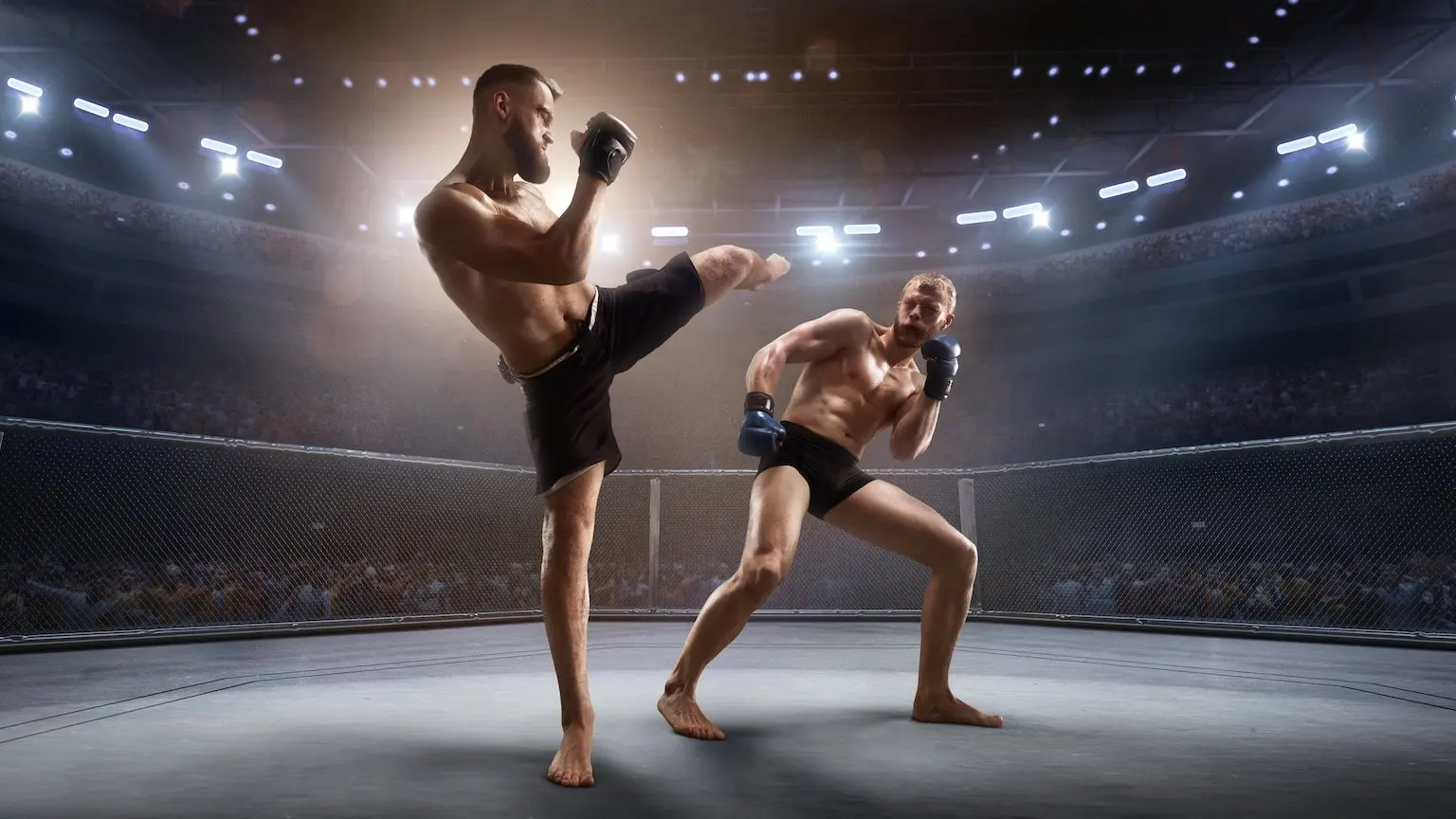 Update: The next big UFC event is here. Check out our UFC Fight Night 174: Whittaker vs Till viewing guide
It's not cheap being a UFC fan. Tickets for fights typically cost well in excess of $100 each, and even staying home and watching pay-per-view broadcasts can set UFC Australia fans back a small fortune. However, there are other ways to watch UFC that won't break the bank, so let's break them down. Also see our UFC schedule to keep track of this years event.
Option 1: Live streaming UFC in HD with Kayo
Kayo Sports offers selected parts of all the UFC Main Events with replays available as well. This is thanks to Kayo Sports' access to ESPN content. In almost all cases these are the four fights that make up the Undercard, not the full evening's fightpass. (The Main Card can only then be watched through UFC Fight Pass and Foxtel Main Event.)
However, Kayo Sports does broadcast entire UFC Fight Nights (so, the alternate weekends from the main numbered UFC events). This comes with the services iconic features, including SpitView (watch four channels at once), No Spoilers (hide scores), Key Moments (a timeline of the biggest highlights of a match), Interactive Stats, choose your own camera and more, You can read all about it in our Kayo Sports review.
UFC on Kayo Sports works with Macs/PCs, iOS and Android smartphones and laptops, ChromeCast, Telstra TV, Android TV, Apple TV and Samsung TV (2018 or later). Subscribers get to choose between two price points - $25/month to be able to watch on two screens at the same time or $35/month to enjoy three simultaneous streams. A 14-day Kayo free trial is available for new customers, too, so you can check it out with ease.
Option 2: Live streaming UFC in HD with Foxtel
Foxtel broadcasts the same selected parts of UFC events, including live coverage of UFC Fight Night, as Kayo Sports. To be able to watch, you will need the Sport Package, which is a premium add-on to the standard entertainment package regardless of whether you subscribe to Foxtel Now or Foxtel IQ. The minimum price per month for these services is $54 and $74 respectively as a result.
Once subscribed to Foxtel IQ, you can watch UFC and MMA events on your TV. Alternatively, you can stream Foxtel content to your laptop or mobile device with the Foxtel GO app, which you get for free as a Foxtel client. UFC Australia fans can download the app from Google Play or the App Store, enter your Foxtel ID, and enjoy. To stream on your laptop, check out the Foxtel website.
Foxtel Now, on the other hand, is a purely streaming service, and therefore the better option for those who want to stream UFC. Foxtel Now works on PCs/Macs, mobile devices, Chromecast/Airplay, PS4, Telstra TV, and the Foxtel Now Box. New subscribers get a 10-day free trial.
To watch the Main Card of any UFC or MMA event, you can access the Foxtel Main Event pay-per-view experience. You will need to order Foxtel Main Event in advance and prices can vary depending on the magnitude of the clash, but expect to pay around $54.95.
Option 3: Watching UFC with Fetch TV
Fetch is an official partner of the UFC. EDGEsport, available in the Vibe Pack, enables fans to watch weigh-ins, prelims, pre and post-fight shows and UFC Fight Nights. Users can also watch on mobile devices using the Fetch app. You can also tune in for pay-per-view events on your TV on Channel 991, or on your mobile device using the Fetch app. Fights are available to purchase via your Fetch box two weeks before the fight.
The UFC Fight Night events are included in the Vibe Pack, which costs only $6/month. Although the total price of your Fetch subscription will change based on whether you get your Fetch box through a broadband provider or buy it outright. For the full UFC experience, however, you will still need to purchase the main UFC events through Main Event at $54.95 each.
Option 4: Watching UFC through PlayStation 4
It is possible to purchase and watch the full fight pass evening of UFC through a PlayStation 4. If you head to the LiveEvents section of the PlayStation Store, you can purchase access for $71.49 (or $64.34 if you are a PlayStation Plus member) and then watch it through the My Videos app. The experience is comparable to the UFC Fight Pass or Foxtel Main Event experiences.
Option 5: Streaming UFC with UFC Fight Pass
Dubbed "Netflix for fight fans", UFC Fight Pass is a subscription streaming service providing live and on-demand streams of the biggest fights and events on the UFC calendar. Compatible with TVs, PCs, Macs, and IOS and Android mobile devices and tablets, UFC Fight Pass gives fans 24/7 access to the world of UFC.
It's important to note that on the big main numbered UFC events, only the Undercard prelims are shown live through UFC Fight Pass. The Main Card is found live through Foxtel Main Event. However, these fights do come to UFC Fight Pass at a later date.
UFC Fight Pass FAQs
Option 6: Watching UFC and MMA on free-to-air
In 2018 there was a landmark deal, whereby Network Ten got to broadcast two major UFC events live and free through the course of the year. As a side bonus, MMA fans could watch the new season of The Ultimate Fighter. All events were shown on the station's digital channel, One. The deal marked the first time UFC Australia fans could watch UFC or MMA events on free-to-air TV, but so far in 2020 another deal has not been announced. UFC Fight Pass and Foxtel Main Event retain control.
Latest sports streaming news
Picture: MartialArtsNomad/Flickr
Related Posts