Compare top-loading washing machines: What to look for and how to choose
We'll walk you through the steps to choose a top-loading washing machine that will make doing laundry quicker and easier.
We're committed to our readers and editorial independence. We don't compare all products in the market and may receive compensation when we refer you to our partners, but this does not influence our opinions or reviews. Learn more about Finder .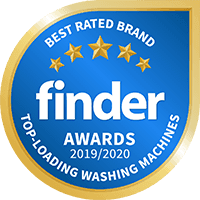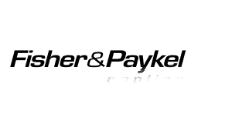 Best Rated Top-Loading Washing Machine Brand: Fisher & Paykel
New Zealand-based appliance manufacturer Fisher & Paykel received the highest overall score from surveyed top-loading washing machine customers. Owned by Chinese electronics and appliance company Haier, the brand was recommended by 93% of surveyed users. Fisher & Paykel is also the Finder Retail Awards winner for clothes dryers.
Quick facts about top-loading washing machines
Top-load washing machines are cheaper to buy than front-load washing machines, but they have higher running costs.
When you're choosing a top-loader, consider the washing capacity, size, energy efficiency and water usage.
Prices typically range from $350 up to $2,000.
Compare top-loading washing machines
Top-loading vs front-loading washing machines
You have two options to choose from when buying a washing machine: top-loading washing machines and front-loading washing machines. The obvious difference between the two is where you load and unload clothes into the machine, but each type of machine also uses a different washing style.
While front-loaders use a spinning drum to tumble the clothes around, top-load washing machines feature either a pole or a device much like a propellor inside the drum to wash the clothes. This simple design means that top-loaders are efficient at removing dirt, but also take up more floor space than front-loading washing machines.
If cost-effectiveness is the number one factor you consider when buying a washing machine, a front-loader is the best choice. These models generally use less power and water than top-loaders, so they're cheaper to run.
However, if you're a renter and you regularly move house, the top-loader's lighter weight is a big bonus. Also, if you have a bad back or mobility issues, you may find that a top-loader offers easier access than a front-loader.
For more information on how to compare top-load and front-load washing machines, check out the table below.
Pros
Cons
Top-loader

Cheaper than front-loaders
Quicker wash cycles
Lighter to carry and move
You can add clothes to the wash mid-way through a cycle
Easier to load and unload than front-loaders

More expensive to run than a front-loader
Uses more energy and water
Not as gentle on clothes
Requires more detergent
Can't be stacked with a clothes dryer
Takes up more space

Front-loader

More energy and water efficient
More gentle on clothes
Stackable with a clothes dryer
Uses less detergent
Takes up less space

More expensive
Longer wash cycles
Clothes can't be added mid-cycle
Requires you to bend down to load and unload
Heavier
What types are available?
There are two different types of top-loading washing machines to choose from:
Agitator top-loading washing machines. These models use a pole (known as an agitator) located in the centre of the drum to move your clothes around. This ensures efficient cleaning performance but isn't all that gentle on clothes.
Impeller/pulsator top-loading washing machines. These machines use a device much like a propellor at the bottom of the drum to move the water and your clothes around. While they can cost more to run than agitators, they potentially provide a larger washing capacity in a machine that takes up less space.
How to compare top-loading washing machines
Make sure you consider the following factors before deciding on the best top-load washer for your needs.
Capacity
Washing machine capacity is measured in kilograms, with machines generally ranging from 5kg to 16kg capacity. While a 5-5.5kg machine may be sufficient for 1-2 people, larger families will probably require a 7.5kg or higher capacity machine.
Dimensions
Make sure the washing machine you buy fits in your laundry with sufficient room above the machine to open the lid and add clothes. Top loaders obviously aren't suitable to be installed under a benchtop, or to have clothes dryers or other items stacked on top of them.
Price
Top-loading washing machine prices vary based on the machine capacity and the level of advanced features you need. Entry-level 6kg models can be purchased for as little as $350, while high-capacity models with all the bells and whistles can cost $2,000 or more.
Water usage
Under Australia's Water Efficiency Labelling and Standards scheme (WELS), new washing machines feature a label that lists their water efficiency. This includes a rating out of 6 stars (the higher the better) and a figure detailing the machine's rate of water consumption.
Programs
A range of wash settings can give you greater control over how you wash your items, but more programs usually come at a higher price. Consider any specific settings you might need such as for one for washing baby clothes.
Some machines can sense the size and nature of your load and choose a water level and program type accordingly.
Energy efficiency
The Energy Rating Label rates a washing machine's energy efficiency on a scale of 0 to 6 stars – the more stars, the less power the machine consumes. The label also lists the amount of energy that the washing machine uses each year (in kilowatt-hours).
Ease of use
If you're shopping in store, take the machine for a test drive to get a better idea of how it will perform in the real world. Can you open the lid and load clothes easily? Are the controls clearly labelled and within reach?
Warranty
Check the fine print to find out the length of the manufacturer's warranty and what it covers.
Spin speed
The faster the spin speed (measured in RPM), the drier your clothes will be at the end of a wash. The maximum speed you can expect from a top-load washing machine is around 1,100RPM – front-loaders can go substantially faster.
Additional features
There are several other features that you may want to look for in a top-loading washing machine, such as:
A child lock
Intelligent sensors to determine the appropriate water level and even choose a wash program based on your load
Automatic balance correction
A wrinkle-free or anti-crease cycle
Wi-Fi connectivity so you can manage your washing via a smartphone app
A soft-close lid
A delayed start setting so that you can time a cycle to begin at a specific time, for example, to make the most of off-peak electricity rates
Want to buy a clothes dryer as well? Check out our clothes dryer buying guide.
If you're looking for a washing machine and dryer all in one, check out our washer-dryer combo buying guide.
Best rated top-loading washing machine brand award breakdown
Data: Finder Retail Brand Survey, 2019, Roy Morgan. Metric out of 5 stars unless otherwise indicated.

More guides on Finder