Everything you need to know about ski gear
Skiing or snowboarding this winter? Get your ski gear sorted before you hit the slopes.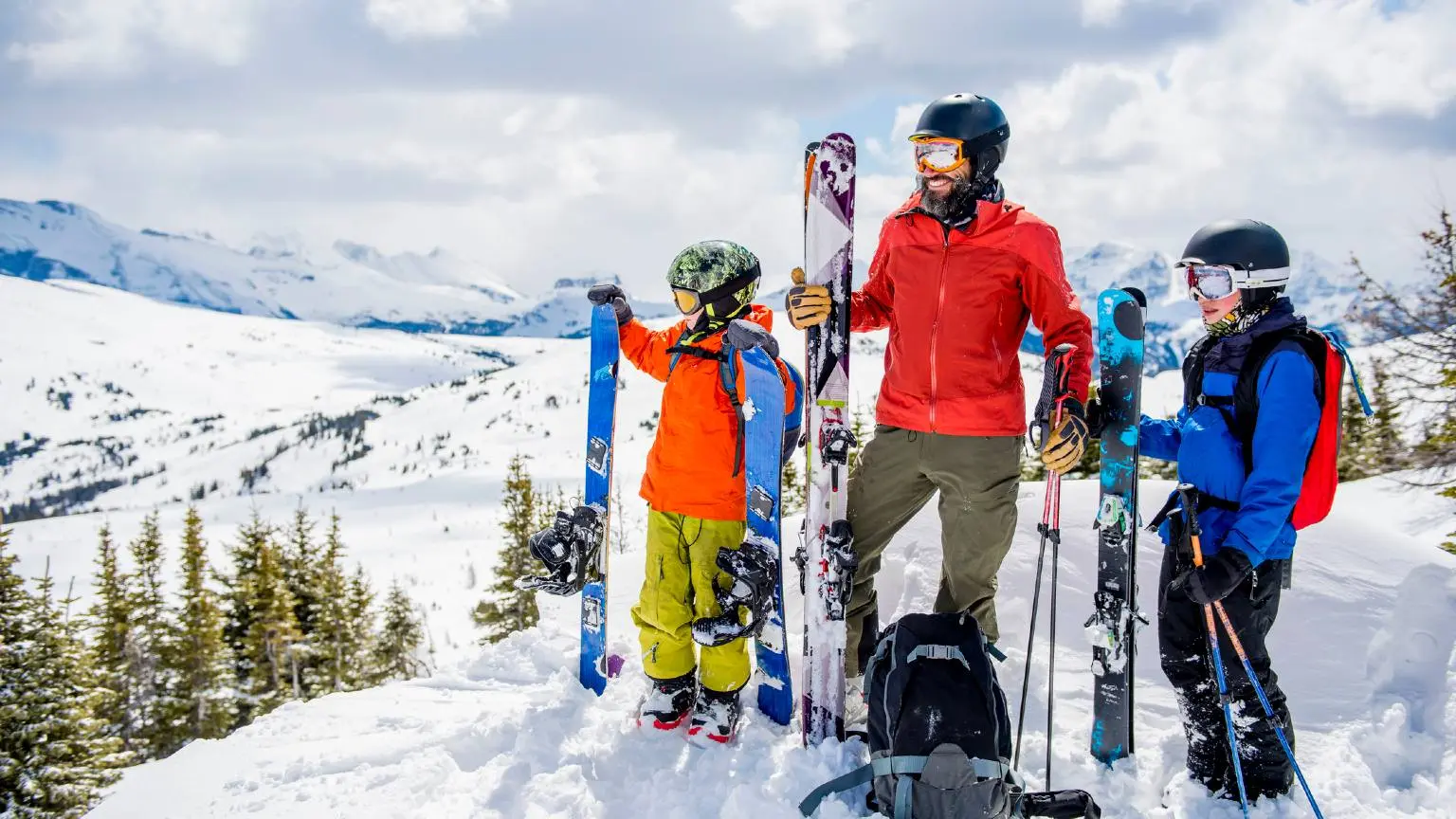 We're reader-supported and may be paid when you visit links to partner sites. We don't compare all products in the market, but we're working on it!
Are you heading to the snow this year? Good choice.
Let's talk ski gear. It can be confusing territory, especially if you've never skied or snowboarded before. And even if this isn't your first time at the snow, remembering everything you need can be tricky.
Whether you're skiing, snowboarding or just in it for the après-ski, there's some gear you'll need to get before you even look at a chairlift.
Renting vs buying ski gear
Let's just get this out of the way: Ski gear is expensive. Are you skiing for the first time? My advice is to see what gear you can hire/borrow first to keep costs down.
However, if you've caught the skiing bug, it might be time to invest in your own gear. Heading down for the season? You'll definitely want your own stuff and you can check out our guide on where to buy ski and snow gear online.
Your ski gear checklist: What you need (and what you don't)
Like any sport, skiing and snowboarding require a few essentials. Unlike other sports, the essentials are a bit more specialised – and they come with a higher price tag.
Think about it. You need ski gear to protect you from rain, snow and high-speed winds. It's not like other sports. Skiing is extreme. You're on the side of a mountain, exposed to the elements and hurling yourself down the slopes at high speed. You need to be protected.
Ski gear can be divided into four categories: the absolute essentials (don't leave home without them), the things that you really, really should consider buying, the extras it would be nice to have, and the things you already have lying around the house.
See? There are still a couple of things you won't have to buy. Spend your savings on après-ski schnapps instead.
The essential ski gear you can't leave home without
Ski jacket and pants
These are absolutely mandatory. A warm jumper and jeans just won't cut it. Ski jackets and pants are designed to be warm, waterproof and able to take a bit of a beating.
Like anything, certain styles and colours go in and out of fashion, although the trend cycle is slower than that of your average streetwear. Pick something you'll love for the next few years.
Be bold: You can get away with brighter colours and louder prints at the snow than you can in day-to-day wear. But if you want to stick to the safe black-and-beige combo, that's cool too.
Certain jackets and pants come with extras such as built-in headphone docks, specially designed pockets for your lift pass or sections that you can unzip on warm days. Shop around before you buy.
Gloves
Again, these are mandatory, and don't think you can get away with any pair of gloves you happen to have lying around, either. Your fingers will freeze. Ski gloves are durable and (should be) waterproof. Some even come with a built-in wipe for your goggles.
Goggles
Times you will appreciate that you wore ski goggles instead of sunnies:
Sitting on a freezing cold chairlift
Speeding down the side of a mountain at 30km/h
Showing off your goggle tan like a badge of honour when you get home
Unless you plan to only ski on perfect, sunny days (good luck), or to just stick to the green runs (if you have to), you'll want a pair of ski goggles. They should fit snuggly around your nose, and – if you want to go all out – can come with different lenses for different weather conditions. Yellow or orange lenses are a good option for your average, slightly overcast days as they filter out the blue light bouncing off the snow and make it easier to see bumps and icy patches. In brighter conditions, dark or mirrored lenses are your best bet.
---
Non-essential ski gear that a smart person would buy
Beanie or headband
These are mandatory on all but the warmest of days. Your ears will freeze without them. Beanies and ski culture go together like marshmallows and fire, or skiing and schnapps, or snowboarders and parks, or… wait, what? Beanies. Pick one and wear it all season.
Helmet
Skiing is a dangerous sport. Every long-time skier or boarder has an arsenal of war stories: their worst stack, broken bones and the odd concussion. If you're going to be gunning it down the mountain at breakneck speeds, or attempting 360s in the park, you might want to protect your noggin with a helmet. You've only got one head and skiing into trees is not as funny as it sounds.
Wrist guards
Are you learning to snowboard? Spoiler alert: you will stack it. A lot. Wrist guards might be a good idea for the beginner or the gung-ho boarder. When you fall on a snowboard, you usually fall backwards (on your heelside edge), and you'll automatically throw your arms out to break your fall. Your wrists will bear a lot of the brunt. Protect them.
Ski socks
These are much thicker than normal socks. Your feet will take a bit of a bashing (have you seen what ski boots look like?) and you'll want more protection than your regular socks can give you. That being said, you can get away with other thick socks (such as rugby socks) if you want to save money. They just won't be as warm and comfy.
Thermals
These are designed to be worn closest to your skin. As you sweat, they'll pull the moisture away from you and prevent you from getting too chilly.
---
Ski gear extras that you might want to consider
Boots
Straight up, these are expensive, and you can hire them. But if you're becoming a regular at the ski fields, there's nothing better than sinking your feet into a pair of boots that nobody else has worn – except, of course, taking them off again at the end of the day.
Ski boot heaters
These beat numb toes every time. Slip them into your boots to keep your feet nice and toasty. Sure, they're a bit indulgent, but hey, so is skiing.
---
What you already own that you'll need to take skiing
Fleeces or jumpers
On warm days, you can probably get away with just a T-shirt under your ski jacket. On cooler days, you'll definitely want another layer in there.
Sports bras
Skiing and snowboarding are bumpy, rough activities that are full of sudden stops. Did reading that sentence just make you flinch in imagined pain? You're going exercising. Wear a sports bra.
T-shirts
If nothing else, chuck a T-shirt on under your ski jacket. Ideally, pick one that's a longer cut. There's nothing worse than your short T-shirt leaving a tiny bit of exposed skin when you sit down.
---
What equipment do you need?
If you're going skiing:
You'll need skis, bindings, boots and – unless you're a first timer – poles. You won't necessarily need poles if you're a first-timer. They're primarily used to help skiers turn at high speeds (and to poke people from a distance of 1-2 metres), and if you're a newbie, you'll be learning how to snow plough, sans poles.
What type of skis do you need? Downhill skis (as opposed to cross-country) come in three main types:
Regular or all-mountain skis are all-purpose and good to start with.
Twin-tip skis go up at both ends of the ski (as opposed to other types, which only go up at the front). This makes it easier for you to ski backwards, and they're ideal if you're spending time in the park.
Powder skis are longer and wider and make it easier to stay above soft powder snow thanks to a greater surface area. Pro tip: If you're skiing in Australia, you probably won't need powder skis.
How tall should your skis be? As a general rule, when you stand them against you, they should reach between your chin and the top of your head.
Bindings: When you get your bindings fitted to your boots, they'll ask you what level of skier you are.
If you're going snowboarding:
You'll need a board, bindings, boots and a leg leash. Many resorts make leg leashes mandatory for snowboarders. Throughout the day, you'll spend a lot of time strapping and unstrapping, so the leg leash acts as an extra safety measure. Steep slopes + runaway boards = never a good idea.
Snowboards: These come with different levels of flex. As a general rule, a board with a greater flex is better for the terrain park, and a stiffer board is better for riding the mountain (it will stay steadier at higher speeds). It all depends on where you want to spend your time.
How do I know if I'm regular or goofy? Snowboarding is a little like skating, you lead with one foot or the other. Most snowboarders ride with their left foot forward (regular), but some find it more natural to ride with their right foot forward (goofy).
Not sure which one you are? That's cool, there's a simple test to find out. When standing, ask a friend to give you a shove from behind (no, really). Whichever foot you put forward to steady yourself with is the foot you should be leading with.
Are you riding one way but want to shake it up and try the other? Flip your stance so the other foot is leading down the mountain. That's called riding switch, you little pro, you. This is like trying to write with the wrong hand, only at much faster speeds. Do not attempt this until you're confident in your ability and comfortable on the snow.
Bindings: These are what connect your boots to your board. They come in a wide range of varieties and have as much influence over your experience as the type of board you get. The important thing is to go in with an idea of how you want to spend your time on the mountain. Someone in store will direct you to the right style of bindings.
---
How can you get cheap ski gear?
There are a few options you can take if you want to keep costs down.
Hunt around for a deal before you make any purchases. Click here to see all the best ones.
Borrow gear from a friend, particularly if they happen to be the same size as you.
Rent your skis, snowboard, boots, helmet and even goggles from a store. Many ski shops will rent gear as well and ski resorts nearly always have rental options. Where you decide to rent your gear from is important. It's usually cheapest in your hometown and most expensive at the resort itself. If you're travelling to the Snowy Mountains, my advice is to rent your gear from Jindabyne. It's cheaper there than Thredbo or Perisher, but you won't have the hassle of transporting it all the way from home.
Buy ex-rental skis or snowboards. These might have seen a few runs in their time, but they're often of good quality, so there are some good bargains to be found.
---
Main image: Getty Images
More guides on Finder