Best LG phones: Compare LG smartphone models
LG makes a lot of smartphones, so let us help you find the one that best suits your needs.
We're committed to our readers and editorial independence. We don't compare all products in the market and may receive compensation when we refer you to our partners, but this does not influence our opinions or reviews. Learn more about Finder.
Fast LG phone facts
Unlike some smartphone manufacturers, LG offers both premium and budget-friendly handsets in order to reach a broader audience.
LG leverages its experience manufacturing LCD and OLED TV panels when designing its smartphone screens, resulting in some of the more impressive displays in the business.
What to consider when choosing an LG phone
LG makes the task of comparing its phones relatively straightforward by dividing them up based on their price and capabilities. Handsets in the G series such as the LG G7 ThinQ are the flagship models designed to compete with the Apple iPhones and Samsung Galaxy Ss of the mobile world; V series handsets like the LG V30+ are aimed at photography aficionados and pack high-quality cameras; and K series handsets attempt to strike a balance between price and performance that doesn't look or feel cheap.
Unfortunately, even with this handy categorisation, pinning down which handset best meets your needs isn't always easy. Modern smartphones tout more fancy features than a snake-oil salesman, and determining which ones are actually worthwhile can take a lot of time and research. To save you that hassle, we've picked out the key considerations you'll want to keep in mind when shopping for a new LG smartphone:
Which LG phone is best?
"Best" is a term that has to come with a few qualifications. The "best" LG phone for someone deeply invested in mobile gaming is going to be different to the "best" LG phone for someone who just makes and receives calls. That's why we've picked out different handsets for different needs below.
Of course, these picks are based on what we here at Finder view as good value, and it's possible you may see things differently. We aim to be as broad in our assessments as possible, but you should always factor in your personal preferences and current situation when considering our advice.
Finder's pick
LG V50 ThinQ
Two screens means twice the fun
Dual-screen functionality sets the LG V50 ThinQ apart from the competition, and its snappy performance and top-notch battery life ensure it's more than a one-trick pony.
Rather than trying to develop a foldable phone, LG took a different approach to maximise both screen space and portability with the LG V50 ThinQ. Purchasing the phone gets you both the regular handset and a secondary screen that connect via a hinged case. This gets you double the amount of screen to work with while remaining relatively portable when folded together.
Two screens is a neat trick by itself, but the LG V50 ThinQ backs this up with the premium power of the Snapdragon 855 chipset, the longevity of a 4,000mAh battery and support for 5G networks. All this makes for one compelling package.
Read our full review of the LG V50 ThinQ here
Best LG phone for photography
LG G7 ThinQ
For lovers of landscapes
LG's top-tier smartphone lends itself well to landscape photography, though its performance elsewhere leaves something to be desired.
Avid photographers have a lot of choice in the smartphone space. LG realised this with the G7 ThinQ and attempted to differentiate the handset by including a wide-angle on its rear-facing camera array. Using this lens, you can take a larger range of sweeping landscape shots, ideal for those who enjoy capturing the enormity of the great outdoors.
As neat as the wide-angle lens is, the rest of the G7 ThinQ's camera tech is decidedly average. The 16MP rear-facing camera is decent, and the dedicated AI mode for optimising photo settings is handy for less-experienced users, but you don't have to look too hard to find similarly priced handsets with superior chops in the camera department. That said, if you're a lifelong LG fan with a penchant for photography, the G7 ThinQ is currently your best option.
Read our full review of the LG G7 ThinQ here
Best cheap LG phone
In reality, many of us don't need the tremendous power crammed into the latest smartphones. When all you use your phone for is texting, making calls and some light web browsing, most budget smartphones will suit your needs just fine. This is very much where the LG Q6 fits in. A pared-down version of the premium G6 handset, the Q6 isn't the snappiest handset you'll ever use, but it's more than capable of handling basic day-to-day tasks and keeping you connected when you're out and about. Not only that, it comes equipped with a powerful camera and a crisp display, both of which elevate it above competing handsets at a similar price range.
Read our full review of the LG Q6 here
Looking for an LG phone on a plan?
Unlike most smartphone brands, LG sells almost all of its handsets on an exclusively outright basis here in Australia. You will still find a few handsets available on contract through local providers, and you can compare those in the table below:
---
Latest LG phone news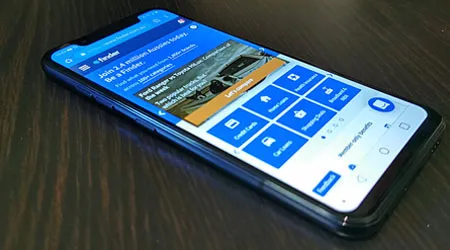 The LG G8s ThinQ hits all the right notes for a premium smartphone in essential performance, but its gimmicks are best ignored.
Read more…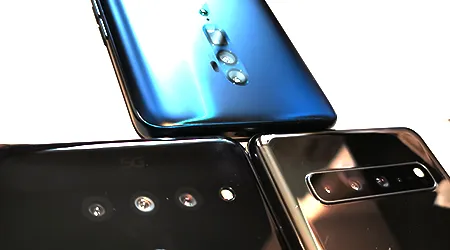 5G phones are fast, but how well do they take photos in low-light situations?
Read more…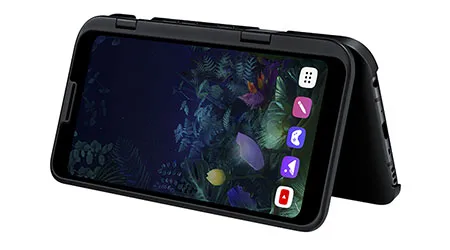 The LG V50 ThinQ will arrive in Australia on 11 June for outright purchase or on contract through Telstra with a unique dual screen and some seriously premium capabilities.
Read more…
Read more on this topic