Microsoft Surface Pro 7 review: A good flagship, but not quite a great one
Quick Verdict
The Microsoft Surface Pro 7 is an entirely capable upgrade for existing Surface owners and is still good if you're just dipping your toes into the 2-in-1 world. However, Microsoft has made it pretty clear that it's going to change it up for the next generation of Surface devices, so this could be the last Surface of its kind.
Looking for the latest model? Here's our review of the Microsoft Surface Pro 8.
The good
Hinge still makes it easy to flip from tablet to desk use
USB-C finally comes to Surface
Plenty of processing power if you need it
The bad
Surface design is looking a little dated
Why hasn't Microsoft just bundled the keyboard?
More exciting Surface options are incoming
---
Microsoft originally launched its Surface line of 2-in-1 computers with the idea that they would effectively be "reference" designs for the rest of the industry. Microsoft desperately didn't want to put the big PC makers – folks like Dell, HP, Acer, Lenovo and Asus – offside by competing with them in the notoriously competitive laptop space.
Fast forward a number of years and the pitch for the Surface has changed remarkably, but the actual design really hasn't shifted that much. Depending on your viewpoint, that's either a testament to the classic nature of the Surface Pro design overall, or a sign that Microsoft has rested on this design a little too long.
What that boils down to is a Surface Pro that's essentially all about the specifications bump and just a few minor other changes. It's notable too because we know that the Surface Pro X is coming later this month, and the even more radically designed Surface Pro Neo will arrive next year. That means that the Surface Pro 7 might be the last of its type to come rolling off the Microsoft assembly lines.
---
Design
Platinum or black finish
12.3-inch display, but it's very bezel-heavy
Folding hinge is great engineering – or is it a lap hazard?
Keyboard is good, but it really ought to be bundled by now
USB-C and A type ports
Back when the Microsoft Surface line was brand spanking new, there really wasn't anything like it on the market. There had been tablet PCs before of course, all the way back to Windows XP Tablet Edition, but the Surface itself represented some solid work from Microsoft's engineers to bring to market.
Now in its seventh generation, it's quite remarkable how little has really changed over the years. Place the Surface Pro 7 next to an older Surface Pro and colour choices aside you'd be hard-pressed to spot the difference. It's packing the same 12.3-inch, 2736 x 1824 pixel, 3:2 LCD display as the Surface Pro 6, which means it's also very heavy on the bezel front compared to many more modern laptop designs. It's particularly striking given that Microsoft will shortly begin selling the Surface Pro X, which isn't so heavy on the bezels locally.
A Surface wouldn't be a Surface without its iconic folding hinge. It's still a beautiful bit of engineering all these years later and one that can definitely stand a bit of rugged use over time. However, it's also worth noting that in changing nothing here, Microsoft has kept the debate open about whether or not it enables proper "lap" usage. The hinge itself is thin, which means that it sits rather sharply on your lap if you're using it that way. I tend to avoid trying to use the Surface Pro 7 this way, but sometimes it's unavoidable.
The one big change in this year's Surface Pro range is the inclusion of a USB-C port alongside a standard USB-A type port. It's a great nod to more modern and faster peripheral connection, although it's only a USB 3.1 port, not a full Thunderbolt 3 compatible one.
Microsoft supplied me with a Surface Pro 7 with all the trimmings, which means it included one of its Surface Type Covers to test out. In the 2-in-1 space, I've long been a fan of Microsoft's keyboards for its Surface devices, with one small caveat.
Microsoft doesn't – and seemingly won't – make the keyboard a standard inclusion with each Surface Pro 7 device. It's baffling, especially as it advertises bundles that explicitly include the keyboard cover. Clearly folks are buying both, and anecdotally, I've never seen one in the wild without the keyboard. Having to splash out an additional $249 for something you really need to make the most of the Surface Pro 7 feels truly daft to me.
Microsoft sells the Surface Pro 7 in either a platinum or black finish. I've been testing out the black model, but which you might prefer is entirely a matter of taste.
Back to top
---
Performance
Core i7 model is nicely fast
Choice of 10th generation processor
The experience you have with the Surface Pro 7 is very much going to depend on the model you opt for. Microsoft sent me the effective top-tier Surface Pro 7 model to test out, which means it's rocking a 10th generation ("Ice Lake") Core i7-1065G7 CPU, along with 16GB of memory. Microsoft seemingly loves to experiment with which colours of the Surface can get which storage and RAM configuration, though. My black review sample had a 25GB internal SSD, and there's also an option for a 512GB SSD in that colour, but if you want the absolute tippy-top model with a 1TB SSD, you can only get that in Platinum.
No, I don't know why Black Surface Pro 7 models can't handle a 1TB SSD either.
From a power and performance point of view, I can't really fault my experience with the Surface Pro 7, which flew nicely through any productivity apps I threw at it. Gaming isn't the point of a Surface Pro 7, given that it's relying on integrated graphics, but if you're willing to compromise a little on graphics fidelity, and the boss isn't watching, it's entirely feasible to get a little pew pew action in as well.
However, I can't ignore the fact that I'm sitting at the top end of the Surface Pro 7 tree. You can spend a lot less than the review model would cost and get a much lower specification Surface Pro 7. It'll still be using a 10th generation Intel Core processor, but the entry-level model is running on an Intel Core i3 processor with just 4GB of RAM. The experience there, while within the same essential frame as the Core i7, would be substantially different.
Underneath it all, this is a Windows 10 PC, so from a flexibility sense, there's very little you can't do with it. I've alternated between using it as a writing tool primarily, words being my stock in trade, but it's also an entirely capable Photoshop machine, as well as a passable Netflix machine after working hours have concluded.
Back to top
---
Battery life
Decent battery life for all-day working
Surface charging is a magnetic blessing and a curse
Microsoft rates the Surface Pro 7 as capable of "up to 10.5 hours" of typical device usage. Like any laptop or tablet, your "typical" usage will vary and with it your battery life. Within my own testing time, I could comfortably get anywhere between 6 to 8 hours of dedicated usage out of the Surface Pro 7 before it went flat.
Putting it to a more deliberate test, I fired up a full-screen video at moderate volume and left it to loop until the battery gave out with screen brightness set to full and performance mode selected. Precisely 10 hours and 4 minutes later it stopped working, which suggests that Microsoft's estimates on best possible battery life aren't too far off the mark.
Microsoft has made no changes in how the Surface Pro 7 charges, which means that it's using the Surface Connect charger with its magnetic attachment at the side.
I've always had a bit of a love-hate relationship with the Surface Connect charger. I appreciate how a magnetically attached cable saves the device from being pulled to the floor if somebody trips on or otherwise pulls the cable out of place. I also like that the charger brick itself has a USB-A type port, so you can also use it to juice up your phone at the same time.
However, it's also a very custom plug itself, and that means that if it breaks, frays or goes missing, you're not going to be able to replace it easily. If the Surface Pro 7 can manage USB C-data ports, another one that could also double as a charging port would be a great inclusion.
Back to top
---
Should you buy the Microsoft Surface Pro 7?
A nice Surface update, but even more interesting Surfaces are incoming
The Surface Pro 7 is almost exactly what Microsoft needed to do with an upgraded Surface, and pretty much nothing else besides. USB-C is a little overdue, and the use of Ice Lake CPUs gives it more than enough power for most Surface users. Predictably, there's not much point in upgrading if you're already using a Surface Pro 6, but anyone with an older Surface could get a nice productivity boost from it.
However, you do have to temper that against the fact that Microsoft has shown that it's going to much more radically change up what a Surface is in the very near future. The ARM-based Surface Pro X is incoming and 2020 will see the Surface Neo and Surface Duo make even more radical changes.
That could point to the Surface Pro 7 being the last of its kind, as Microsoft looks a little further afield for future Surface models.
Back to top
Pricing and availability
The Microsoft Surface Pro 7 sells from $1,249 without the Surface Type Cover in Australia, although that's for the entry-level Core i3/4GB RAM/128GB SSD model.
The model as tested with a Core i7, 16GB RAM and 256GB SSD retails for $2,499, while the very top end Platinum-only Core i7 model with a Core i7 processor, 16GB RAM and 1TB SSD will set you back $3,749.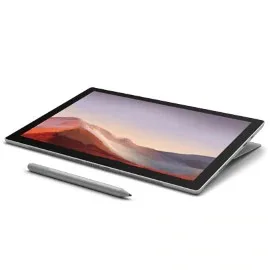 Buy Microsoft Surface Pro 7
from Microsoft Store
Upgrade to the Microsoft Surface Pro 7 and enjoy the power of Intel's high-end Ice Lake CPUs along with USB-C connectivity.
View details
---
Specs
Product name

Microsoft Surface Pro 7
Display size

12.3 inches.
Resolution

2736 x 1824 pixels
PPI

267 ppi
Processor

10th Generation Intel Core i3/Core i5/Core i7
RAM

4GB/8GB/16GB
Storage

128GB/256GB/512GB/1TB
Operating system

Windows 10 Home
Front camera

5MP
Rear camera

8MP
Battery

Up to 10.5 hours
Dimensions

292 x 201 x 8.5 mm
Weight

775g (Core i3/i5) or 790g (Core i7) without type cover
Price

From $1,249
Back to top
---