Microsoft Surface Pro 6 review: An incremental upgrade
Microsoft's Surface Pro 6 only tinkers very lightly with the existing Surface Pro design. While it's still a very fine hybrid laptop/tablet, it can't help but feel a little dated despite the new paint job.
Quick Verdict
Just as it's been since its inception, Microsoft's Surface Pro 6 retains its status as the Windows 10 hybrid to beat. However, this is still only a minor specifications bump while we wait for the true next generation Surface, which feels a little disappointing.
The good
Essential design is still very good
Battery life is good
Keyboard cover is easy to type with
microSD expansion is easy
The bad
Only one USB port, and it's USB-A
Keyboard is essential, but it's still not bundled
Basically just a point upgrade
---
Microsoft Surface Pro 6: Design
Black finish looks great.
Keyboard works well, but it's not included.
No USB-C connectivity.
Microsoft's updated Surface Pro 6 doesn't change a great deal about the Surface Pro design idea with just the one exception, that being an all new matte black finish option. That's the model I've tested and while a black laptop is about as basic as you can get, it's a nice change from the standard platinum Surface style with a finish that still looks and feels premium.
That's essentially a testament to how Microsoft's design team essentially got it right with the first Surface design. It has tweaked it slightly over the years in terms of the precise measurements, the way that the hinge kickstand operates and of course the internals, but you could put a platinum Surface Pro 6 next to its predecessors and without switching it on, still confuse folks about which generation it is.
Good design is timeless, in other words, but it's a design decision that also impacts what Microsoft's done in terms of ports and features. There's a microSD card slot at the rear under the kickstand, a feature I adore for the ease with which you can bump up the Surface Pro 6's storage quickly.
You're still limited to just one USB port and it's a USB-A port at that. Quite why Microsoft didn't opt for USB-C (and preferably multiple USB-C) remains a mystery, and not a satisfying one.
Odds are with just the one port that you're going to end up throwing a USB hub onto the Surface Pro 6 anyway, but using USB-C would also have made it easier to plug peripherals as well as opening up the possibility of charging via other chargers than the supplied Surface connector one, as you can on the Microsoft Surface Go. It feels downright odd that the more premium (and pricey) Surface Pro is less advanced than the affordable Surface Go in this respect.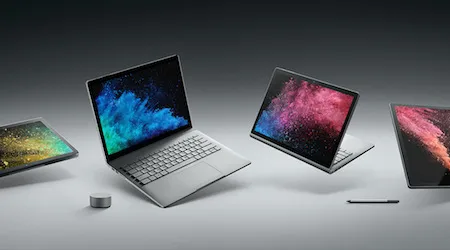 Browse the Surface range on the Microsoft website
from Microsoft Store
How does the Surface Go shape up? Browse the entire Surface Range at the Microsoft Store.
View details
I tested with the Surface Pro 6 keyboard cover and it's another case where Microsoft got it right first time and didn't feel the need to tinker much, with excellent key response despite its thin nature. Again, though, Microsoft has stuck to its stance of thinking of the keyboard case as an optional extra rather than an essential part of the Surface Pro experience.
I've disagreed with that stance ever since the first generation of Surface devices and if Microsoft can be stubborn about sticking to its position, then so can I. A keyboard cover makes the Surface Pro 6 so much more useful and you should budget for one as part of your overall Surface Pro 6 buying decision.
As with previous Surface generations, Microsoft's Surface Pen is also supported. For those with an artistic bent, or just those who prefer to tap on a screen rather than a keyboard, it's a fine option. Like previous generations, it can magnetically clip to the side of the Surface Pro 6 when not in use.
Back to top
Microsoft Surface Pro 6: Performance
Improved application performance.
Not so hot for video or gaming.
Can't configure for certain storage/colour combinations.
Design isn't everything and it's under the hood where Microsoft has made some shift with the introduction of 8th generation Intel processors, varying depending on the price you pay for the Surface Pro 6.
My unit as tested was running an Intel Core i5 1.8GHz processor with 8GB of RAM and 256GB of storage, but you can bump that up as high as an Intel Core i7 with 16GB of RAM and 1TB of storage, or down to a Core i5 with 8GB and just 128GB of storage. Unlike previous years, there's no option for a processor lower than a Core i5.
One oddity here is that you can't quite mix your choice of the platinum or black finishes with every storage and RAM configuration. Black Surface Pro 6 models with 8GB of RAM only configure with 256GB of storage, but that can jump up to 512GB if you opt for the 16GB RAM model. Meanwhile, platinum Surface Pro 6 models can be configured with between 128GB and up to 1TB of storage depending on processor and memory choices. Quite why the colour changes your choice of internal components is a bit of a mystery.
Your choice of configuration will naturally have an effect on overall system performance, as you'd expect, but the essential story here is one that fits the "Pro" designation of the Surface Pro 6 pretty well. This isn't a gaming laptop, or one that you'd want to do a whole host of truly high-end video processing on, but for the crowd that needs portability and a decent chunk of processing power it's a very suitable fit, especially if you travel a lot.
I tested this out flying to and from London for the launch of the Huawei Mate 20 series, using the Surface Pro 6 for a variety of tasks. While I didn't push it to its limits, I was rarely left disappointed. The smaller stature of the Surface Pro 6 means it's suitable for work on the go and you could even (at a pinch) use it in an economy flight seat as long as the passenger in front plays nice with the seat back.
Back to top
Microsoft Surface Pro 6: Battery life
Battery life is good, but not quite up to Microsoft's claims.
Battery life on laptops is always highly conditional on how and what you're using them for. Microsoft's claim for the Surface Pro 6 is that it can manage up to 13.5 hours of battery life, but that's simply for video playback. Nobody is buying a Surface Pro 6 in order to turn it into just a Netflix machine, although it can handle that quite well. In my own more anecdotal tests, around 8 hours is achievable with moderate level productivity work, which is entirely suitable for a laptop of this size and weight.
It's here again that Microsoft's choice to use USB-A as the port is annoying, because it does mean that if you're on the go, you're stuck carrying around the supplied charger. Hopefully Microsoft will get on board with USB-C charging for the Surface Pro 7.
Back to top
Microsoft Surface Pro 6: Should you buy it?
Decent upgrade for owners of older Surface Pro models.
Microsoft's just treading water, for now.
The Surface Pro 6 is a fine hybrid laptop and one that'll work well if you're staring at a Surface Pro from a couple of generations back that is starting to breathe its last. You'll find it almost instantly familiar, because Microsoft really hasn't done much more than tread water in terms of features and design ideas for the Surface Pro 6, for better or worse.
We're seeing a lot of innovation in the hybrid space of late from makers such as HP and Dell, but Microsoft seems content to rest on its existing design motif for the Surface Pro. At some point, it's going to need to shift over to newer platforms and connection technologies, such as USB-C for data and charging, or maybe Thunderbolt 3 for attaching an external GPU. If you've been hanging out for those kinds of features, you'll have to look elsewhere, or wait for Microsoft to properly catch up.
Back to top
Microsoft Surface Pro 6: Pricing and availability
The Microsoft Surface Pro 6 sells in Australia with pricing starting at $1,349 outright. The unit tested was a Black Core i5 8GB RAM/256GB storage model with a retail price of $1,849.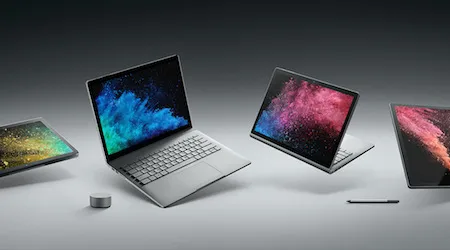 Find the perfect Surface for you on the Microsoft website
from Microsoft Store
Surface Pro or Surface Go? Maybe the Surface Laptop is a better fit? Browse the entire Surface Range at the Microsoft Store.
View details
Specifications
Microsoft Surface Pro 6 Specifications
Product Name

Microsoft Surface Pro 6
Processor

8th Generation Intel Core i5/Core i7
Operating System

Windows 10 Home
RAM

8GB/16GB
Display

12.3 inch
Resolution

2736 x 1824 267 ppi
Connectivity

USB A 3.0/3.5mm headphone/Mini DisplayPort/Surface Connect port/MicroSDXC
Cameras

5MP front/8MP rear
Networking

802.11 a/b/g/n/ac
Size

292 mm x 201 mm x 8.5 mm
Weight

770g (i5)/784g (i7)
Price

From $1349
Back to top
---
---