Disney+ review: Is it any good?
It's the most anticipated launch in the Australian streaming TV space for years, but is Disney+ any good? It's Finder's Disney+ review.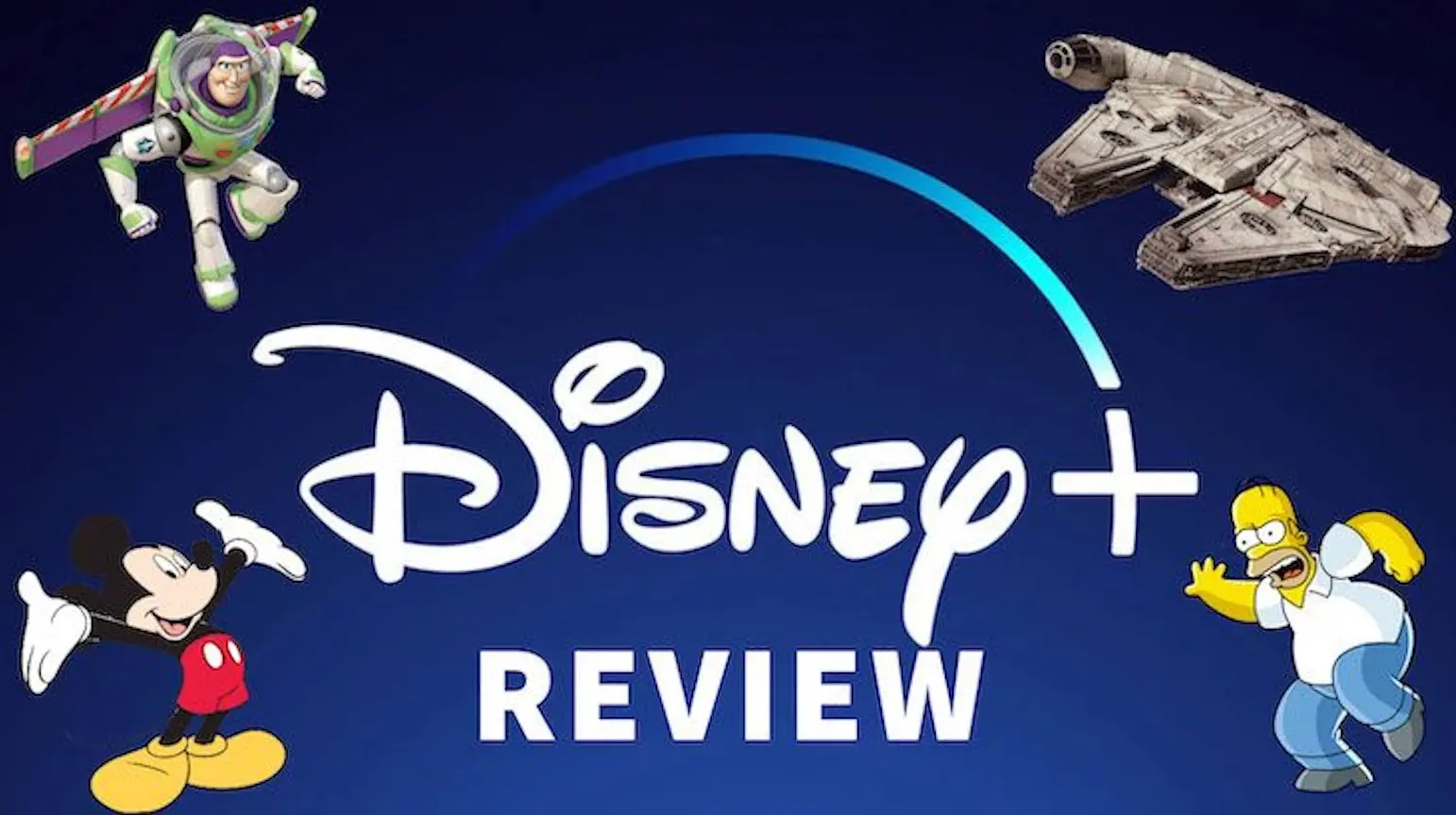 We're committed to our readers and editorial independence. We don't compare all products in the market and may receive compensation when we refer you to our partners, but this does not influence our opinions or reviews. Learn more about Finder.
Disney+ review verdict:
Disney+ ticks all the boxes you'd expect from a modern-day streaming TV service. It's a shame that it offers no significant evolution to what we've seen from Netflix, Apple TV+, Stan or Foxtel Now, but that should hardly count against it. What may put people off is the small amount of exclusive, new content at launch, and the overall tonal decision to omit Disney's significant number of mature/adult-orientated movies and TV shows altogether. Yet, what remains is a very healthy launch line-up of over 800 properties, the vast majority of which could be considered enjoyable to excellent. While the price point is exceptional, especially given the generous family sharing, simultaneous stream and 4K/Dolby Atmos resolution that price includes.
---
Get Disney+ if... You're a family seeking an endless supply of content to suit all ages or a diehard Star Wars/Marvel fan who wants to consume the exclusive new content.
Avoid Disney+ if... You want hard-hitting, adult-focused drama, thrillers, action or horror, or the latest and greatest boxset TV series to binge on.
---
Best deal: While you can pay month-to-month at $8.99 for Disney+, the $89.99 yearly sub - effectively getting two months for free - is worth the investment.
When it launched in the United States, Disney+ found 10 million subscribers in the first 24 hours and no shortage of server issues. A week later, on 19 November 2019, the anticipated streaming TV service has landed in Australia. Can it find similar success Down Under? Will it find similar problems? And how does it compare to Australia's own streaming TV giants like Foxtel Now, Stan and Netflix?
As a company, Disney needs no introduction. It's huge – like Dumbo's ears, Donald's temper, Han Solo's ego, Hulk's biceps and Homer's love of donuts.
Also Read: Step-by-step guide to getting Disney+ free trial.
You know the brands. Star Wars, Pixar, Marvel, Mickey Mouse, The Simpsons, National Geographic, Toy Story… we could go on. And on. And on. To date, they've been spread out across the gamut of Australian TV streaming services. You could find them on Netflix, Stan and Foxtel, for a while. Then they would rotate providers and then rotate back.
Now, these brands and countless others have a place to call home. It's Disney+.
The pros and cons of Disney+
---
Pros
The price is right at $8.99 per month or $89.99 per year
A single price tier for all features
4K, Dolby Atmos and Dolby Vision supported
A healthy 816 movies and shows at launch
Family-focused content is suitable for everyone
It actively makes the content libraries of competing services worse
Plenty of great-looking exclusives into 2020
Excellent device support
Cons
Light on launch exclusives
You have seen the vast majority of the library before
Lack of mature content hampers library diversity
Question marks over launch stability during peak times
Further dilution of streaming TV service adds another subscription to your list
Disney+ design, features and UI
Summary: Meets but does not evolve expectations
Turning on Disney+ for the first time won't blow your mind. Whereas the likes of Kayo Sports launched with a host of unique and evolutionary features, and even Apple TV+ had that unique, Apple feel, Disney+ is a by-the-numbers Netflix clone. Not that there is anything wrong with that, but some innovation would have been nice.
Some featured content boxes interrupt line after line of horizontal EPGs broken out into genres and "trending search" filters. You can jump straight into Kids mode, or select from the five major Disney pillars: Disney, Star Wars, Marvel, National Geographic and Pixar. You can download anything you want for offline use, too.
In fact, Disney ticks almost all the expected boxes when it comes to features. As well as offline viewing, there's 4K, Dolby Atmos and Dolby Vision support for selected films and TV. Naturally, this is mostly true of recent productions, but there were some older-school surprises in the 4K Disney+ list, including Star Wars.
Four simultaneous streams and family sharing for up to seven accounts rounds out the key features. The only noticeable failing at launch was the lack of a "continue watching" service. Quite the oversight really, but alas Disney has now included it plus two other new features.
Disney+ price and value
Summary: It's a good deal
That Disney+ offers everything for $8.99 per month – after the free 7-day trial – helps it really stand out against Netflix's 4K premium plan, which is $19.95 per month. It also outcompetes Stan ($17.99 per month) and Foxtel ($25 per month). Disney+ also easily outcompetes Apple TV+ in content, despite the latter being $7.99 per month.
If you're confident you will love the service, you can also get Disney+ for $89.99 per year, effectively bringing the cost down to $7.49 per month.
Props must also be given to the range of compatible devices Disney+ has launched with. Outside of a native Mac app, a few smart TV brands and Airplay support, it's exhaustive. PC, iOS, Android, Apple TV, Android TV, Amazon Fire, Chromecast, PS4, Xbox, Windows 10 and Smart TVs (LG, Samsung). Well done.
Disney+ content review
Summary: Big on classics, small on originals
For sheer size and international significance, Disney+ feels like the first genuine competitor to Netflix in the streaming TV space. But it's not; not really. Where Netflix has become a home for mature – if not adult-focused – original content, Disney is a family-focused affair heavily leaning on legacy experiences. It's a paradise for children, with just enough cross-demographic content to keep parents and fanboys (or girls) tethered.
But to be fair dinkum stakes, Disney+ only has the one standout launch exclusive. It's a good one; the rather excellent live-action Star Wars series The Mandalorian. It's essential viewing for any Star Wars fans, and a fun entry point for those who managed to live in a Wookie-free bubble for the past forty years.
There are other launch exclusives, but they bring little urgency. Lady and the Tramp and Noelle are notable movies. Some documentaries like Marvel Hero Project, comedies like High School Musical: The Musical: The Series and a Jeff Goldblum curiosity are also available. Kids have some short films from Pixar to dive into with the new Forky Asks a Question series, too.
For those of you who are unconvinced, the future does look extremely bright. In the month following launch, the December release schedule added 12 movies, four specials and hundreds of TV episodes. This included eight X-Men films.
And as we head into 2020, a run of big-name TV shows will begin emerging on the platform. Many of these are from the Marvel universe, but there will be more from Star Wars as well. This includes a second season of The Mandalorian, not to mention new seasons of shows like The Simpsons, which will all be Disney+ exclusives.
In addition, recent and future movies – both cinematic and straight-to-TV – will be Disney+ streaming exclusives. Given the usual high standard we see from Disney's big pillar content, it means that the Disney+ content library will continue to define and distance itself from the competition into the future.
How does Disney+ compare to Apple TV+, Netflix, Stan and Foxtel Now?
| Features | Disney+ | Apple TV+ | Netflix | Stan | Foxtel Now (Pop, Lifestyle and Movies) | Amazon Prime |
| --- | --- | --- | --- | --- | --- | --- |
| Price/month | $8.99 (or $89.99/year) | $7.99 | $9.99 / $13.99 / $19.99 | $10 / $14 / $17 | $45.00 | $6.99 (or $59.99/year) |
| Free trial | 7 days | 7 days | 30 days | 30 days | 10 days | 30 Days |
| Release date | 19 December 19 | 2 November 19 | 24 March 15 | 26 January 15 | 7 June 17 | 1 December 17 |
| Simultaneous streams | 4 | 6 | 1 / 2 / 4 | 1 / 3 / 4 | 5 | 3 |
| Family sharing | 7 | 6 | 5 | 1 / 3 / 4 | 2 | 2 |
| Contract | No | No | No | No | No | No |
| Movies and TV shows | 800+ | 10 | 4,200+ | 2000+ | 3400+ | 5800+ |
| HD | Yes | Yes | No / Yes / Yes | No / Yes / Yes | Yes | Yes |
| 4K | Yes | Yes | No / No / Yes | No / No / Yes | No | Yes |
| Can watch offline? | Yes | Yes | Yes | Yes | No | Yes |
| Devices | PC, iOS, Android, Apple TV, Android TV, Amazon Fire, ChromeCast, PS4, XBO, Windows 10, Smart TVs (LG, Samsung) | Mac, iPhone, iPad, iPod Touch, Apple TV, Roku, Amazon Fire TV, Samsung TVs, Airplay | PC, Mac, iOS, Android, Windows Phone, PS4, Xbox One, Apple TV, Fetch TV, ChromeCast, Android TV, Amazon Fire TV, Vodafone TV, Telstra TV, Smart TVs (LG, Hisense, Panasonic, Philips, Samsung, Sony) | PC, Mac, iOS, Android, Windows Phone, PS4, Xbox One, Apple TV, Fetch TV, ChromeCast, Android TV, Amazon Fire TV, Telstra TV, Smart TVs (LG, Samsung, FFALCON, Philips, Sony, Hisense, Kogan, TCL, Toshiba, Panasonic) | PC, Mac, iOS, Android, PS4, Xbox One, ChromeCast, Telstra TV, Smart TVs (LG, Samsung, Sony), Foxtel Now box | PC, Mac, iOS, Android, PS4, Xbox One, Apple TV, ChromeCast, Nvidia Shield, Telstra TV, Amazon Fire TV/Tablet, Echo Show/Spot, Smart TVs (LG, Samsung, Sony, Hisense, Philips, Sharp, JVC, Panasonic) |
| More info | Disney+ info | Apple TV+ info | Netflix info | Stan info | Foxtel info | Amazon Prime info |
Get to know
Disney+

with our guides
Is Disney+ worth it?
Summary: Yes... yes it is.
Perhaps the biggest question hanging over Disney+ is how Australia's network will hold up to the strain. If demand is anything like it was for Netflix, we could be looking at months of detrimental server and node load. Admittedly, NBN is far more ingrained now than it was back in March 2015 – it's just not the cool NBN we expected with fibre going everywhere. It's the one that still bottlenecks on archaic copper. The dumb one.
Only you know the answer to that question. How's your connection? If you find yourself already struggling in peak periods to get Netflix, Stan, Foxtel Now, Kayo or even just YouTube working as desired, Disney+ will join that list of lemons. You're looking at basically the same data and bandwidth demand.
Here's a guide on how to check on your home's Internet congestion.
If you pass this potential issue, Disney+ is a competitively priced, perfectly functional portal into the library of Disney content. Its library of classics dates back to the 1930s but is set to swell with a host of new exclusives – even if it's a library that offers little compelling new content at launch and will only ever offer content that puts family viewing first.
If you're not a super Star Wars fan desperate for The Mandalorian, or a parent with needy kids seeking holiday entertainment, you need not feel compelled to dive into Disney+ straight away. Or, at least, extend it past the seven-day trial. Not until deeper into 2020, where a broader range of exclusive new content appears. Content you haven't already watched a dozen times over on other services.
As to whether you can cut the cycle on your Netflix, Stan and/or Foxtel Now subscriptions, we wouldn't just yet. Get the free Disney+ trial, have a sniff around and then wait for 2020 to really swell the slate with exclusive new content.
Latest Disney+ guides and news
More guides on Finder
Stream the best and save