Best shoes to wear on New Year's Eve 2020
If you're going to dance until the clock strikes twelve, you'll want to wear the right shoes. Find your perfect pair with our guide.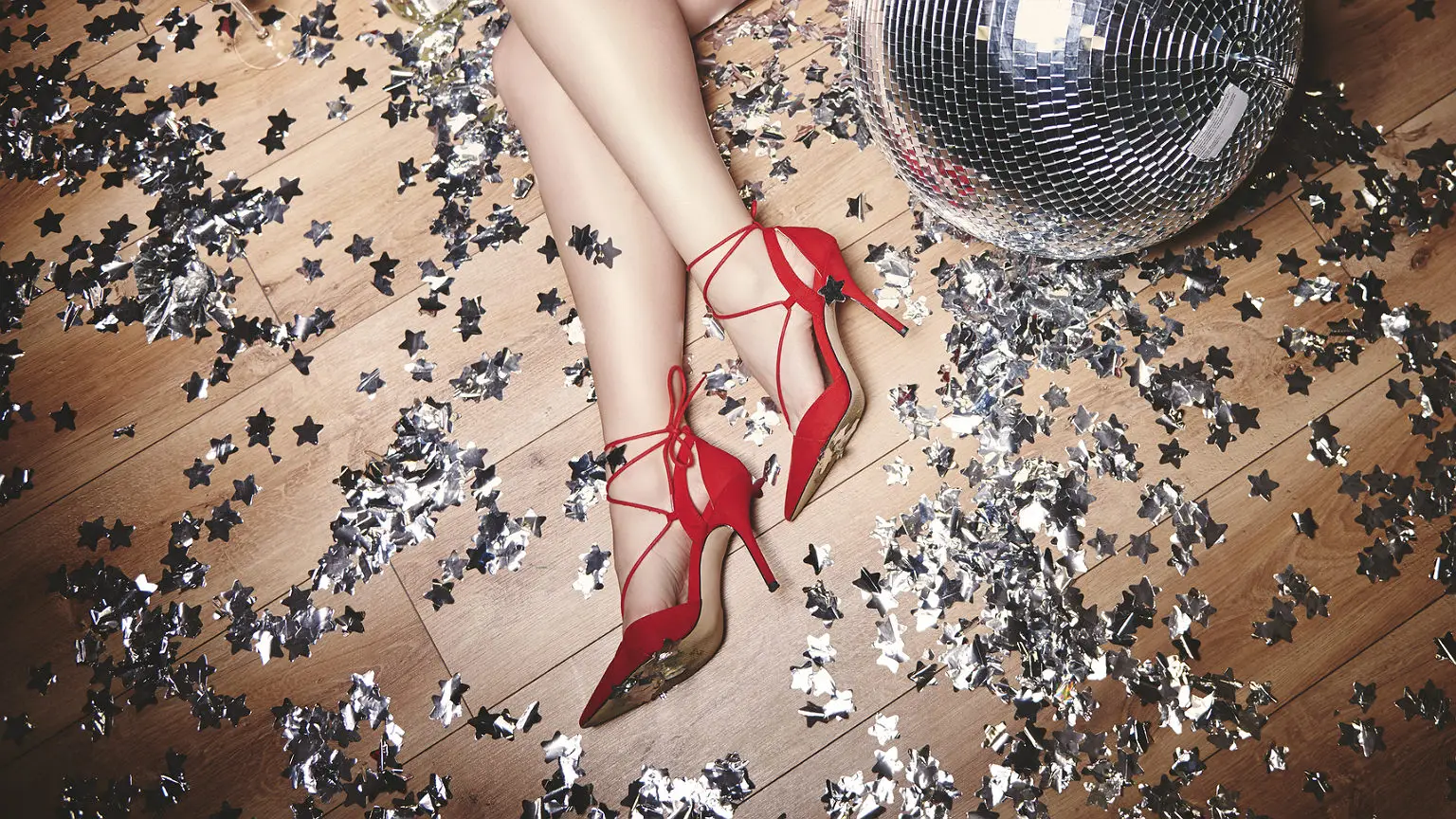 We're committed to our readers and editorial independence. We don't compare all products in the market and may receive compensation when we refer you to our partners, but this does not influence our opinions or reviews. Learn more about Finder.
You may have found the perfect New Year's Eve dress, but you also need the right pair of shoes. It's the one night of the year where you're not only encouraged to stay on your feet past midnight, but it's practically required!
Now, we know that unless you're used to dancing the night away, staying up so long can be a bit taxing on your toes. But when it comes down to it, it doesn't have to be that way at all – there are plenty of different footwear choices for you to pick from! Don't get caught like Cinderella when the clock strikes midnight.
---
1. Sensible stilettos
It's the go-to in every wardrobe: a sensible pair of stilettos can get you through any occasion. On New Year's Eve, a pair of stilettos can take you from everyday to glam – and frankly, if you're smart about it, they can be pretty comfortable. Break them in before the special night, and you'll have no trouble on the dance floor.
---
2. Pretty flats
Whoever said you HAVE to wear heels on New Year's Eve was lying to you – a pair of nice flats is totally acceptable. Go bold with bright prints or a touch of sparkle and you'll dazzle the crowd despite the lack of extra height. You'll have a much easier time walking and dancing in them, and that's what really matters.
---
3. Block heels
Tried and tested, block heels will get you through anything. Less painful than stilettos but still that little bit fancier than your average flats, block heels are the best of both worlds. They're sturdy enough for you to get crazy on the dance floor, without sacrificing the aesthetic you're after. Plus, there are so many options to choose from!
---
4. Dressy slides
Slides have to be one of the biggest trends of the year so it should come as no surprise that they're on the list. Not only will they be super comfortable, but you'll be able to last all night long without blisters or pain. Whether you're a diehard Birkenstocks fan or are open to embracing something a bit more glittery, slides will not let you down. Just make sure you've had a pedicure!
---

Image: Instagram
5. Heeled mules
Heeled mules are a definite must-have at the moment, and the combination of comfort and style is definitely a winner on New Year's Eve. You'll be feeling relaxed, secure and downright stylish in shoes that are not only on trend, but are pretty cute. Go for standard black if you're after a sleek elegant look, or go bold and colour-block your mules with your dress!
---

Image: Instagram
6. Ankle boots
Who said you couldn't wear ankle boots in summer? Whoever it was clearly underestimated your dedication to fashion, because a cute pair of ankle boots is definitely an option on New Year's Eve. Whether you opt for heeled or flat boots, these shoes will have your back until the early hours of the morning – and they'll add an edge to your look.
---
7. Strappy sandals
If you're the type of gal to dance so wildly that your shoes fling right off, strappy sandals will be your saving grace. These babies will keep you secure and wrapped up nicely in shoes that will stick by you the whole night long. Not only are they functional, but they look great and can work for any kind of NYE party – from dinner to dance floor!
---
The best stores to shop your NYE shoes:
---
Top shoe trends for New Year's Eve
1. Clear heels and straps
Clear lucite heels and straps are taking over our Instagram feeds, and it's no surprise why. These shoes go with every colour and every style, so they're the perfect New Year's Eve shoe!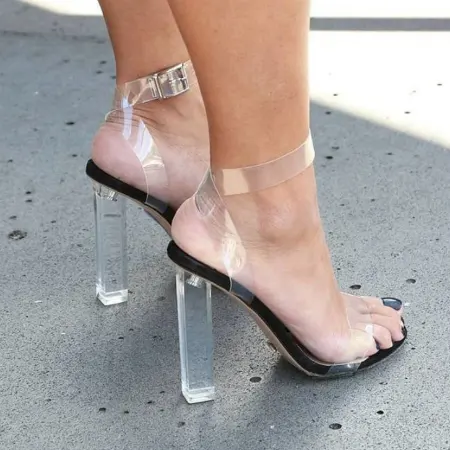 Source
2. Really really red
New Year's Eve is the one night of the year where you can be as "extra" as humanly possible – and still probably not be the boldest look in the room. Go for broke with the brightest red you can find!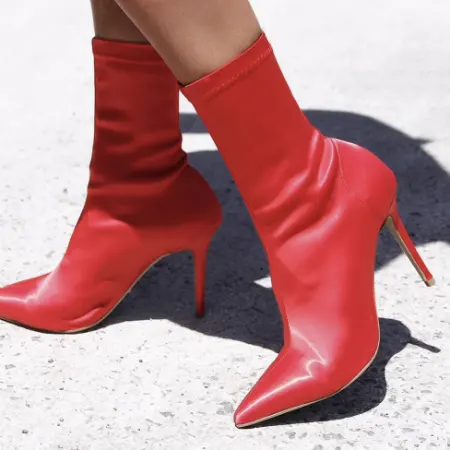 Source
3. Strap happy
No matter what colour palette you choose, we're seeing straps everywhere! Whether you're going for sandals or a sky-high heel, straps are keeping us all secure and stylish as we dance the night away until the New Year.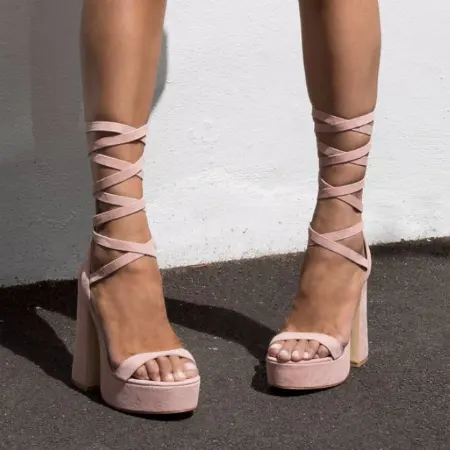 Source
4. Block (heel) party
When it comes down to it, all you really need for the perfect New Year's Eve shoe is something that will last you the whole night without pain – and block heels can do it for you. They're the best friend of shoes.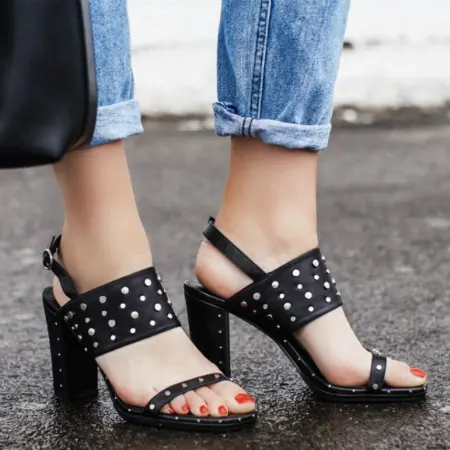 Source
---
Image source: Getty
More guides on Finder