Zoink talks singing your way to Metroidvania in Fe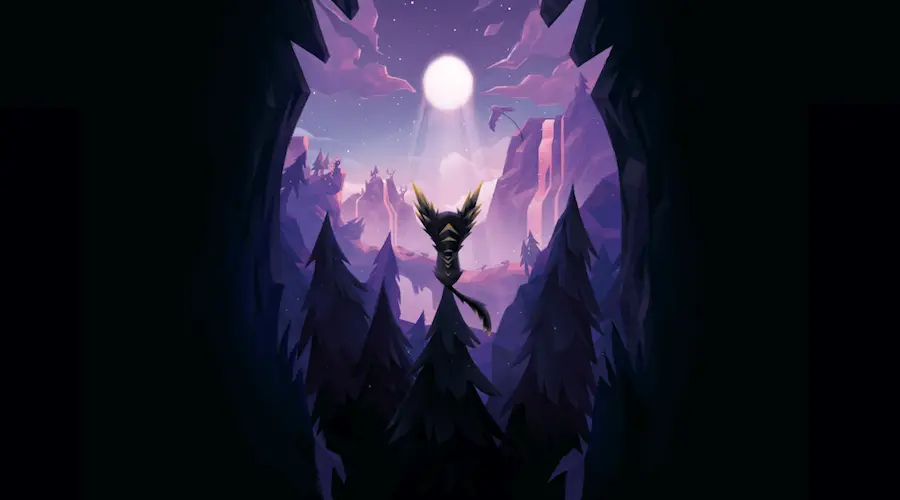 Fe has a unique singing mechanic that lets players unlock new parts of the game world. Here's how it works, according to Klaus Lyngeled and Andrea Beijer.
Singing in games is hardly new. From Rock Band and Lips to Journey or your trolling flatmate singing at your Kinect unit while you're playing Alien: Isolation so the terrifying xenomorph hears you and you get munched, it's been around for a while. For Fe, though, singing is a core mechanic that's tied to exploration.
Singing is the main way for communicating with the game world in Fe, whether it's befriending animals or converting an oversized flower into a jumping pad. This latter instance is where the singing mechanic in Fe becomes a whole lot more interesting because it can be used to unlock previously inaccessible areas of the forested game world.
That beautiful word, Metroidvania, is in full force in Fe, incentivising players to get lost and push on, only to return to previously inaccessible areas with newfound abilities to discover more of the world and its tucked-away stories. In fact, developers Klaus Lyngeled and Andrea Beijer say that players will have to venture deep into the forest to discover all of the clues to unravel the full picture of Fe's storyline.
On top of this, Lyngeled and Beijer revealed that singing isn't as simple as pressing a button, and you'll have to learn additional tones to communicate with new forest creatures. Here's what the Zoink devs had to say on the topic of singing when we interviewed them.
With the singing mechanic, how was that actually controlled? Because it seems to be that it's not just 'press button to sing'?
Lyngeled: It's analogue. So, you use the bumper to control the volume and the sound of it, basically. So, many times, when you meet an animal, you have to harmonise with that animal, find the exact right pitch to get the line to level. And then you connect.
And when you learn a new pitch, how is that added on in gameplay terms? Does it just become another level that you can use to control the animals?
Lyngeled: Yeah, because they are a bunch of a different languages or accents in this world. So, the deer speaks a certain language with certain flowers, and the lizard speaks another one, and the wolf speaks another one.
Beijer: This is really a part of actually going out and exploring, and getting to understand how the world is connected. Finding out, 'Oh, wow, so this flower actually understands this.' Could this mean that this could understand this, too?
Lyngeled: Yeah, right. It gives small cues, so colours and effects and stuff like that. So, the player has a chance to understand, 'Okay, this flower probably would react to that animal. So, I have to learn that animal sound, or bring that animal here somehow.'
Beijer: I guess it's a bit of a Metroidvania style to the game that you return to areas that you've seen before, or you at least could return to it, replay it, and find out different ways to do it. I mean, we really want people, once they learn all the languages for this place, to feel like it's their home almost. It's like, 'I know there are some flowers there, but I also know there are these other animals that can bring you forward really quickly.' So, once it's all opened up and I know how to work it, I could actually take you through the world really smoothly. I know exactly where to go. So, it's very much about getting a mental map of the world for a while. It becomes part of you. We don't actually have any maps. I don't think I have any maps of the whole game because we really want people to be in the game. We don't want there to be, like, two different sorts of structures in the brain. And that's another thing we learnt when we were kids running around the forest. You don't have a map.
Lyngeled: Of course, I mean, it's really overwhelming, and you think, 'I'm going to get lost in here.' You have to make your own little rooms within that world, and you can grow it exponentially over time.
Beijer: Yeah, it also becomes really cool. You feel really cool about it, and you feel really good about it once you overcome this fear of not knowing where I am.
Lyngeled: Yeah, it becomes your own.
Beijer: Yeah, and we want to have people to have that experience because it's a really cool experience after a while.