Was Zayn Malik kicked out for being the least popular One Direction band member?
Teenagers across the planet are mourning the loss of Zayn Malik, who has quit chart toppers One Direction and left them as a four-piece, but how big a loss is he?
Boy bands have been storming album charts for almost as long as music has been a thing, and every decade seems to have a different music phenomenon to champion to eager teenagers. One Direction may be a world away from The Beatles, or even the Backstreet Boys for that matter, but the sales don't lie. One Direction is huge; or at least was.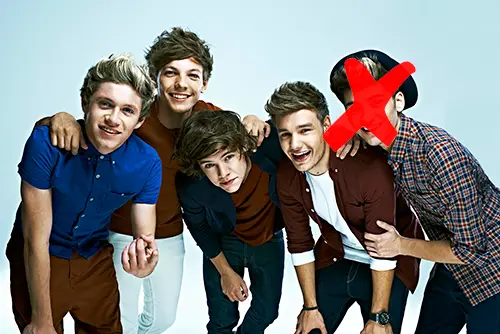 It appears that not all the band members were going in the same direction after all. On the back of flagging album sales and an impending marriage, one-fifth of One Direction has left the band, citing the stress of all the media attention and claiming he wanted to be a "normal 22-year-old who is able to relax and have some private time out of the spotlight."
Fair enough, really!
But what kind of hole does this leave in the band? Well, and with all due respect to the man - who's achieved more than what most of us could dream of doing in his short 22-years - the stark maths of the social world says, "not too much."
According to this data, Zayn Malik contributes only 14.5% to One Direction's popularity. With 20.4 million followers, perhaps the band's management should now court Bruno Mars as a replacement? Too soon?
According to Twitter, of the five band members, Zayn ran a distant last in terms of social love. The numbers don't lie - here are the Top 5 One Direction band members by Twitter popularity;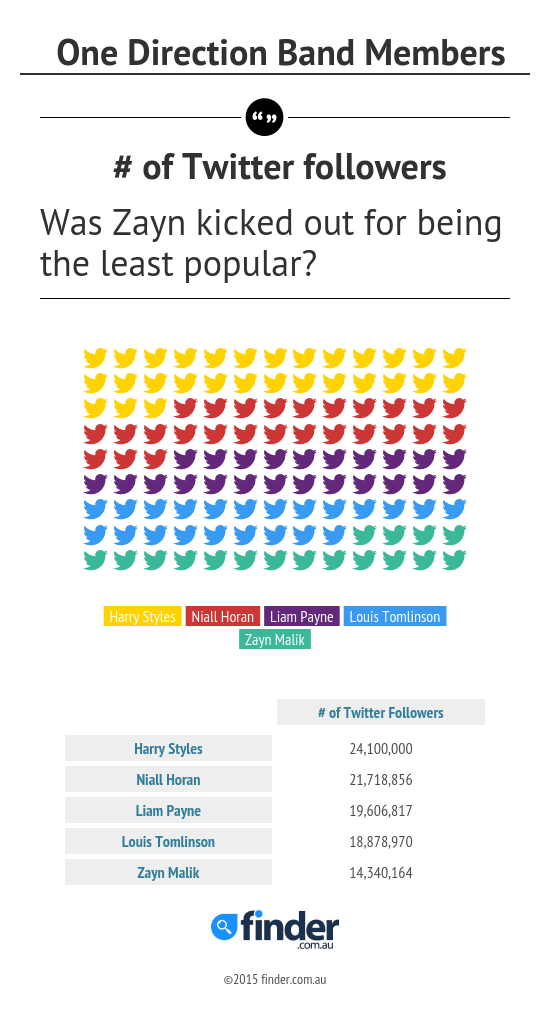 | | |
| --- | --- |
| Band Member | # of twitter Followers |
| Harry Styles | 24,061,300 |
| Niall Horan | 21,718,856 |
| Liam Payne | 19,606,817 |
| Louis Tomlinson | 18,878,970 |
| Zayn Malik | 14,340,164 |
Note: data accurate as of 27th March, 2015
Buy One Direction Merch
Buy up as much Zayn merch as you can now because, well, it'll all be different from this day forward.