Yooka-Laylee Review: Fun, but not quite finely tuned
Playtonic's pun-filled ode to its Rare past is a fun romp through an aged genre.
We're reader-supported and may be paid when you visit links to partner sites. We don't compare all products in the market, but we're working on it!
Anyone who knows me will tell you rather rapidly that I'm a huge fan of both terrible puns and retro gaming. Actually, they probably won't have to, because I wear both addictions as badges of pride.
As such, Playtonic's Yooka-Laylee should hit every possible positive neuron in my brain, because it's what happens when you take most of the team that produced Rare's classic Banjo-Kazooie games and let them rip with slightly-modified-for-copyright-reasons clones of those characters. Frankly, when you consider how Rare ended up pumping out dreadful Kinect games, you can hardly blame them for wanting to get back to their roots, even if they are rather derivative roots.
Shh, Lawyers! Nobody mention the bear or bird!
Yooka-Laylee is wildly and quite gleefully derivative of its source material and it makes no bones about it right from the offset. Yooka, a chameleon, and Laylee, his female bat friend are lazing around pondering their futures when the evil scheme of deliberately-generic Capital B rips a book they happen to be holding away into the air.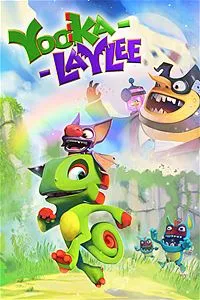 It's all part of an evil scheme that's never terribly well defined but is used as the basis for a number of groan-worthy jokes. In the case of Yooka-Laylee, it just so happens that the book they had was magical, the "one book", and in the process of capturing it, it is torn apart and spread throughout the lands. All sounding rather familiar, no?
Na na na na na Bat-Lizard!
What follows is essentially a love ode to the classic collectathon-style gaming of the late 1990s 3D platformer era, with a multitude of objectives to collect along the way. The key collectables are the sentient "Pagies" that make up the One Book, but along the way you'll also have to collect Mollycools (yes, the pun is deliberate) to deliver to Dr Puzz to enable transformations into other characters, a near identical cloning of Mumbo Jumbo's magic spells in the Banjo games. There's nothing here that requires a PHD to solve, but there is a focus on exploration of the game's hub world to find each of the books containing Yooka-Laylee's many Pagies.
You've also got quills to collect in order to buy move upgrades from the game's shopkeeper, the not-at-all-subtly named Trowzer Snake. I was a little surprised to see Yooka-Laylee skim a G8+ rating in Australia, to be honest. While it's not overtly violent or sexual, some of the puns do tend towards the highly suggestive, although by and large this is just a colourful 3D platform romp of the old school, and it knows it.
Hey Laylee, could you eat these bugs?
I tested with the PlayStation 4 version and encountered only a few small issues along the way, although reportedly the Xbox One version is markedly more prone to visual issues.
There are a few rough spots with invisible walls and camera twists at time, although these are nothing new for 3D platform games to speak of, and while I was playing through the game an early patch seemed to resolve the worst of the most egregious issues. That's a decent sign that Playtonic isn't just releasing code and letting it be.
On the PS4 the major annoyance is somewhat lengthy load times in-between levels, as well as one issue that will hit all versions of the game, and that's namely that many levels are rather empty when it comes to actual foes. There are some large and quite funny boss fights, and naturally more than a few puzzles and jumping challenges, but between them you'll find just a few ordinary foes to defeat.
It's almost a homage to the way the classic games were set out, no doubt in order to meet the strict memory requirements of the original cartridge formats, but it does lead to a few somewhat empty feeling worlds. When the core aim and hook of the game remains collecting everything in sight once, gathering up enough Pagies and then unlocking the same levels in slightly larger formats, having more interesting things to do within the intervening periods would probably have helped.
Pop quiz: Who actually likes pop quizzes anyway?
Yooka-Laylee mimics the Banjo Kazooie model quite slavishly, and this does include using quiz-based sections in place of boss battles at certain junctures. They weren't much fun back in the Banjo days, and they're even less welcome or "funny" here, although they're thankfully not quite as annoying either.
Should everyone cheer when the Yooka-Laylee player stops?
Quite how you'll take to Yooka-Laylee depends, I suspect, on your frame of reference to it. Does it beat the established classics such as Mario 64 at their own game? Not really, and it would be somewhat unfair even at a budgetary level to suggest that it should, given its Kickstarter origins and asking price.
If you've never played a 3D platformer before this would be an acceptable place to start, and if you're a fan of Rare's previous Banjo Kazooie and Donkey Kong 64 titles it's a welcome return to form for the most part, even if some of its gameplay conceits are somewhat aged. It's colourful and fun, and while like many games of the era it refers back to it could have used even more fine tuning, it beats not getting a Kickstarter game off the ground at all.
We reviewed Yooka-Laylee Review: Fun, but not quite finely tuned on Xbox One with a copy provided by the publisher.
Yooka-Laylee
7.0 VERY GOOD
What we liked...
Bright colourful characters
Bear-and-Bird gameplay refined
Exploration rewarded well
Groanworthy puns aplenty
What we didn't like...
Some tiresome boss battles
Empty areas
Quizzes don't make for fun gaming
VERDICT
Yooka-Laylee is being held up in some places as a terrible game, and that's not a fair criticism of a game that was very solidly pitched as being the next Banjo-Kazooie in everything but copyright terms.
That's exactly what it delivers, for better or worse, and if you're not already predisposed to such gameplay ideals, it's not going to suit. If you've got fond memories of those titles, or still play them to this day then it's a gentle fun return to form with just a few rough edges.
Available for
For more information on how finder scores games, check our review guidelines.