Yonder review: Breath of the mild
Yippie ki-yay, melon farmers.
We're reader-supported and may be paid when you visit links to partner sites. We don't compare all products in the market, but we're working on it!
If you're sick of violence and you want to reap some chill, we recommend you plant yourself in front of the Harvest Moon series. Unfortunately, that quaint farm franchise has fallen into disrepair over the years. If you're after a modern equivalent, you need to look over Yonder.
So what on Earth is this cloud-catching business all about? Surprisingly, it's less about flying through the stratosphere, trapping cumulonimbi and a lot more about saving the world of Gemea via random acts of kindness, farming, animal husbandry, fishing, crafting and collecting sprites. The latter are the key to vanquishing the foggy areas of "murk" which threaten this world and gate off large areas.
Even though that heroic plight runs tandem with your avatar's exciting and mysterious shipwreck, Yonder still somehow manages to weave a forgettable tale. Don't go into this for plot and, though this looks like a dead ringer for The Legend of Zelda: Breath of the Wild, do not pick this up expecting combat of any description.
Yes, you heard that right. No violence of any description. As a farmer, that axe, hammer and sickle you meticulously earned (via fetch quests) are needed only for ruthlessly plundering this world of its natural resources. Trees explode into various states of lumber and rocks shatter into stone and precious metals.
Hell, you can't even belt the wild fauna that skip past you in the massive overworld. Trust us. We tried. Not that you'd really want to. Aside from collecting more crap than a round of Minecraft, or any Lego game you care to mention, there's a sense of satisfaction to be had from adopting (read: kidnapping and corralling) Yonder's ludicrously adorable beasts.
To do this, you'll need to find one of the many dedicated farm sites dotted about, churn a buttload of resources into necessities like troughs and shelters, and then cunningly lure your fuzzy victims over to their enslavement.
Pretty soon you can amass an Ol' McDonald's franchise of farms stocked with groffles (buffalo), grass foxes, sprig-pigs, fabbits (like rabbits, but more fab), fluff cubs (beagle polar bear hybrids), squombles (squirrels) and girpaccas (alpacas) to name a few. We couldn't locate any chazwazzers, unfortunately.
Younger players will delight in the simple Pokémon collecting of these plush-like pets. Cold-hearted venture capitalists like us will seek them out for a sweet, sweet pay day since every captured animal will eventually produce a unique and valuable resource. On the downside, they also literally produce crap, but you can pay some local via a bartering system to scoop it for you.
We flat out ignored the over-arching "shut down the murk" main path in favour of finding animals and pimping up our farms. It's a mini-adventure in itself as discovering each species of animal requires a trip to its unique biome. The more time you invest in these regions, the more you get back. Every collectable cat you find and every good deed you do raises the percentage of item drops, farm production yields and animal sightings. It's a simple mechanic that becomes a super addictive gameplay loop.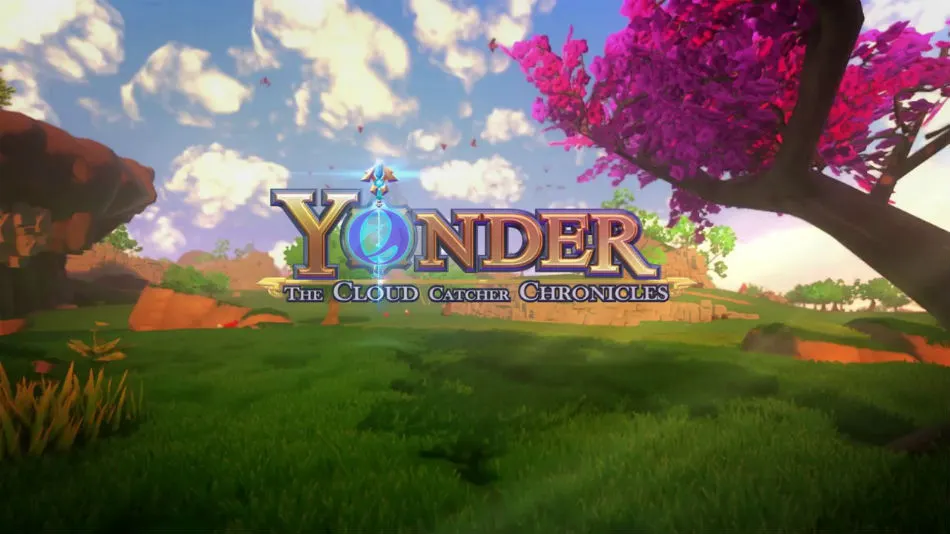 Click for Yonder
from ozgameshop.com
Go on a journey with the Hero of the Yonder to explore the island, uncovering its secrets and the mysteries within themselves while saving Gemea and its people!
View details
This island is as gorgeous as it is massive and diverse. Providing you have the requisite sprites, you can transition from lush inland seas of wind-tickled grasslands to parched ochre mesas, creamy mountain passes, fairy-tale purple forests and every other environment imaginable. Yonder is made by a team of three Aussies, and yet these visuals rise to the highest standards of cel-shaded Zelda titles. It's super impressive and a real treat for the eyeballs.
If you're not into saving the world or building a profitable gulag of stolen wildlife, you can lazily kick about Yonder and make your own fun. Gemea is lousy with stuff to jam into your magical backpack. This entire island is a hippie commune with no centralised currency, so you just know that 64 chunks of stone and some groffle poop may be swapped for the next thing you want, be it a better tool, a required item for one of the twenty fetch quests you always seem to have waiting or a key item required to build something in what is a pretty robust crafting system.
Your starter "wayfarer" craft menu offers only basic things to cobble together. More complex equipment can be fashioned if you seek out and join the six or so guilds secreted around the island. You can eventually learn the disciplines of Chef (farmhands love well-cooked food), Carpenter (build sturdier farms), Constructor (make bridges to access new paths), Tailor (Yonder is quite the fashion show), plus Tinker and Brewer, to name a few more.
Yonder isn't all good, however. Animations for the NPCs are so basic they're one step above T-poses. The menu system is a touch clunky, too. Our kingdom for a weapon wheel for tools instead of mashing the shoulder buttons to dial through a horizontal list of things. Clearly there are some weeds here and there, but you can still harvest a lot of fun out of Yonder as it's a non-complex chill-out game with gorgeous, soothing visuals.
We reviewed Yonder on PlayStation 4 with a copy provided by the publisher.
Yonder: The Cloud Catcher Chronicles review
7.5 GREAT
VERDICT
Underestimate this at your peril. After very little exposure, Yonder will make you a farming, fetch-questing kleptomaniac zombie in no time.
What we liked...
Very easy on the eyes—like, Breath of the Wild level beauty
Addictive crafting/questing loop
Large, diverse sandbox full of adorable animals to enslave
What we didn't like...
UI and camera system are a touch rusty
Villager animations are minimal
Doesn't exactly evolve the farming genre
Available on
For more information on how finder scores games, check out our review guidelines.
More guides on Finder